Zest for change: the waste collection app rescuing electronics to orange peel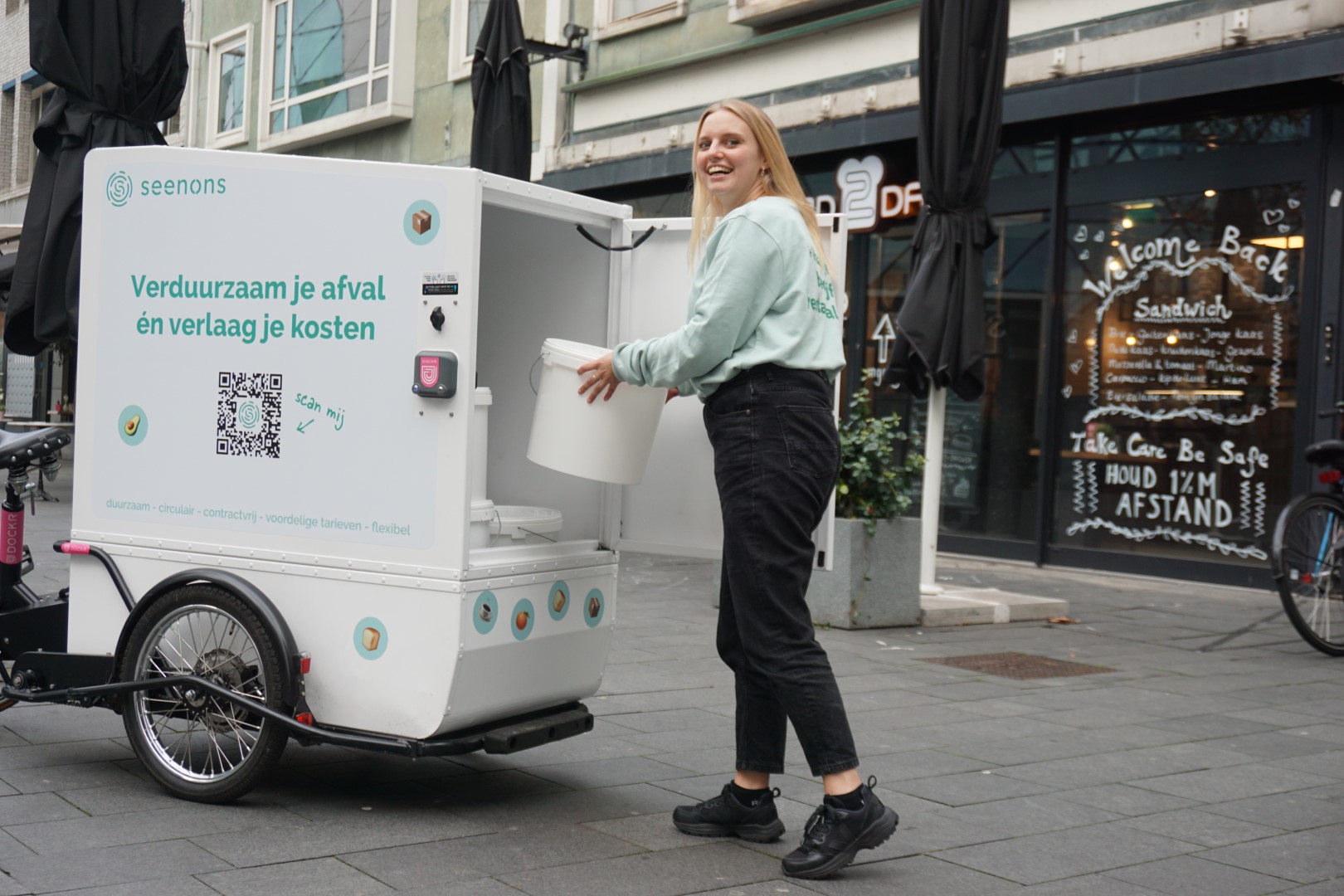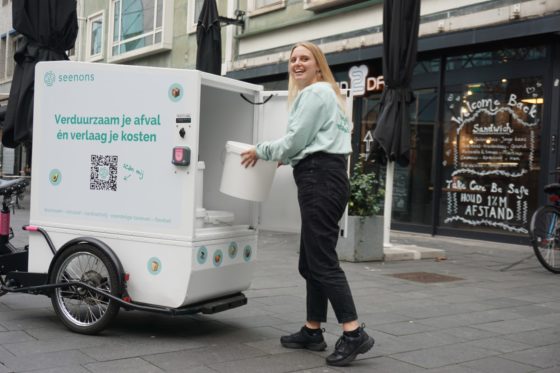 According to waste collection warriors Seenons, 'waste is only waste if we waste it'. As big-name companies sign up to their app, we find out how one of Amsterdam's fastest growing startups is rescuing the valuable raw materials in the stuff we throw away.
Liqueur company Dik & Schil regularly receive morning deliveries of coffee and freshly squeezed oranges at their workspace in Amsterdam. But the juice and hot coffee have been enjoyed elsewhere – it's the grounds and the zest the team are after, tangy ingredients which will get a second life when used to flavour their products.
Logistics
While many business are seeking sustainable solutions to get rid of their waste, some are now also ordering it in thanks to an app created in 2019 by Amsterdam startup Seenons designed to organise the logistics for companies on both sides of the exchange. Businesses across the Netherlands enter the time, location and content of the load and the app identifies the most efficient transportation, using reverse logistics and smart location technology to minimise energy use and keep large vehicles out of the city centre.
Currently, 17 waste streams are available for collection or delivery, including electronics, textiles, food and Styrofoam. But the team are always on the lookout for new markets, and cork, now trending in interior design, may soon be added to the list. Seenons' clients range from startups like Dik & Schil, to larger companies such as Bagels & Beans, Swapfiets and Yoghurt Barn. Yoghurt Barn estimate that they have reduced their waste by 80% as a result of the partnership.
Change
In a country where over 2 mega tonnes of rubbish is burnt each year, changing the way we process waste is a key step towards halving our carbon emissions by 2030 in line with EC targets. But, explains co-founder Joost Kamermans, a 'legacy issue' has created a reluctance to transition to greener alternatives.
'Change cannot come from within the waste industry because it's stuck,' he explains, likening the situation to fossil fuel companies' investment in oil fields. 'Big waste companies tend to have invested … in incineration plants, in big diesel trucks, in all of these processing facilities for the – in our view – old economy,' he says. 'Now, with the knowledge of today, you would never do that.'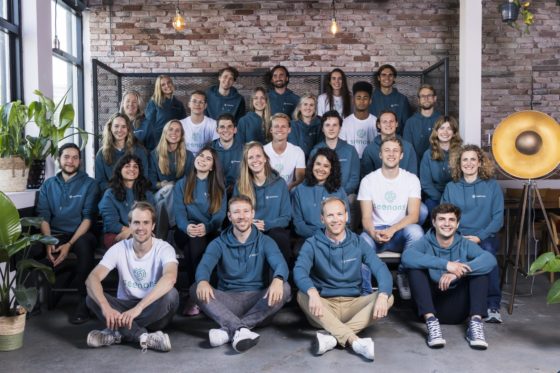 Resources
Kamermans' interest in reducing waste came in part from his mother's stories of her rural upbringing in East Groningen, an impoverished region of the Netherlands where resources were scarce and repairing and repurposing them was normal. 'Waste is something that we invented,' he says. 'We produce stuff that we know we will never use again, but that's not how it's always been.'
'In the future, access to materials will become more important. We are literally running out of materials. So if we keep on importing raw materials and burning them, it makes no sense, not only from an ecological perspective, but also economically. The real price of that material is just not engrained … I think that will change over time.'
The company name, taken from the Limburgs we zien ons (we'll see one another again), is a reminder that our resources should re-greet us, taking a circular rather than one-directional journey. 'We're still going to eat, we're still going to consume, but there has to be a system where it's not being disposed of,' explains Kamermans, who believes we also need industry standards to tackle the problem at a production level to ensure that what we buy re-uses materials and is in turn recyclable.
Tangible
With the help of Seenons, Dik & Schil has been able to find new clients within a like-minded network and also increase their production. 'There's a lot of logistical problems that come with collecting these waste streams,' says co-founder Stijn Fischer. 'We quickly scaled up so we needed a lot of oranges which we couldn't collect by ourselves any more, and then we got in contact with Seenons, which for us was the perfect solution because they take care of everything in the collection part and they also do it in a sustainable way.'
The circularity of their liqueur has become a popular story at the bar, too, and a clear message about re-evaluating waste. 'It's more tangible for the consumers because they can see the fresh orange juice being squeezed and then know it's going into our product,' Fischer says. And the bars like it, too. 'They can actually say, our oranges are in this orangecello,' he says.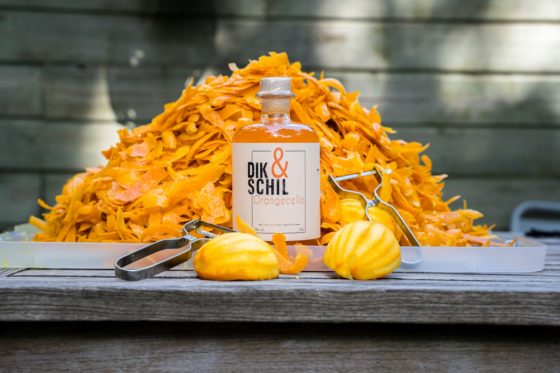 Future
The commercial interest in circular waste solutions has exceeded the expectations of Kamermans and his co-founder Jorn Eiting van Liempt. 'It's outrageous how fast it went,' says Kamermans. 'We grew from just two people to, by the end of this year, around 40 – and there's no sign of us slowing down.'
In October, Seenons received €6m in seed funding, a sum which will enable it to enhance its platform's technology and expand further into Europe, setting it on a path to become Europe's number one waste-saving platform.
'Literally all over the world, investors have reached out to us to ask if we can do it in their country,' says Kamermans, who is delighted by the breadth of interest in their concept.
'To me, it gave me a lot of encouragement that mindsets are changing. You see that it's really a global thing and it's on people's minds all over the world.'
Thank you for donating to DutchNews.nl.
We could not provide the Dutch News service, and keep it free of charge, without the generous support of our readers. Your donations allow us to report on issues you tell us matter, and provide you with a summary of the most important Dutch news each day.
Make a donation