Stylish storage: world's first publicly accessible art depot opens in Rotterdam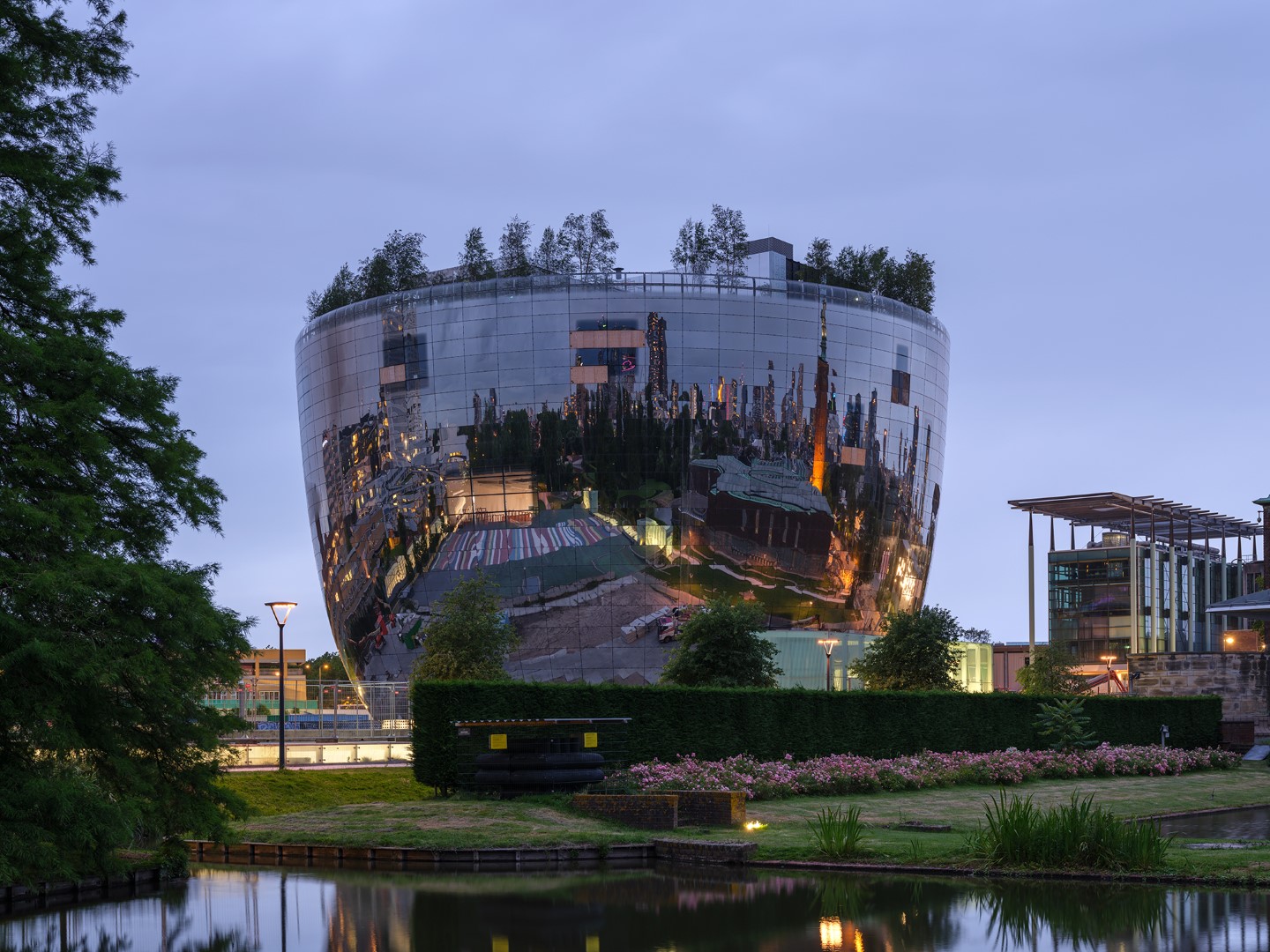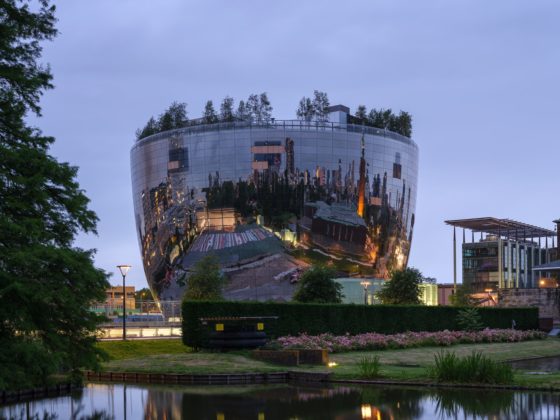 Rotterdam's Boijmans Van Beuningen Museum is still under renovation but has transferred its entire collection to its stunning new warehouse opposite and made museum history.
Passengers in glass elevators make vertical journeys either side of a six-storey atrium and watch the glass-encased objects stream past. Zigzagging around them are clear-sided walkways where people in white coats gaze into transparent rooms or shuffle in and out of storage spaces. Downstairs, a docking system awaits new arrivals, but they'll have to acclimatise first.
World first
This is not science fiction, but the Depot, the futuristic new storage facility for the Boijmans van Beuningen Museum's priceless collection, whose opening ceremony, attended by King Willem-Alexander, takes place on Friday.
With a name that plays on its cauldron-like shape − de pot in Dutch − and its function as a warehouse, The Depot, in Rotterdam's Museumpark, will become the first facility in the world to offer public access to a museum's entire collection when it opens its curved doors to the public on Saturday, four and a half years after building work began.
Previously, just 8% of the museum's collection was on display. Now, guided by an app or supervised by staff, visitors can view over 150,000 works by artists such as Bosch, Rembrandt, Van Gogh, Monet and Kandinsky – a collection which spans seven centuries and is the broadest in the Netherlands.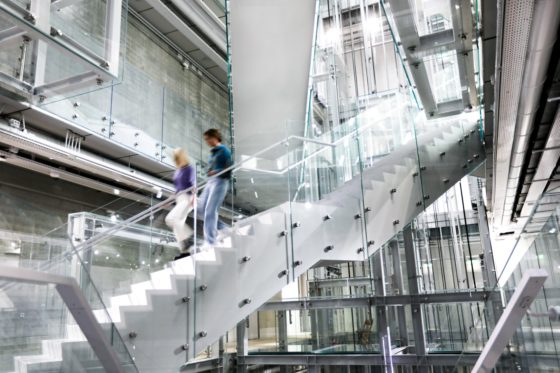 Renovations
The Depot may be a showpiece but it was born of necessity, an essential engine room for the main museum which is closed from 2019 to at least 2028 to undergo a €223.5m renovation. After years of grappling with inadequate climate controls in a building beset by asbestos and flooding, co-directors Sjarel Ex and Ina Klaassen are only too happy to put their wellies in storage now that the works can be safely − and dryly − rehoused.
'We had a problem – that the collection should be safe – and that was our first priority,' explained Klaassen at the press launch on Tuesday. But the predicament, she explained, suggested new possibilities: 'We started to think about what the museum of the future might be and how it would attract many people … Here in the Depot, we wanted to do something else, to broaden our spectrum.'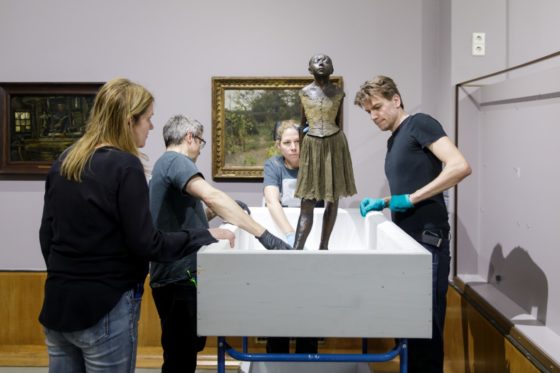 Architecture
With the financial backing of the municipality and a generous donation from the De Verre Bergen Foundation, a €94m budget was awarded to architecture firm MVRDV, the team behind Rotterdam's striking Markthal, to design and create the 15,500m² building. Featuring a rooftop forest and a façade made of 1664 mirrored panels, the structure is designed to reflect rather than overshadow the iconic buildings surrounding it, while redoubling the greenery of the park.
'We tried to make something that looks like nothing,' explains Winy Maas, co-founder and principal architect of MVRDV. The building's shell was intended to be a living art work, changing with the seasons and blending in with its environment. The mirrored design offered, says Maas, 'a semi-neutrality that I could invert and turn into the reflection of the rest'.
In a nod to the Dutch proclivity to show you have nothing to hide, 'all the windows somehow undress the inside', explains Maas. And the openness continues within, in what he describes as 'a three-dimensional atrium where art is exposed in every way'. The 13 floating display cases, devised by visual artist Marieke van Diemen, mean that even the backsides of the artworks, with their shipment stickers and notes scribbled by the artist, are visible.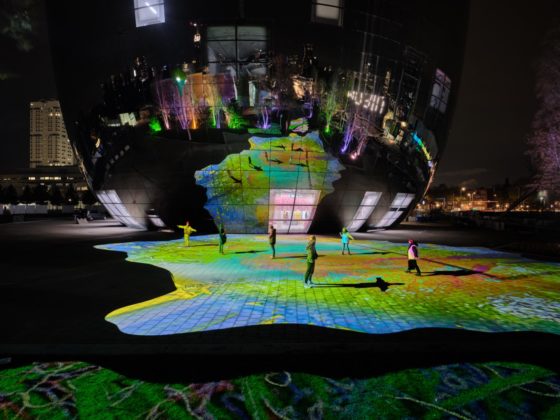 Behind the scenes
'In the Depot, we try to make the back stage of the museum front stage,' explains Klaassen. 'Everything you ever wanted to know about museums we can show you.' Features such as transshipment and quarantine rooms on the ground floor will be unfamiliar to most; while, upstairs, visitors can don a protective jacket and browse the five climate zones created to meet the varying storage needs of the different objects, or pause on the second floor to observe nimble-fingered restorers in optivisors quietly at their work.
This is not the first time that Dutch audiences have been treated to a peek behind the scenes, of course. The Rijksmuseum's Operation Nightwatch (2019) and the Mauritshuis's Facelifts & Makeovers (until 9 January) have tapped into our curiosity in conservation, but no institution has yet made it such a permanent feature.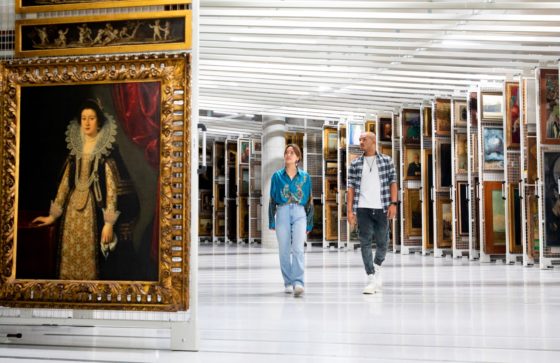 A new typology
'The general knowledge about how you take care of heritage is poor,' says Ex, who saw a role for the Depot in highlighting the work undertaken by some of the museum's unsung heroes. 'About 50% of our colleagues, and also our means, went into the caretaking of the collection. We saw that all these beautiful professions, from art handler to conservator, … could also be shown,' he said.
Overseas interest in similar concepts is rising. Work began in 2019 on London's V&A East Storehouse, while the Pompidou Centre's art factory in Paris is planned for 2025.
'It's certainly a new typology that all museums now consider,' says Ex. '[Normally], if you would like to go to a private storage, you have to make an appointment … We radically decided to open everything.'
Thank you for donating to DutchNews.nl.
We could not provide the Dutch News service, and keep it free of charge, without the generous support of our readers. Your donations allow us to report on issues you tell us matter, and provide you with a summary of the most important Dutch news each day.
Make a donation