DutchNews.nl destinations: cheese the day in Gouda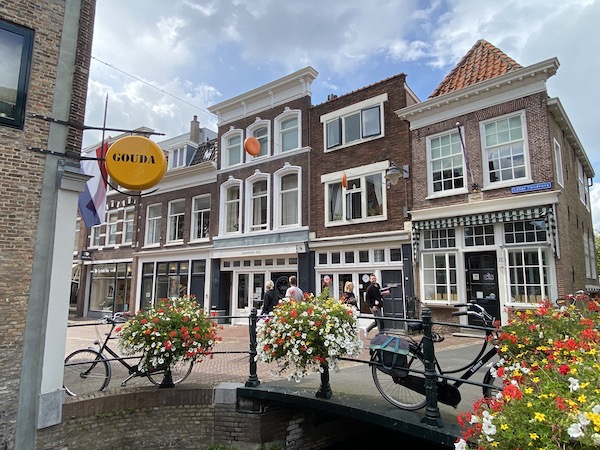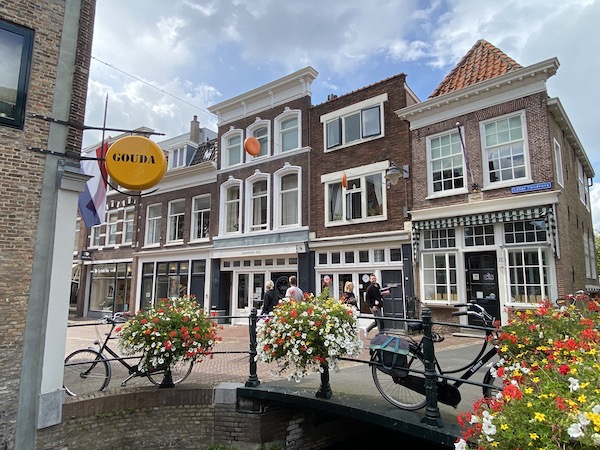 'Cheese' is the first thing that might come to mind when you think of Gouda, but fear not if you're lactose intolerant. The city is also famous for its pottery, stroopwafels, and smoking pipes in addition to its picturesque centre.
Long before its now world-famous cheese market rolled out its curdy wheels for the first time, it was little more than a swampy marsh. The Van der Goude clan showed up in the Middle Ages to build a castle along the Gouwe River. This eventually led to the construction of a canal and a harbour to go along with it, the first cornerstones in what would become the fledgling village of Gouda. City rights were granted in 1272.
The following centuries were tough ones for its citizens. Gouda endured several catastrophic fires, plagues, and severe economic setbacks. At one point, things were so bad that the term 'Goudaner' came to mean 'beggar'. One of the few bright spots was the stroopwafel, which was invented there in the 18th century (but some claim it was sometime in the 19th).
Gouda has come a long way since then. Post-war investments and civic projects have improved the city greatly. Along with the cheese market, it's now known for gorgeous historic architecture and Gouda by Candlelight, an annual Christmastime event.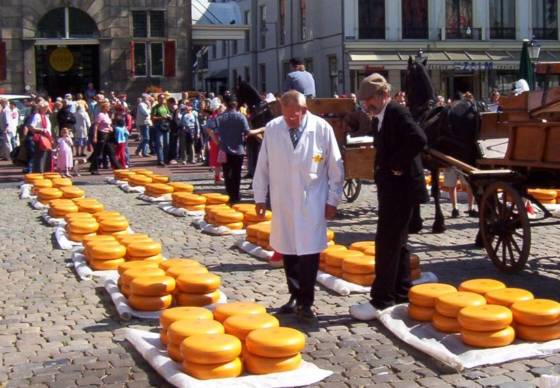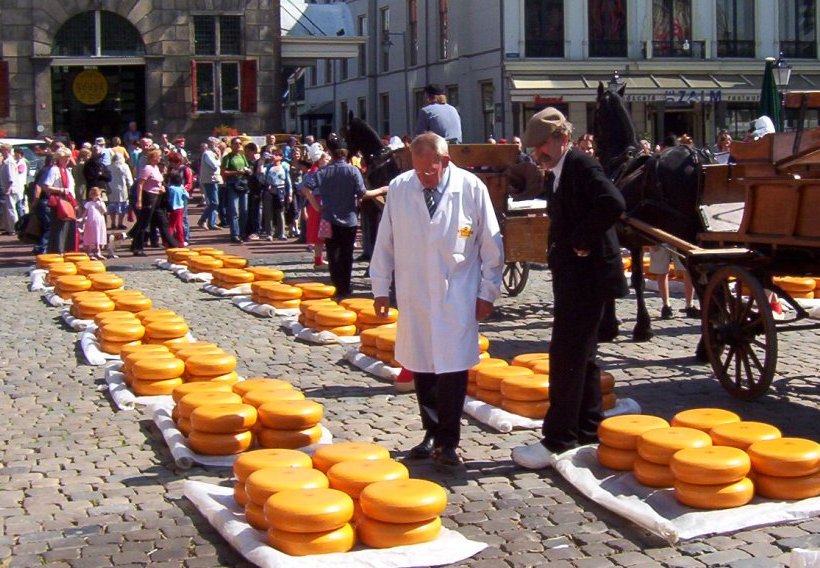 Top 5 things to do
Live the gouda life
If you're feeling a bit bleu, you won't be prov-alone in Gouda. It should go without saying that there are quite a few cheese-related activities. The famous Gouda Cheese & Craft Market, which has been going strong for roughly eight centuries, is typically held every Thursday between April and September. If you love cheese or a hearty dose of Dutch kitsch, look no further. It's staffed by 'Cheese Boys' and 'Cheese Girls' dressed in period costumes. There's no shortage of the stuff elsewhere around town and shops devoted to the city's namesake as well as plenty of other types are plentiful.
Visit a few very cheesy museums
If the market isn't up and running and you still haven't gotten your fill of cheese in the shops, there's not just one but two museums devoted to it in Gouda. The Goudse Waag, the city's former weigh house, serves as both a tourism centre and a museum that goes over the production of local cheese as well as other products. The more modern Gouda Cheese Experience can take you on an interactive journey through what its website describes as 'a golden yellow universe'.
Gaze at the Goudse Glazen
Gouda is home to the 123-metre Sint Janskerk, the country's longest church. It's best known for its 'Goudse Glazen', a series of 72 stained-glass windows that date back to the 16th century and feature both Biblical scenes and ones devoted to Dutch history. The church has a small shop and an audio tour available. It also hosts concerts.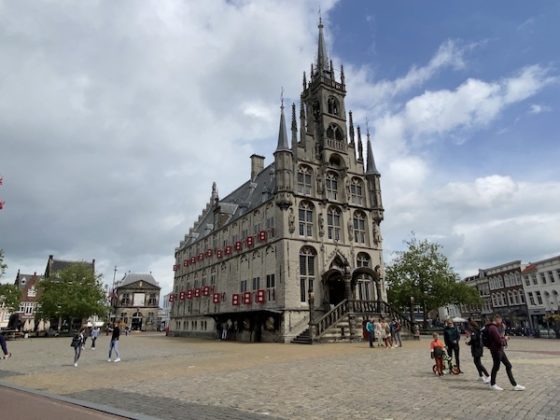 Wander through Gouda's city hall
When Gouda's original city hall burned down in 1438, local leaders decided to construct a new one in a peat bog. The bog is long gone but the building remains, and it's one of the Netherlands' most striking examples of Gothic architecture. Located in the middle of the city's market square, the Gouda Stadhuis can be described as majestic, imposing, or both.
The exterior features a glockenspiel-style display with mechanical puppets that do their thing twice an hour. Visitors can also tour the interior, which includes floor-to-ceiling fabric walls in a chamber called the Wedding Hall. If you can figure out what's up with all the floating illustrations of former Queen Beatrix's head in one of the rooms upstairs, please drop us a line.
Go in search of a stroopwafel
These syrup-filled treats were reportedly created in Gouda several centuries back as a cheaper alternative to biscuits, which many locals couldn't afford in those days. The original stroopwafels were made out of discarded bits of dough and crumbs from bakeries. They've since become a staple of outdoor markets all across the country. The Kamphuisen, a local syrup waffle factory, has been making them since 1810. They offer tours along with stroopwafels and syrup waffle liqueur in their shop.
Fans of stroopwafels might also be interested in swinging by the Punselie Cookie Company, which came up with a substitute version of the treat during the dark days of World War II. During the average work day, they still crank out over 40,000 of them. If your stroopwafel itch still hasn't been scratched, stop by the Stroopwafelmuur. It's an vending machine full of several different varieties that opened in the spring of 2021. It also has gluten and lactose-free ones.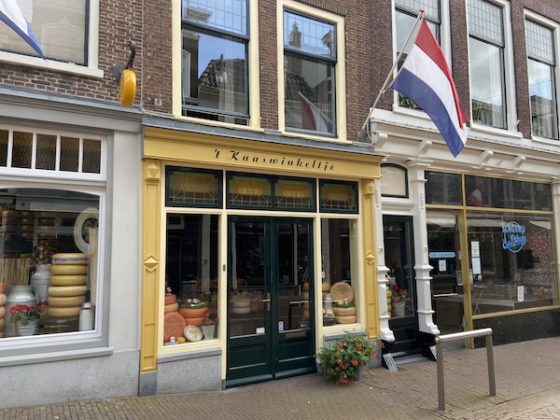 Where to eat (and/or drink)
If you've got an appetite left after stuffing yourself full of cheese and/or stroopwafels, there are several cafes along the perimeter of Gouda's market square. They have mostly standard lunch and dinner menus along with umbrella covered-terraces where you can sit out a rain shower or two.
Swing Gouda is one and the 'swing' refers to their music nights. They currently host 'interactive piano shows' on Friday and Saturday evenings. Lunchcafé Curcuma is a veggie-friendly cafe nearby that's a good spot for lunch or a latte.
Grand Cafe Central is a good pick for dinner. It has a beer bar with a menu listing over 80 different bottled varieties. The walls are lined with art deco paintings that will help you feel like you've been transported back to the Roaring '20s. They were painted in 1924 by the same artist who decorated theatres across the country including the Tuschinski in Amsterdam. If you prefer high tea over lagers, check out Museum Cafe Gouda. Their menu currently boasts nine varieties.
David's Gelato is where to head on a hot summer afternoon. The town has two locations and both offer an array of rotating flavours. There's at least 100 of them, and it would probably take half a lifetime to try them all. 'Anti-Hangover' and 'Thailand' are two of the more exotic ones. Those in search of a good brown bar will probably enjoy pulling up a stool at Biercafé de Goudse Eend or grabbing a table at their unique outdoor terrace. It's lined with dozens of rubber ducks.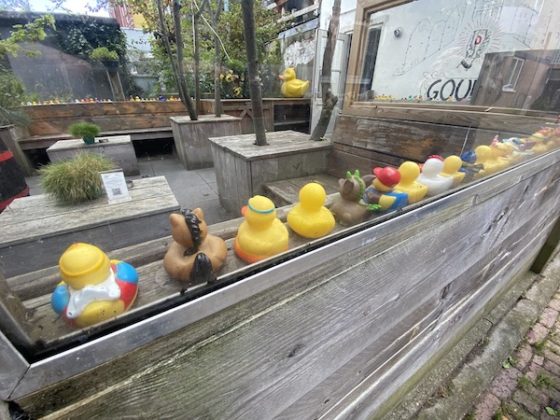 Where to stay
Relais & Châteaux Weeshuis Gouda is in the centre and is located inside an elegant building that dates back to 1599. Hotels are somewhat limited around Gouda, but there is a Best Western along with several small bed & breakfasts and rental apartments. Check sites like Booking.com and Airbnb for the latest listings.
How to get there
It can take around two hours to drive to Gouda from Amsterdam if there's traffic but the regular journey around an hour. The journey from Amsterdam Centraal via train is usually about 50 minutes.
Anything else
There's not much to see besides houses outside the city centre and there is rather a lot of ugly urban sprawl. The stroopwafels and cheese get most of the attention from visitors these days, but Museum Gouda is where to aim if you'd like to learn more about the city's iconic pottery and pipes.
Thank you for donating to DutchNews.nl.
We could not provide the Dutch News service, and keep it free of charge, without the generous support of our readers. Your donations allow us to report on issues you tell us matter, and provide you with a summary of the most important Dutch news each day.
Make a donation