Big Umbrella has convinced you that you're made of sugar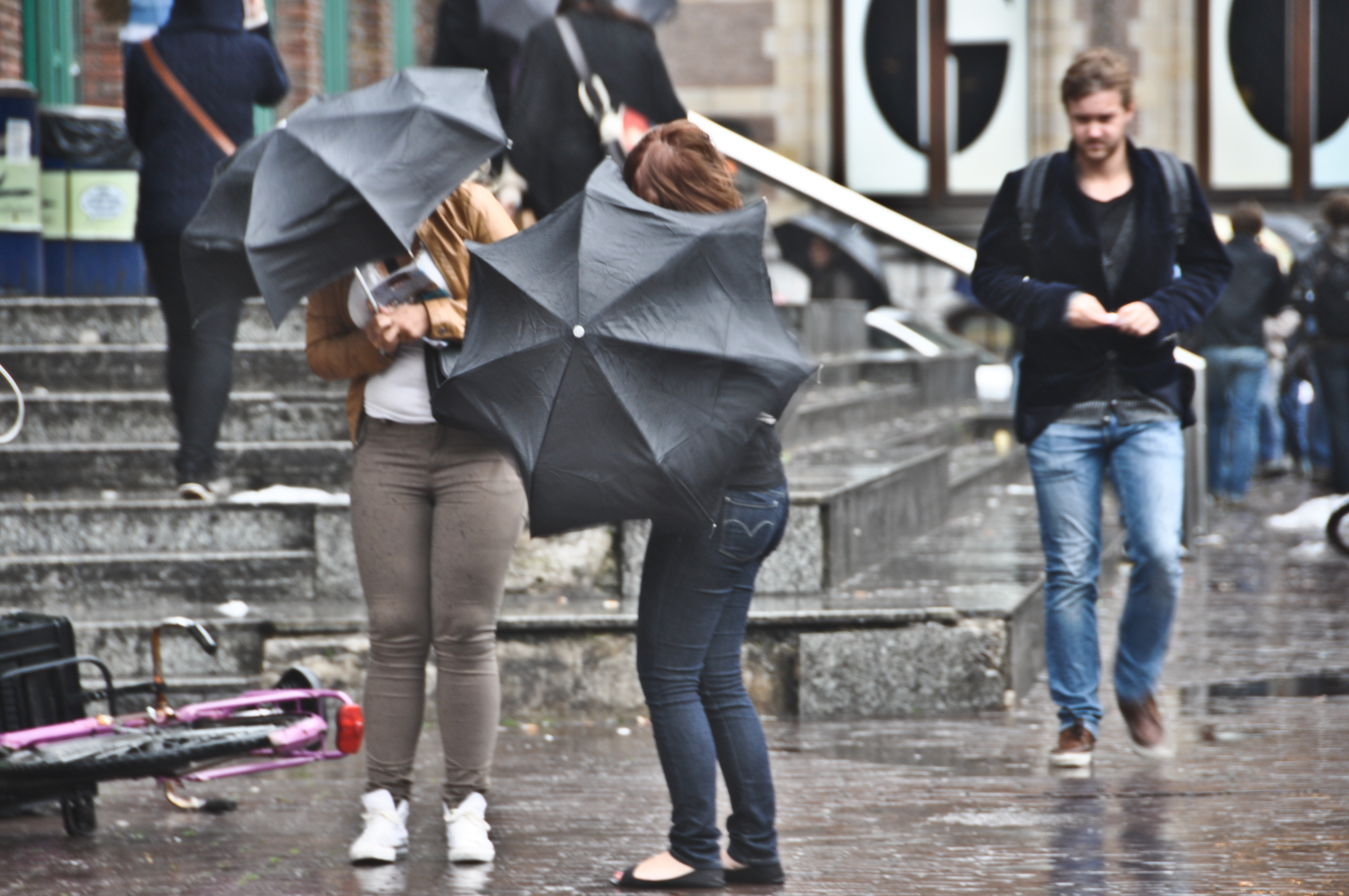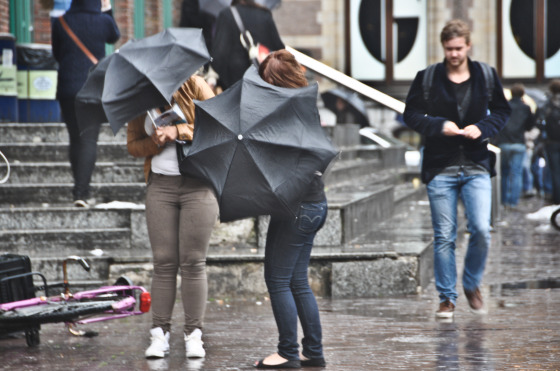 The rainy autumn weather has set in and so has the familiar packing and unpacking of raingear, the shaking of umbrellas by cafe doors and the hoods of raincoats cutting off peripheral vision. Longtime resident Molly Quell thinks Big Umbrella has conned everyone. 
A few days ago, I arrived at a bar to meet a friend for a drink. I was soaking wet. As I'd gotten off the tram, the Dutch autumn skies opened up and proceeded to raise the water table by a few centimeters.
I contemplated simply staying on the tram to wait out the rain. It was warm and dry inside the tram. I had a seat. Most people on board even had their masks on properly. I could stay on the tram until the rain subsided, then disembark, walk across the tracks and simply wait for another tram going back the direction I had just traveled.
Unfortunately, I was already running late (because I had gotten distracted arguing with someone on Twitter) and didn't have the luxury of time. I got off at my appointed stop and bolted directly for an awing, where I huddled up with everyone else caught in the downpour. Only the Thuisbezorg cyclists were still on the move.
I snapped a photo of the downpour to send to my friend. He lobbied back with a photo of his umbrella, dripping and propped against the wall of the pub. 'Those portable roof things really are quite handy.'
I suggested he could go fornicate with himself.
I checked the weather apps. (Well, going to their mobile websites at least. I refuse to download any onto my phone, which may be the subject of a future column.) I concluded that the rain would last for longer than I was willing to wait, so I pulled my scarf up, wrapped my denim jacket a bit closer and walked out into the abyss.
The Dutch have a saying about venturing out into the rain. 'Jij bent niet van suiker gemaakt' ('You're not made of sugar'). That's what parents tell their protesting children as they kick them out into the torrents of water.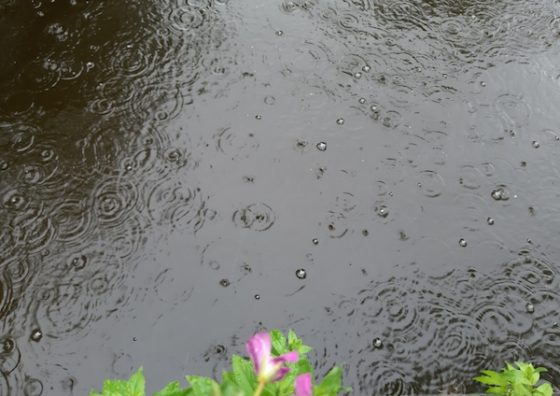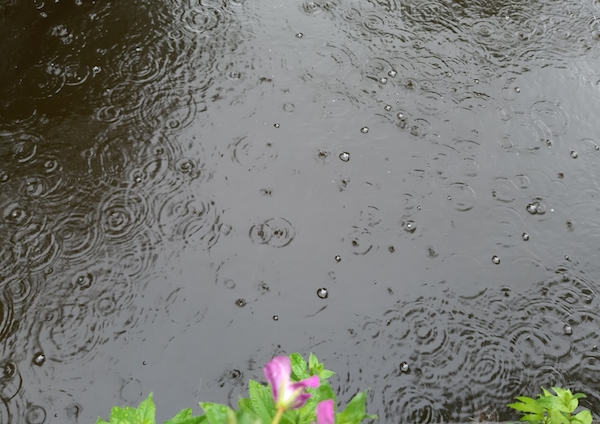 This is what I told myself as a splashed through the rivers of water running along the brick sidewalks. I wasn't wearing a raincoat or rain pants, because I don't own them. I wasn't carrying an umbrella because I don't have one.
'Negative net present value' is an investment term referring to when the money generated in the future isn't worth more than the initial investment cost. This is how I feel about rain protection. And not the literal money, you can get a rain suit and umbrella at Hema for less than €25. It's the effort to have the stuff around when you need it.
Sure, owning a raincoat would have kept me partially dry while I walked to the bar. Carrying an umbrella would have kept my hair out of the rain. One of those rain suits would have kept me dry as a bone. But at what cost?
I would have needed to have checked the weather before I left to see it was going to rain, an effort I'm almost certainly not going to make. Even if I had, the weather in this country changes more frequently than the government's cabinet lineup. I don't want to be constantly carrying an umbrella. I need my hands to type dumb Tweets as I walk. And whatever moisture those rain suits keep off of you, you generate yourself in sweating from that horrid material.
Instead, I arrived at the bar drenched. My friend expressed sympathy. I took off my waterlogged jean jacket and scarf, shook them up and hung them on the radiator. I shook out my hair and blotted myself with some napkins.
Five minutes later, the rain was forgotten. We were catching up about his novel and my work travel. When I left, I was dry. My jacket and scarf were toasty and the rain had stopped.
I'll get this,' my friend said, gesturing to the empty glasses. 'Since you got caught in the rain.'
Don't get suckered by Big Umbrella. You're not made of sugar.
Thank you for donating to DutchNews.nl.
We could not provide the Dutch News service, and keep it free of charge, without the generous support of our readers. Your donations allow us to report on issues you tell us matter, and provide you with a summary of the most important Dutch news each day.
Make a donation