'Here, I don't have to bring my work home, and if I'm sick, I'm sick'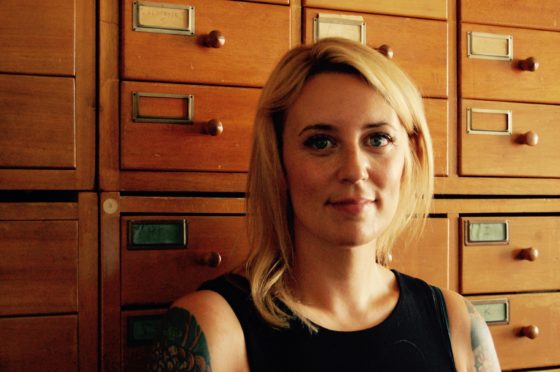 Courtney Schellekens works as both a project leader at the University of Groningen and as a freelance photographer who documents conflict and post-conflict environments. Originally from Boston, she loves the sensible work-life balance found in the Netherlands but Dutch nachos? Not so much.
How did you end up in the Netherlands?
I used to be married to a Dutch guy. We moved here from Boston when he got a job at the  University of Groningen back in 2009. I've been here a long time.
How do you describe yourself – an expat, lovepat, immigrant, or international?
I honestly thought a lot about this question, and I couldn't narrow it down. I guess I consider myself all of those things. I literally tick every single box, even the lovepat one.
How long do you plan to stay?
I'm not quite sure. I can't see myself living here forever but, at the moment, I have no plans to leave. I've built up quite a fantastic life here over the past 12 years. That's not something I'm ready to give up. I can imagine living here indefinitely, honestly, but I can't see myself living here for the rest of my life.
Do you speak Dutch and how did you learn?
I do speak Dutch. I actually recently found out how well. I had an assessment at the university where I work. Shockingly, they told me I speak Dutch at a high level. I don't get to practice Dutch very often though because the faculty that I work at is all English. All the communications work I do is in English. We don't even correspond with each other in Dutch. So I do speak Dutch, apparently really well, but I almost never have to. I'm not super confident in it.
I took classes, but being fully immersed in Dutch society was really helpful. When I first moved here, I'd walk around and all I heard was the Dutch language. After a couple of years, I started being able to understand what was going on around me and really interact with my environment.
What's your favourite Dutch thing?
My absolute favourite Dutch thing is their dedication to a healthy work-life balance. It's a stark contrast to the attitudes in the United States. As an American, I just found it so refreshing. I think it's really helping me lead my best life. I don't want to sound cheesy, but it really is. The United States has a real 'work hard, play hard' mentality and people work like dogs. Over there, you get 10 days of vacation and a few sick days, if you're lucky.
I have a feeling sometimes that, had I stayed there, I'd one day wake up an old lady and wonder how my life had passed me by. I would have spent my entire adult life working 50 or 60 hours a week. Here, I work three days a week, I don't have to bring my work home with me, and if I'm sick, I'm sick. I don't have to worry if I have enough vacation days to take and stuff like that. It gives me the freedom to stay home if I'm sick or take care of my son if he gets sick without repercussions at work.
How Dutch have you become?
That's a really difficult question to answer. I don't know, I'd have to ask other people how Dutch they think I've become. Like, my family back home or something. But I do think that living in the Netherlands has helped me let go of my American sense of materialism.
It's helped me embrace more of a minimalist lifestyle. I always use public transportation or ride a bicycle. I haven't owned a car since I moved here. I'd always had a car, I'd had a car since I was 16 years old in the US because you absolutely need one. It's urban sprawl, and we don't have that here.
Which three Dutch people (dead or alive) would you most like to meet?
Any of the Dutch masters. Let's say Vermeer, so I have a definitive person, but I would meet any of them because I feel like they all painted sad mediocre people eating potatoes in the dark. I would attempt to cheer them up and maybe slip them some anti-depressants.
The cook from the Dutch restaurant that served me nachos with marinara sauce and mushrooms on top. I want to meet him so I can slap him and teach him how to make nachos. I'm not going to mention the name of his restaurant, but… The nachos in many places here are an abomination, and they're a fucking scourge on the planet.  Also: Dutch people? Nutella is not chocolate!
Baruch Spinoza. I find his story really interesting. He was cursed with all the available curses in the Book of Deuteronomy and excommunicated by the Catholic Church, but all the records show that he was a really nice guy. He had a really healthy idea of what God is to people and what it should be. He concluded that God is everywhere instead of the narcissistic idea of an interventionist god. So I would want to meet him and find out what it's like to be smited by the Catholic Church and with every available curse. I'm curious, I'm really curious.
What's your top tourist tip?
100%, I would tell them to take a trip down to Maastricht, just laze around the city for a few days, and check out the architecture. I would also highly recommend going to any of the islands. Ameland, I think, is the best one. It's lovely and small and it's got all these gezellig terraces all over it. It's also bikeable. You can bike across the whole island.
Tell us something surprising you've found out about the Netherlands.
This was surprising when I first learned about it. The Netherlands is globally seen as and prides itself on being tolerant, but I was very surprised when I walked into an Albert Heijn in 2006 and saw that they were selling blackface kits. In fact, they were available until just a few years ago. It was surprising for me that a society that claims to be very, very tolerant has a huge blindspot for their ultra racist Zwarte Piet traditions.
I know it's a hot button issue, but it's genuinely a problem, I think. It's a large societal issue and it shocked me. It shocks me every year when Zwarte Pieten show up at my kid's school or his karate lessons. I can barely contain my shock when it happens every single year. Things are changing, but it's slow, it's so glacially slow.
If you had just 24 hours left in the Netherlands, what would you do?
I would go to my favourite hotel, which is the Lloyd Hotel in Amsterdam. I would rent an attic room, because those are the best, some have swings, and they all have big fluffy beds. Then I would probably go to dinner at The Duchess and spend the rest of my time just kind of strolling around the canals with my camera, to be honest. That would be my perfect day.
You can learn more about Courtney's photography by visiting her website.
Courtney Schellekens was talking to Brandon Hartley
Thank you for donating to DutchNews.nl.
We could not provide the Dutch News service, and keep it free of charge, without the generous support of our readers. Your donations allow us to report on issues you tell us matter, and provide you with a summary of the most important Dutch news each day.
Make a donation