The Flower Bike Man bringing smiles to a city in crisis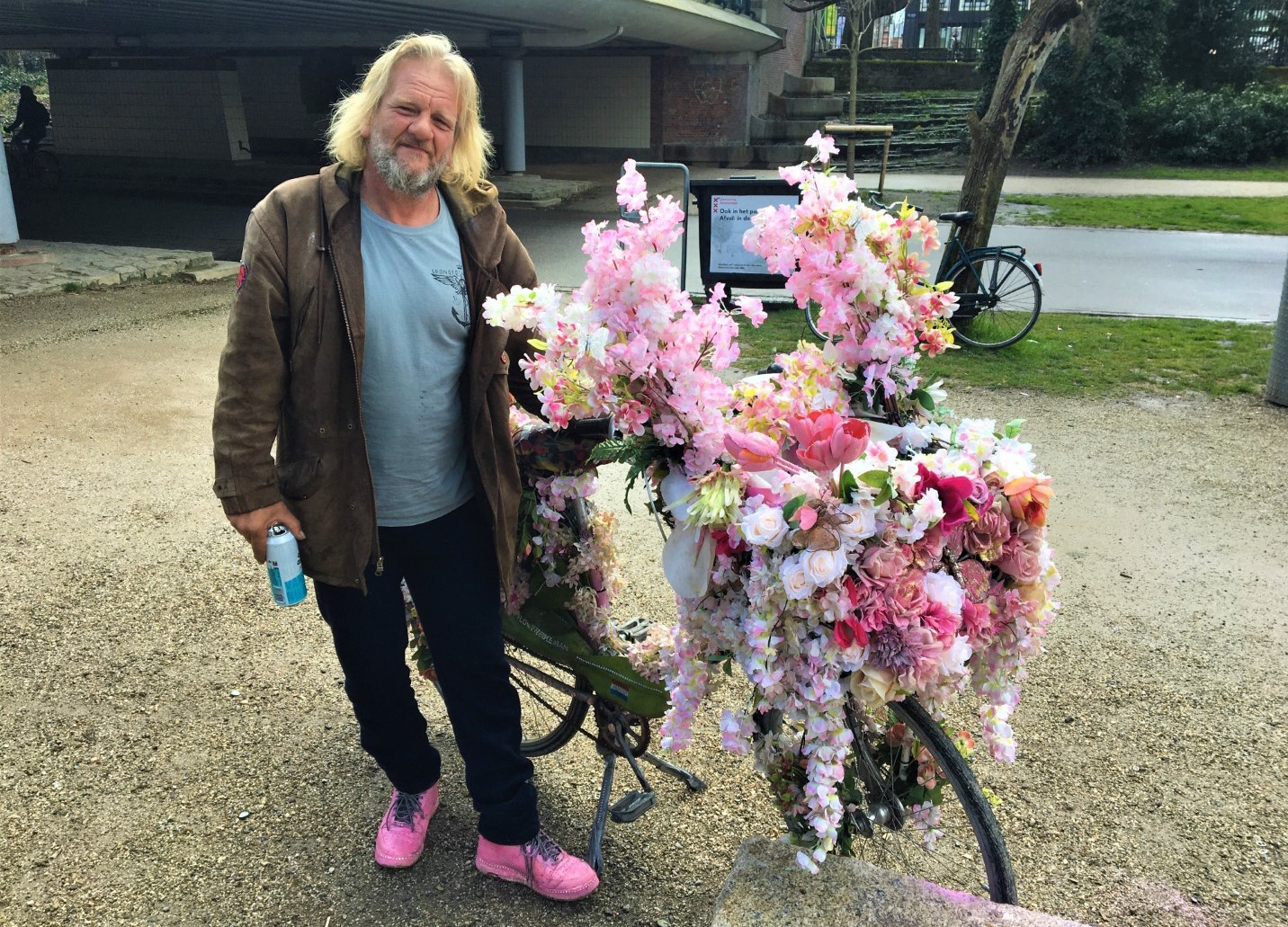 Spring is bringing welcome cheer to the Netherlands, but Amsterdam now blooms whatever the season thanks to the public art created by its sunniest resident, the Flower Bike Man.

The pandemic has infected over 1 in 10 Amsterdam residents, driven up unemployment to almost three times the national average, and driven out the tourists. But weaving through the capital's muted streets and creating a welcome distraction from the gloom, is a bearded figure on a bike bedecked bumper-to-basket in synthetic flowers.
Smiles
The colourful crusader putting smiles on the faces of residents and visitors is known locally as the Flower Bike Man. Warren Gregory (50), originally from Florida, has created over 300 flamboyantly decorated bicycles, many chained around the city, adding a welcome pop of colour irresistible to photographers.
Today, Warren has amplified his positive message to the capital by biking a boom box around with him, and we can barely hear one another when I meet him at his favourite hangout in the Vondelpark, where he is gluing fabric flowers to two pink bikes which are being borrowed for a television series the next day.
'People are looking for something to be happy about,' he explains, as we move to a quieter spot and Warren pops the ring-pull on one of the beers that he has brought to share with the homeless who watch over his bikes while we talk. 'When you see someone's face change because they saw you… they're riding along and they don't look so happy – it's raining, it's cold, they're thinking about something negative – and then they see you and you can actually see the smile come out… that's one of the best ones.'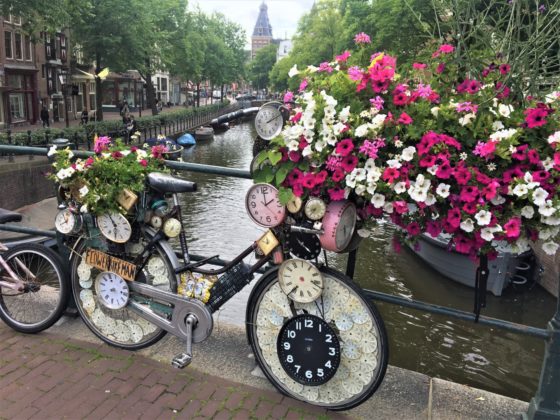 Contagious
If people still don't crack, Warren toots his horn at them until they roll their eyes and give in to a grin. 'After that, they go that way, and I go this way, and the next person they see sees them smiling, and it's contagious,' he says.
Sometimes it's places that need cheering up. 'Parking a bike in an ugly spot is still so much fun,' he smiles, relighting a joint wrapped in pink paper which repeatedly goes out. 'A broken bridge, barbed wire… and you put the flower bike up against it and take a picture and then you walk away and leave it and leave the music playing… and then I watch what happens. People go, one after the other, taking pictures, stopping with it, taking [more] pictures…'
And he doesn't mind the instagrammers. 'The best is the foot thing,' he laughs, mimicking − in his pink spray-painted trainers − the cutesy bent leg and tip-toe pose that many young women adopt. 'I love it. I look for them [on instagram] every day… and put them in my highlights under 'models on bikes'.'
Pain
But Warren's happy philosophy is actually born of pain. The bike decorating began when his wife, Michelle (43), whose life-threatening epilepsy causes memory loss, was having trouble recognising and locating her bike. A giant sunflower was pinned to the middle, and the adornments spiralled from there. Today, there is so much cherry blossom piled over the frame that she tells him: 'Stop putting flowers on it, it's getting so heavy!'
Sadly, Michelle rides her bike less and less. Drowsy from the disease, she spends much of the day asleep in the small cabin boat the couple share in Amsterdam Noord, something which Warren says 'burns me up inside'. In fact, everything I ask him about the bikes comes back to Michelle, his muse, and the impetus behind the creations.
Through tears, Warren tells me that the white flower bike in front of the OLVG Oost hospital, for example, was actually a tribute to the doctors who saved Michelle's life when – twice – her heart stopped beating. However, during the pandemic, the bike took on a new significance as people began putting posters around it in support of frontline health workers.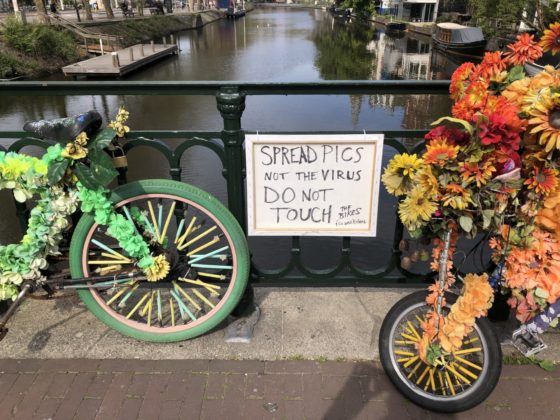 Giving
Each bike has its own story. At the start of the pandemic, Warren planted seeds in some of their baskets as symbols of hope, and collected food in another for the homeless − 'the boys', as he calls them, who have helped him through the roughest times. 'I had these guys here just to let me cry sometimes and just protect me,' he says, gesturing to the men sheltering under the bridge behind us.
And when the council began removing the love locks which were growing like barnacles on the city's monumental bridges, Warren created the Love Lock Bike and invited lovers to fasten their padlocks to it. His kindness is catching. The day before we meet, an anonymous gift is left on his boat: a box full of plastic flowers.
Though Warren makes some cash customising bikes for businesses such as the Smokeboat, monetising his hobby does not come naturally, and when media students made him the subject of a documentary at the end of last year, they decided to launch a crowdfunding campaign to help him. Much of the sum has gone into securing his residency rights, but Warren admits that he's also 'spent way too much on the homeless'.
A new life
For Warren, the great-grandson of immigrants from Brabant and Friesland who became lend-lease farmers in the USA, moving to the Netherlands was a kind of homecoming. Even the weather agrees with him: 'It's not sticky and hot, and there are four seasons!' he says.
Following a double fusion in his spine to treat his degenerative disk disease, walking can be uncomfortable, but cycling is almost painless. The bike culture here has given Warren a new lease of life, freeing him from obesity (he lost 100 kilos), and opening up the city to him. The access to cannabis gives both husband and wife some relief from their symptoms, while Michelle's epilepsy medicine is 60 times cheaper here than in Florida.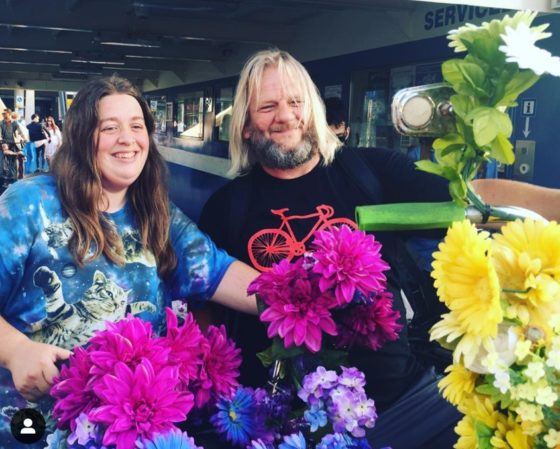 Homage
As a homage to his new home, you will always find a tulip somewhere on Warren's creations, but the bikes' raison d'être has always been Michelle. As Warren prepares to register his bike business at the Chamber of Commerce, his motivation is simply to get his wife 'healthy and secure' − at which point, he says, the bikes will have served their purpose. Until then, his dream is to brighten each tile beneath the bridge where his friends gather, using the thousands of images he's stored of people enjoying his bikes.
When one of 'the boys' politely interrupts to ask Warren if he could spare some rolling tobacco, our conversation reaches a natural conclusion. An interview which was meant to be about the Flower Bike Man, was in fact all about Michelle. The signposting had been there from the start. 'Mine is a love story,' he'd told me as I'd flipped open my notebook. 'Many people need love stories right now.'
Thank you for donating to DutchNews.nl.
We could not provide the Dutch News service, and keep it free of charge, without the generous support of our readers. Your donations allow us to report on issues you tell us matter, and provide you with a summary of the most important Dutch news each day.
Make a donation