Dutch recycling strategy needs a rethink: 'we don't know what is going on'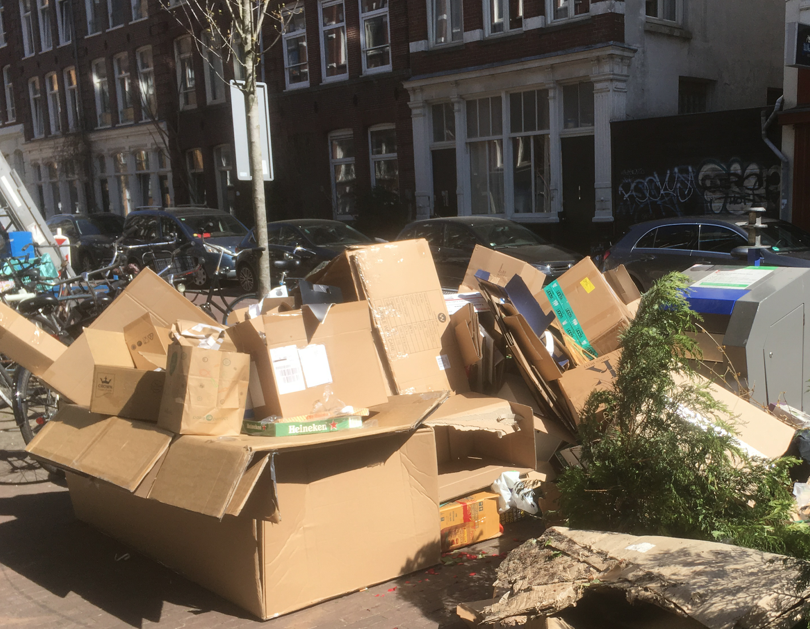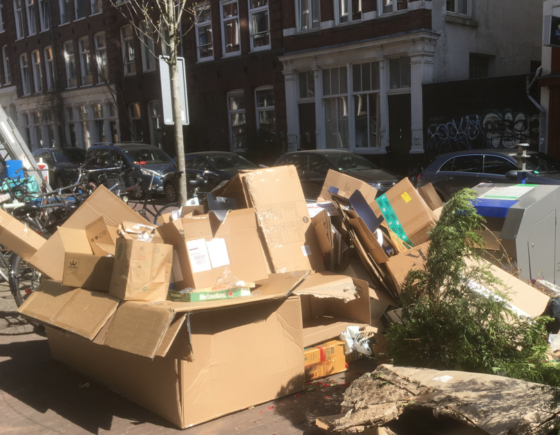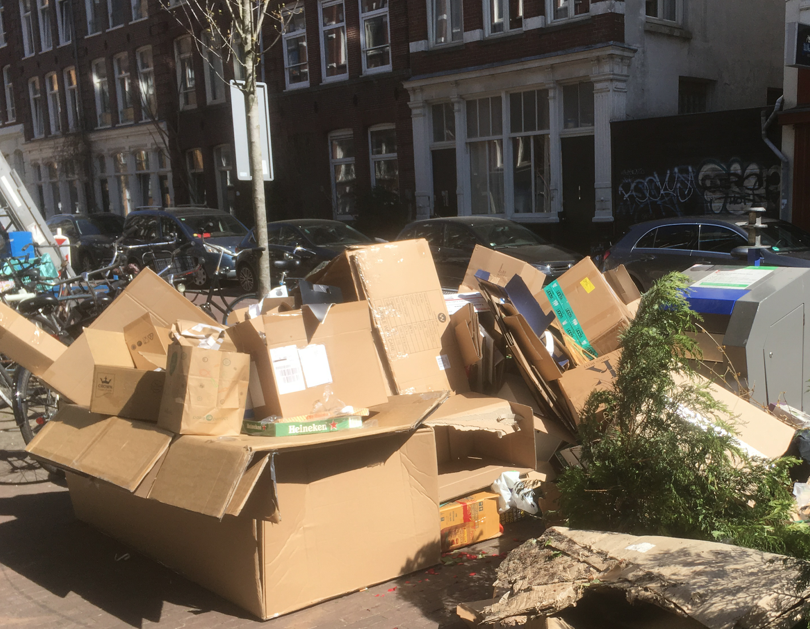 The Netherlands claims to be a leading light when it comes to recycling, but walk along any Amsterdam street, and you have to wonder who is recycling what. Piles of cardboard and old furniture stack up alongside the underground paper and glass containers, next to full plastic bags of household waste. Zuza Nazaruk spoke to Rob Buurman of Recycling Network Benelux to find out what is going wrong.
'We have almost no idea what is going on with Dutch recycling,' states Rob Buurman, director of Recycling Netwerk Benelux (RNB), an environmental NGO and one of the key drivers of the recent legislation to bring in deposits on small plastic bottles and cans.
'The Netherlands, and Europe generally recycle a bit better than the rest of the world but then again, our consumption rates are higher', says Buurman. 'We owe the world a better recycling strategy.'
The word 'recycling' covers a variety of processes including collection, sorting and categorizing, processing, and repurposing. Every waste stream, for example, cardboard, metal, plastic, or glass, requires a separate process. And that means, every waste stream is at a different stage.
Valuable
In general, the more valuable a material, the more likely it will be recycled. Metals are expensive to produce and easy to separate, and 95% of metal used by the packaging industry in 2018 was recycled, according to Afvalfonds Verpakkingen, the industry body charged with managing recycling on behalf of packaging companies and local authorities.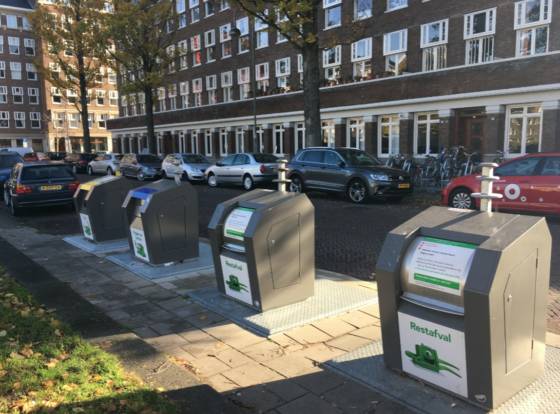 Plastic, by contrast, is cheap to make but expensive to reuse, and just over half the plastic packaging used in the Netherlands in 2018 was recycled.
The packaging industry claims that the Dutch high recycling rates make the country 'one of the leaders in Europe'. And according to the European Environment Agency (EEA), the Netherlands is fourth in the EU in terms of recycling municipal waste, with 54% being recycled in 2019. Yet a closer look reveals a bleaker picture.
Inadequate measurements 
A major issue with the percentage rates presented by both EEA and the packaging lobby is the method of calculating recycling. In EU terms, all collected and sorted waste counts as recycled, while 'pollution' such as left-over liquid in a bottle, is also included.
And some of the 54% actually ends up being incinerated or shipped overseas. Recent investigations by the Lighthouse Reports found that Dutch waste, marked as recycled, was shipped to Turkey and Malaysia and the latter imported 18 million tons of Dutch waste in 2019.
New EU rules which will soon be introduced will change the definitions of what counts as recycling but, as Buurman points out, they will still miss the key point of recycling: measuring the environmental gain and getting people to simply use less.
'The goal,' he says, 'is not to recycle but to reduce resource consumption.'
New products
One way of doing this is using recycled material to replace virgin resources in creating a new product. The construction industry, for example, is working on reusing concrete from demolished buildings in producing new ones.
Initiatives to cut plastic waste use plastic soup to create boats and the fashion industry is coming up with a myriad ways to reuse old clothes. Eindhoven students have even developed a car made out of waste.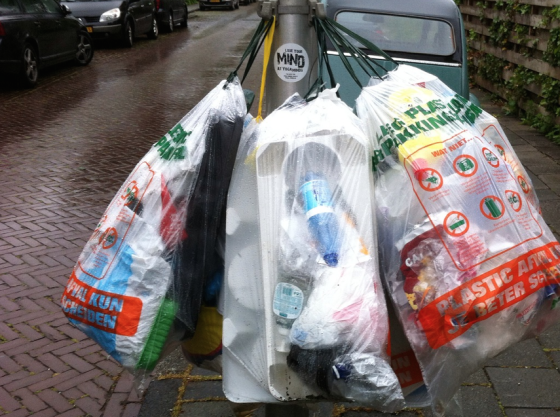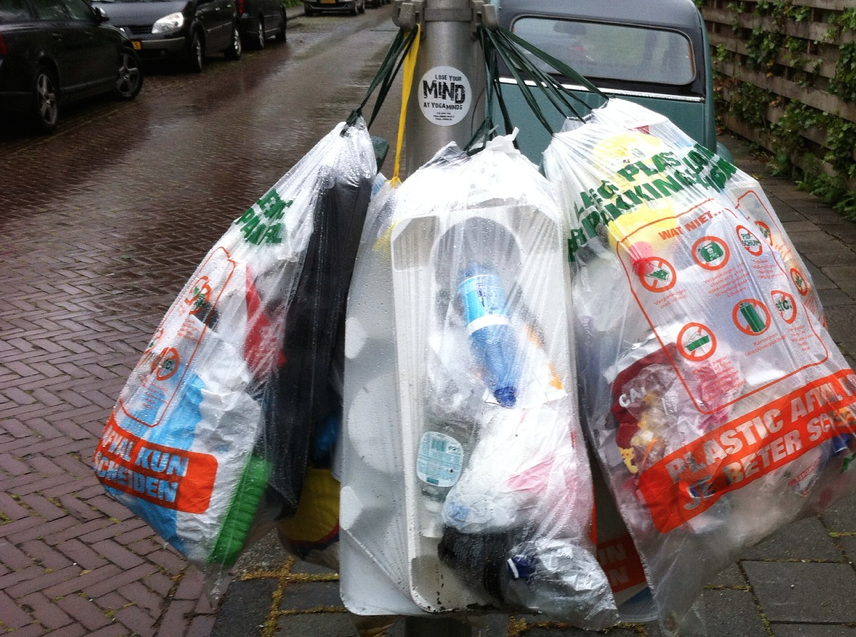 The Dutch government is currently working on plans to boost the amount of recycled material used in manufacturing in its 2050 Circularity plan. The plan states that in 30 years time, the use of metals, plastics and other non-organic materials must be cut by 50%. Amsterdam has similar aims.
This approach to reducing waste in general derives from a theory developed by Dutch politician Ad Lansink in 1979. He drew up a hierarchy of waste management – prevention and reuse, recycle, recovery and disposal – which still forms the basis of current EU strategy, although, as Buurman points out, it is widely ignored.
Rising production
Instead of focusing on preventing waste in the first place, and encouraging its reuse, government strategy tends to focus on recycling, which does little to counter the negative effects of rising production and consumption, especially for plastic packaging.
'In the Netherlands, we continuously monitor litter and it always increases. It is time to start approaching waste differently', Buurman says.
New legislation bringing in deposits on small plastic bottles and cans, come into effect respectively in July 2021 and January 2023, and will significantly improve the collection and, subsequently, the recycling quality of drinks packaging, he says. The move was furiously contested by the packaging industry, which cited cost concerns.
Victory
'The deposit discussion is one of the longest-running in the Netherlands. We really achieved a victory here,' says Buurman. The Netherlands becomes the 16th EU country to introduce deposits on small drinks containers. Some, such as Germany and Estonia, have been doing so since the early 2000s.
The struggle to bring in deposits on small plastic bottles – around 100 million are dumped in the Netherlands every year – illustrates the important role the packaging industry has in Dutch recycling strategy.
An investigation by EUobserver in February revealed the role that the packaging industry plays in both processing waste and lobbying against change. Yet national government, recyclers and local authorities are all in some way dependent on the industry.  Local authorities and recyclers need to get paid for the collection and recycling, while the government depends on industry figures for data collection and reporting.
Litter
After the deposits victory, Recycling Netwerk Benelux is now turning to other matters. Buurman has recently given input to the Dutch government about a new communication campaign focusing on litter.  'We need more discussion on the relationship between consumer and the product, not just consumer and the bin,' he says.
Also in the firing line is the online shopping sector. It boomed during the pandemic, causing cardboard waste to skyrocket. The home delivery sector, says Buurman, offers great opportunities for waste prevention and reuse, for example, by standardising boxes and food containers.
Yet, at the moment, there are no incentives – legal or economic – to introduce circular systems. 'We will not save the world by depending on the voluntary attitude of mindful people,' Buurman says. 'An environmental change often starts with a good policy framework.'
Thank you for donating to DutchNews.nl.
We could not provide the Dutch News service, and keep it free of charge, without the generous support of our readers. Your donations allow us to report on issues you tell us matter, and provide you with a summary of the most important Dutch news each day.
Make a donation