Classic boat owners fear being barged out of Amsterdam canals by tourist booze cruisers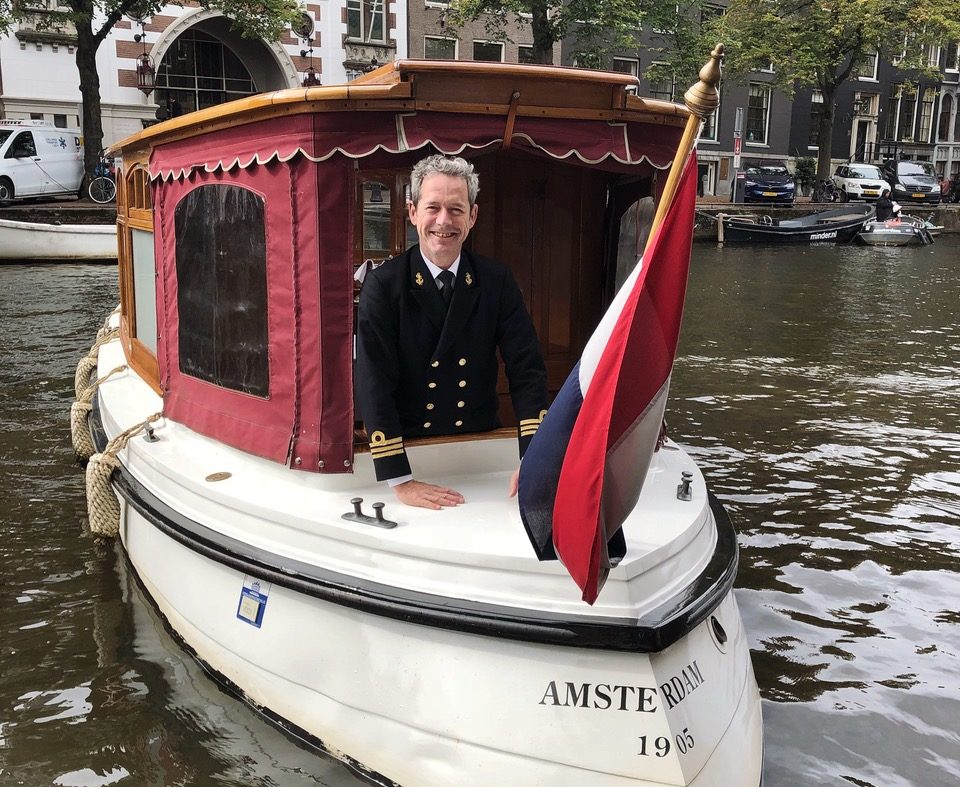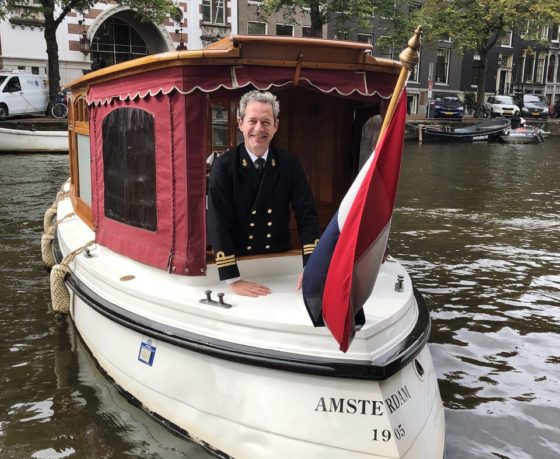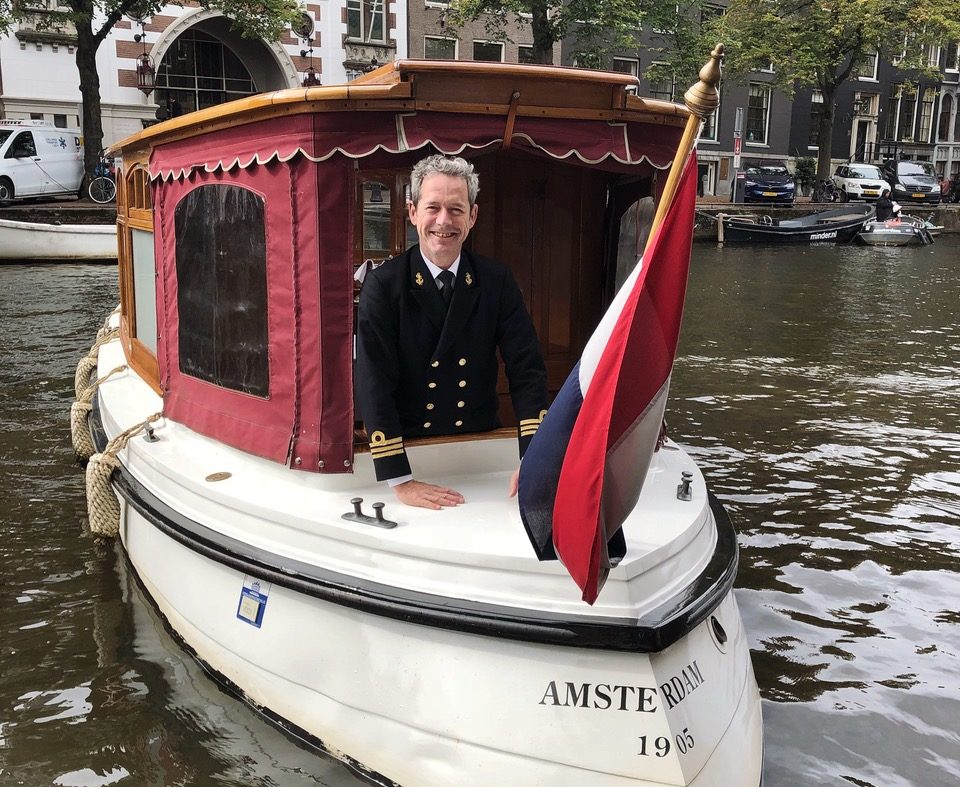 In one blow, Nico Bax will see the Classic Boat Dinners business he built up over 15 years go up in smoke.
Bax, a chef and wine enthusiast who hosts luxury dinners on two classic gentleman's launches, has lost one of his licences in a new Amsterdam city lottery system.
He is one of more than 20,000 people to sign a petition protesting that local transport rules could kill family businesses and see the traditional, wooden pleasure fleet disappear from Amsterdam's canals. The cause is a new system aiming to restrict the numbers of business pleasure vessels to 550, by means of a lottery for six and 10-year permits.
'I have two gentleman's launches and one of them has lost the lottery in this round, the Kleijn Amsterdam,' said Bax, in despair. 'I've been doing this since 1996, and suddenly the town council is just telling me just to stop. The most bizarre thing is that entrepreneurs with healthy, small and medium-sized businesses are being ordered to look for another job, while other people who want to start a tour business can just request a permit. The lottery is a kind of absurd bingo night.'
The first draw for 155 licences was held last year, results were shared in March, and since then the outcry amongst classic boat enthusiasts has only grown. They believe that hop-on, hop-off type tourist businesses with multiple boats have an unfair advantage as they will not be broken by the loss of one permit, while smaller boats say they cause little nuisance and often serve more local demand.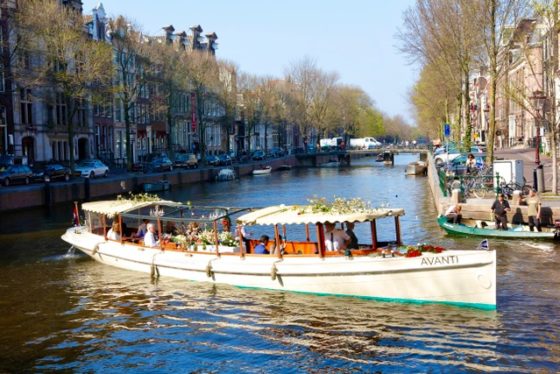 Fishbowls
Vincent Horbach, whose Rederij Prinsengracht offers cruises to small groups including funeral processions, says that the country risks losing a vital part of its floating heritage. 'You are effectively putting up your business to a sweepstake,' he says. 'These are small businesses with pre-WWII salonboten suddenly losing their firms. I have two boats, and my lottery will come, but this is my pension.
'There are around 50 in the city of what you call gentleman's launches, and these are a listed part of our floating cultural heritage. They are very different from the huge tour boats, which sail round seven or eight times a day whether they are full or not.'
He added that the large, floating glass bowls of tourists were quite a different kettle of fish. 'In our eyes, we have nothing to do with the overtourism nuisance in Amsterdam,' he said. 'There's a contradiction that listed maritime history boats are being thrown out of a UNESCO world heritage site.'
A letter sent to council head of water Egbert de Vries from the Federatie Varend Erfgoed Nederland, which registers this cultural heritage, accuses the council of undermining its own decisions to preserve historic vessels which were a 'characteristic' part of the inner city's life. 'Amsterdam says that it wants to limit mass tourism in order to protect liveability in the city, but these small, classic ships are not just part of the canalscape but make an important contribution to encouraging quality tourism, one of the city's aims,' wrote chairman Olav Loeber.
'By implementing a lottery for the heritage fleet, including gentleman's launches, they risk losing their licences. The consequence will be that these classic vessels can no longer be maintained and will be sold or even destroyed.'
Weed-smoking tourists
Councillors such as Wil van Soest, from the Partij voor de Ouderen, agree. 'We believe these boats must stay, but the ruling coalition has decided, and we can't do much about it. They are part of our history, people feel nostalgic about them, and we need to preserve them.'
Johnas van Lammeren, a councillor for the Partij voor de Dieren, added that individuals' pleasure boats probably caused the most nuisance, in any case. 'The gentleman's launches have no loud music, people are sitting and dining, they are electric nowadays, but the way the lottery has been constructed, all of these mom and pop businesses are going to go bust,' he said.
'They can only sign up one or two boats, while the big boys sign in 20, 30, 40 boats: if they lose one or two, they will survive. The gentleman's launches are phenomenally beautiful, and fit in better in the UNESCO heritage site than a huge, open boat full of weed-smoking tourists.'
Battle
The struggle for business permits on the canals has been a legal battle for years, and the trade represents an estimated four million paying passengers who want to take tours each year. This lottery is partly a response to a 2015 ruling from the European Court of Justice saying the market must be fair and open to new entrants, following a court case from eco-friendly boat owner Rolf Trijber, whose 2011 licence application was rejected.
A spokesman for Amsterdam council said that controlling boat numbers in a fair way was part of tourism control policy, and that there was an allocation for classic boats. 'Before the corona crisis, Amsterdam experienced increasing crowding in the city as a result of a huge increase in the number of tourists,' he said. 'To keep the balance on the water it is important to prevent unbridled growth of the tour industry and this is why it was decided to freeze the number of passenger vessels to the level in the summer of 2018…'
'The classic boats belong to Amsterdam's canals and the character of the city, so for this reason, 155 of the 550 permits are for historic vessels.'
He added that although it was 'annoying' for people who lost their permit 'there is, however, a new licence round every two years for which everyone can register.'
Thank you for donating to DutchNews.nl.
We could not provide the Dutch News service, and keep it free of charge, without the generous support of our readers. Your donations allow us to report on issues you tell us matter, and provide you with a summary of the most important Dutch news each day.
Make a donation