What do you do when your husband dies and leaves you hundreds of unseen masterpieces?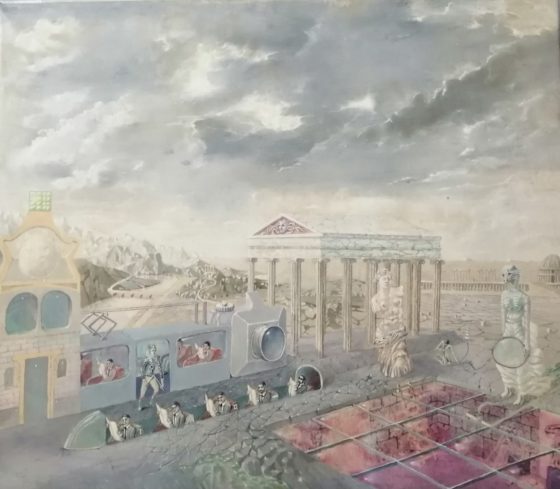 When Willem Barbieri died in 2019, he left his wife with an unusual legacy: over 1000 extraordinary paintings, collages and sketches, created during their life together.
Poet Pauline Barbieri (78) has spent most of lockdown trying to catalogue and photograph the immense body of surrealist-inspired artwork left behind by her late husband Willem (1948-2019) which fills the UK home they once shared. 'You couldn't get into bed for the pictures,' she says. 'When one painting was finished, he just got up and started a new canvas.'
Hidden talent
But though the house heaved under the weight of his drawings, sketchbooks, models and paintings, Willem, originally from Rotterdam, kept his extraordinary talent hidden. Even family, who rarely visited the shy artist and his wife, had no idea he had this huge cache of art. 'My work is to paint, not to show,' he told Pauline, refusing to exhibit his paintings or take any money for them.
Inspired by Dali, Escher, Bosch, and Brueghel – as well as fellow Rotterdammer Johfra Bosschart – many of Willem's works combine dream-like visions with a fascination for energy, mechanics and movement. Others feature fantastic re-imaginings of the Netherlands − the ships, fairground and shops of the Delfshaven in West-Rotterdam, for example, his home for the first half of his life.
Back then, Pauline was busy with her career, the house, and her own poetry and painting, and so found it hard to keep up with all his creations, something she regrets. Now she is busy analysing the pictures and finding names for the many untitled works.
'I now see how complex these paintings are that don't even look complex,' she says. In 'Delfshaven', for example, she thinks she recognises his school and the church by the Lage Erfbrug, while the broken buildings may represent the bomb damage from the war.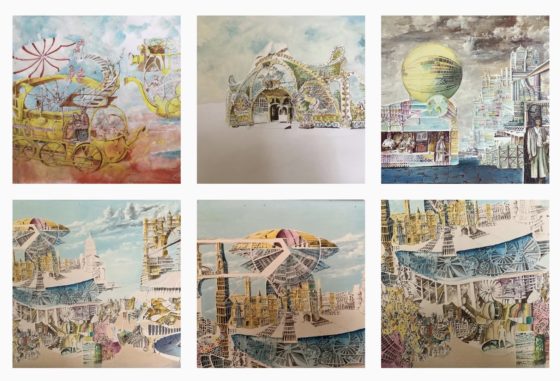 Work
Though art was his greatest joy, Willem disliked the restriction that came with commercialising it. He lasted just one week in the graphics department at Unilever, refusing to design a sunflower motif for a margarine tub. 'If I have to paint sunflowers, I'd rather go home and paint my own!', he told them, and never went back.
Instead, says Pauline, he sought the camaraderie of manual work, 'down with the workers like Brueghel' − labouring in Rotterdam's dockyards and factories, scraping barnacles off ships' hulls or picking onions on the night shift − whatever would put money in his hands at the end of the week.
A move to England − when Pauline, originally from Liverpool, became homesick − only intensified Willem's productivity. A nonconformist, the Dutch-Italian artist felt at ease in what he saw as 'a land of eccentrics', and relished the privacy of their East Sussex home. Compared with their life in the Netherlands, says Pauline, 'you didn't have to think about what the neighbours thought too much'.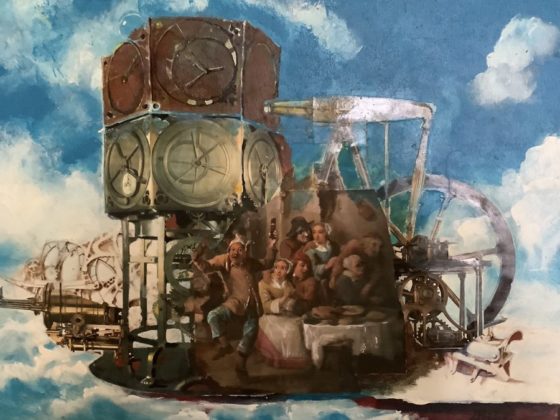 Legacy
But as Willem's creativity flourished, Pauline was secretly suffocating under the volume of work which choked their Victorian terraced house, and the heavy smell of oil, turpentine and linseed which clung to the air. 'Living with the work was so intense,' she says. Eventually, a small flat was bought, walking-distance from the main house, and a sanctuary from its mayhem.
As the pair entered old age, conversations about what to do with Willem's 'oeuvre', were short and unsentimental and based on who 'kicked the bucket' first. 'They're not mine, they're yours,' Willem told Pauline − and if Pauline died first, he said he'd 'just torch the lot'. But she outlived him, and with no children to pass them onto, now faces a dilemma.
A conversation with Willem's beloved Boijmans van Beuningen museum, in the hope of repatriating the works to Rotterdam, has so far led to nothing concrete; and since Willem had been known to give his paintings away to anyone who saw and liked them, selling them feels untrue to his memory. For Pauline, the value of the collection lies, above all, in demonstrating 'what a hard creative life can produce' and 'letting people see how somebody spent a whole life just dedicated to expressing what they saw and thought and felt each day'.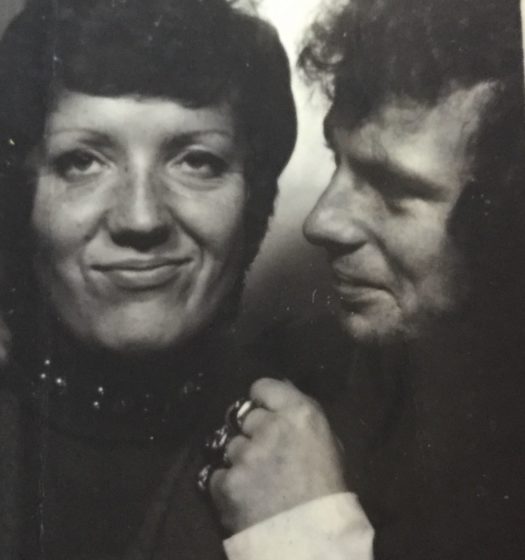 Memories
'Most widows look at family albums,' she says, but in her grief, Willem's works have become an unexpected way of rediscovering their story together. 'I now see how he saw our life,' says Pauline, who has spent hour upon hour decoding this cryptic diary expressed through art. She was moved, for example, to see her younger self −with cropped hair and large grey-blue eyes − painted into so many works. 'I see how much he must have admired me, which goes a long way to compensate for his loss,' she says.
Having moved to a small flat to get space away from the work, Pauline has found herself dragging the works across town to decorate her blank walls once again. Surrounding herself by the paintings has helped her cope with the solitude of the pandemic and reconstruct memories of her husband. She says: 'I thought [to myself], how could you not live with these? They gave me such strength.'
Thank you for donating to DutchNews.nl.
We could not provide the Dutch News service, and keep it free of charge, without the generous support of our readers. Your donations allow us to report on issues you tell us matter, and provide you with a summary of the most important Dutch news each day.
Make a donation