Voters give party leaders food for thought in first TV election debate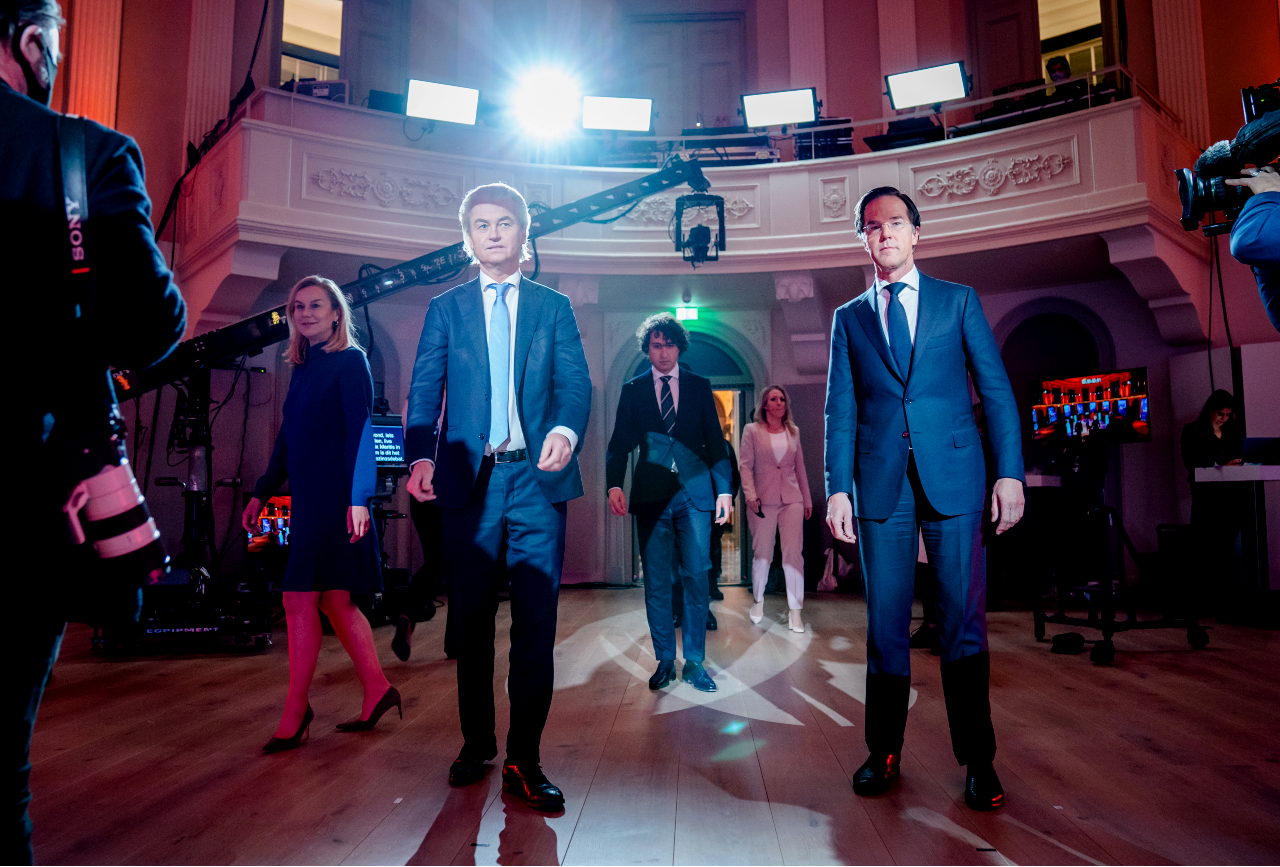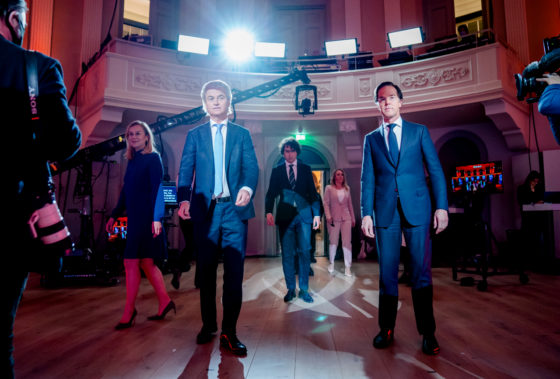 Six party leaders took to the stage in the first televised debate of the general election campaign, but it was a series of cameos from ordinary voters that stole the show.
The debate featured the six largest parties in the last parliament, including three members of the coalition but without Labour (PvdA). Two of the leaders are women – Sigrid Kaag of D66 and Lilian Marijnissen of the Socialist Party, while Kaag and CDA leader Wopke Hoekstra are spearheading an election campaign for the first time.
The two-hour event on RTL was broken down into a series of five themed debates in issues, but each started with a party leader being confronted by a member of the public.
Prime minister Mark Rutte was taken to task by Kristie Rongen, one of the victims of the child benefit scandal that prompted the cabinet's resignation six weeks ago.
An irate Rongen accused Rutte of ducking responsibility for the tax office's aggressive pursuit of thousands of working families who were wrongly accused of fraud and forced to pay back child support.
'What if it still isn't sorted out a year from now?' she said. 'Will you take responsibility then? We asked for you not to come back, but you're standing for election again.'
Rutte replied: 'I think it's dreadful. Lots of things have gone badly wrong, other things have gone wrong, but we're working our socks off, together with the parents' panels, to put it right.' Rongen cut in: 'You're complicit in this.'
Couscous bar
Nadia Zerouali, a cookery writer from Winterswijk in Gelderland, asked Geert Wilders, leader of the anti-immigration PVV, why his party manifesto wanted to disenfranchise her and her Moroccan-Dutch family for having two passports.
Wilders claimed his concerns were about Dutch Muslims prioritising Sharia law over the constitution and told Zerouali, who has a teenage son, that 'Moroccan youths' were responsible for a high proportion of crime.
When Zerouali invited him to discuss things further at her couscous bar, Wilders replied: 'Fine, but I'll leave the couscous if you don't mind. I'll bring my own meatballs.'
Finance minister Wopke Hoekstra faced a couple who run a restaurant in Voorburg who demanded to know why their financial support had been delayed for two months, while GroenLinks leader Jesse Klaver met a student who was struggling to pay back loans, which Klaver's party previously supported.
But Rutte's encounter with Kirstie Rongen was the most painful and a rare moment when the prime minister's composure slipped, as the format made it difficult for the leaders to lay a glove on each other.
Coronavirus and economy
Everyone working on the programme was required to take a coronavirus test before the debate, but the leaders were left to decide for themselves. Rutte, Kaag and Marijnissen chose not to take a test while Wilders declined to say. Rutte said: 'I've never been tested: you only do that if you've got symptoms or you're in a presymptomatic group.'
There was broad consensus on the coronavirus crisis, though Wilders began the debate with a tirade against the cabinet's failures to invest in healthcare. 'They've closed five hospitals in recent years, 19 first aid points and 15 intensive care units,' he said.
Kaag was the only leader to support the idea of vaccine passports to allow people to return to normal life sooner once they have received their coronavirus jab, combined with more widespread fast testing. Socialist leader Lilian Marijnissen said vaccine passports would lead to 'divide and rule' between generations.
Kaag was admonished by Hoekstra, who pointed out that she had recently agreed with her cabinet colleagues on a plan for rapid testing. 'This is not a D66 plan,' he said.
Nuclear power
Hoekstra clashed with Rutte on the question of whether top earners should be taxed more to pay for the extra support during the coronavirus crisis. Rutte argued high taxes could put companies off from hiring new staff, but Hoekstra accused him of driving forward inequality. 'You wanted to press ahead with student loans, you wanted to cut taxes for the biggest companies and you wanted to press ahead with casual contracts in the labour market.'
The parties also differed sharply on responding to climate change, with GroenLinks leader Jesse Klaver coming under pressure from the right to include nuclear energy in the renewable energy plan.
Klaver accused Rutte and Hoekstra of lying about the sustainability of nuclear power: 'Nuclear energy will not help us reach our climate goals in 10 years' time,' he said. But Hoekstra called on GroenLinks to put 'ideological debates' to one side and use all possible means to achieve the targets.
Thank you for donating to DutchNews.nl.
We could not provide the Dutch News service, and keep it free of charge, without the generous support of our readers. Your donations allow us to report on issues you tell us matter, and provide you with a summary of the most important Dutch news each day.
Make a donation