Partner content
Learning outdoors is more important than ever, says Amity International School Amsterdam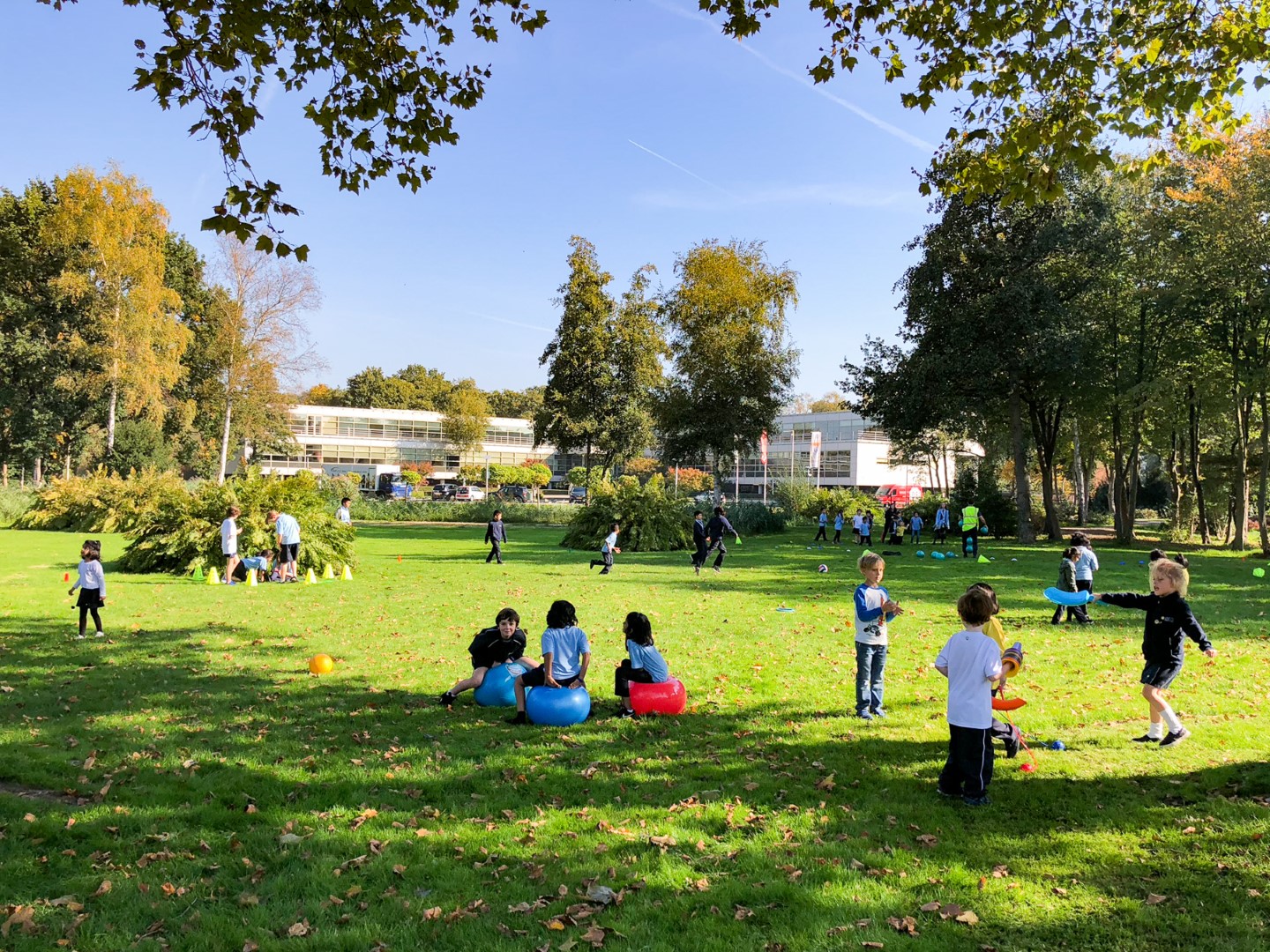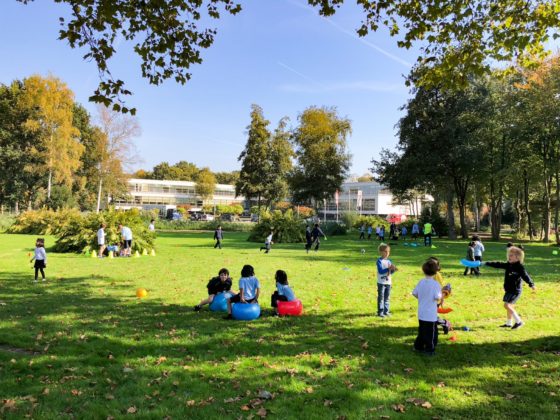 With so much time spent indoors this past year, the value of nature-based learning is more apparent than ever. We learn how Amity International School Amsterdam's new Forest School is enriching their IB curriculum.
A notice reading 'no picking or licking' is probably a helpful reminder in any classroom. But at Amity International School Amsterdam, this sign is about nature not noses. Penned on a piece of wood hooked to a tree, it is one of five safety rules helping children get the most out of the Forest School founded last August in the school's vast wooded grounds.
An island of green
Founded in 2018, the Amstelveen-based school still has places available for children aged 3 to 15 and is gradually expanding its secondary school, phasing in a new year group each August. A big draw for many is the school's unusually green surroundings despite its proximity to the capital's business district.
The stunning school, which boasts a basketball court/football pitch and dedicated play areas for Early Years, Primary and Middle Years students, is located in De Braak, an island of green parkland ringed by trees and dykes, and just a five-minute walk from the Amsterdamse Bos, where a further 726 hectares of grassland, lakes and forests invite exploration.
The new Forest School is a huge hit with the students. Popular features include a den-making area with string, ropes and wood; and a spider's web climbing frame spun from rope and slung between tree trunks. Children who climb high enough can ring the challenge bell at the top, eliciting a hearty cheer from staff and students.
Learning and playing
Often, the children take the lead in Forest School. When their love of digging saw them churning up half the forest, a giant mud pit was created to minimise the school's impact while teaching the children an important lesson about conservation.
'Some of the best things that we get, in terms of learning and playing, come from the children,' says Early Years teacher Sam Burridge, who is a member of the school's Early Years Team and a qualified Forest School instructor.
Recent activities have included setting up a mud ice cream shop (the children's idea) and making a car out of branches and logs. Drilling ring-shaped 'tree cookies' from wood even sparked a school trend when children began hanging them from their bags as decorations.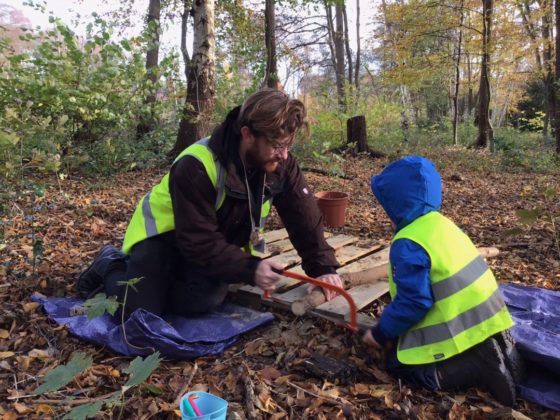 An extension of the classroom
Amity Amsterdam sees the outdoors as an extension of the classroom and learning in nature fits snugly into the school's IB curriculum which teaches children to be caring, inquiring and risk-taking.
'Every single part of the Learner Profile could be linked to Forest School,' says Sam, who plans to open up the basecamp and mud kitchen as a bookable resource for teachers across the school. Sam recently led two staff training days to share with teachers the benefits of outdoor learning for students of all ages. Knot tying, fire-making and problem-solving activities, such as building structures or water filtering, are all ideal challenges for older children, he explains.
In the Primary School, PY5 teacher Nadia Ntavarinou has already been outside a great deal with her class of 10- and 11-year-olds who are working on the theme of 'Sharing the Planet', part of PY5's six Units of Inquiry.
'This year we have used the UN's Global Goals as a framework to help students understand the problems world leaders face,' she explains. 'Students are keen to improve the green spaces around the school by introducing insect hotels, natural play equipment, planters, and a compost recycling bin. With the current pandemic restricting our movement, PY5 realise how important our green environment is and hope to make it even better!'
Creativity
Forest school has an important role to play here, agrees Sam. 'After the year we've had and the amount of time we've had to spend indoors, giving children that experience and challenging them outside is really important,' he says. 'What's really good about being outside is that you've got this almost infinite space to heal from that trauma and to play and just breathe a little bit.'
Sam has noticed that the children play differently outdoors, choosing new playmates and learning to take more risks. 'Inside, the toys are very specific. Outside, we don't have any of that,' he says.
'There are loads of different things that can be repurposed and reinterpreted in loads of different ways just using their imagination. Things like sticks become wands and brooms and mud becomes paint or something to write with.'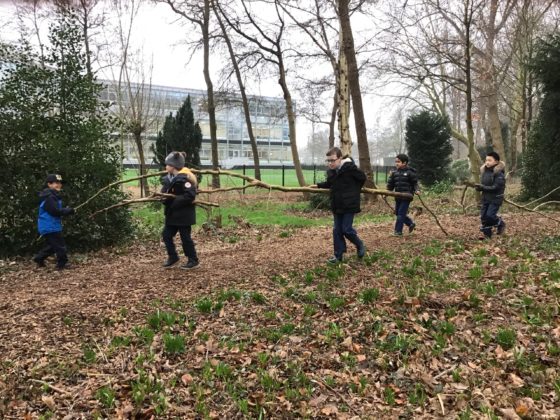 Confidence
Sam has also seen how the children's willingness to engage with nature has grown and their fear has receded. He gives the example of a child who panicked when she got her hands dirty. 'Now that same little girl hasn't finished her forest school session until she's head-to-toe in mud and just really enjoying sensory play, sitting in a puddle in the mud making mud pies,' he says.
And there's the boy who thought he couldn't climb. 'When he first started, he was slipping, he wasn't getting to where he wanted to be,' remembers Sam. Now the same child always starts the lesson with a display of confidence. 'It's almost like a routine. He finishes on the logs, goes straight over to the tree, climbs up to the top, does a little cheer and comes back down.'
What's clear is that Amity's forest school gives its students an edge. Eliminating the fear of failure and building self-reliance are preparation for real life that qualifications alone cannot give you, says Sam.
Spending more time outside has even taught Amity Amsterdam to embrace the Netherlands' tempestuous weather. A wet and windy March has had Sam rubbing his hands together with glee. 'We've had some really big branches come down recently which I've already got my eye on for dens,' he says.
Amity International School Amsterdam will be holding a virtual open day on Thursday 25th March. To find out more about Amity visit their website or contact the admissions office.
Thank you for donating to DutchNews.nl.
We could not provide the Dutch News service, and keep it free of charge, without the generous support of our readers. Your donations allow us to report on issues you tell us matter, and provide you with a summary of the most important Dutch news each day.
Make a donation