Coronavirus in the Netherlands: some of your questions answered
You've got a lot of questions about the coronavirus measures and the lockdown. We're answering as many as we can, to the best of our ability.
Travel
Are borders open? Can you fly? Do you need a test to return? Do you have to quarantine? Does it matter if you have a residency permit? What about the British?
The official advice is do not book any foreign travel until mid-March at the earliest and do not travel abroad unless it is essential. That means no going home to spend Christmas with the folks, no skiing holidays and no winter break in the sun.
Borders and airports are open so if you decide to be anti-social you can get away and sneak off to Germany for a couple of days. You will have to quarantine for 10 days when you get back.
The government travel advisory website has not yet been updated to reflect the changes from December 14, but the rules are basically this:
From 6pm on Tuesday, many travellers arriving at a Dutch airport or ferry port from an non-EU country will have to show they have a negative coronavirus test result (a standard PCR test not a fast test) no older than 72 hours on arrival, and carry a signed declaration of good health.
The test requirement does not apply to Dutch and EU nationals, people from countries considered safe, border workers, transit passengers, people travelling by bus, car or train and people with a Dutch residency permit. But it does mean Auntie Irene from New York and your mother in law flying in to help with the new baby. More than that, unless Auntie Irene and your mother in law fall under one of the exemptions on this list, they should not be coming here anyway.
Border police will check all documents on arrival, and those without the right documents will be refused entry and sent back, including Auntie Irene. If your long-term partner (from Turkey) wants to visit you, there are different rules. Frankly, it might be easier to visit them.
British nationals will be treated as third-country nationals and therefore subject to the same restrictions as people from outside the EU, EEA and safe countries from January 1, unless they have a valid residency permit.
(We will update the travel section as soon as more information is available).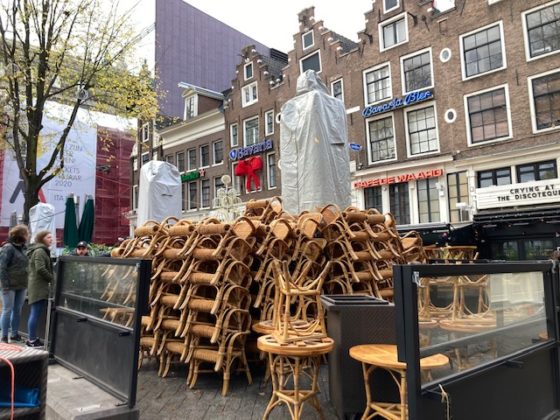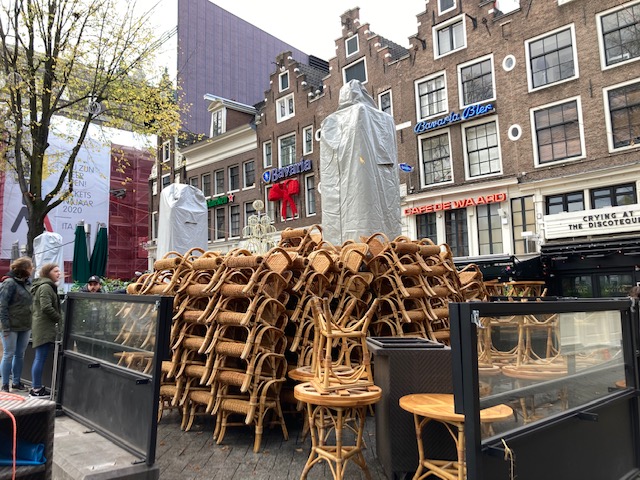 What is open?
Are restaurants open for take away? Is Gall&Gall open? Are coffee shops open? Is Gamma open? Is Primark essential? Is Action open? Butchers/cheese shops? Are the gyms open? Car rental places? Christine le Duc? Print shops?
Restaurants are open for takeaways, as they have been since October 13. Coffee shops are open for takeaway up to 8pm. Gamma and DIY stores are closed, but you can pick up orders. Launderettes and dry cleaners are open, so you can probably pick up your mending too.
Hema has declared itself the Netherlands' biggest bakery and is also open for business but has roped off areas selling clothes, so no sneaking a pair of tights into your basket at the same time. Action is about to open as well.
Primark and sex shops many be essential to many, but not according to the government. Butchers and cheese shops are open – as is any place that sells food. Here's the official list of shops and other services that remain open. Wine and spirits stores are open because they are apparently part of the food industry as well.
We don't think print shops are open, so you have blown your chance to make your own Christmas card.
Gyms and swimming pools are closed so you will have to go back to flexing your muscles in the park.
Christmas post
Are parcel pick-up shops open? Can you still mail letters? Can you mail packages? Where?
Yes, parcel pick-up points are still open, and if there is a PostNL sign outside, you can also mail packages at them as well. Use the PostNL website to pre-print the address and pay the cost in advance. It saves time and it does not impact significantly on the income of the delivery points. Find a list of PostNL delivery points here.
Childcare and children
Are BSOs open? Are nannies allowed? Are babysitters allowed? Who is essential for a creche? What about birthday parties?

After-school clubs, daycare centres and schools are open for the children of essential workers – which is quite a long list – basically anyone involved in healthcare, the emergency services, education, utility and waste companies, the entire food chain, public service and support services like IT and cleaning. We're not sure who isn't essential actually.
As regards childcare at home, you are strongly advised to allow no more than two visitors to your home in 24 hours, so yes, that could be the nanny and the babysitter.
And can your eight-year-old have a party with other eight-year-olds? Yes, because there are no limits to visitors under 13. But their parents will have to say outside – which might be a blessing in disguise for all concerned.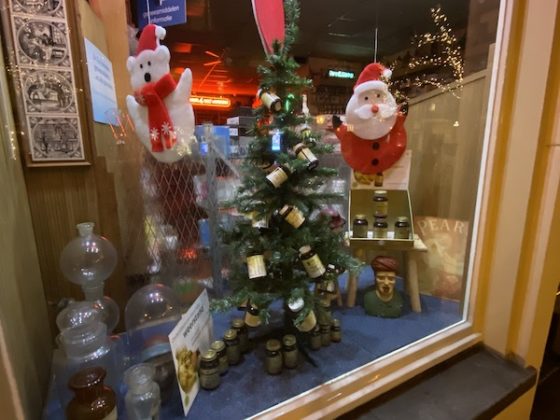 Markets
Are outdoor markets open? Christmas tree stands? Christmas markets?  Are the oliebollenkramen still open?
Outdoor markets selling foods are open and flower shops can still sell you flowers and Christmas trees outside. Oliebollen stalls are open as well – they are, after all, an essential foodstuff. Christmas markets were already cancelled and pretty dreadful in the Netherlands anyway.
Vaccinations
When will they start? Why wasn't this addressed by the prime minister?
The government plans to start the vaccination programme in January. Find out more here. We don't know why the prime minister did not cover vaccinations in his speech, but probably there was nothing to add to what we already know. On Tuesday evening, health minister Hugo de Jonge said he would give more details next week.
Public transport
Who can be on OV? How is that being enforced? Do I need a pass to be on the train? Is the NS running a regular schedule?
Public transport should be used for essential travel only, but there is no enforcement as such. It's up to you to follow the rules. You don't need a special pass to use a train and the NS has not yet said that it is altering its schedules again. Around 10% of train services are being dropped for the winter season because of reduced passenger demand, but this was announced before the lockdown. All public transport companies change their services and schedules in December anyway, so you should check their timetables.
Can you travel by train to Amsterdam to shop for food? We can't imagine anyone will stop you, but neither can we imagine what you need to travel to Amsterdam to buy anyway.
Driving tests and lessons
Teaching someone to drive is considered a contact profession and so lessons have been cancelled, according to sector website Rijschool Pro. The CBR has also cancelled all theory and practical driving exams.
Places of worship
Schools may be shut and you may be banned from having more than two guests at home, but churches, mosques and synagogues remain open – as long as worshippers keep 1.5 metres apart. You can even sing.
However, the Dutch association of Catholic churches said on Wednesday that it was cancelling all Midnight Mass services on December 24 because of the expected crowds.
Car trouble
Would you rather be stuck in a car for 10 hours completely alone? Or stuck in a car for 10 hours with an 'influencer'?
Hmm… we'll leave that one to you. Feel free to email Molly@dutchnews.nl with your thoughts.
Are you as fed up with it all as we are?
Yes we are. Some of us have not seen our parents for a year, some of us are coping with home schooling our kids, some of us are working round the clock to keep DutchNews.nl up to date. But we are making the best of it we can. And that is all any of us can do.
If want to share your thoughts on the lockdown, or you just want to sound off at someone, do feel free to email editor@dutchnews.nl, and we'll publish a round-up in the coming days.

Have we got it right?
We're doing our best to provide you with accurate information about the government measures but errors may well sneak in. Do let us know if you think something is not right, or if you have spotted a better source of info. And if in doubt, please check with official sources via www.government.nl
Thank you for donating to DutchNews.nl.
We could not provide the Dutch News service, and keep it free of charge, without the generous support of our readers. Your donations allow us to report on issues you tell us matter, and provide you with a summary of the most important Dutch news each day.
Make a donation