Amsterdam start-up aims to breathe new life into pickled gherkins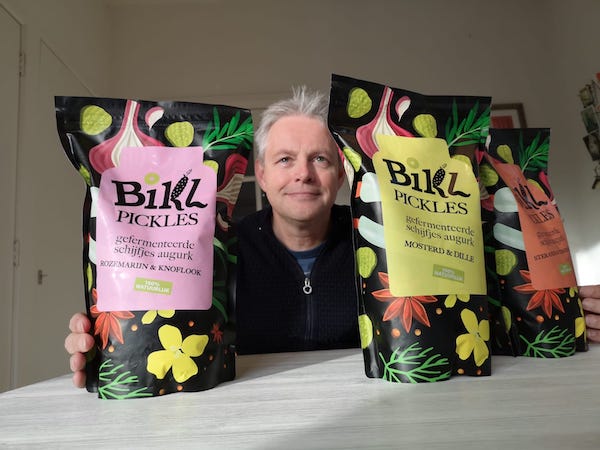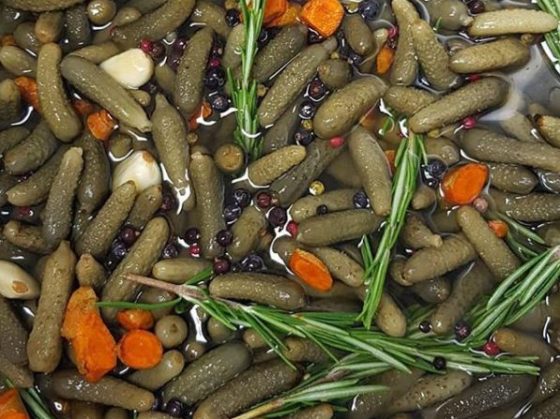 Launching a company selling a new brand of pickled gherkins and cornichons to the catering industry at the start of the coronavirus pandemic might not have been the best timing, but Arend van den Berg has not been soured by the experience.
Rather, he says, the experience has taught him not to be afraid to 'pivot' to – use start-up terminology – and refocus on the consumer market instead.
Van den Berg, who brought Business Insider to the Netherlands, has a lengthy career in the media behind him, so he knows a lot about the pitfalls facing entrepreneurs. But actually experiencing start-up culture is, he says, a different thing entirely, let alone during a crisis.
Pekelen
Pekelen, or pickling, is an old Dutch word and is something that has been done for thousands of years, often by poor people to help them stock up on food for the winter. Gherkins, cucumbers and other vegetables are fermented in either vinegar or brine together with herbs and spices until they are no longer considered raw.
Pickling is a popular hobby among gardeners and cooks, and it was a meeting with a friend who has an allotment in summer 2018 that sparked the idea for Bikl pickles.
'I was ready for something new, and was having a sabbatical after more than 30 years in the media,' says Van den Berg. 'One day we were sitting with a pot of my mates own pickles, and we were talking about the bad quality of pickles you can buy in the Netherlands. We started looking around and we came to realise that while in the US there were start-ups busy making pickles, nothing was happening in the Netherlands. So we thought, "there is a company in that".
Van den Berg set about looking for someone who could come up with the flavours and found Yolanda van der Jagt who has worked in the US and cooked with Ruth Rogers and Jamie Oliver, among others. 'We wanted a American flavour, a Mediterranean flavour and an Asian one,' Van den Berg says. 'Then we tested them out on children because they are healthy and popular with kids in the US.'
Dutch children, however, did not like the product, which forced an immediate rethink. 'So we took them to chefs instead – at the Rollling Kitchens festival – and they really liked them. So then we decided to focus on the hospitality industry. We took part in a big trade fair, we had a great design for the packaging, the big wholesalers were interested in us, we were on the menu at Brouwerwij Het IJ for example, and then came coronavirus.'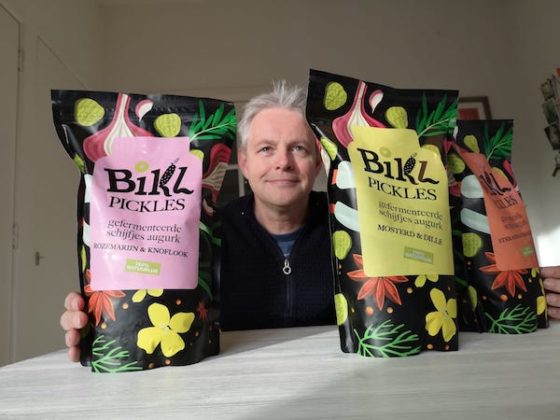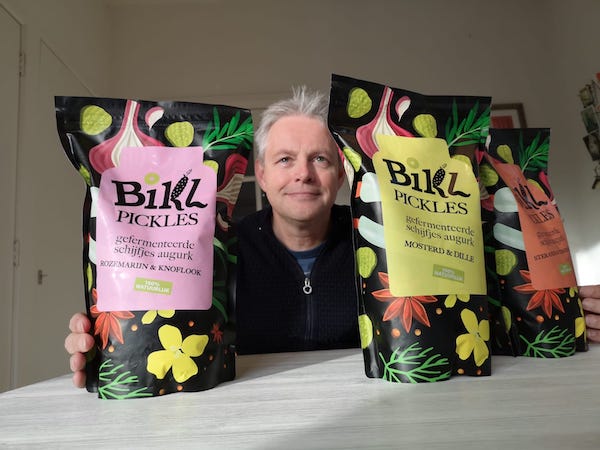 Although cafes and restaurants reopened in the summer after a few weeks of closure, their focus was on what they knew they could sell, the tried and trusted favourites. Faced with making no turnover, Van de Berg decided to switch focus back to the retail sector and target consumers again.
This time round things are going well, and in January the range of three different pickles will be sold in online supermarket Crisp. They are currently available through speciality stores such as Sterk in Amsterdam and via the Biklfoods webshop. The pickles were selected as one of six promising food start-ups by Food Inspiration Magazine and, says Van den Berg, almost with a sense of wonder, 'every specialist shop we approach wants to include our pickles in their product assortment.'
Bikl's pickles are made with large gherkins from Germany – the Netherlands produces hardly any itself, he says – while the cornichons come from India. Picking is extremely labour intensive – you need 250 hand movements to pick a kilo of the little gherkins and hardly any are grown commercially in Europe any more.
Bikl uses natural vinegar and no sugar for its fermentation process, unlike the industrial vinegar and saccharine which the big Dutch pickle companies tend to use. Van den Berg also tried source organic gherkins but was unable to find a proper supply, so had to cancel an agreement with organic supermarket chain Ekoplaza. 'We are still too small to make an agreement with farmers for organic ones,' he says.
Popularity
Nevertheless, the sudden popularity has brought its own problems with it. Van den Berg wanted to contract out the production side but most of Europe's pickle industry is in the hands of a few old family firms who focused on machine-based production – or, as he puts it, filling glass jars.
'We started working with a buffalo mozarella company here in the Netherlands but they too are expanding rapidly, so we are now looking at taking control of the production side as well. But the machines cost hundreds of thousands of euros.'
The contrast with Van den Berg's previous life as a publisher is enormous, even though for years he has focused on business and entrepreneurship.
'I have learned so much over the past year – about the discounts which you pay wholesalers, about production planning, about the way the retail sector is organised,' he says.
'I was so used to talking about the advertising market, with big companies, and about big amounts of money. Now you visit a shop or a chef and they say yes or no straight away. Or you are at a market and an American family approach you and tell you that they have finally found the pickles they have been looking for. It is wonderful. It is so concrete and so great to make people happy.'
'What we are doing is taking this piece of global cultural heritage and giving it a new look, so it is accessible to a new audience.'
Thank you for donating to DutchNews.nl.
We could not provide the Dutch News service, and keep it free of charge, without the generous support of our readers. Your donations allow us to report on issues you tell us matter, and provide you with a summary of the most important Dutch news each day.
Make a donation