Growing underground: Could the future of fashion be fungal?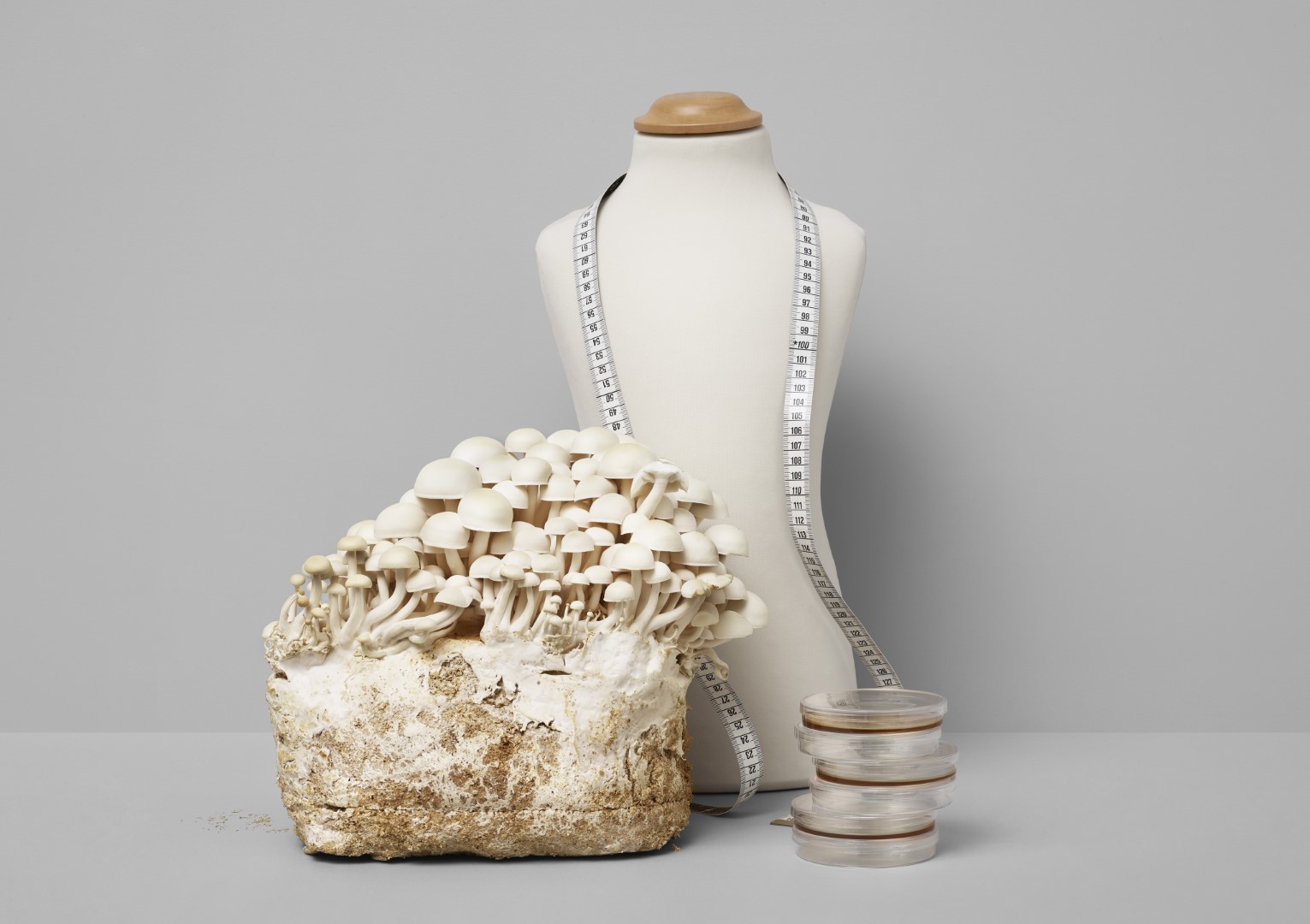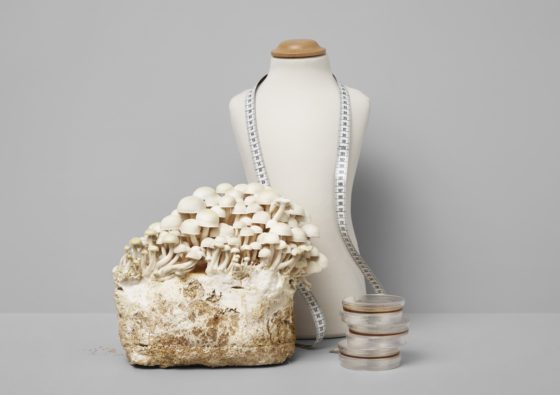 Fungus has long been a nutritious food source, but soon we may also be wearing it. Shortlisted for this year's European Commission's Social Innovation prize, MycoTEX is a sustainable fashion innovation with a mission to explode the conventional supply chain.

Once a fashion designer for big-name brands such as Tommy Hilfiger, Aniela Hoitink (46) from Soest now spends much of her time in a room full of mould – living her dream.
Curious crossovers
Aniela has always been drawn to the unconventional, and the latest project of her company NEFFA (Net effe anders – doing things differently) sees her growing garments from mushroom roots (mycelium) under the brand name MycoTEX.
'I was always more interested in the development part,' she says. 'My way of working is focusing on everything outside of the fashion industry and finding ways to implement that. I really believe that the crossover between different industries is where the true innovation lies.'
Despite having no background in science, Aniela has been working with technologies such as solar power, LED lighting and microbiology for more than a decade. She says an autodidactic approach, coming to a project fresh and with curiosity, is actually an advantage. 'The real beauty of this is that there's no one who knows what I know. Without knowledge, you are able to learn a lot.'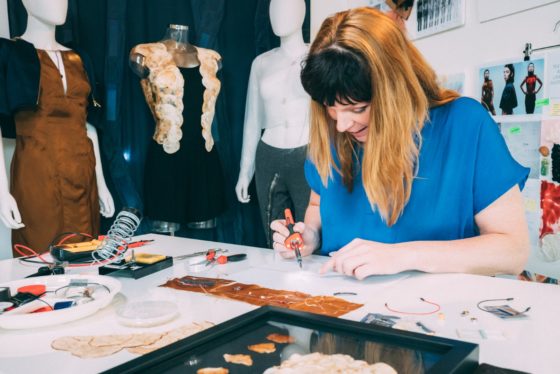 Mycelium mania
Aniela was first made aware of the potential of mycelium in 2014 when she responded to an advert placed by Utrecht University seeking fashion designers interested in working with the material. The results of the project were officially launched two years later, and user acceptance is building as rudimentary prototypes, including a bag and bolero jacket, have gradually emerged.
The idea of wearing mycelium can be hard for the public to process, admits Aniela. 'Most times, people think of it as the black fungus in the bathroom, but they are also eating cheese and drinking wine – so you just have to explain to them that we are already doing it; we're using it in night cream and putting it on our faces, it's just that they don't know it because the substance has a different name.'
Wearing fungus actually makes a lot of sense, she says, pointing out that we regularly dress ourselves in garments made of petroleum, while mycelium is 100% natural.
Over the last decade, mycelium projects have been mushrooming in the Netherlands. In 2013, Wageningen University worked with designer Erik Klarenbeek on a mycelium chair; a mycelium-panelled Growing Pavilion was showcased at Dutch Design Week in Eindhoven in 2019; and DutchNews.nl recently reported on self-composting coffins made of mycelium developed by students from Delft University of Technology.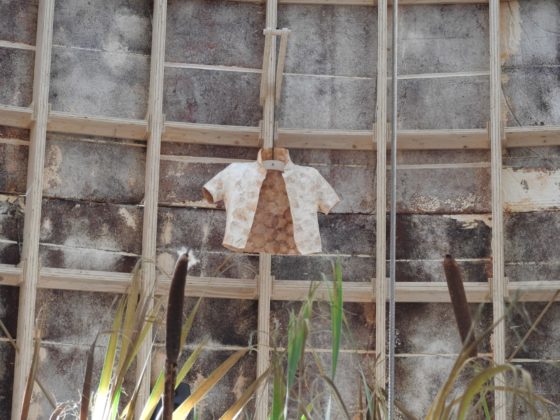 A chance discovery
The stitch-free way in which Aniela is now 'growing' clothing, which has moved away from the circular discs in the early prototypes, happened quite by chance and 'out of frustration', she says. Annoyed by the way the textile kept sticking to everything, she realised she needed to change tack. 'I like to look at what's happening and see if I can use it in the right way. I'm not such a fan of forcing something into something that it's not,' she explains.
This viscidity, which had seemed at first a hindrance, was the trigger to exploring the bonding properties of the material and the discovery, step by step, that it worked in 3D as well as 2D and could be used to sculpt a huge variety of forms.
Fit for the future
This ability to grow a fully-formed garment distinguishes the project from other research into sustainable fashion, explains Aniela. 'What you see a lot at the moment is companies working on textiles made out of materials, but we do it directly in 3D. This is what we call seamless production. It has the benefit that it can be done on a mass scale but also on a personalised [made-to-measure] level.'
Once dried, this wipe-clean material offers a lot of the same benefits as other textiles, such as leather, says Aniela, but comes from a radically different design perspective and has virtually no environmental impact. The supply chain is reduced to just two steps: growing and textile production, which eliminates up to 30% of production waste. Each garment is just one piece of material and is compostable at the end of its life. Bespoke garments can be grown on demand, creating a more comfortable, customised fit.
European recognition
It is perhaps this unique perspective on manufacturing which has won MycoTEX a place in the final of the European Commission's Social Innovation Competition for 2020. The contest, whose theme this year is 'Reimagine fashion: changing behaviours for sustainable fashion', attracted 766 applicants and is being judged by 12 successful innovators in sustainable fashion from across Europe, including Bert van Son, the founder and CEO of Dutch company MUD Jeans.
Aniela was one of 30 semi-finalists invited to an intensive training and coaching programme in July to help competitors develop their concepts further. She has since been selected as one of the ten finalists, which include the French entry, Fairbrics, a technology that converts the CO² emitted during fabric manufacturing into new synthetic fabrics; and Resortecs from Belgium, who are pioneering dissolvable stitching thread and heat-dismountable rivets to simplify the re-use of unwanted garments. Three winners will be announced on November 26th; each will receive a prize of €50,000 to invest in their business.
A holistic approach
As with most startups, one of the biggest challenges facing MycoTEX is scaling up, but Aniela is also ambitious to bring about a wider change, 'to shift the industry towards developing new materials and new production techniques'.
Brands are curious about incorporating the material into their designs, she explains, but getting them to consider changing the production process as a whole is sometimes difficult. 'Everyone is so used to ordering metres of fabric, and actually we are supplying them directly with products, so that's a different thing.'
'We hope that, when we hit the market, people will realise that there are so many other materials that have different benefits to them than the materials that we are used to,' she says. 'We can do a lot with biotechnology. But what are we doing? We are making silk, we are making leather…'
Thank you for donating to DutchNews.nl.
We could not provide the Dutch News service, and keep it free of charge, without the generous support of our readers. Your donations allow us to report on issues you tell us matter, and provide you with a summary of the most important Dutch news each day.
Make a donation