Halloween hocus pocus: find out if you are a witch in Oudewater's weigh house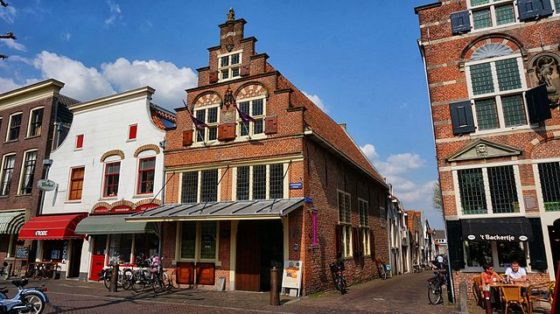 Centuries ago, several people accused of witchcraft fled to the small Dutch town of Oudewater in search of justice. The fates were sealed in what is now one of the oddest museums in the Netherlands.
Oudewater is one of the Netherlands's most charming small towns. It is home to a positively fantastic ice cream shop and a stretch of river that runs past several gorgeous buildings that date back centuries. Point a camera in any direction and you're liable to wind up with a photograph that would look great on a postcard.
But along the lane that serves as its main drag there is a museum containing a historical artifact dating back to a dark era in European history. Museum de Heksenwaag is located inside an old weigh house whose scales were once used to estimate the weights of various goods and livestock as well as the innocence of people accused of witchcraft. Even now in the year 2020, you can still step on the scales yourself and go home with a certificate that officially states you're not a witch.
Innocence declared and lives spared
Anyone who has ever had to read Arthur Miller's The Crucible for a class, or sneakily made do with the film version starring Daniel Day-Lewis and Winona Ryder, can recall what happened to folks suspected of witchcraft in New England centuries ago. Salem, Massachusetts still draws around a million visitors a year. Less well known are the fates of those who found themselves in the same situation here in Europe.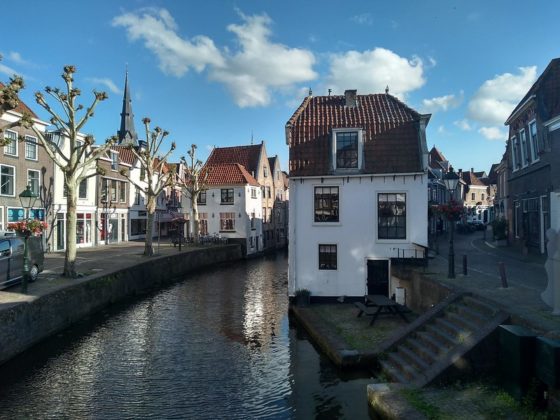 It was a charge that could lead to imprisonment, torture, and/or being burned at the stake. As many as 50,000 people were executed for witchcraft in Europe between the 14th and 18th centuries and not all of them were women. Around 20% of those declared guilty were men. Needless to say, those accused sometimes resorted to desperate or downright bizarre measures to clear their good names.
Beginning sometime in the 16th century, it was determined that one of the supposed traits of witches was that they were so preternaturally light they could fly around on broomsticks. Therefore any adult over a certain weight, commonly 100 pounds, could not possibly be a witch. Unfortunately scales, especially accurate and reliable ones, were relatively rare.
Which way to Oudewater?  
Sometime in the 16th century, Holy Roman Emperor Charles V was ruling over a sizable chunk of western Europe when he passed through what is now the Netherlands. According to a story that should very much be taken with a grain of salt, he was reportedly asked to participate in a witch trial in the village of Polsbroek.
The local magistrate decided that the woman accused had a suspiciously low body weight. Before an angry mob could tie her to the nearest stake, Charles suggested that they use the reliable scales at the weigh house in nearby Oudewater to double-check. The woman diligently stepped on them and was declared too hefty to be a witch.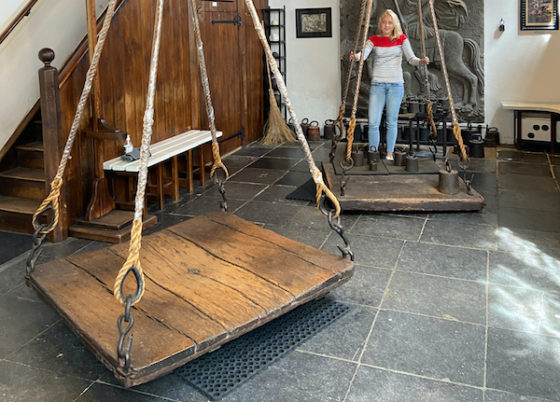 The charges were dropped and she was free to go. The kindly weigh master operating the scales also refused to accept payment for his services. Charles V was so impressed he gave the weigh house exclusive rights to weigh any further suspected witches within the borders of his empire.
While historians have obviously been unable to confirm the full veracity of this story, the Oudewater scales were used to weigh at least a dozen alleged witches in the years that followed and never found anyone heavy enough to be a witch. People came from as far away as Hungary to be weighed and were given certificates they could take back home to prove their innocence.
The penalty of death for witchcraft was banned in the Dutch Republic in 1614, but that didn't mean the accused didn't face other potential punishments. The scales were occasionally used for these witchy weigh-ins until as recently as 21 June 1729.
That is when Claas van den Dool and his wife Neeltje Kersbergen stepped on them. 'They came to the weighhouse because Claas wanted to become an alderman in nearby Noordeloos,' said Isa van der Wee, the director and current weigh master at the museum. 'But the rumours that he had something to do with witchcraft had to end first.'
Claas and Neeltje were cleared, but he wasn't hired for other reasons. A handwritten copy of their certificate is currently on display at the weigh house, which was gradually converted into a museum in the years following World War II.
Ready to use the scales yourself?
Of course, there's much more to be learned about the people who travelled to Oudewater in search of justice. The museum's displays, some of which feature video accounts, tell their tales.
But the scales remain its star attraction. They're the same ones that were first hung in the building in 1482 and later helped clear the names of the accused. Only the ropes have been replaced. They may also help the museum become a Unesco World Heritage Site. Efforts are currently underway, but it could be a few more years before a decision is made.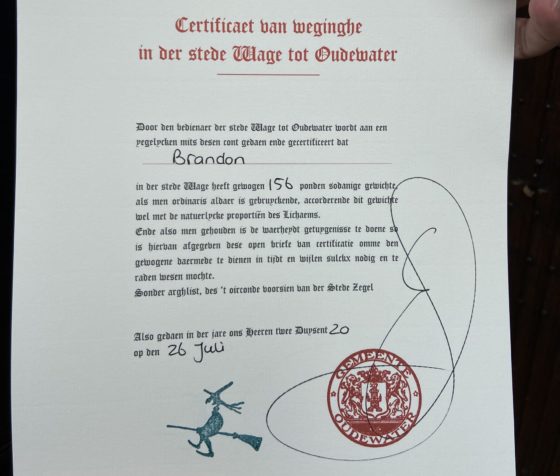 Former Dutch queen Juliana stepped on them during a visit in 1952. Her daughter Beatrix has gone twice. Other notable visitors have included mayors, former minister of justice Rita Verdonk, and various American and German ambassadors. A few couples have even been married in the weigh house over the years. One returned and celebrated their 50th wedding anniversary at the museum in 2018.
'Every year, at least in normal times, about 15,000 visitors come to the museum,' said Van der Wee. 'These visitors come from all over the world to experience what it is like to be in the weigh house and to obtain a 'Certificaet van Weghinge'.'
These certificates are written in 16th century-style Dutch and make a great souvenir. Just be sure to take a mask, rather than a broomstick, with you. They're currently required at the museum.
Thank you for donating to DutchNews.nl.
We could not provide the Dutch News service, and keep it free of charge, without the generous support of our readers. Your donations allow us to report on issues you tell us matter, and provide you with a summary of the most important Dutch news each day.
Make a donation