Food for thought: cultured meat maker brings in $55m in funding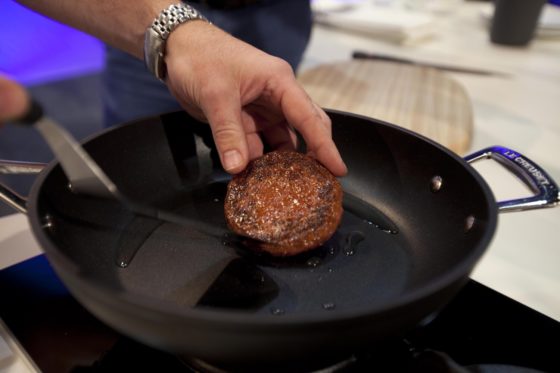 It has been over seven years since Dutch researcher Mark Post unveiled the world's first 'cultured meat' burger. Grown in a laboratory at Maastricht University, the single beef patty took several years and several hundred thousand euros to produce. Now Post's company Mosa Meats has just raised $55m in a second round of funding.
As costly as it was to develop, Post's innovation offered proof that real meat – not a meat tasting alternative – could be produced without the farming or slaughter of animals.
Startups sprung up around the world attempting to capitalize on what many believe could be a panacea for impending environmental catastrophe. 'Farmfree', 'cruelty free', 'in-vitro' meat is now a looming inevitability; when it will hit the shelves and how meat-eaters will respond, remains another question.
Nevertheless, the Netherlands will soon become the world's testing ground for an innovation which could at once prove essential to environmental protection and disastrous to the global farming industry.
Beef burger
Mosa Meats was founded in 2013 after Post's team showcased the first burger on live television in London; the project had been funded by Sergey Brin, a co-founder of Google. The research had involved extracting cells from living cattle and growing them under laboratory conditions into strips of meat that were then combined into a single beef burger.
At the public tasting, critics said the burger were almost indistinguishable from real meat despite there being no added fat. This brought global attention to the potential cultured meat could have economically and environmentally.
By extracting one sample of cells from a cow Mosa Meats claims it can produce 80,00 quarter pounder burgers. On the same scale, they could feed the entire world a burger from just 150 cows. Post's team enlisted the help of engineers to expand and automate the culturing process for mass production.
Funding
The announcement that Mosa Meats has now raised $55m – €47m – in funding, primarily from Luxembourg-based food group Blue Horizon Ventures, has helped ensure Dutch consumers will be the first to get a taste.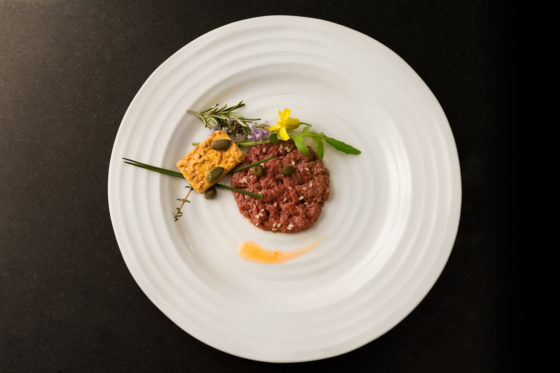 The funding will allow the building of a 200-liter bioreactor in Maastricht, capable of producing 100kg of cultured burgers each month. Once fully optimised, the company hopes to be producing 180,000 kilos of meat each year. Given that the average Dutch resident consumes around 77 kilos of meat per year, even this next phase of expansion by Mosa Meats could mean a massive dent in farmed meat consumption.
'We are aiming for a first market introduction in the next few years,' the company said in a statement. 'It is very difficult to commit to a particular time frame because there are still some scientific unknowns and factors outside our control (such as the regulatory process). The first introduction will likely be small-scale. Several years beyond that, we aim to be widely available in restaurants and supermarkets.'
Global impact
Many environmental and animal rights activists have lauded the work of Post's team, viewing the technology as a possible panacea for the global farming industry, which is responsible for 14.5% of greenhouse gas emissions, mass deforestation, soil erosion, and water depletion.
'Market experts predict that by 2040, cultured meat could constitute 35% of global meat consumption,' says Veerle Vrindts, CEO of ProVeg Netherlands. 'As a complement to the increasing number of plant-based products available on the market, cultured products could play a key role in transforming our food system. We need a way to feed nine billion people, while respecting planetary boundaries and aligning with our evolving ethical perspectives on animals.
'Cultured meat and plant-based meat alternatives, combined with a renaissance of pure plant-based proteins like pulses, vegetables and nuts, can be part of the solution for this global problem.'
Traditional meat
While many hope that cultured meat could significantly disrupt traditional farming, members of the meat industry are less concerned. 'It will be very difficult to actually produce something cost efficiently,' says Patrick de Leede, a spokesman for the Dutch meat industry association COV.
'We follow these developments with great interest, and it may prove positive for sustainability, but it will be very difficult to prove the safety of lab-meat and get permission from the EU to sell publicly.'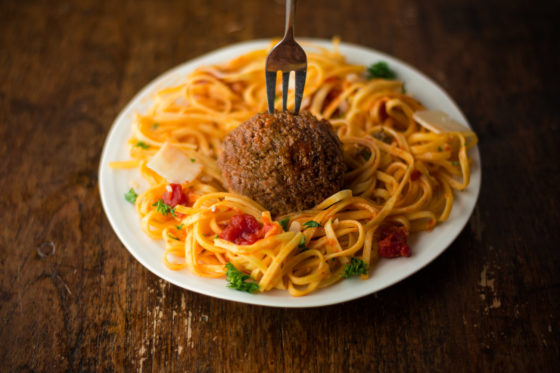 This not something the COV would oppose in the Netherlands, he said, but the arrival of lab-meat on supermarket shelves is likely still a long way off. Regardless of its potential, lab-meat is evidently not yet posing a threat to meat producers in the Netherlands.
Wageningen
Mosa Meats' success is part of the Netherlands' place as a leading research and development centre for global food issues; Wageningen University ranks number two in the world for food technology and nutrition and is home to many prominent companies and institutes in the field.
Last year, the world's largest insect farm opened in Bergen op Zoom. Rewilding experiments in the Dutch countryside are also looked to as examples of how unused farmland could be utilised once better practices are adopted.
A cultural project based in Amsterdam called Bistro in Vitro has explored the possibilities of cultured meat by creating a fictitious restaurant in which customers can cannibalize the flesh of their favourite celebrity and feast on extinct animals like the dodo.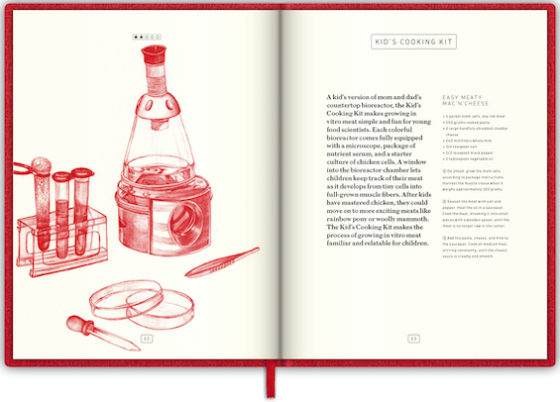 'We are fully booked for 2028 and 2029 and we are hoping to serve some of the products conceptualized in our cookbook, but It will depend on how the developments go,' says Koert van Mensvoort, head of Next Nature Network which created Bistro in Vitro.
Van Mensvoort says he started the project in 2014 because at the time only a few companies were working on developing lab meat and other food innovations and he wanted to know if this new technology will change our food culture as well as production.
'I hope the Netherlands remains a centre for this innovation; the first patent was Dutch, the first burger was Dutch, and the first cookbook. We have been great innovators throughout history and man-made meat is fitting to an entirely man-made land.'
Thank you for donating to DutchNews.nl.
We could not provide the Dutch News service, and keep it free of charge, without the generous support of our readers. Your donations allow us to report on issues you tell us matter, and provide you with a summary of the most important Dutch news each day.
Make a donation