The sense of urgency about coronavirus must return, says Dutch PM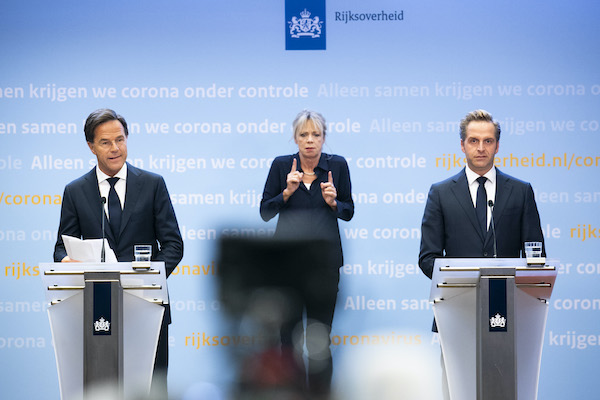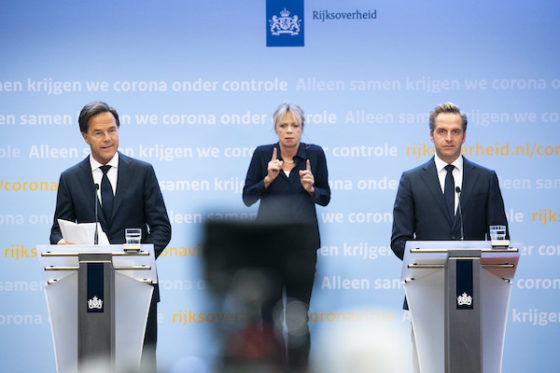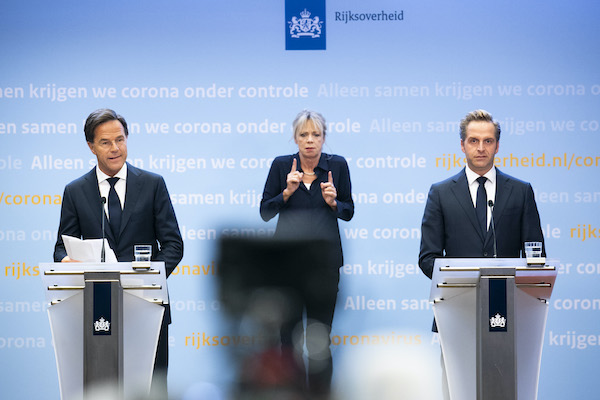 Coronavirus had become irrelevant and too far removed from many people, prime minister Mark Rutte told reporters at a press conference on Friday amid mounting concern about rising infection rates.
Speaking as the number of positive tests in the past 24 hours neared 2,000, Rutte said that keeping to the basic rules for preventing the spread of the virus is becoming more difficult.
'Places of work are becoming busier, people want to meet each other and have fun,' he said. 'But over 10% of infections are via work. And there is a reason why we are telling people to work at home as much as possible.'
But it was not the measures and the intelligent lockdown which got coronavirus under control the first time round, Rutte said. 'It was our behaviour and our motivation to keep to the rules. And that sense of urgency has to come back.'
Although hospitalisations remain at a low rate, the first patients have been moved to other hospitals to ensure that regular treatment, such as for heart and cancer patients, can go ahead, Rutte said.
The crucial R ratio, which shows how many people each coronavirus patient infects,  is now at 1.4, he said. If the number of infections continue to increase at this pace, in three weeks, there will be 10,000 infections a day, Rutte told reporters.
And while youngsters may not develop serious symptoms in the main, 'on Saturday they go to the supermarket and on Sunday they visit grandma,' Rutte pointed out.
Phase 2
Health minister Hugo de Jonge described the current situation as extremely worrying. The 25 health regions have been divided into three categories, and while 19 are still at phase 1, six are in phase 2 and that requires extra measures, he said. More regions may well be added to phase 2 in the coming days, he said.
In particular, the number of clusters associated with cafes and bars is increasing, De Jonge said. For this reason, they will have to close their doors at midnight and turn on the lights, so that everyone has left by 1am.
While cafes and bars have done a great job so far, the tripling of the infection rate makes it crucial to take action, Rutte said. 'If it is late in the evening and people have had a drink, it is much harder to keep to the social distancing rules. We really hope that this measure will be sufficient.'
'We have to get back to that intrinsic feeling that [combating coronavirus] is crucial,' Rutte said.
Friday evening's main points: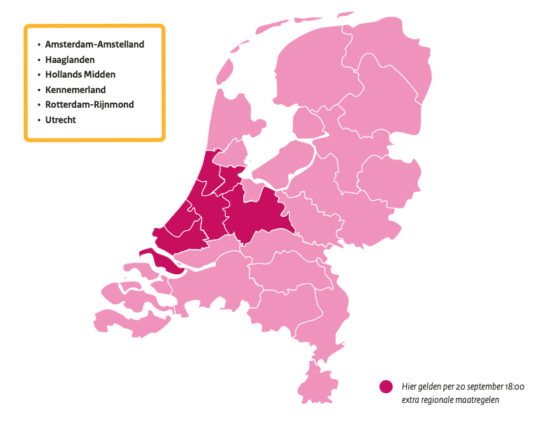 The measures apply to  six regions, which together encompass Amsterdam, Rotterdam, The Hague, Haarlem, Leiden, Delft, and Utrecht.
In these regions, cafes, restaurants and bars must close their doors at midnight, turn on the lights and put out the music. Everyone must have gone home by 1am.
The maximum number of people allowed in cafes and bars, and other formal occasions, will be limited to 50, apart from for demonstrations, funerals, schools and religious meetings.
Gatherings of more than 50 people – such as a concert in a park – must be registered with the authorities.
Takeaway food outlets must close at 2am and stop selling alcohol at 1am.
Local officials are also talking to student organisations and universities about supplementary measures.
Other regions may be added to the list of six in the coming days.
Mayors in the six areas where measures have been stepped up, are announcing their own plans.
Amsterdam and Rotterdam
Extra focus on hygiene rules in shops, sport club canteens and in cafes and restaurants, including hand disinfectant and a return to floor markings. More enforcement by police and wardens.
In shops, baskets and trolleys will again be disinfected
Public institutions, such as libraries and swimming pools will have special opening times for the elderly and vulnerable people with health conditions. Shops and museums will be asked to do the same.
Parks will be closed at night to stop illegal parties taking place.
The Hague region (including Delft)
Public institutions, such as libraries and swimming pools will have special opening times for the elderly and vulnerable people with health conditions. Shops and museums will be asked to do the same.
More dialogue with student groups and sports clubs as well as religious communities about adhering to the rules
Better enforcement
Utrecht
Dialogue with sport and business organisations, educational institutes, student organisations, welfare groups and social workers to see what more can be done.
Kennemerland (Haarlem) and Midden Nederland (Leiden) not yet online.
Thank you for donating to DutchNews.nl.
We could not provide the Dutch News service, and keep it free of charge, without the generous support of our readers. Your donations allow us to report on issues you tell us matter, and provide you with a summary of the most important Dutch news each day.
Make a donation