'Eating herring is a public consumption experience, it's a ritual'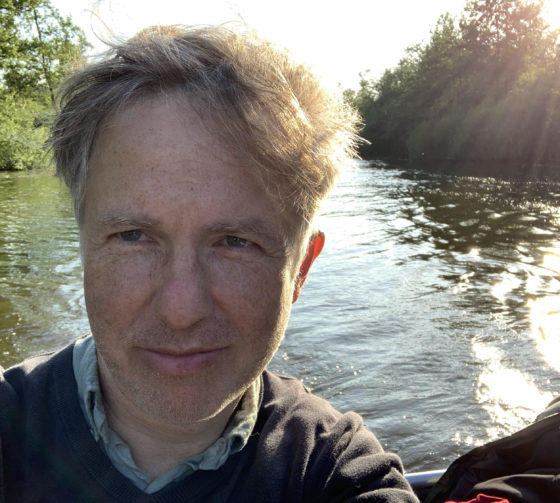 American native Matt Steinglass is The Economist's Europe correspondent. He likes herring and a special breed of potato, but cannot get to grips with the Dutch fondness for group projects.
How did you end up in the Netherlands?
I've always had a thing for the Netherlands. I had a stopover here on my way back from Israel when I was 13 and the Netherlands seemed so advanced. I dated a Dutch-American girl when I was in college and we planned to move to Europe, preferably to the Netherlands. She got it together and moved to Paris but I couldn't figure it out and we ended up breaking up.
When I was getting my master's degree at New York University, a friend invited me to come to the Netherlands for an art show they were putting on and we stayed with a friend of hers. That friend became my now wife.
She works in international aid, so we lived in the Netherlands for a year and then moved to Togo and Vietnam before coming back to the Netherlands in 2011. We lived in Brighton for a brief period when I started working for The Economist but we wanted to come back and we've been here ever since.
How do you describe yourself – an expat, lovepat, immigrant, international etc?
'American-Dutch', the same way an Italian immigrant who becomes an American citizen is an Italian-American. Generally, when I get asked this question it's by Dutch people and I don't want to get into this complicated story.
You never really stop being American, it's a deeply rooted sense of identity, but I knew after the Clinton impeachment trial in 1998 that the country was moving towards a split and that the levels of antipathy were irreconcilable. The US was also becoming increasingly militaristic. At the same time, Europe was adopting the euro and strengthening the European Union. It seemed obvious.
How long do you plan to stay?
This is it, I think. My life is here now. I do miss things about the US. I haven't seen my parents or my sister since last year because of the coronavirus and a lot of my university friend group is there but my life is Dutch, my children are Dutch, and I'm a Dutch citizen too.
Do you speak Dutch and how did you learn?
Yes, I learned in three weeks. My Dutch-speaking girlfriend only spoke Dutch to me for three weeks. I had a hard deadline because I had a job interview in Dutch so I was very motivated. I basically learned through total motivation and terror.
I took a course when I moved here and I think I went to one lesson. It wasn't for me. Everything after that I learned from speaking Dutch with Dutch people and reading the Volkskrant. There are times when I wish I worked in a Dutch environment because then I would have more practice with higher level conversations.
I speak English with my wife and my kids. My oldest is of the age where we are now having conversations with a high level of emotional sophistication and those conversations would be harder for me in Dutch. Also, I'm funnier in English.
What's your favourite Dutch food?
Herring, which is a boring answer, but I do love to see how different European countries prepare herring. The Dutch method is the best. It's also indicative of Dutch culture. The fish stand is part of your city, it's a component of the entire town experience. And eating herring is a public consumption experience, it's a ritual. All of those things are an important part of Dutch society and culture. Bitterballen can be similar. You only order them in a group, you have to have this conversation at the bar where you see if people want some, there's a cooperative practice to it.
A less boring answer would be opperdoes (a potato variety that is exclusively grown near the village of Opperdoes). They are delicious with butter.
How Dutch have you become?
I've become intellectually committed to the idea that many Dutch practices and ideas are superior. There's a lot to be admired about the Dutch. They built the country they are living in. All of these people, groups, get together and it seems like they could accomplish anything. The maintenance of these systems that always requires calibration. Or at least this is my idea of Dutchness.
There are some aspects of the culture that I still cannot master. Group projects for example. The delineated roles, the collective set of expectations. I am inherently not conscientious enough to excel at it.
Which three Dutch people (dead or alive) would you most like to meet?
Baruch Spinoza. The Dutch philosopher of Portuguese heritage. A hugely important Dutch philosopher, and seemingly an obstreperous jerk. The Netherlands is very conformist but, as with Pim Fortuyn, it's often the obnoxiously defiant Dutch who end up changing the country.
Simon Carmiggelt. I really enjoy his genre of Dutch writing, these lovely stories of Dutch culture and boredom in the 1950s and 1960s. He wrote columns about Dutch people and Dutch life for Het Parool.
Hella Haasse. I haven't read as much of her as I would like. She's known as the Grand Dame of Dutch literature and wrote a lot about the Dutch Indies.
What's your top tourist tip?
Get on a goddamn bike. Or a small boat. That's what the country is built for.
Tell us something surprising you've found out about the Netherlands.
How conservative the country is. The Dutch are tolerant, they have an attitude about letting other folks do what they do, but they themselves tend to be very traditional and conventional. Not all of the Dutch, of course, but a majority. There was a big difference between London and the Netherlands, I saw this a lot with my children's friends. In London, there was a lot more gender fluidity, for example, than here.
If you had just 24 hours left in the Netherlands, what would you do?
Get an appropriate amount of ecstasy, rent a portable sauna, take the people I love and go to the dunes. I would want it to be in an environment that seems natural but was really man-made. You could have that sort of experience in other places, but you wouldn't. That's the Netherlands.
Thank you for donating to DutchNews.nl.
We could not provide the Dutch News service, and keep it free of charge, without the generous support of our readers. Your donations allow us to report on issues you tell us matter, and provide you with a summary of the most important Dutch news each day.
Make a donation