What evil lurks in Leiden's canals? The Plastic Spotter team are on the case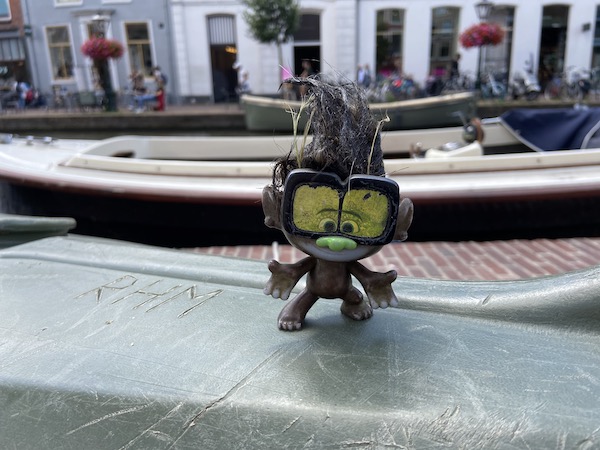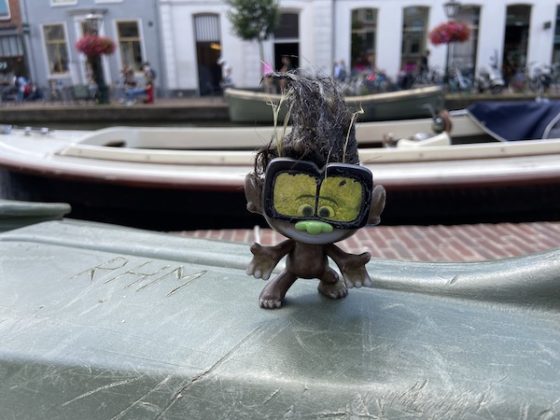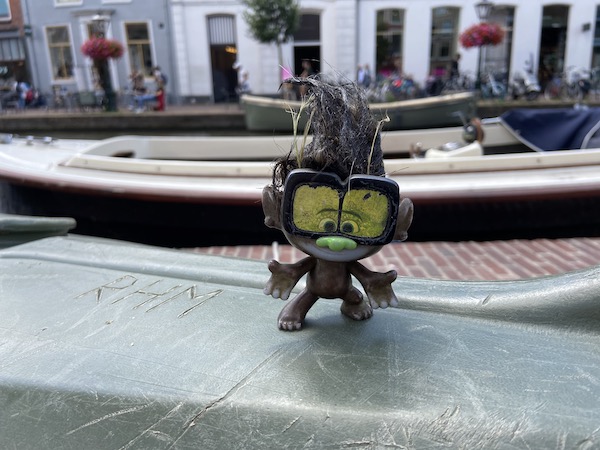 Since 2019, a fearless team of Leiden University students and other local residents have been dedicated to removing and studying the random stuff that winds up in the city's waterways.
A strange leather vest. A tea kettle. A Troll doll with a scuba mask. These are just three of the unusual items Plastic Spotter's team has retrieved from Leiden's canals during their weekly boating treks. Far more common are cigarette butts, plastic bags, and random detritus from a certain indomitable fast food franchise.
'McDonald's is one of the city's top polluters,' says Auke-Florian Hiemstra, who co-founded the group. 'Due to coronavirus, customers can no longer eat inside. Normally, it's bad, but now there is more trash coming from them because more customers are eating outdoors.'
Along with an uptick in milkshake cups, Hiemstra and his colleagues have noticed an increase in the amount of stuff winding up in the water from other local eateries. Earlier this summer, many of Leiden's cafes were allowed to expand their terraces, often on the edges of canals, in order to attract customers while they grapple with social distancing regulations due to the Covid crisis.
Coronavirus crud
Laminated menus from cafes located along the Nieuwe Rijn have become a common sight for Plastic Spotter volunteers. They've found them floating in canals and even flowing into the North Sea over in Katwijk. In addition to an increase in objects coming from cafes, the spotters have noticed coronavirus-related trash.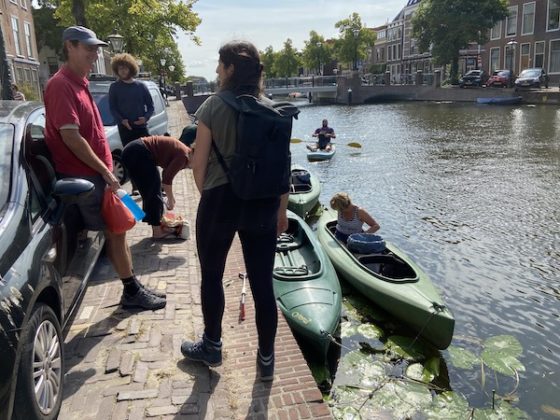 Face masks were not something they were likely to come across in Leiden's canals last year, nor were disposable gloves or containers of hand sanitizer. Liselotte Rambonnet, who also co-founded the organisation, often places these items in plastic bags and tags them for research. She and Hiemstra are both PhD candidates at Leiden University and have been studying this type of rubbish throughout 2020.
'One of our goals is to really make people in Leiden aware of this,' Rambonnet said. 'We collect this data to show how much trash is in the canals, where it's coming from, and who the polluters are.'
Hiemstra's PhD thesis was inspired by a coot he encountered during one of Plastic Spotter's treks. While they cleaned the canals, the aquatic bird was doing the same. Well, in its case, it was grabbing random bits of plastic to use in its nest.
Many coots reside in the city's canals and often build their homes in various nooks along them. While conducting his research in the months since, Hiemstra has determined that as much as 50% of these birds' nests are composed of human-made trash.
Plenty of progress in just a few years
The team, who began patrolling in 2018, yanked an estimated 7,000 plastic cups out of its waterways following the city's Koningsdag celebration last year. Their hard work led to a lobbying effort to convince local festival organisers to begin using reusable cups with deposits on them instead at all future outdoor events.
As a result, Leiden's annual 3 Oktober festival last autumn was a much tidier affair. The spotters only rounded up a few cups in the days that followed. It's one of the group's biggest accomplishments to date.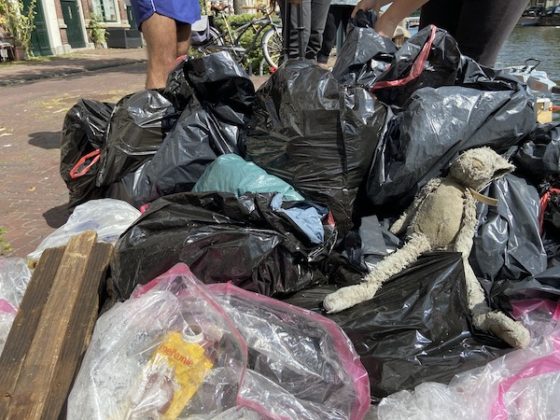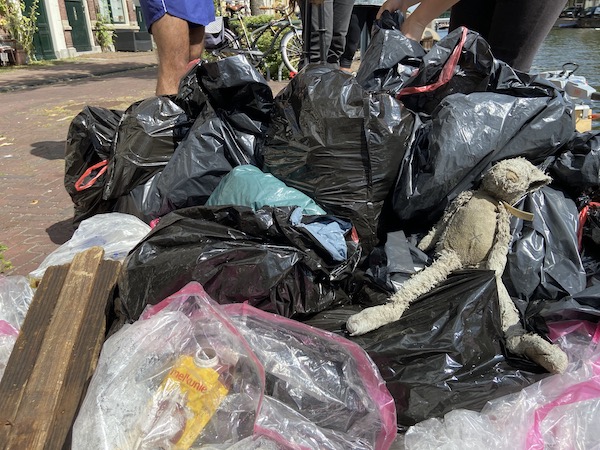 A crowdfunding effort earlier this year enabled the group to purchase a small fleet of plastic canoes along with a motor boat they use as a research vessel. They've managed to attract over a hundred volunteers too. Typically in groups of around a dozen people, they collect a rather impressive pile of trash during their outings.
They've also co-sponsored an app called CrowdWater that enables users and researchers to track plastic in the waterways of their own communities. It's available via both the Apple App Store and Google Play. 
Several reasons why
According to an analysis by the World Wildlife Fund published last year, the average person eats, swallows, or breathes in an average of 5 grams worth of tiny bits of plastic every week due to increasing amounts of pollution in water, air, and food. That's the equivalent of a credit card.
This phenomenon is even worse for wildlife. Encountering an animal specimen with a stomach full of plastic is becoming an all-too regular occurrence for scientists all around the world.
'Our goal is to not only get trash out but to study what we've found,' Hiemstra said. 'It's an important combination. We study the source of the plastics and trash so we try to eliminate it. We try to contact the people and businesses where it's coming from.' 
Attempting to keep the rubbish in Leiden's canals under control is the biggest reason why people volunteer for Plastic Spotter, but it's not the only reason.
'I'm trying to be a better person,' said Bob Hanselman, a volunteer who joined the group for the first time this summer. 'I decided to sign up so I could get to know a few people, help around the neighbourhood, and get some exercise.'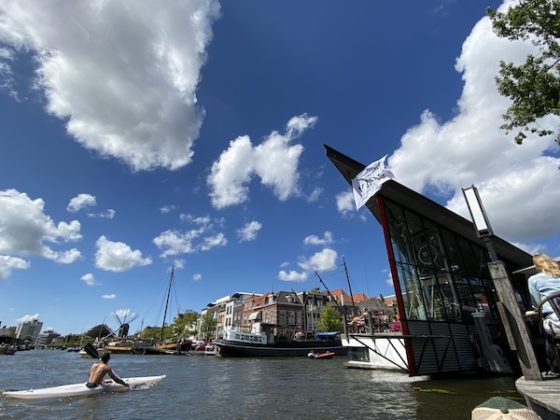 Neilabh Sinha is another new recruit. He's a kayaker who joined Plastic Spotter in July after chatting with a fellow boater who lives in his neighbourhood.
'The canal cleanup crew starts 20 metres down from where I live, and I had already been picking up flotsam on my trips,' Sinha said. 'So I said yes and signed up for the newsletter.'
Strange encounters
The spotters' work continues to be cut out for them. Even during normal times, trash in Leiden's canals is a big problem. Bottles, cans, cigarette butts and used condoms all crop up regularly. Less frequent are toys and not just those for children. Encountering these can sometimes be downright creepy.
'We once found a Baby Born doll,' says Hiemstra. 'We think it must have been at the bottom of a canal for a few years. It was really brownish and looked like something from a horror movie. One of our volunteers also once found a dildo.'
'I've been out twice so far myself,' says Sinha. 'The first time I found a Swiffer brand mop. Pretty strange since they're fairly expensive as far as mops are concerned.'
Looking ahead
The ongoing Covid crisis has significantly impacted the group's mission throughout 2020. Social distancing measures and other logistics prevented them from spending much time on the water during the spring and early summer. A possible second lockdown could force them to delay or even cancel their weekly voyages this autumn.
Nevertheless, the team plans to spend as many hours as they can patrolling the city's canals in the days and months to come. In addition to keeping it as free from trash as possible, their treks serve as an awareness campaign to encourage Leiden's citizens to keep its streets and canals clean. During their outings, the spotters typically participate in dozens of conversations with other boaters, pedestrians, and canalside diners.
'We're really trying to be a voice for the canals,' Hiemstra said. 'And what would the Netherlands be without its waterways?'
If you would like to learn more about Plastic Spotter, check out the website.
Thank you for donating to DutchNews.nl.
We could not provide the Dutch News service, and keep it free of charge, without the generous support of our readers. Your donations allow us to report on issues you tell us matter, and provide you with a summary of the most important Dutch news each day.
Make a donation