Take a tour around BlueCity, Rotterdam's centre of circular experiments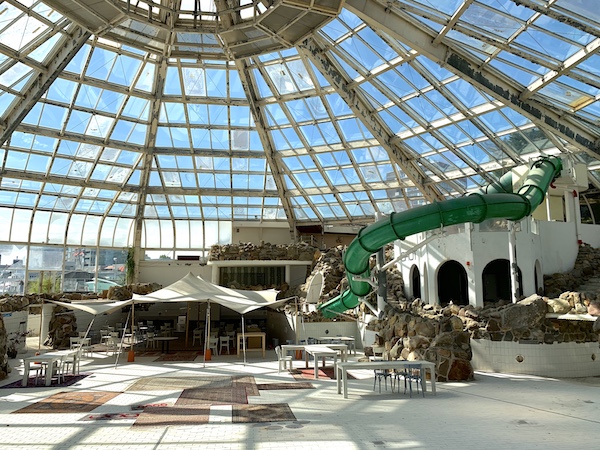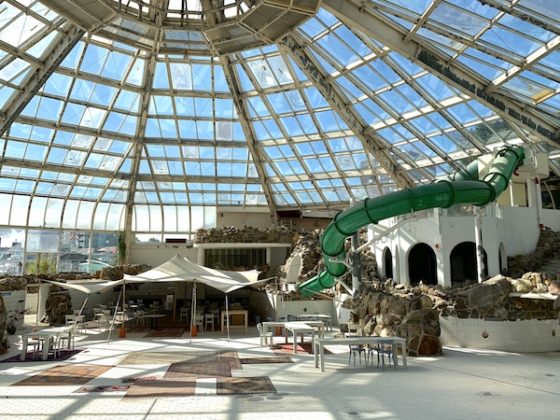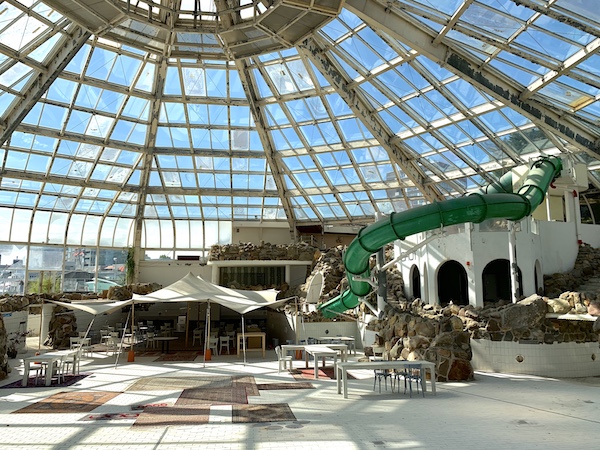 ­A circular innovation hub housed in a former swimming pool, Rotterdam's BlueCity is setting trends in the Dutch sustainability scene. The aim is to prove that waste, be it a building or coffee grounds, is a useful resource.
A visit to BlueCity begins with a sensorial experience: the building smells better than the finest cosmetics shop. A fresh mixture of fruity and herbal scents penetrates every corner.
'Today one of our entrepreneurs is making soap,' explains BlueCity's communications manager Diana van Ewijk. 'The smell varies depending on who is making what that day. Some days it is not so pleasant.'
Located in a repurposed swimming pool complex, Rotterdam's BlueCity is a hub for entrepreneurs committed to radically rethinking production. The linear economy leaves tremendous amounts of waste behind. While the world's resources are shrinking, BlueCity's entrepreneurs are taking a a circular approach that treats waste as 'just a misplaced resource,' as Van Ewijk puts it.
Home to 'bioneers', designers, upcyclers and bio-engineers, BlueCity has created its own ecosystem. The innovators come up with ways to reuse each other's waste streams in symbiosis and the result, at times, resembles biological sci-fi rather than reality.
Valuable leftovers

Flagship BlueCity's enterprise, RotterZwam, created a feeding ground for oyster mushrooms from leftover coffee grounds. BlueCity collects its coffee waste and transfers it to RotterZwam.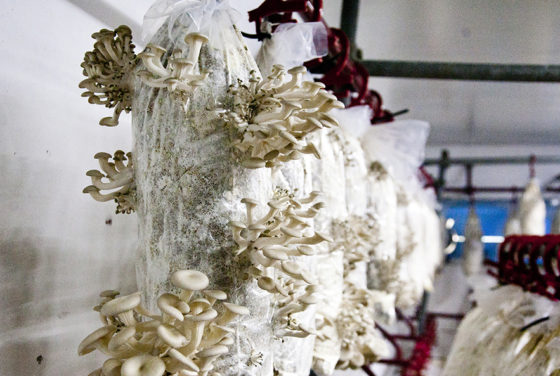 Vet and Lazy, a circular beer brewery, has used the mushrooms to brew a special edition beer with an 'earthy taste'. The special editions vary, depending on what is currently available in the hub. The beers may be brewed with some of the leftover fruit that Fruitleather, a bio designer, uses to produce a vegan alternative to leather.
Beer production creates beer effluent that conventionally goes to waste. UnPlastic, a project developed by Outlander Materials, repurposes the effluent into an edible alternative to plastic. The idea is still under development but it has already gained the interest of city officials.
Waste-free ecosystem
Kusala Gifts, a soap maker responsible for my aromatic sensations, uses both the beer effluent and the coffee grounds to make 'circular soaps'. Some of the soaps supply BlueCity's toilets.
LoopedGoods, an upcycling designer, creates 'coffee-based' plant pots and notebooks. While coffee grounds seem to have an almost infinite variety of uses, BlueCity's entrepreneurs actively seek ways to reuse as much of various waste streams as possible.
De Krekerij, a revolutionary catering company, feeds its crickets with residual crops or grass from marginalized land. Cricket flour is the basis of De Krekerij's burgers and bitterballen, a traditional Dutch meat-based snack. The company hopes to revolutionise the food industry with a high-protein, minimum-impact alternative to meat.
Tropical, circular, collaborative
Original practicality is key to BlueCity's design. BlueCity moved into the building a few years after Tropicana, a popular Rotterdam's aquapark, closed down. SuperUse , a sustainable architectural firm, was part of the redesign project.
'We managed to transform a building that was likely to be demolished because of its mono-functional nature into a thriving ecosystem of startups and scale-ups,' says Jos de Krieger, SuperUse partner. The result is a building that complements the circular mission of the hub and intrigues visitors at the same time.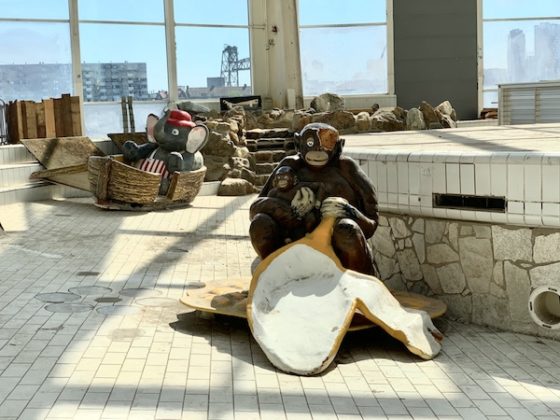 Some of the aquapark elements still bring a touch of humour to the building. The outdoor slides, as well as a big 'Tropicana' banner, confuse visitors to this day. 'We still get families in swimsuits turning up sometimes,' Van Ewijk smiles.
The office spaces are mostly made from windows rescued from former courtyard. The windows were too big, so SuperUse  created glass cubicles with the windows, slanting them so that they could fit. Okkehout, a furniture upcycler, produced tables for the meeting rooms using old furniture.
Having so many circular entrepreneurs working together in an almost-transparent building is also stimulating new ideas. 'You hear of new developments in fields besides your own before the public does, which helps to develop and sharpen your thoughts about what's going on in your own field,' says De Krieger.
Collaboration not only boosts innovation but is also a sustainable solution on its own: BlueCity's new project, FoodHub, has a shared walk-in freezer, saving resources and increasing energy efficiency, as well as opening doors for joint initiatives.
Upscaling the impact
Later this year, BlueCity will celebrate its fifth anniversary and is working on a new five year plan with a focus on increasing its reach.
BlueCity receives funding from its entrepreneurs and offers access to its network of investors, both external and in-house, in return. Ifund, an impact-first investment foundation, was one of the first BlueCity's investors and remains located in the hub until today.
While such a structure helps the 'bioneering' start-ups to scale up, BlueCity now wants to collaborate with the biggest actors on the market.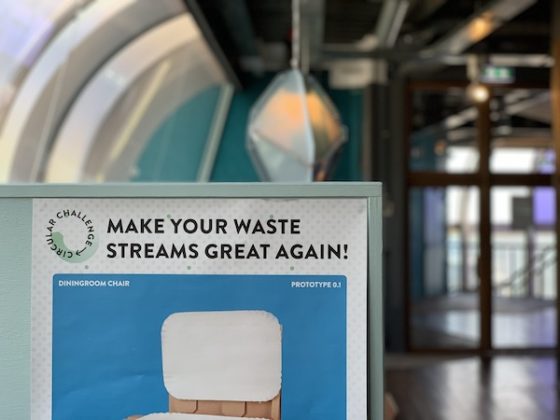 'You can make a bigger impact when you work with bigger clients,' says BlueCity's PR spokeswoman Manon Dijkhuizen. Changes implemented by big players, for example the city authorities or the port, are likely to have a substantial positive effect.
'Shopping window' for circularity 
The outbreak of the COVID-19 pandemic presented an opportunity to expand the online public programming alongside the already planned expansion of a dry and a wet lab. BlueCity is currently looking for more entrepreneurs, specifically but not exclusively for the FoodHub where the newcomers could transform waste streams into delicious edibles.
The hub's companies also recognise the changed post-Covid-19 reality and aim to respond by turning increasingly digital. BlueCity is now working on building an under-the-dome recording studio that will allow them to stream their events worldwide and establish themselves as a knowledge-sharing platform.
'What we do here in BlueCity speaks to people's imagination', Dijkhuizen says. 'In some ways we are a shop window displaying what a circular economy could look like. Circularity is a complicated concept, but in BlueCity it becomes touchable and solid.'
Thank you for donating to DutchNews.nl.
We could not provide the Dutch News service, and keep it free of charge, without the generous support of our readers. Your donations allow us to report on issues you tell us matter, and provide you with a summary of the most important Dutch news each day.
Make a donation