Fashioning the new from the old: 9 Dutch organisations making clothes and accessories from recycled waste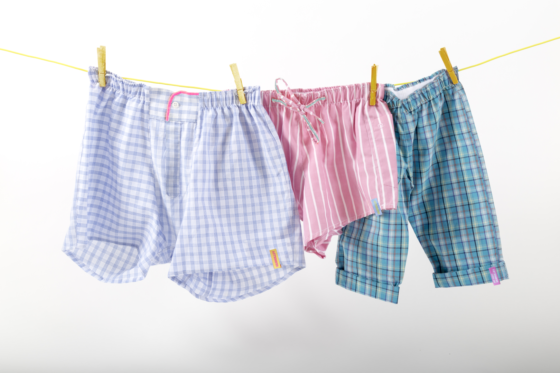 Fashion is one of the Netherlands' most wasteful industries with over 100,000 tonnes of textiles discarded each year and just 1% recycled. The nation's eco-minded innovators believe we can do better. Here are nine clever initiatives creating clothes and accessories from recycled materials. 
Van Hulley
If your best-loved shirt is no longer fit for purpose, it can be made into your new favourite underpants thanks to Groningen-based social enterprise Van Hulley which recycles unwanted shirts into boxer shorts, face masks and children's trousers.
Each year, the all-female team takes on 15 women with a distance from the labour market who work at the Van Hulley studio, broadening their network and improving their Dutch (where relevant), while studying for one day a week at Noorderpoort College.
'Through the years, these women have become more important than the boxer shorts,' Jolijn Creutzberg told DutchNews.nl. 'From a simple idea of a boxer short-producing company, we are now a certified social enterprise with an impressive social impact.'
Fruit Leather
Rotterdam-based spatial design graduates Koen Meerkerk and Hugo de Boon had not planned to go into business together. 'Our company started quite by chance,' De Boon told DutchNews.nl, explaining that the pair dreamt up the idea in response to an assignment they were set at art college.
'The ultimate goal is to reduce food waste and at the same time offer an animal-friendly and environmentally friendly alternative to leather,' he says. Gathering waste fruit from the market which stall holders would otherwise have to pay to dispose of, the duo tested various fruits, settling on mango as the most effective.
The fruit, once dried and treated, is sold as sheets of dyed leather to creative collaborators. LUXTRA recently launched a range of bags and wallets, for example, while iamoo created laptop and card holders.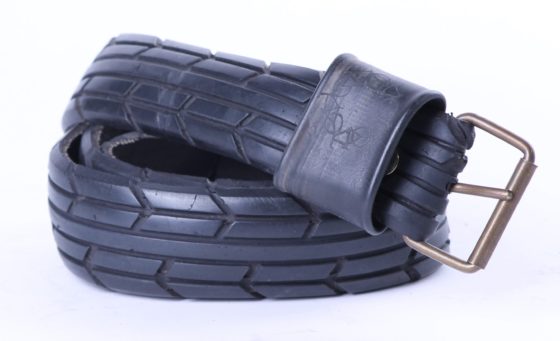 The Upcycle
When TU Delft graduates Lodewijk Bosman and Hidde van de Straaten decided to do something about the mountain of scrap bicycles in the Netherlands by taking parts from abandoned bikes to create new ones, they found they were still left with a pile of spares.
And so, in 2010, The Upcycle was born: a shop in the heart of Amsterdam's Red Light District creating edgy accessories from bike rejects. Wares include belts made from tyres, bracelets from bike chains and even earrings fashioned from inner tubes. Now fashion enthusiasts can reduce waste while endorsing the Netherlands' favourite mode of transport.
Dick Moby
Surfers Robbert Wefers Bettink and Tim Holland were fed up with sharing their waves with ugly plastic flotsam and wanted to do something to reduce plastic waste. In 2014, they founded eyewear company Dick Moby, producing trendy glasses and sunglasses frames using biodegradable acetate made from wood pulp, recycled acetate or recycled metal.
The glasses come in a case made of recycled leather and natural latex and even the cleaning cloth is made from recycled PET bottles. Holland told DutchNews.nl: 'We often joke we're in the waste management business because we question everything we do by asking ourselves: how does this reduce waste?'
Nowa
Mining for gold and silver is easier than you think – these precious metals lie hidden in electronic waste such as mobile phones, but when the owners discard them, few think to extract the treasures within. In 2019, Amsterdam-based startup Nowa, a shortening of 'No waste', launched a jewellery range using recycled metals from unwanted phones.
'With our products we show the value of waste, the importance of recycling and the potential for reuse in a positive and tangible way,' founder Josette de Vroeg told DutchNews.nl. De Vroeg also runs gold prospector workshops, teaching people where they can find gold in their old phones. 'Our mission is to show that we don't have to extract gold from the ground at all. The gold is literally up for grabs!' she says.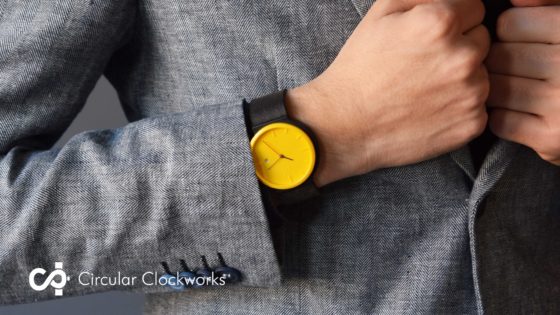 Circular Clockworks
Quipping that 'recycled materials are not a waste of time', Circular Clockworks make wristwatches which have circular faces and a circular production process. Founders Tom Gudde and Ceriel Lucker, two Industrial Design Engineer graduates, got the inspiration while still students, and launched the company in 2017 thanks to crowdfunding.
'We received several lectures on the circular economy, which sparked our interest and showed us there was a need for change, specifically in the image of recycled plastics,' Gudde told DutchNews.nl. They sourced consumer waste plastic from Coolrec for the watch face and created a biodegradable strap from recycled leather and natural latex.
Unlike many electronic products, Circular Clockworks are designed so that they are easy to open up and repair. The simple, separable components also make recycling easy, but the company will take care of this, giving customers €15 for returning their watch to them at the end of its life.
NYVIDD
Across the globe from Alaska to Egypt, Iceland to Japan, fish leather was once widely worn. Yet this strong, soft and flexible bi-product of the fish industry is largely overlooked today.
The Eindhoven-based company NYVIDD, meaning 'new dimension' in Icelandic, hopes to bring this wasted resource back into fashion. Founded by Cees van de Ven in 2015, NYVIDD works on a B2B basis, selling salmon, wolffish, cod and perch skins dyed in a rainbow of colours. Recent collaborations include wallets and jewellery by Studio Bartholomé and eye-catching red boots with matching accessories by Smeets Loopconfort.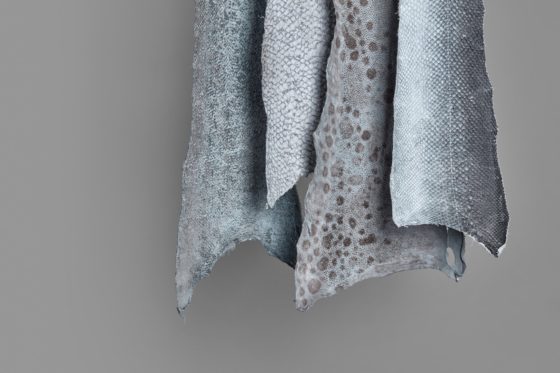 Healthy Seas
Healthy Seas is an environmental organisation collecting abandoned fishing nets – so-called 'ghost nets' – from the North, Adriatic and Mediterranean Seas, helping to make the ocean safer for marine life, while repurposing the waste to reduce landfill.
The fishing nets are regenerated, together with other nylon waste, into ECONYL® yarn, which is used for the production of Healthy Seas Socks and many other fashion brands, such as UK-based Marble Swimwear and German sportswear company Re-Athlete. 'We are proud to offer consumers the opportunity to join us in 'a journey from waste to wear' by simply putting on a pair of socks in the morning,' Eric Roosen, one of the founding partners of Healthy Seas, told DutchNews.nl. 
Maium
Founded in 2016 and branding themselves 'bad weather experts', Maium hope to keep us all on our bikes whatever the weather. Their waterproof anoraks can be unzipped to form giant ponchos which fold over the handlebars, shielding cyclists from the worst of the rain.
But it's not just the transport choice which is sustainable, the manufacturing process is also focused on rethinking fast fashion. A minimum of 80% of the material used to make the jackets comes from recycled plastic bottles and all remaining materials are biodegradable.
Recycling at least 66 bottles per garment, the aim is to reduce waste and cut the carbon cost of working with entirely new materials. 'Rainwear by definition is designed to protect us from the elements,' co-founder Hendrik van Benthem told DutchNews.nl. 'We have incorporated sustainable design practices in an attempt to restore the link to nature, proving that fashion and innovation doesn't have to cost the earth.'
Thank you for donating to DutchNews.nl.
We could not provide the Dutch News service, and keep it free of charge, without the generous support of our readers. Your donations allow us to report on issues you tell us matter, and provide you with a summary of the most important Dutch news each day.
Make a donation