This is a confession and apology to the First Mate of that KNSM ship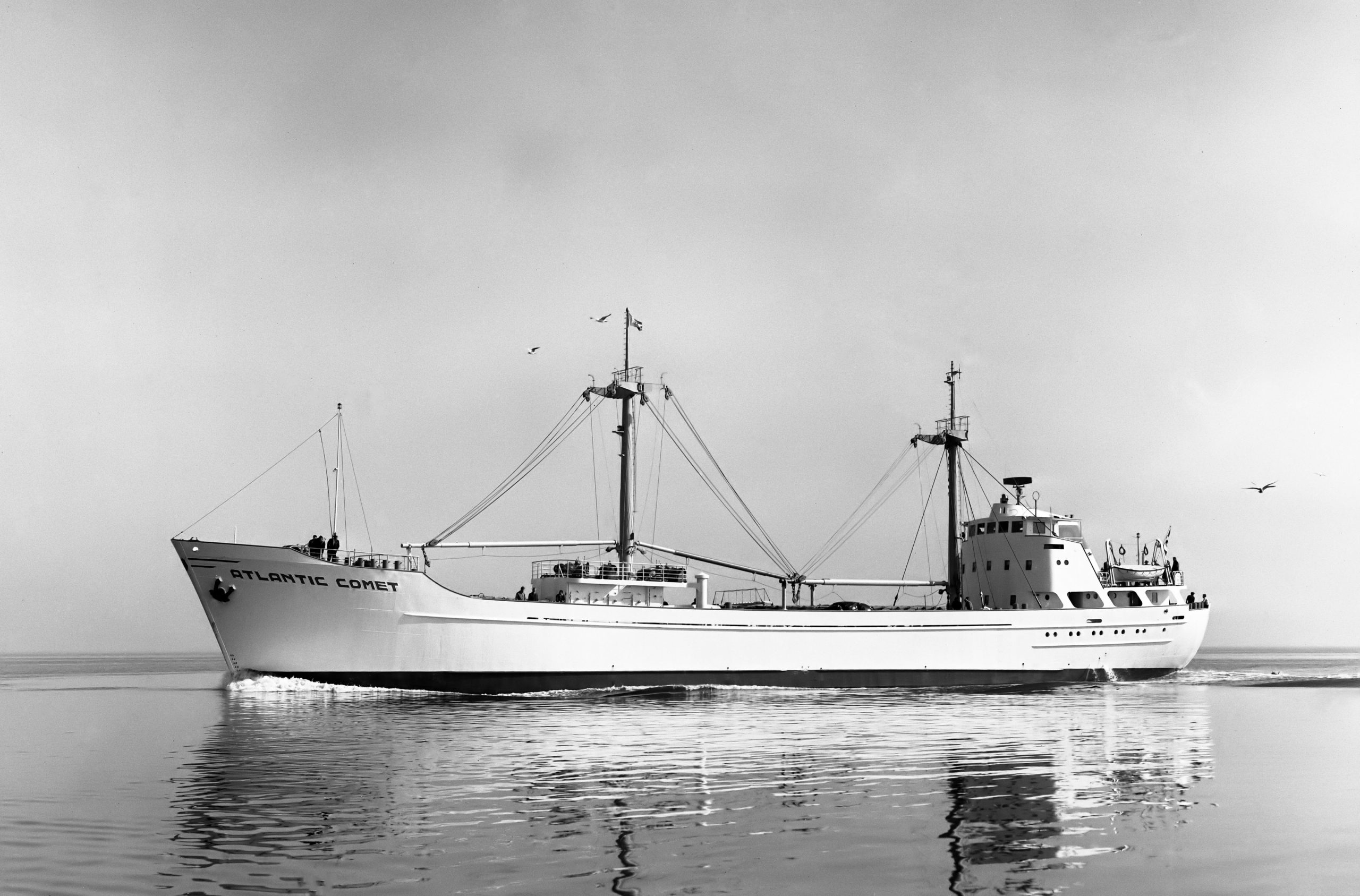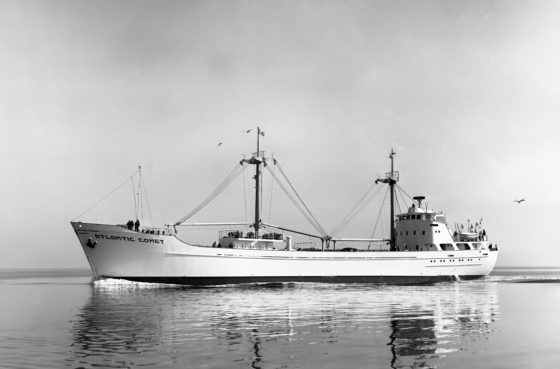 DutchNews.nl receives a lot of correspondence from readers, sometimes looking for help in tracing lost relatives, sometimes to share experiences of the Netherlands in years gone by. But this email, from reader Joost Goedkoop in the US, is different.
In the summers of 1965 and 1966 I worked on Dutch freighters sailing the Caribbean Seas. The shipping line, KNSM, had beautiful little freighters with routes from Amsterdam to NYC, that continued on to Miami, Puerto Rico, St Maartin, Curacao, Bonaire, Aruba, and up the river to Lake Maracaibo.
From the coast of Venezuela, the ships would reverse course and return back up the US coast to NYC, and then cross the Atlantic back to Amsterdam.
The small crew, of approximately 15 sailors were mostly Dutch. I spoke enough Dutch to get along with them, and they were at least semi-fluent in English. The first summer I had just graduated from 12th grade at Forman (boarding) School in Litchfield, Connecticut, and the second summer I had finished my first year at Hanover College in Indiana.
The crew members were each on some level of training for sailors, or were older, established sailors. My education had done little to prepare me for that lifestyle or for being a temporary member of those integrated little teams of Dutch sailors. My father Johan Goedkoop, the son of Daniel Goedkoop,  had been able to get me those jobs because he represented KNSM from Manhattan.
Summer of 66
It was the summer of 1966 and I boarded the Atlantic Comet. It was my second year working a Dutch freighter. How humans can build ships out of a metal that sinks faster than a stone was still slightly amazing to me.
As a 19 year old, I was looking forward to good times, flying fish, interesting foreign ports, wild green jungles with flocks of parrots, adventures in the warm tropical seas, and reading JP Wodehouse in my cabin.
I did not foresee problems with the crew. The year before, everybody had been nice to me, or at least politely tolerated me. My pay was approximately one US dollar per day, but it was the adventure that mattered.
The first day at sea, the First Mate, who was in charge of the crew below the Captain, took me up to the bridge and, in fluent English, showed me the big tables covered with large maps, the navigation systems, the compass, the telegraph to the engine room, and the other aspects.
Dutch name
He was very friendly, accommodating, extroverted, perhaps in his 30s; whereas I was extremely shy and bashful, with a speech difficulty. I stuttered so badly that it would take many embarrassing moments just to say my own Dutch name.
Things went alright for a while. The crew was only allowed one afternoon to go on shore in Miami. They all seemed to have it exactly planned out for themselves as a group. I was not included.
We continued south, passing  a Cuban warship in the distance. I had a little room, totally enclosed of course, in steel. The entire room shook day and night with the throb of the engines. I felt a little bit sick. My journal was written with a very shaky hand. I wondered, as we sailed through the Burmuda Triangle, if my mind was drifting a bit.
Many ships and planes have been lost in the Burmuda Triangle in mysterious circumstances. It was indeed the 'Devils Triangle' for me. I was having trouble with the young little cabin boy who worked in the kitchen. He was totally in with the in crowd, and I was an outsider. I have to admit, after all these years, I was very jealous!
Morning coffee
One day, as that spick and span, super-clean, brightly painted ship was throbbing through those paranormal waters, I was sitting in a metal doorway that was situated outside, leading into the ship, drinking my morning coffee, a thick concoction laced with Dutch canned creamer.
As I took a sip from that little white ceramic cup, the young cabin boy suddenly appeared and tried to squeeze past me. In a moment of crazy outrage, I smashed him with my left elbow using all possible force. I knew he would probably throw me overboard.
It was a psychopathic moment, absolutely suicidal, but I could not think to control myself. There was a long moment of total silence and motionless calm out there in the Devil's Triangle. Nothing happened. No counter-attack. Finally I dared to look up, to see what had happened. Was the little cabin boy out cold?
No. The First Mate was towering above me. It was upon him that I had focused my crazy rage. He eyed me calmly. He uttered one sound: 'Hmmm', as he slowly turned around and continued on his way. My elbow had totally connected with his thigh, I knew that!
Apology
The First Mate never talked to me after that incident. I was so embarrassed that for the remainder of the voyage I don't think it ever occurred to me to stutter my way through an apology to him.
This is my apology, now, 54 years later. That super-human saved my life! A man who truly knew how to handle a crew of sailors, even a crazy guest. How can I express my admiration, my gratefulness, my total awe of such character, of such self-control? Of all men, who could have the forebearance to just shrug his shoulders and walk away?
On that day in that warped Devil's Triangle, I deserved to harvest a horrible fate, especially since I had not the courage to ask the man's forgiveness. Also, he deserved an explanation.
I should have gone right up to the bridge and told him that I had mistaken him for the chef's helper, of whom I was so jealous, and begged to be forgiven.
Kept the secret
In a way, part of me did sink to the bottom of the ocean that day, like so many ships and planes have done in those wretched waters. When I got back on shore in New York and phoned my father in his Manhattan office, expecting to be picked up in his car, he told me to find my own way back.
Maybe the ship's captain, probably a friend of his, had already phoned him. My career at sea ended there and then, and I have not told anybody of this unfortunate incident until writing this article now, at age 72.
May it be that, somehow, this confession reaches the spirit of that noble man, or at least, his relatives, his children and grandchildren, who are so lucky to have in their genetics such admirable character. 'Thank you sir, for saving my life by being in the right place at exactly the right moment!'
Footnote: Maritime history expert and publisher Ton Grootenboer, told us that the Atlantic Comet was built in Groningen in 1965 and owned by Dammers van der Heide in Rotterdam.The ship did work in the Caribbean and may have been chartered by the KNSM, although he has not been able to find any records to confirm this.
Ton Grootenboer also told us that the Goedkoop name (Johan and Daniel) are still well known in Amsterdam from the Goedkoop tugs. Ton and Joost are in touch about trying to trace the First Mate and if you can help, please email editor@dutchnews.nl.

Thank you for donating to DutchNews.nl.
We could not provide the Dutch News service, and keep it free of charge, without the generous support of our readers. Your donations allow us to report on issues you tell us matter, and provide you with a summary of the most important Dutch news each day.
Make a donation