'Take it easy and chill. That typifies my Amsterdam'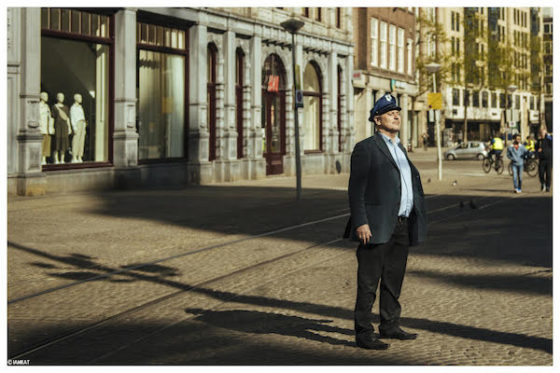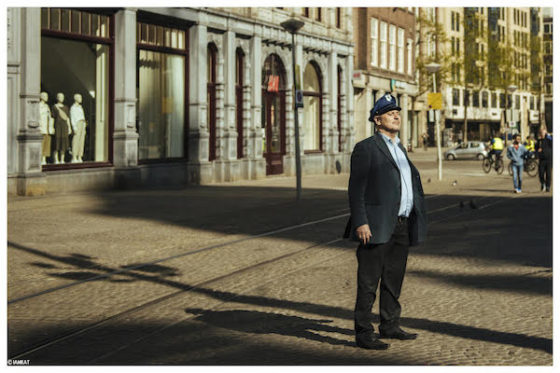 William Sutton spent his childhood in the United Kingdom before moving to Canada at age 16 and then finally to the Netherlands in the 1980s. He now lives in Amsterdam and is a long-time actor who loves the city's old school cafes. His most recent project is COVID Criminals Amsterdam, an online comedy micro-series.
How did you end up in the Netherlands?
My eldest sister married a Dutchman when I was 12 years old. I visited at that age and Amsterdam was in the middle of its hippie period. That was the mid 1970s, which will give you an idea of how old I am. She lived on a barge with a bunch of hippies and I thought, 'NIRVAAAAAANA!' [laughs]
I knew that I would be back. This was the place for me. I came back for the first time in 1983, and it was awesome. The official purpose was to escape North American culture and embrace European culture again. I had about five years of roaming back and forth between here and Toronto. In 1988, I started working for a small theatre in the Jordaan called the Stalhouderij. That's where my acting career started.
How do you describe yourself – an expat, lovepat, immigrant, international?
I always say that I'm an expat, because that's how I feel, but I've been here so long that I have become an international. In basic terms, I think of myself as an expat, but then I'm an expat from two countries ⁠— from England and from Canada. I guess I'm now thinking of myself as more of an international.
How long do you plan to stay?
We're here now until our son is free of the schooling system. He's 14 going on 15, so it's going to take another three or four years. After that, we can pick up and go, but I think we'll be staying here. It's because I love the quality of life here.
Really that's the biggest thing for me. Where can I get the best quality of life for what I make? Obviously, I'm not a brilliantly successful actor but, with the work I do get, I can survive in this country a lot better than I could if I was in any other country, especially my other two countries. I wouldn't be able to just do acting. I'd have to have another job and do acting on the side.
Do you speak Dutch and how did you learn?
I speak it fluently, though not according to my son. He's embarrassed when I speak Dutch, but that's fine. It's a teenage thing, especially Dutch teenagers. My Dutch is fluent. I even do corporate acting in Dutch.
I'd always wanted to learn a second language. I took French and German at first year university level and spoke them both on the level of a five-year-old. So I wanted to really learn a second language and it became Dutch. I learned in the coffee shops. There's one I used to go to called Kadinsky. Back in the 1980s, that was the thing to do. The Kadinsky was very trendy. It was used by everybody from lawyers and doctors down to hip and trendy party-people.
I was a regular customer, and I just kept my ears open and listened and listened. I'd have a book with me, and I'd listen for certain phrases. Then I'd look them up in my book, make sure I could use it, and then move on to the next chapter, basically.
What's your favourite Dutch thing?
The openness of communication in the sense that, with Dutch people, you can just say something and you'll get a reply. It may not be the one you want, but you're going to get a reply. You can throw ideas out there, and you'll get something back. They don't stand on ceremony.
I've had Dutch people tell me they know me better than I know myself, and I've had Dutch people say they speak better English than I do. You obviously don't have to take everything they say as gospel, but it always leads to an interesting conversation or interaction.
My love of Shakespeare was fostered in the coffee shop and in the Bungehuis university library down the street from the coffee shop. I finally met an Ivy League professor there who gave me my first early modern books! The sense of continuous history and renewing their relationship to that history is very Dutch too.
How Dutch have you become?
[laughs] Well, I've become frickin' Dutch. The one thing that I've noticed is that when someone says, 'I'm gonna do this,' people respond with 'Oh, you're going to do that? Why are you going to do that? That's not going to work. I know several people who have tried that and it didn't work out at all!'
People love to question your dreams here. I worked as a stand-up comedian at the Comedy Cafe and Tim Ward, an American comedian friend, once said that if you tell an American you're getting a dog, they say, 'Oh my god! You're getting a dog? I love dogs!' You tell a Dutch person you're getting a dog and they'll say, 'Where do you live? What floor do you live on? Oh, the stairs will be bad for its hips.'
That kind of thing. There's immediately that dampening aspect. This kind of goes against the answer I gave to the last question, but that's one thing I've noticed about myself becoming more Dutch.
Which three Dutch people (dead or alive) would you most like to meet?
Baruch Spinoza. That would be the ultimate in conversation. After you've finished eating well together, you could kick back and start throwing ideas around. He would have been the perfect person to do that with. I'm a secular person, not a religious person, and he's the ultimate secular thinker, as far as I'm concerned.
Hugo de Groot. He's the guy who escaped from Muiden Castle in a bookcase. I've lived for the last 25 years on the Tweede Hugo de Grootstraat and Van Reigersbergenstraat. Johanna van Reigersbergen was his wife, and he was one of those very knowledgeable Dutch statesmen who helped to institute Maritime Law. He was also a member of the early rhetorical groups, De Rederijkers. He's definitely someone I would like to talk to.
Cornelis Jacobszoon Drebbel. He created the first submarine and lived in Renaissance London. I have a massive passion for Shakespeare as well as that entire period from about 1570 to 1630. Drebbel was around during the latter half of that. After building the submarine, he invited King James I to go on a trip with him down, or rather under, the Thames in it. He refused. Drebbel also made spectacles and lenses he learned about from Jacob Lippershwey in Middelburg, Zeeland.
What's your top tourist tip?
I like to take people out to the edges of the city to places like the Nieuwe Meer. I once lived in a squat near there called the Nieuw en Meer. There's also the buurt boerderij on the edge of the Westerpark. It's basically where you can go and get a coffee or a beer. It's old-school Amsterdam. It's chill, it's leftie, and there's a take-away shop where you can take whatever you want; books, clothing, or whatever's there. That typifies my Amsterdam: take it easy and chill.
Tell us something surprising you've found out about the Netherlands
The impact the Netherlands has had on western society. They've had their fingers in the pie from the very beginning. They downplay it all the time. I mean, some of the richest people on the planet are in this country as well as businesses you never hear about. If you look at any European country, they're there. If you look at any country on the planet, the Dutch are there and they've been there for 300 or 400 years. Their relationship with Japan started with the English pilot for the VOC, Samurai William. The Dutch have a global reach and they're ingebakken. They're baked into the rest of the planet.
If you had just 24 hours left in the Netherlands, what would you do?
It would definitely involve: wife, dog, and a walk around the town to visit all the places we love. We've got a friend who has a barrel down at De Drie Fleschjes, which is right behind the Nieuwe Kerk. A barrel is something you own and there's a lock on it. It's one of those old-school Amsterdam things. When you want a drink, you go to the bar, ask for your key to unlock the barrel, and grab your own jug of jenever. Then you sit, drink, and have your cheese, your bitterballetjes, or your other snacks. This friend, Jaap Heesinck, passed away, but he used to own a place called De Bloeiende Ramenas on the Haarlemmerdijk and was a popular figure at all the old bars around there. When he passed away, he left money to keep the barrel stocked and my wife is one of the people who got a key.
There's also another friend who runs a cafe down by the Scheepvaartmuseum called Cafe Daan en Daan. My wife works at the Café 't Monumentje, which is a beautiful cafe on the Westerstraat. We would go to all of these places to just chill, have drinks, and walk around town while saying good-bye to everything. These are the things that make me love this city, and I would pray that it's a beautiful day. When the light up here is perfect, as it is today, with a great blue sky, there's nothing else like it. It's the same light as captured by the great Dutch Renaissance painters. History in the present.
You can watch all five episodes of the micro-series, Covid Criminals Amsterdam over on YouTube. Here is a link to Episode 1.
William Sutton was talking to Brandon Hartley
Thank you for donating to DutchNews.nl.
We could not provide the Dutch News service, and keep it free of charge, without the generous support of our readers. Your donations allow us to report on issues you tell us matter, and provide you with a summary of the most important Dutch news each day.
Make a donation