'I'm used to messy countries. Here, life feels very peaceful'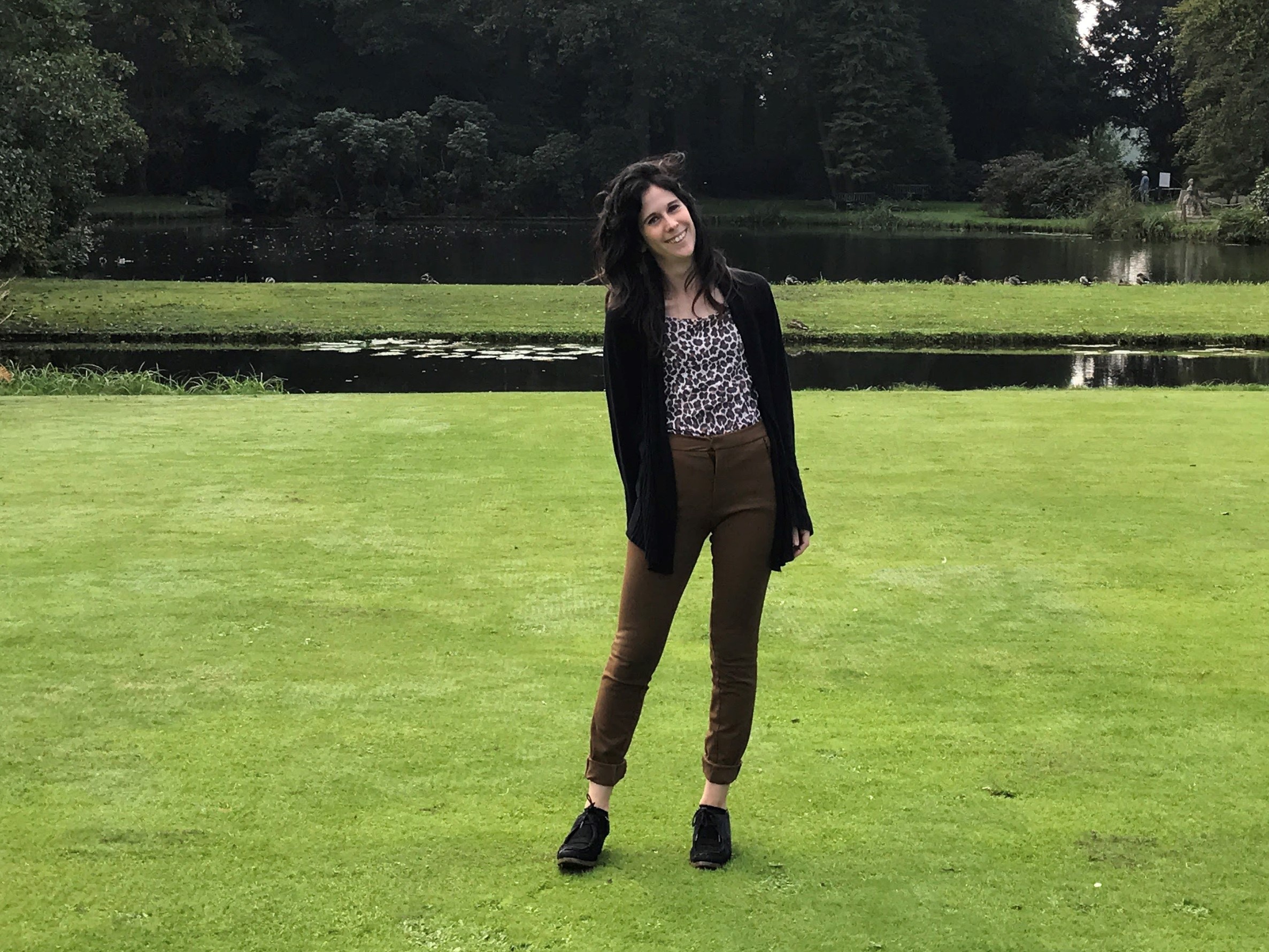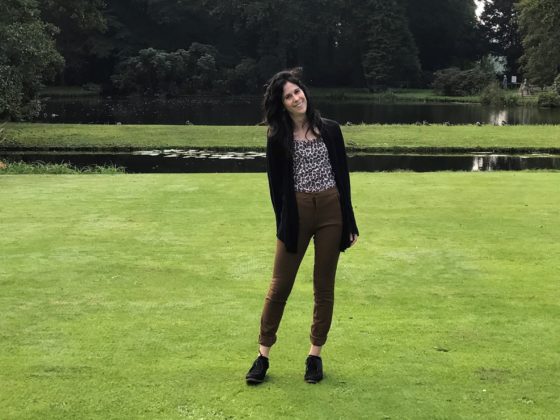 Israeli-American creative director Einav Jacubovich (35) couldn't ride a bike until 2017 when she moved to the Netherlands. She has since fallen in love with the relaxing way of life here and splits her time between Maastricht and Amsterdam, enjoying the contrast between the cultures of North and South. Alongside co-creator Billy Linker, Einav's passion is devising clever creative projects such as #StandingDonation, an initiative to turn standing ovations into donations as people clapped for healthcare workers; and – more recently – the Covid Photo Museum, an online gallery of striking images of the coronavirus pandemic.
How did you end up in the Netherlands?
I was working in New York for over a decade in advertising, and on the side I was doing humanitarian campaigns for Doctors of the World. After having worked with them for about five years, with about 24-hour's notice, my client invited me to join them on the Turkish-Syrian border for five days, where we interviewed a lot of Syrian people.
Those five days were really life-changing for me and when I came back to New York, I had a really difficult time returning back to my normal reality. Impulsively, one night, I looked up United Nations University because I wanted to be able to do more political, humanitarian campaigns in a better way. Randomly, I saw that there was a United Nations University, there was a suitable programme, and there was just one day left to apply!
I was accepted onto the programme in Maastricht – a city I'd never heard of at the time, and the programme was starting in four weeks. I quit my job, I left my apartment and I moved to Maastricht. The goal was to take a year's sabbatical, but I met my boyfriend here and decided to stay.
How do you describe yourself – an expat, lovepat, immigrant, international etc?
I would say kind of culturally confused and a mix of places. My parents and grandparents are from Argentina; I was born in Israel; and growing up as a kid, we moved every one to four years to a new country: Mexico, the US, Italy, Switzerland… Even when I'm in Israel, the US or Argentina, people always think I'm a foreigner. So, yes, kind of culturally confused, but I think I take the best of every country, which is nice.
How long do you plan to stay and why?
Like a lot of people here who are not Dutch, the number keeps changing! Originally, I was only supposed to stay for a year. My boyfriend here has a three-year contract so we're definitely staying for another year and a half. But the longer I'm here, the more I love life in the Netherlands, so maybe for longer…
Do you speak Dutch and how did you learn?
I'm not fluent in Dutch unfortunately, but I took A1 and A2 classes. I highly recommend Taalbureau Maastricht. I had a really great teacher named Bastiaan. When I didn't speak anything, he would almost force people to do conversational Dutch and just get you to try and fail. Since then, when I go out, I try to speak Dutch and I think I say almost everything the wrong way, but it's fine.
What's your favourite Dutch thing and why?
I love this question. Just thinking about it makes me realise how much I love the Netherlands. If I could say just one Dutch thing, for me it would be just the peaceful atmosphere of this country. Coming from Israel and having lived many years in the US, I'm used to very messy countries where there's always a lot of problems. Of course, the Netherlands has its own problems as well, but in general, things work. Here, life feels very peaceful and I feel very relaxed.
How Dutch have you become and why?
I would say not super Dutch, but I have taken a few things that I love from here. I have become a lot more relaxed living here, for example, and have a much better work-life balance. I had also never learned how to ride a bike until I moved here!
Which three Dutch people (dead or alive) would you most like to meet and why?
Even though she was born in Germany, I would say Anne Frank because I think of her as Dutch. Being Jewish, she was the first Dutch person that I knew of as a kid and she was very inspiring to me as a young girl. It would be amazing to talk with her and meet her.
The second one would be Van Gogh, having read a lot about him in the past. He's such an interesting human being, but also the fact that he committed suicide when he was only 37 and he never knew how successful he would become. So I think if I could go back in time and sit with him in a bar and show him a sneak peak of what would happen in the future, I think it would make him really happy. I would love to be able to see that!
The third one would be Teun van de Keuken, the founder of Tony's Chocolonely. I love Tony's Chocolonely, but when I heard the story, I was obsessed with it for a while. He's such an interesting guy. This was a chocolate that started from investigative journalism and the fact that he saw a problem [with the use of forced labour].
When he tried to bring this to the spotlight in a strange way by trying to get himself arrested for participating in slavery, it didn't really go anywhere, so he started his own ethically produced chocolate and it became extremely successful. I'm fascinated by brands that are purpose-driven and do things in a good way, and I think Tony's Chocolonely is one of the best examples.
What's your top tourist tip?
When people come visit, I tell them to go beyond Amsterdam, to Maastricht, for example, because I half live there and I know how beautiful it is. Dutch people always say that the North and the South are very different and, as someone who lives equally between both, I can say that they are and I think it's nice to see both.
This is more cheesy and touristic, but I also love Edam and Monnickendam. They really feel like something from a fairy tale book. I just love the architecture there and how adorable the houses are. I don't know if you ever play that game where you look at beautiful houses and you point out all the ones you'd want to own? I went there for the first time with my boyfriend for a weekend away, and we were just walking around and at just about every house we were saying, 'I want to own this house!'
Tell us something surprising you've found out about the Netherlands
I think when I first moved here, it struck me as very strange how people's windows are right at the street and you can completely look into their houses sometimes and they just don't care. They'll just be sitting in their pyjamas on the couch watching TV! And now I think I'm one of those people, because in Maastricht our apartment is on the ground floor so people can look in.
If you had just 24 hours left in the Netherlands, what would you do?
I would cry first! I have met some amazing, lovely friends here, so I would get them together in my apartment in Amsterdam, where we have a roof terrace. I would just look over the peaceful city and be with the people that I've met here and that have made this place so special.
To find out more about the Covid Photo Museum or submit your own photographs for consideration, visit the website.
Einav was talking to Deborah Nicholls-Lee.
Thank you for donating to DutchNews.nl.
We could not provide the Dutch News service, and keep it free of charge, without the generous support of our readers. Your donations allow us to report on issues you tell us matter, and provide you with a summary of the most important Dutch news each day.
Make a donation