'I also love the al fresco dining in country restaurants and hotels'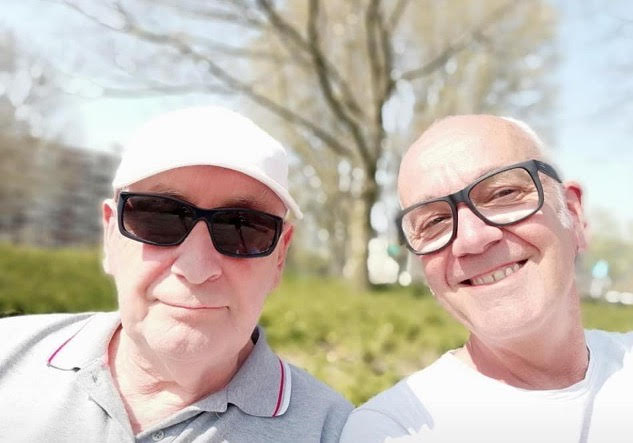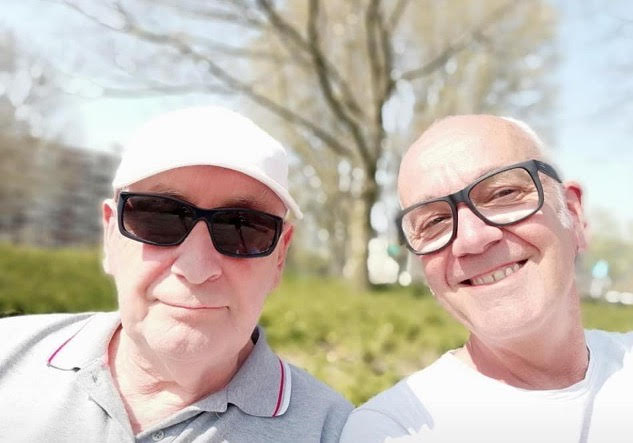 Elwyn Jones is a retired geography teacher from the UK who will be celebrating his 82nd birthday later this year. He currently lives in Heerlen with his partner, loves country restaurants, and would like to discuss politics with Mark Rutte.
 How did you end up in the Netherlands?
The town I left was Swansea, and that's where I chose to live when I retired from my teaching post in London. It's got the sea, it's got hills, and it's a nice town with a beautiful market. Then I met my partner, who is not Dutch. He's Welsh like me, but he's lived here for 30 years. I met him on a gay dating app when I was still in Swansea. I found out that we were both raised just a few kilometres apart in similar small mining villages in the South Wales valleys.
I took a chance since we got along well. I was retired, so I had nothing to keep me in the UK. We met, and we've been together ever since. It was seventeen years ago, almost eighteen now, that I decided to move to Holland.
How do you describe yourself – an expat, lovepat, immigrant, international?
I describe myself as Welsh and British, but definitely NOT English. Now, of course, I am a Dutch citizen. I'm absolutely committed to spending the rest of my life here, and I hope to see a lot more of the Netherlands in the next few years.
I feel like I'm a Nederlander by adoption, really. As a passionate European, Brexit was the last straw, which made me seek Dutch citizenship. I was ashamed of being British then and wanted to maintain my EU citizenship. I have the Nederland and EU flags on a pole in our patio.
How long do you plan to stay?
I plan to stay here until I die because I'm very happy here. My partner is a hairdresser who owns a salon not too far away. He's a lot younger than me and just coming up on sixty. I'll probably die before he reaches anywhere near my age.
Do you speak Dutch and how did you learn?
I have to say that I don't, and I find this to be a really big problem. It's partly because my partner and I speak English all the time at home, even though he speaks fluent Dutch. I don't understand what he's talking about when he's on the phone.
Of course, most Dutch people speak pretty good English and all of our lovely friends, in deference to me, tend to speak English so I'm not left out of conversations. I've been trying to learn for several years. I know lots of words, and I can get by in supermarkets, restaurants, and during simple, polite conversations.
What's your favourite Dutch thing?
I think it's the friendliness and frankness of the people. They're just so helpful, kind, and fun to be with. My partner has been friends with lots of people for a long time. Many of them are heterosexual, and they're all wonderful. You wouldn't think that there was any difference between us, really.
I also love the al fresco dining in country restaurants and hotels. In fact, my favourite picture is of my partner and I doing just that; eating a lovely meal outside in the summer at a lovely country restaurant.
How Dutch have you become?
I don't think I've become very Dutch. I think so much is enshrined in the language and the culture. There's also the food as well. I'm a real stick in the mud. I like cooking, which I learned as a boy from my father who was a cook in Dad's Army during the war and had his own restaurant in England. I prefer Chinese, Indian, Italian, and Greek, but most Dutch places now offer international menus anyways.
Which three Dutch people (dead or alive) would you most like to meet?
Vincent van Gogh. My hobby is painting, and I would love to talk to him about how he got his colours and fit his landscapes onto those small canvases. I would certainly love to chat with him about art and painting.
The next one is the Prime Minister, Mr. Mark Rutte. I would like to talk to him about the system of voting and why it's so unrepresentative of the people. Who represents me and my area within the council? How did they come about with this sort of system? They spend a week or sometimes even months coming up with coalitions. There's also so many parties. How can you have a party for animals and a party for old people? Policies for them manifest in the main parties anyway. I'd love to discuss these sorts of things with him.
The last one is Virgil van Dijk, the Dutch soccer captain and ace Liverpool defender. I'd love to have a good chat with him. I'm a Liverpool fan, and he's a great find from the Netherlands for the team. He's such a great player. I've even painted a portrait of him. I'd like to talk to him about how he's doing there, how happy he is there, what his future plans are, and to thank him, really, for being such an asset to Liverpool, who are virtually on top of the league right now.
What's your top tourist tip?
I think an afternoon out or longer in Maastricht. It's a wonderful city. There's always the buzz in the squares, especially around lunchtime, but one thing I always do when I'm there is visit the old water mill and bakery where they still grind corn and bake their own bread. They also make wonderful tarts and flans. They have the best bread I've ever eaten in Holland.
Tell us something surprising you've found out about the Netherlands.
What did surprise me about the country was the armed police and identity cards in what is probably the most liberal, free, and most pro-European country on the continent. Although not ideal, I am more at ease with the Dutch political system than the British one, where I despair of any progressive reform. I am really a very political animal. I resigned from the UK's Liberal Democrats and joined the Dutch Greens for that very reason.
There's also the wonderful health service here. I had only been here for a few years when I had to have a heart bypass. The treatment was fantastic at the hospital I went to in Maastricht. The treatment I received there and subsequently from Heerlen hospital and my local doctor has been fantastic. It's all far superior to the health service over in the UK. You can definitely blow the trumpet for it.
If you had just 24 hours left in the Netherlands, what would you do?
Nothing could be so catastrophic as to cause me to leave but, if I must give an answer, I would definitely choose to go with my partner to a lovely country restaurant on a nice day in the summer and have a meal in the shade of a canopy. That's the thing I like most about the country, actually. Then we'd have another meal in the evening. But I'd also love to have a day up in the far north of the country in the area around Groningen and along the coast of the Wadden Sea.
Elwyn Jones was talking to Brandon Hartley
Thank you for donating to DutchNews.nl.
We could not provide the Dutch News service, and keep it free of charge, without the generous support of our readers. Your donations allow us to report on issues you tell us matter, and provide you with a summary of the most important Dutch news each day.
Make a donation