Leiden 400 commemorates the journey of the Pilgrim Fathers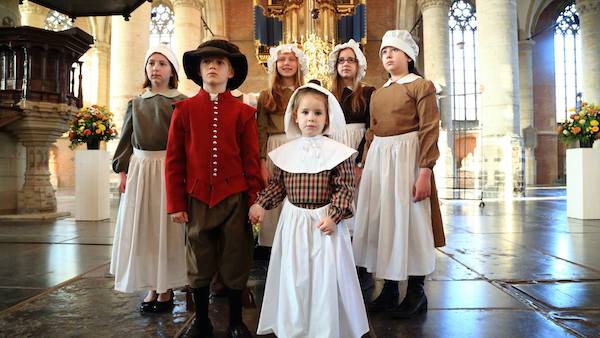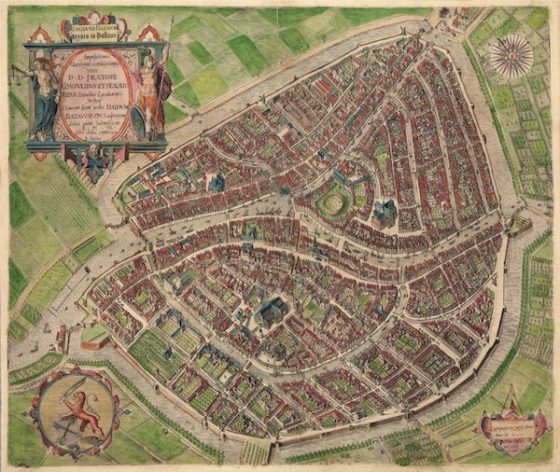 In 1620, a group of pilgrims departed from Leiden to sail across the Atlantic and changed the world forever in the process. This year the city is marking the 400th anniversary of their voyage with Leiden 400, a series of events, museum exhibitions, and more. 
Unfortunately, many of the plans to celebrate Leiden 400 had to be delayed or cancelled due to the Coronavirus crisis. On 16 May, a virtual kick-off event for Leiden 400 was held online to get things underway. As the nation lifts various restrictions, here's the rundown on what's back on the agenda.
Pilgrims to America – The Limits of Freedom (now through 12 July 2020)
This exhibition at the Museum De Lakenhal follows the Pilgrims' journey from England to Leiden where they spent roughly twelve years before departing on the Mayflower.
Along with tracking their trials and tribulations both in the Netherlands and North America, it also addresses the romanticised version of these events that is still often taught in American schools. The exhibit doesn't shy away from the long-lasting and destructive impact their quest for religious freedom had on the native inhabitants they encountered in the New World. Tickets need to be bought in advance and you can check out the museum's social distancing rules here.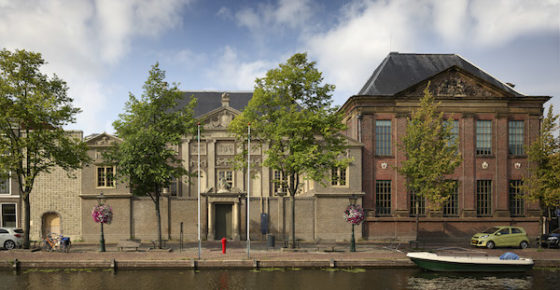 Mayflower 400 (ongoing)
Leiden is just one of the international cities and towns involved in this educational programme that teaches visitors about the various stops the Pilgrims made between England and America. The Leiden portion guides the curious toward various accommodations, museums, and historical sites.
It's a great resource for those who are interested in seeing places where the Pilgrims actually lived, worked, and worshipped. The Pieterskerk is just one of these sites. The late Gothic church is the burial place of their leader John Robinson and other members of the flock who opted to remain in Europe. Along with historical markers outside, the Pieterskerk also now offers an exhibit, tours, and a Mayflower-themed escape room.
Ancestor Booth
The Erfgoed Leiden, the city's historical society, is hosting this exhibition that makes use of its historical records from the 15th and 16 centuries. Visitors can trace their own ancestral connections to the group, take a look at documents, and even get a selfie with one of the latter if they find out they have a relative who was a Pilgrim. There will be summaries offered in English along with short videos that recreate various Pilgrims' life stories. Check the website for opening hours.
First Americans (begins July 1 2020)
Leiden's Museum Volkenkunde will debut this exhibition in July. It features paintings, prints, photographs, textiles, jewellery, and fashion pieces by both unknown Native American artists and others including Jacob Meders of California's Mechoopda tribe. One of the highlights will be 'Accommodating strength, Our land, Our hearts', a large mural created by the Tulsa-based artist Yatika Starr Fields.
From Columbus to Mayflower (June 2 to November 26)
Hortus Botanicus Leiden was already three decades old by the time the Pilgrims arrived in Leiden. There's a high likelihood that at least a few of them toured the gardens because this was around the time the influential botanist Dr. Rembert Dodoens was working at Leiden University and one of his books was even apparently brought on board the Mayflower.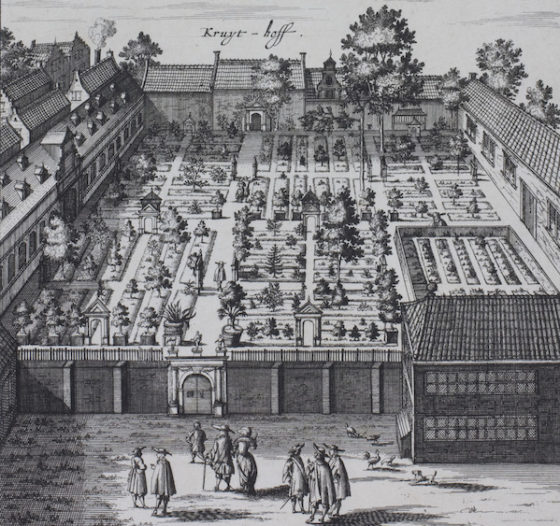 A tome he wrote in 1608 serves as a guideline for this exhibition at the Hortus, which is devoted to native plants from the New World that would have been available in Europe while the Pilgrims lived in Leiden — things like tomatoes, tobacco, corn, and pumpkins. You can also view the exhibition online in June.
A Musical Pilgrimage (June 3 to June 7)
A contemporary interpretation of the history of the Pilgrims and modern issues as well will be on offer at this musical event hosted by The Leiden City of Music Foundation along with several other local organisations and ensembles. The event will feature concerts, theatrical performances, workshops, and other activities that grapple with themes concerning identity, assimilation, repression, and other hefty topics.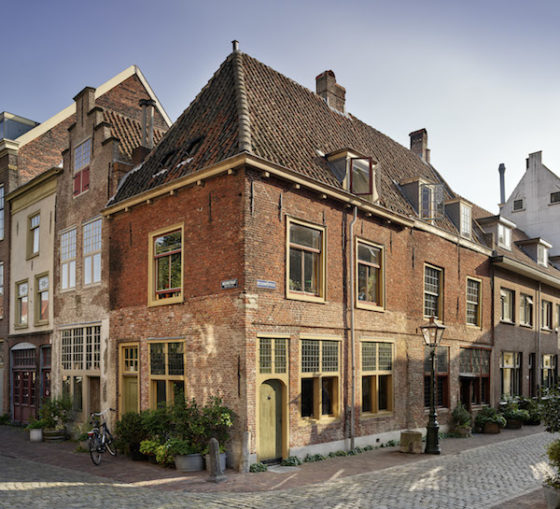 Historical fleet (July 18)
Modern and historical boats will form a fleet to sail from Leiden to Delfshaven in Rotterdam on the morning of 18 July to retrace the Pilgrims' initial voyage before they left the Netherlands. The goal is for everybody to make it to a replica of the Halve Maen, a vlieboot that managed to reach what is now New York Harbour in 1609. It will be waiting to greet the boats that make it all the way to Delfshaven.
Leiden American Pilgrim Museum (ongoing)
In 1997, historian Jeremy Bangs founded this museum devoted to the years the Pilgrims spent in Leiden. It's located inside a house that dates back to around 1370. The museum uses furnishing and artworks to take visitors on a journey back in time for a glimpse at what their daily lives were like. Opening hours and days are limited, though. At the time of this writing, the museum is only open on Thursdays, Fridays, and Saturdays. Check the website for opening times and additional information.
Thanksgiving Day Service (26 November)
The Pieterskerk will once again be hosting its annual non-denominational service on Thanksgiving morning. It usually draws a crowd of American expat families and features speeches by various civic leaders in addition to at least a few kids dressed in Pilgrim costumes.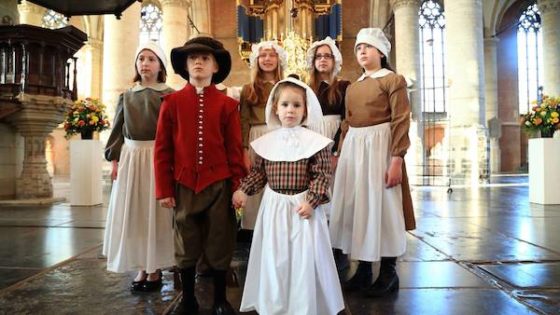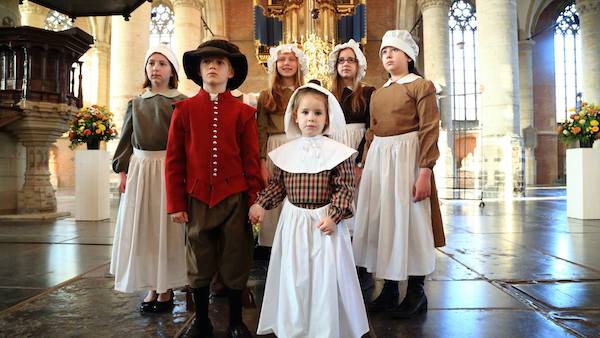 The Pilgrim Conspiracy and walking tours (various dates throughout 2020)
Staying at home and reading a book is another way to commemorate the anniversary. Leiden novelist Jeroen Windmeijer has made waves in recent years with his string of historical thrillers. His latest book to be translated in English, The Pilgrim Conspiracy, will debut in May.
It will take readers on a whirlwind mystery involving six murders, three continents, and dark secrets that hearken back to the group's years in Leiden. Windmeijer also often hosts walking tours of the city that include various locations featured in his books. The schedule for 2020 can be found by clicking here.
Additional information about these and other Leiden 400 events can be found via this link.
Thank you for donating to DutchNews.nl.
We could not provide the Dutch News service, and keep it free of charge, without the generous support of our readers. Your donations allow us to report on issues you tell us matter, and provide you with a summary of the most important Dutch news each day.
Make a donation