These city walls – Six weeks under lockdown in Leiden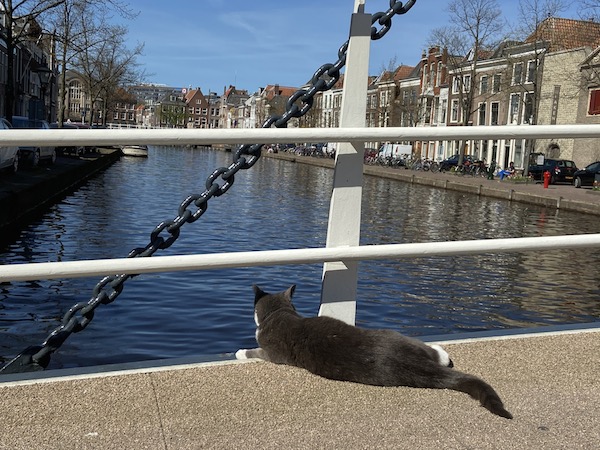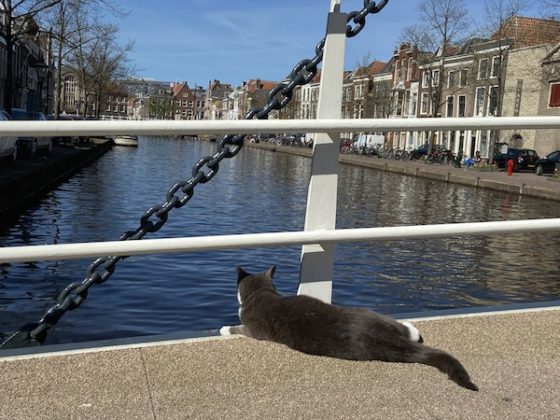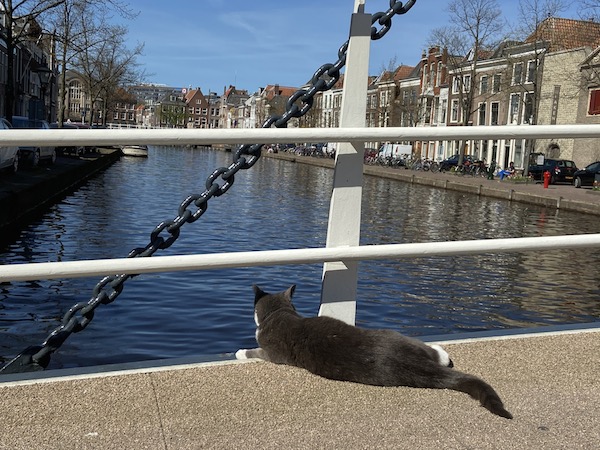 Leiden resident Brandon Hartley has taken to counting cats on his daily walk but has failed to tackle that list of chores that he had planned to do in coronavirus time.
On a random afternoon before the whole world pretty much ground to a halt, my partner Marie and I met up with some friends for lunch at 'Vooraf en Toe'. It's a lively cafe in the centre of Leiden. It was packed as usual. Despite the upbeat atmosphere, the mood at our table kept deviating between beleaguered acceptance and snarky despair.
What was to come? I made a reference to the nightmarish final shot of On the Beach, an incredibly depressing movie from the 1950s starring Gregory Peck about the survivors of a nuclear war waiting for fallout to drift down to where they're living in Australia and kill them all. That was about two seconds before the waiter came over and cheerfully asked if any of us would like coffee and/or a slice of appeltaart.
The holding pattern
Flash forward six weeks to a muted Koningsdag. As I write this, many of our neighbours here in the mostly student populated centre of Leiden are right where they've been since the day the national lockdown went into effect: hanging out on the sidewalks.
It's been unusually warm and sunny throughout April and what better way to enjoy a semi-quarantine than by working on one's tan? Many of them practically transport their entire living rooms onto the bricks around 11 and head back indoors around 6.
One couple has been pretty much hosting their own talk show. They've been spending much of these past several weeks sipping wine, eating cheese, and shouting at various passers-by to come over and chat with them and/or let them pet their dogs.
Another couple, retired, begin their daily trek outside by bickering over whether they'll be sitting along the canal or in front of their house. Three times a day, a gentleman who lives nearby who we've come to call Meneer Snor due to his large moustache, strolls past our place while struggling to leash train his young labradoodle.
Sunbathing
You could practically set a watch to all this. Other melancholic personal essays about life in the year 2020 have compared living under lockdowns to the Bill Murray comedy Groundhog's Day. One day runs into the other, and they're all pretty much the same.
The weather in the Netherlands definitely hasn't helped quell the redundancy. I just wish I could figure out how, with all this sunbathing going on, everybody in our neighbourhood isn't as red as Snoopy's doghouse. A timewarp would explain how their skin remains so pasty, though.
Some of us, myself included, are still clocking in, working normal business hours, and must leave the sidewalk lounging to evenings and weekends. Regardless, it's like we're all stuck in a weird social experiment; our lives on hold and all of us just sitting and waiting for either life as we once knew it to return, the entire global economy to collapse, or our lives to be upended by illness.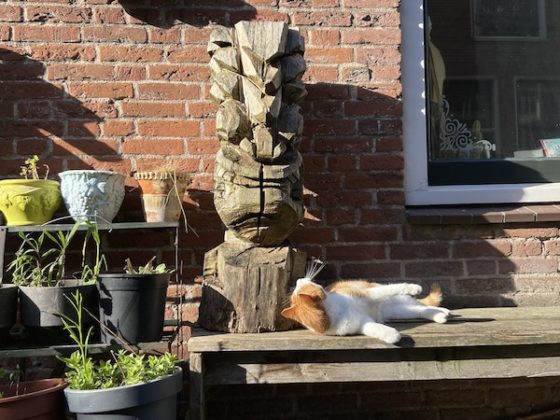 Under siege
About 450 years ago, Leiden was similarly buttoned down as the Spanish spent the better part of a year trying to infiltrate the city's walls. As one month slipped into another, morale and supplies dwindled. The situation became so dire at one point that the city's heroic mayor Pieter Adriaansz. van der Werff offered to let his starving citizens eat one of his own arms in order to prevent them from throwing open the gates.
It's a grim historical detail that I use to silence my own whinging whenever I start trying to calculate how many days it's been since I left the city or when another customer stands too close while I'm trying to get to the cereal at our local Albert Heijn.
No matter how many horror stories we've all read about what coronavirus can and will do to our respiratory systems, any attempt to constantly maintain proper social distancing while out in public in Leiden is 100% doomed to failure. Many of the sidewalks around town are five feet wide and the aisles in every grocery store are about the same size.
The average encounter with another human while outdoors becomes a bizarre game of chicken as we each try to suss out who is going to yield, if we care enough to step into the street, and if this is even possible because of all the parked bikes, planter boxes, and sidewalk sunbathers all over the place. Being the one to relent runs the risk of getting side-swiped by a Thuisbezorgd scooter or knocking over a group of students' daily allotment of Heineken.
There's more drama and misunderstandings in each of these encounters than an entire season of Curb Your Enthusiasm. Instead of worrying about whether or not the city walls will hold, we're all worried if the walls of our own personal boundaries will collapse whenever we go outside.
But where does the time go?
Marie and I find ourselves routinely asking how time lately is moving both quickly and at a snail's pace. That lunch at 'Vooraf en Toe' somehow feels like yesterday and a million years ago at the same time. She's been working from home since mid March. Like so many other people, we had overly ambitious plans to spend our weekends during the lockdown chipping away at all the projects we've been putting off for months.
We figured we'd have the running boards in the hallway painted and fixed, the chipping grout in the laundry room repaired, and the tacky '70s wallpaper in our bedroom removed and the wall beneath it painted by now.
Not a single one of these things has happened, but damned if we won't be cursing ourselves a thousand times for not being more productive during the ongoing global pandemic. The nearest Gamma seems further and further away with each passing day.
Instead, we find ourselves clamouring to get outside for any reason whatsoever. Our agreement to babysit a neighbour's house plants while they wait out the lockdown at their more spacious house in Scotland has become a cherished routine rather than an irritating chore.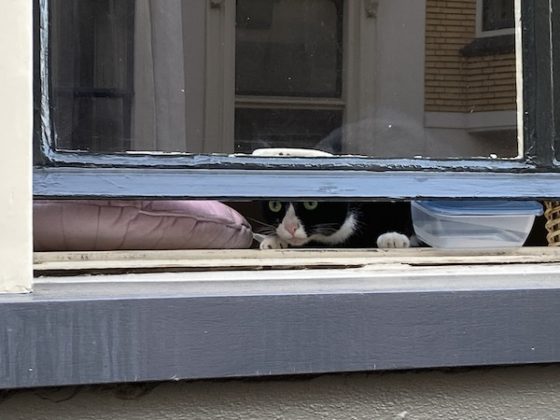 To offset the tedium of walks around the neighbourhood, we've created a game called Cats versus Bears. One point goes to any teddy bear we spot as part of the Berenjacht project. Any free-roaming house cats we encounter get five points. Yesterday's match was one for the ages. The cats dominated and came out on top with a final score of 65 to 35.
During these walks, we've seen families puttering through the canals in their boats and students giving each other haircuts on the sidewalks. Many people in Leiden are at least acting like this is just one big national holiday, but there's no telling how much worrying they're doing behind all those smirks and sunglasses.
Tom Petty once sang that the wait is the hardest part. Thankfully, that really has been the hardest part for many of us. Six weeks in, the collective mood of Leiden remains downright chill and, as of yet, no one has offered to toss an appendage on a barbecue to sate the howling masses.
Thank you for donating to DutchNews.nl.
We could not provide the Dutch News service, and keep it free of charge, without the generous support of our readers. Your donations allow us to report on issues you tell us matter, and provide you with a summary of the most important Dutch news each day.
Make a donation