'I'm doing the best I can,' says young medic at centre of coronavirus epidemic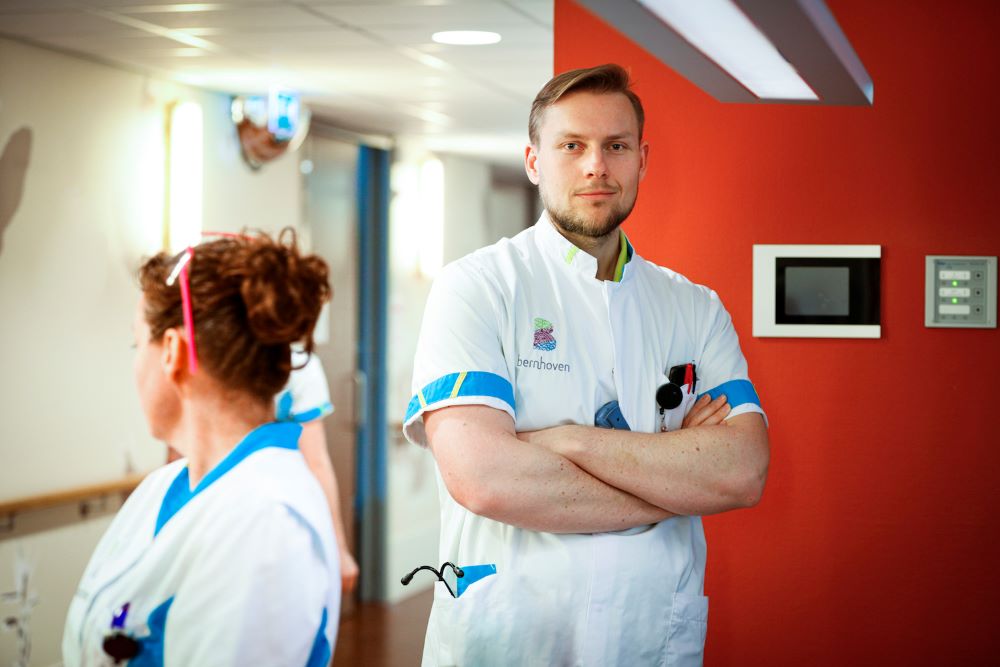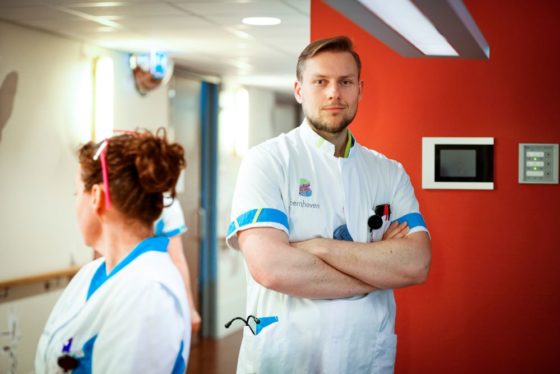 At the beginning of March young medic David Borst (31) found himself at the epicentre of the Netherland's coronavirus crisis. A month later he talks about those hectic early days and the continuing battle against the virus. 'I'm living in a daze but I'm doing the best I can,' he told Polonia.nl.
It's only a few weeks ago when Borst and his colleagues were told to find more beds as a steady stream of coronavirus patients began to pour into the small regional Bernhoven hospital in Uden in Brabant. It turned out the province would see the worst of the outbreak.
Borst, a generalist, is now exclusively occupied with coronavirus patients on the hospital's newly created coronavirus ward. 'I had no prior knowledge of the virus and it has been a learning curve. Every day brought new medical problems we had to deal with. But it taught us what symptoms to expect.'
Intense
The job is more intense than before, Borst said, with some 10 patients a day to see and talk to about treatment – on his own because the nurses that would normally accompany him are freed up to do other tasks. The evening shift is particularly fraught as this is when new patients are admitted and patients already on the ward often become worse.
'But it is my duty to be there for the patients even if it means I have to work longer and harder,' he says. 'I'm not alone, other specialists are involved in the care and that means I can take the occasional day off. My girlfriend Lotte is a nurse and we've cancelled our holiday. We are needed here now.'
Borst has no complaints about a lack of protective clothing but said he realised he is at a considerable risk of contagion through his daily contact with patients. 'I have stopped seeing my parents and friends and that is difficult. But I don't want to infect them. Goodness knows how long it will be before I see them again.'
Recovery
Not all is doom and gloom at the hospital. 'It's great to see patients leave after what can be a gruelling four week stay. You have helped people through an unknown and serious illness and that feels good. Colleagues too are pulling together more and hospital staff are giving up their holidays to support each other. That togetherness makes us stronger.'
Unfortunately many of the seriously ill don't get well and Borst admits to a feeling of impotence. 'I am trained to help people but because so little is known about the virus we cannot offer a specific treatment. It's hard to see relatively young people who are relatively ok during the day suddenly become extremely ill at night, so they have to be transferred to intensive care.'
Ethical dilemmas are part of a doctor's professional life and the crisis has heightened that responsibility, Borst said. 'We have to weigh the options and be realistic. Many people with underlying conditions cannot physically cope with the treatment in IC where they are put on oxygen for two to four weeks. It is important to make patients who are going to die as comfortable as possible and relieve pain and shortness of breath. I see this as a very important task.'
Knowledge
The Brabant outbreak has meant the local doctors have built up a store of knowledge and experience which they share with other doctors via medical journals and for a discussions. 'We were the first to be confronted with the virus. As the patients came in we had to draft in other specialists and it felt a bit weird that I, a young doctor, had to tell an experience 55-year-old cardiologist what to do,' he says.
Borst is the son of a Polish doctor but is not fluent in Polish although he has found the knowledge he picked up using a language app quite useful. 'There are many Poles in this region and thanks to what I remember from my holidays at my gran's in Gdansk and the course I did, I can communicate with Polish patients,' he said.
Home life too is affected by the virus but Borst and his girlfriend find relief in a good chat after a hard day's work at the hospital. 'She is under a lot of pressure, talking to relatives on the phone. She can't completely reassure them because patients can take a turn for the worse at any moment,' he says. 'She spends more time with the patients than I do and she has much more of a personal relationship with them. But we talk about it and that brings us closer together.'
Thank you for donating to DutchNews.nl.
We could not provide the Dutch News service, and keep it free of charge, without the generous support of our readers. Your donations allow us to report on issues you tell us matter, and provide you with a summary of the most important Dutch news each day.
Make a donation