'Biking helps you pack so much into one day'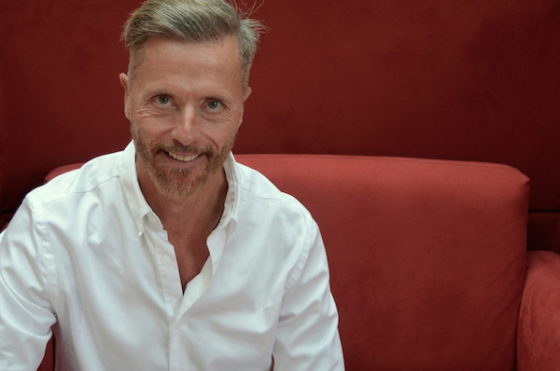 Mark Winstanley (56) came to Amsterdam from the northwest of England in 1997 as a fashion buyer, but now works as a freelance actor and director and is the artistic director of the Queen's English Theatre Company. A love of bikes and water makes him the perfect match for the Netherlands, which he now considers his home.
How did you end up in the Netherlands?
I came to work for Footlocker, the American sportswear retailer, as a buyer at their European head office in Vianen. They paid for me to move here. I wanted to move to Amsterdam, that was the main motivation really. But I hated the company. I stuck it out for three years and then went to work for Wehkamp, which was even further away (in Zwolle), but I really loved it.
When I went to work for them they were a catalogue company and they were doing about 26% of their sales online already. While I was there, I learnt more about selling online and so, when I founded Qetc, we were very connected to that digital world already. We were selling our tickets online before Carré was!
How do you describe yourself – an expat, lovepat, immigrant, international – and why?
I'm none of those things. I'm definitely not an expat, even though I'm running Qetc, something that you might think is for expats. But actually, more than half the people who come to see our plays in English are Dutch. I do have dual nationality (Dutch-English), so I think of myself as being European.
How long do you plan to stay and why?
I think forever. I was already 34 when I came here, and in an established relationship, so I didn't ever come with the thought that we'd spend just one or two years here – it was a big move.
I do also really like France and spend quite a bit of time there. And I'd like to spend more time in London, if I could, just to do cultural things – but I really can't imagine going back to Britain.
Do you speak Dutch and how did you learn?
I speak fluent Dutch. I did French at university and German at school and that made it a lot easier for me to learn to speak Dutch. I sat in an office with somebody who was Dutch at Footlocker; that was the one good thing – I learnt to speak Dutch! And then when I went to Wehkamp, that was in Zwolle, so everybody spoke Dutch all the time – so then it went really fast. I got all the basics done in about 2 ½ years and then I went to work there and it was sink or swim, really!
I know some people find it really hard, but if you can learn Dutch, it's easier to negotiate your way through things and connect with people, and I think that Dutch people respect you for it.
What's your favourite Dutch thing?
It is a bit obvious, but it's the bike and biking. I'm quite sporty so it suits my sporty lifestyle, but it also suits my character – I'm always trying to get as much done as possible, and if you can hop from place to place on the bike, then it's a lot easier to pack a lot into one day!
I also thinks it makes us, as a nation, much more pragmatic – for example, with what you wear. When you see how Dutch people ride with their little children on the bike, I think it really creates a bond with them, as opposed to chucking the kids in the back of a car and driving them through traffic somewhere.
How Dutch have you become?
I have become very Dutch, because I am now Dutch! In some ways, it's more about feeling less British, rather than feeling more Dutch. As much as anything, it's a feeling of being really disappointed about Brexit. For a long time, I've not really liked the path that Britain's been going down, and I suppose that's why we left in the first place.
I think it's a bit simplistic to say 'how Dutch are you?'. It's a bit like saying 'how gay are you?'! I'm one kind of a Dutch person. I was the secretary of our VVE (house owners' association) for 17 years – so in that sense, I'm very Dutch, I suppose! Of course, I'm not typically Dutch, but I do feel like I'm home when I get back to Schiphol and I'm always really glad to be back.
Which three Dutch people (dead or alive) would you most like to meet and why?
Ivo van Hove is actually Flemish, but since he's one of the artistic directors of the International Theatre of Amsterdam, I'm going to cheat a bit. I'd like to ask him why his set design is always so bland – because no matter what play he does, it's always the same sort of set design!
And then I'd quite like to meet Joop van den Ende, who started Stage Entertainment and then grew this massive musical theatre empire. He and John de Mol created Endemol. Van den Ende is one of the world's biggest producers in theatre and his company does most of the big productions in Europe.
I think the Netherlands is like a lot of continental countries where musicals are a bit looked down on and not considered as a culturally valid genre of theatre. I'd ask him why he loves musicals and what made him choose to go in that kind of direction, rather than TV. It would also be a conversation about all the people he had worked with.
The third one is Koen van Dijk. He is the head of a company called Opus One. They present less well-known, smaller-scale musicals that probably otherwise wouldn't get a showing in the Netherlands. We're friends on Facebook, but I've never met him in the flesh! He is someone I admire.
He directs really well. When you see musicals, they are quite often not well translated. Dutch is a difficult language to translate lyrics into, but he's really good at doing it so that it sounds nice. What would I ask him? Give me a job, I think! [laughs]. I think we'd talk a lot about Sondheim and I'd ask him which Sondheim pieces has he not done that he'd still like to do.
What's your top tourist tip?
The thing I always tell people about is the little hidden courtyards in the Jordaan. They're behind closed doors, but if you know where the doors are, you can find them.
And then I'd tell them to go and look at my favourite building, the Art Deco Tuschinski. You have to go inside, too. They do a lot of streaming of English plays. Recently, I went to see James McAvoy in Cyrano de Bergerac in that fantastic zaal [room]. You can sit in what feels like a real theatre and watch on the big screen the best live theatre from London. It's amazing there.
Tell us something surprising you've found out about the Netherlands?
In the beginning, my husband and I would often go to the beach. It's just so nice to go to the beach in the Netherlands – it's so organised, with nice cafés that they build and then take down in the winter. In our first years here, if it was nice weather, we used to go to the beach and spend all Sunday there and sit having dinner while the sun went down, and at the end of the evening, walk hand in hand back up the beach. That was a bit of a surprise extra to all the city stuff.
If you had just 24 hours left in the Netherlands, what would you do?
My dad died last year and we both shared a love of water, being on or around it. I used to have a little boat. I'd like to go on the boat on my own somewhere a bit quiet and go and have a skinny dip and then get back on the boat and sit in the sun and have a cigarette and a beer. I don't smoke (much), but it'd be like a little treat!
In the evening, I'd have steak, chips and salad with my husband, Mike, at Café Loetje on the Ruysdaelstraat. It's the first place I went to regularly when I moved here and I'd invite the handful of loyal people who've helped to make Qetc what it is.
Before that, though, I'd go to the fountains at the back of the Rijksmuseum where all the children play. I love it there. I used to do an acting job at Madame Tussauds. It was really full on. You were constantly on stage with thousands of people going by and you got really hot and sweaty doing that job. So then I would go on my way home and sit there for a bit and have a coffee. It's so relaxing.
Quite often, when I've been working in town in the afternoon, I go and sit there and just watch the kids running and screaming and the tourists getting wet. When we've had heat waves, I've also gone in it myself and got wet and sat in the sun and dried off. Because I think, if the kids can enjoy it, why can't we all enjoy it?
Prior to the lockdown, Qetc was planning to stage Talking Beds, a double bill of Alan Bennett's 'A Chip in the Sugar' and Peter Tolan's 'Pillow Talk', at the CC Amstel theatre from 24th to 26th April 2020. Check their website for the most recent information.
Mark Winstanley was speaking to Deborah Nicholls-Lee. The interview took place before the coronavirus outbreak.

Thank you for donating to DutchNews.nl.
We could not provide the Dutch News service, and keep it free of charge, without the generous support of our readers. Your donations allow us to report on issues you tell us matter, and provide you with a summary of the most important Dutch news each day.
Make a donation