Money for nothing: Do three books about 'niksen' make a trend?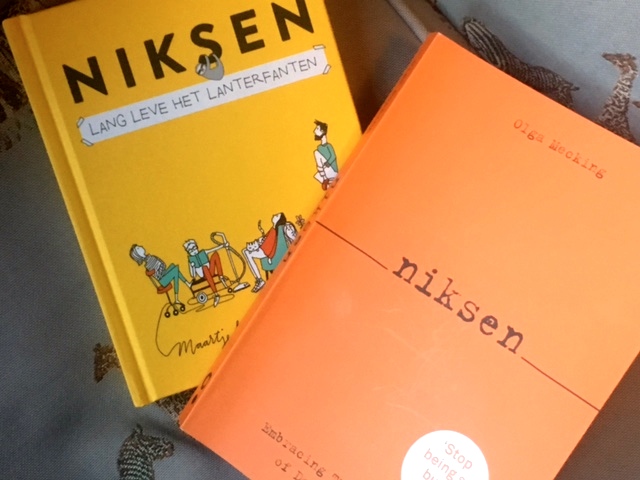 Just when you thought it was safe to sit on the sofa and stare into space for a bit, three books about doing nothing come along at once.
Niksen, at least three different publishing houses would have us believe, is a Dutch lifestyle trend which the rest of us in this busy, busy world would do well to take on board.
We've had Hygge from Denmark and the art of Japanese tidying up, so why not something about doing nothing in particular from the Netherlands? And with coronavirus keeping so many of us at home, the timing could not have been better.
The first book to arrive was Niksen: Embracing the Dutch Art of Doing Nothing, by Polish writer Olga Mecking, who has lived in the Netherlands for 10 years. Mecking picked up on the idea of niksen in 2018, 'leafing through a wellness magazine' and was propelled into the arms of an American publishing house after writing about the concept for Time.
The result is a weighty paperback full of words of wisdom and wrapped up in a veneer of Dutchness. There are lots of personal touches about Mecking and her family, and the style is fast-paced for a lifestyle book which is basically about relaxing.
Research
She's obviously done her research and the book is packed with quotes and ideas from a huge range of sources, ranging from other expats to John Cleese and the John Hopkins medicine blog.
In fact so many ideas come on board that everyone will find something to take away, making it hard to see the wood for the trees at times.
In particular efforts to define niksen as a particularly Dutch thing – complete with the cliches about tolerance, cycling and happy children – come across as forced and only serve to muddle her basic message.
Is niksen really a Dutch habit? As Mecking says herself: 'The Dutch are critical thinkers and they are unlikely to unquestioningly accept a new trend. This could be why niksen wasn't a thing in the Netherlands before American media picked up on it.'
Dutch
For the Dutch view on niksen, it is over to Niksen, Lang Leven het Lanterfanten or 'long live doing nothing', by Amsterdam freelance journalist Maartje Willems.
The puzzlement at this supposed Dutch trend is apparent in the opening section of the book. 'It was international news… but people were asking each other 'do you know what this is about?, worried they might have missed something,' she says. 'No, no-one knew about it.'
So rather than try to prove that the concept is a peculiarly Dutch one, Willems says her book is a 'hopeful attempt to actually make niksen a real lifestyle trend'.
After all, she says, 'in a time of obligations and expectations with the associated burn-outs, bore-outs and depressions,' it seems like a good idea to introduce niksen as a temporary absence of time. 'The clock might be ticking, but you don't need to watch it all the time.'
By not attempting to combine the virtues of doing nothing with being Dutch, Willems is freed up to focus on the benefits of letting your mind go blank for a bit as well as providing self-help hints. She supplies these generously, wrapped up in plenty of anecodotes, with gentle wit and well supported by Lona Aalder's illustrations.
Happiness
The third book, by model turned writer Daphne Deckers is currently being written. 'The little guide to niksen: happiness and togetherness in today's Netherlands' will be 'a positive tome about the nice things in the Netherlands with lots of focus on our cultural quirks', says Deckers in the publishers' blurb.
There is, according to her publisher, a lot of interest from international companies about the publication rights.
Deckers' book is due out later in the year. Can the world cope with a third book with niksen in the title and yet more cliches about the Dutch? It might depend on whether we still have rampant corona and time on our hands.
As psychoanalyst Manfred Kets de Vries tells Mecking when she asked him what it means to do nothing: 'That's a very good question. You cannot not do nothing. Because if you are doing nothing, you are dead.'
Thank you for donating to DutchNews.nl.
We could not provide the Dutch News service, and keep it free of charge, without the generous support of our readers. Your donations allow us to report on issues you tell us matter, and provide you with a summary of the most important Dutch news each day.
Make a donation