Good grub: Are insects the answer to unsustainable pet food?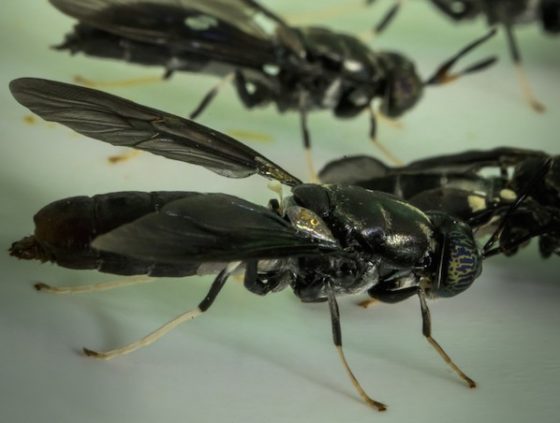 With an increase in environmental awareness, some pet owners are opting for sustainable pet food – and that's where insects come in! Several Dutch companies are harvesting grubs to make eco-friendly alternatives for pets, but are insects really worth all the hype?
Veganism is surging in popularity at the moment, but what about a plant-based diet for your pet? The meat industry is one of the world's most polluting and through their meat-based diets, pets contribute to the environmental impact, too.
One study published in PLOS One estimated that pet food is responsible for around 25% of the environmental impact of the meat industry regarding land use, water, fossil fuels, phosphates and pesticides.
But veganism can be problematic for pets. 'Dogs and cats are carnivores by nature… Meat delivers certain nutrients which dogs and cats can't make by themselves,' says Ronald Corbee, a specialist in veterinary and comparative nutrition at Utrecht University.
Dogs and cats are adaptive carnivores, which means it is possible to take meat out of their diet. But making sure they get all the nutrients they need without meat is difficult, especially for cats who have strict dietary requirements.
'These nutrients have an influence on body-functions,' says Corbee, 'and in the long-run deficiencies can develop and that can cause adverse health effects'.
The role of insects 
So what is a environmentally friendly solution for your meat-loving pooch? That is where insects come into the picture.
The demand for sustainable alternatives has paved the way for companies like Protix that harvest the protein from insects to make a sustainable pet food, aquaculture and livestock feed. This summer, Protix opened the world's largest insect farm in the south of the Netherlands and things are moving fast, with over 40 insect-producing companies in Europe and five in the Netherlands alone.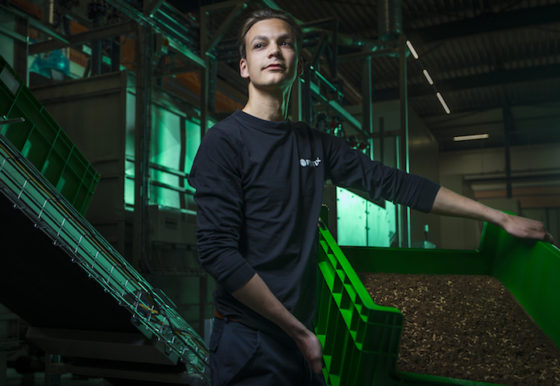 The insect farms themselves are far from traditional. The Protix facility is filled with state-of-the-art equipment and the farm looks more like a factory from the future. Eggs are laid by flies in breeding chambers bathed in neon green, artificial light. These are set at a temperature and moisture level optimal for the tropic black soldier flies, the insect of choice at Protix.
When these eggs hatch, the larvae is grown at the right temperature in big crates that are stacked on top of each other until they are ready to be turned into a protein paste.
Good grub?
Studies shows that insects are digestible and palatable for pets and insect protein has already been approved by the EU for pet food.
But some researchers think we need more data. Guido Bosch, an assistant professor at the animal nutrition group at Wageningen University says there 'definitely' needs to be more research. 'I think, it's a risk that they are taking. There should be more data on the long term effects of insect-based pet foods,' he says.
In the US, he points out, AAFCO testing protocols involve testing foods on pets for at least six months while monitoring the impact on health. For companies without the proper research, there can be problems,' he said. 'It can be opportunistic, and it might backfire on you if you don't have your homework done regarding nutritional quality and safety.'
Companies like Protix feed their insects food waste to increase the sustainability of their company and Corbee agrees that research is limited. 'There is still a lot of things we don't know,' he said. 'If we look at the studies done on insect protein in dogs and cats, there is not much out there yet. But it's developing'.
Sustainability 
When comparing the insect industry to conventional meat industries, Protix argues that the difference is huge, the biggest of which is land usage.
'Insects grow really quickly and they do not need much space to do so. You can grow one ton of insects in 14 days using a land area of only 20 square meters,' says company marketing chief Elselina Battenberg. This is important since more land is used for grazing animals than any other purpose.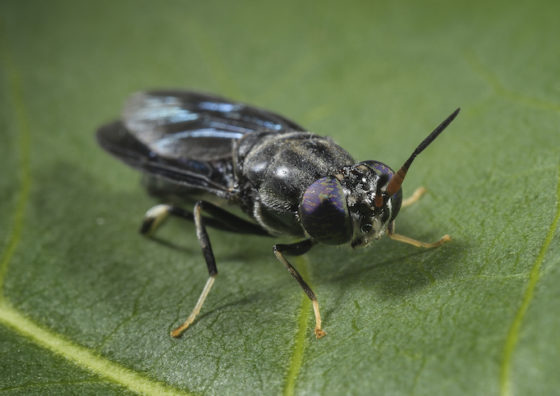 Water use and methane emission are much lower compared to traditional meat industries. There is also zero waste since all the waste products created in the farm are used for compost or fertilisers.
Per year, Protix is able to produce enough protein to feed five million salmon and produce 250 million eggs laid by chickens fed with insect protein. This means that Protix is both sustainable and able to compete with the mainstream industry.
But there are problems with sustainability for insect-producing industries too. Pet food producers who use sustainable insect protein can choose to add in extra animal-based ingredients to their products.
Both Bosch and Corbee point out it is common to coat pet food blocks with chicken fat or something else tasty for pets. So while companies like Protix can be dedicated to sustainability, it is important consumers are aware of what pet food producers do with the insect proteins.
In addition, while insects are more sustainable than the conventional meat industry, the meat used in pet food is usually a by-products that can not be consumed by humans
'These parts have a low environmental impact and if you look into life-cycle analysis, then you can say that by-products have lower environmental footprint than the main products like meat,' Bosch says. 'So if you want to say that insects are more sustainable then you have to compare them to these by-products and not to meat. And that's the tricky part'.
Elselina Battenberg believes that the ultimate goal for insect-protein producers is to change the traditional meat industry all together. The development of insect protein in pet food and animal feed helps spurn on new discoveries in sustainable protein for humans, too.
'There is a lot of work to be done to make the food system more in balance with nature,' she says, 'and it's very exciting to work on that'.
Thank you for donating to DutchNews.nl.
We could not provide the Dutch News service, and keep it free of charge, without the generous support of our readers. Your donations allow us to report on issues you tell us matter, and provide you with a summary of the most important Dutch news each day.
Make a donation