Nr 1 tourist attraction? Sex work exhibition in Amsterdam Museum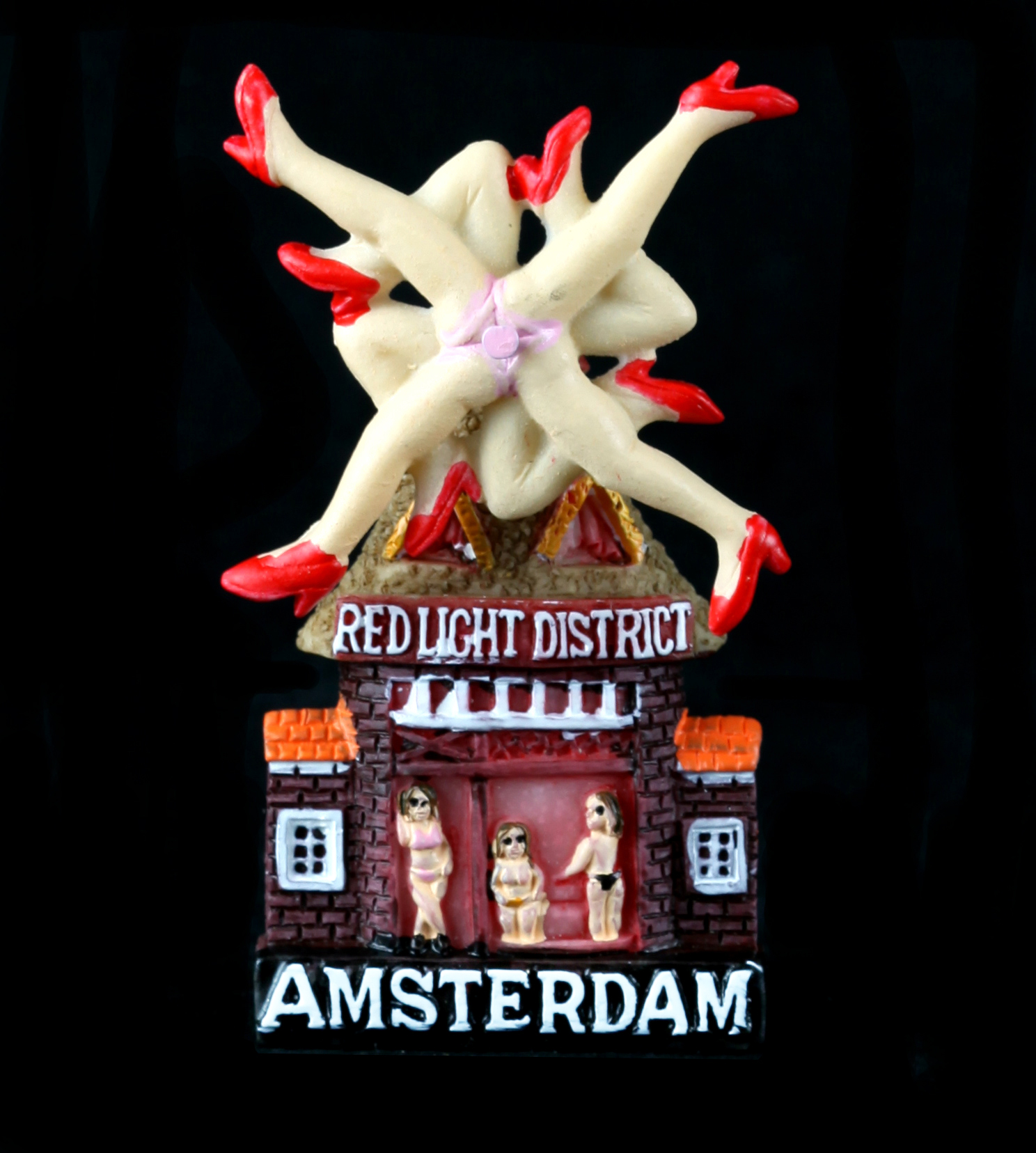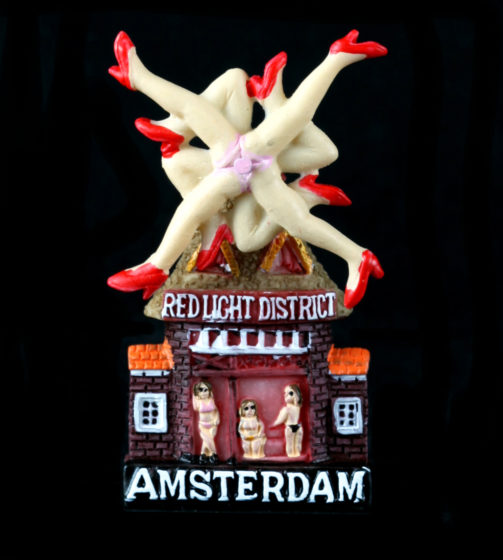 On one side of the room are images of happy hookers – red light district souvenirs like a miniature house of sex workers, or a condiments dish where a woman's giant breasts figure as salt and pepper.
On the other are 17 videos of re-enacted interviews with sex workers, telling darker stories of the legalised trade in Amsterdam, and other tales from across the world. Above them hang 60 masks, self-portraits by sex workers, some of whom are illiterate or paint themselves without a mouth.
With her new exhibition at the Amsterdam Museum, British artist and activist Jimini Hignett, hopes to challenge what she believes is a 'superficial' image of sex work as a liberated choice.
'The Netherlands does so many things right – bicycles, child happiness, all kinds of things,' she tells DutchNews.nl 'And so we're selling this idea that this is the right way to deal with prostitution to the rest of the world, and actually ignoring all the evidence which says Dutch policy is failing.'
'The souvenirs are an image of that superficial view we've been presented by the sex branch, by Dutch legislation, by the tourist industry, that the women are all happily on their backs, legs in the air, enjoying what they are doing. For me, it's not a dividing line between some women being really happy and other women trafficked, raped and chained to a radiator. There's a huge field between those two things, which probably concerns the majority of women – and some men – who are in situations of prostitution.'
Hignett supports the so-called Nordic model, where clients of sex workers and anyone else benefitting financially from the trade except the prostitute, is criminalised. 'I'm absolutely for respect for and rights for sex workers – I just think the whole institution should be abolished,' she says, after working on and off for six years as a volunteer with former prostitutes and inviting dozens more to share their stories.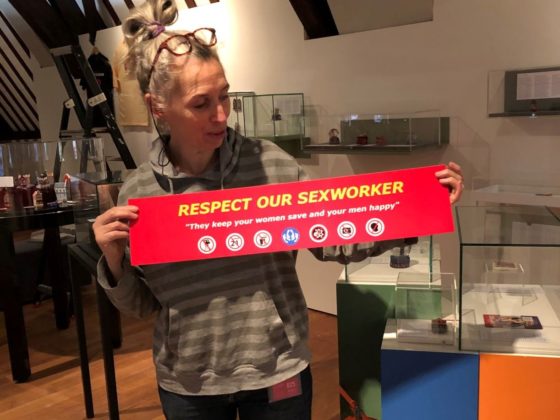 Her personal motivation is also a feeling of 'there but for the grace of God go I,' she adds, after a rebellious period in her teens sleeping with older men and once, she says, 'being groomed for prostitution' in New York. She says: 'A very clear reason why I'm pro the Nordic model is that it finally puts the attention on to men's responsibility for their own sexuality. When you're in prostitution, as it was when I was sleeping around as a teenager, it's impossible to take a step back and to see the damage it's doing to you because otherwise you can't do it. One woman's catchphrase is noodgedwongen is ook gedwongen – forced by necessity also means you are forced.'
Above the exhibition hang the masks, painted by sex workers and former sex workers, and photographs of some of them in their masks hang around the walls. The display was also due to feature a life-sized wooden statue of Belle, an iconic statue of a prostitute in the red light district, but in this case carved with people's initials (including her own) to symbolise violence and what Hignett sees as a general "complicity" in letting the trade go on.
But after strong protests from the Prostitution Information Centre (PIC) and sex workers – in writing to the Amsterdam Museum, Hignett and posting online – the statue of her Belle and a video of people carving her have been withdrawn. Mariska Majoor, founder of the PIC, said in a Facebook message that Hignett was 'respectless' towards sex workers, criticising her for copying an image 'that calls for respect for all sex workers in the world'.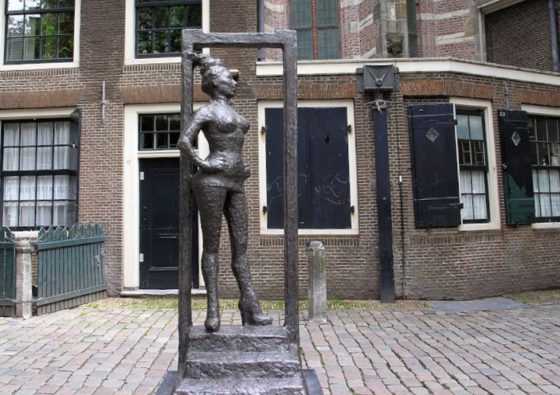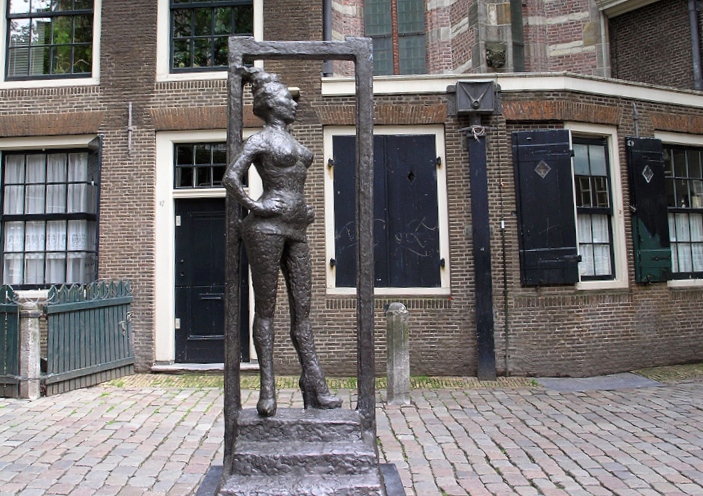 Nevertheless, a spokeswoman for the Amsterdam Museum says that despite the criticism for giving a platform to Hignett, the series is part of an annual show by an artist, in collaboration with CBK ZuidOost, 'to present his or her personal vision of a specific issue or development in the city through a work of art.' It plans other activities in the four-month period 'so people who have other opinions on sex workers and the red light districts can share their viewpoints,' she added. 'We hope to facilitate a debate.'
Hignett has named her display 'a small collection of innocuous objects.' She herself leaves the final words to a sex worker called Maria, interviewed for the exhibition, and an accompanying book.
'The men…What is pushing you, going to sleep with a prostitute? If the men can stop going to the women, I think the women will stop being prostitutes, because when you are there, if you don't see any man today, you don't see any tomorrow, you don't see next day, you will stop it! …If the men can stop it, then it will stop, but if the men do not stop it, it will not stop. We have to stop the men.'
Nr. 1 Tourist Attraction runs from November 1 until March 1 2020 at the Amsterdam Museum
Thank you for donating to DutchNews.nl.
We could not provide the Dutch News service, and keep it free of charge, without the generous support of our readers. Your donations allow us to report on issues you tell us matter, and provide you with a summary of the most important Dutch news each day.
Make a donation