Sidewalk or stoop? Has your English evolved into Expat Speak?
Have you found yourself talking in 'expat speak'? Linguistic theory suggests that there is an important place for it.
A few years ago, via a mutual friend, I was reunited with a fellow English expat also living in the Netherlands.
After a series of underwhelming exchanges, I became impatient with his slow, over-enunciated speech, now tinged with a North-American twang that was at odds with his British upbringing. A rising inflection with every sentence, apparently seeking confirmation, made me wonder if he remembered that I too was in fact British and fully conversant in English.
This was my first taste of 'expat speak', where native English speakers, accustomed to adapting their mother tongue to assist users of English from a range of backgrounds, find their own use of the language morphing.
We all do it
A quick call-out on social media, probing for self-confessed 'expat speakers', and hands quickly shoot up. It seems that we're all at it.
'After 35 years here, I speak English with a Dutch accent. Or at least, so I've been told,' translator, editor and journalist Pamela Williams (58), originally from Ohio, USA told me. 'In the past, I would adapt my language to fit in with my non-native English-speaking peers,' she says, and admits to making 'a conscious effort' to use more British grammar and terms.
And it works the other way around, too. Nine-year-old Jack Murray from Amsterdam has British parents and attends a British school here, but, says his mother Sarah, he uses a lot of American English, such as 'candy' and 'sidewalk', due to the international community he mixes with.
I've found myself doing the same. When my children were toddlers, 'stroller' and 'buggy' were more easily understood here, so the word 'pushchair' was kept for when we visited family back in the UK; while both 'dummy' (UK/AUS) and 'pacifier' (US) were less well known to the Dutch, so we defaulted to the local word: '(fop)speen'.
Accommodation
As vocabulary rushes towards neutral territory, idiom is first to get the chop. 'I miss speaking colloquial English!' one source complained. 'I no longer use sayings or phrases because people just won't get me,' said another, describing it as 'rather sad, really'. In short, most feel their English is inferior now, but academics disagree.
Socio-linguists, such as Alison Edwards, a researcher at Leiden University, call this process 'accommodation'. Edwards cautions against viewing this shifting use of language as a bastardisation or simplification, deeming it an 'often necessary communicative strategy'. 'Being able to accommodate (i.e. adapt) your language to the person you're speaking to is an important social skill,' she argues. 'This is not the same as 'dumbing it down'.
Language's predominantly social role is neatly demonstrated by Kris Herwig (39) from the US, who even admits to using erroneous English to avoid embarrassing her interlocutors. She says: 'I noticed long ago, before I moved to Europe, that I would say things in English to my [Swedish] in-laws that weren't correct if my in-laws were doing it, so as not to point it out, but also to ensure that we were speaking the same language.'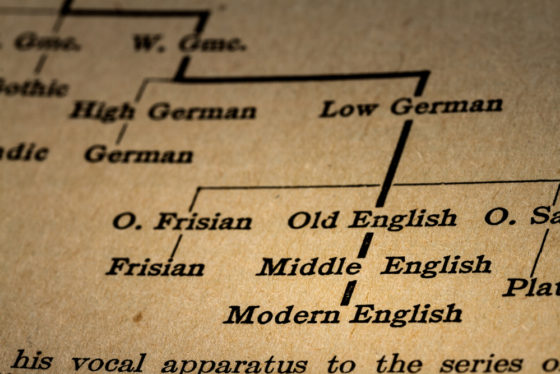 Herwig also identifies the emergence of a middle-ground English specific to living in the Netherlands. 'I use 'gym' as a verb and our kids play 'by' someone's house,' she says. 'Yesterday I said, 'they gym every day at this new school', and the mom I was talking to, who was also American and raising kids here, responded in the same way [used the same verb] because we now speak the same language.'
Codeswitching
Many expats report that Dutch has begun to invade their English and wonder if they should resist this evolution. 'I find myself using Dutch words more quickly within an English sentence and struggling for the translation,' says US national Kate Hutchinson-Keeson (40) from Heiloo, who has lived in the Netherlands for 12 years. While Australian operations manager Amber Buckridge (39) confesses to throwing 'jammer' (shame/pity) around 'like it's going out of fashion'.
While both frame this negatively, claiming the English word frequently eludes them, Edwards describes this as highly functional and an example of 'codeswitching', something which she does herself. 'It feels weird to say 'city council' instead of 'gemeente', she explains; and she always says 'verloskundige' rather than 'midwife' because she gave birth in the Netherlands.
Multilinguals
For multilinguals, 'expat speak' may include elements of several languages. Liam Megill (22), a German-Canadian project manager in aeronautics, spent most of his childhood in the UK, completing his education in Germany before settling in Delft in 2016.
'I have been told a number of times by friends in the UK that my English [now] sounds German/Dutch. I did not notice the change myself, but I often use idioms or turns of phrase directly translated from German or Dutch,' he says. 'Since German and Dutch have the tendency to place the verb at the end of the sentence and add additional material in the middle, I find myself doing this as well.'
Cases such as Megill's highlight the mutability of the English language and are unsurprising given the diversity of English speakers. 'Multilinguals are by far in the majority. Yet it's always taken for granted that monolingualism is the norm,' says Edwards, who is keen to put pay to 'the purity ideology' that English should never be mixed with anything else. 'Linguistically, that's an arbitrary and made-up restriction,' she says.
Perhaps surrendering to expat speak from time to time is OK after all. If converging with others on a more international-flavoured English is a communication skill, rather than the erosion of an imagined ideal language, then I resolve to stop turning my nose up at it – if you get my meaning.
Thank you for donating to DutchNews.nl.
We could not provide the Dutch News service, and keep it free of charge, without the generous support of our readers. Your donations allow us to report on issues you tell us matter, and provide you with a summary of the most important Dutch news each day.
Make a donation