Scammed, sofa-surfing and stranded – finding a home as an international student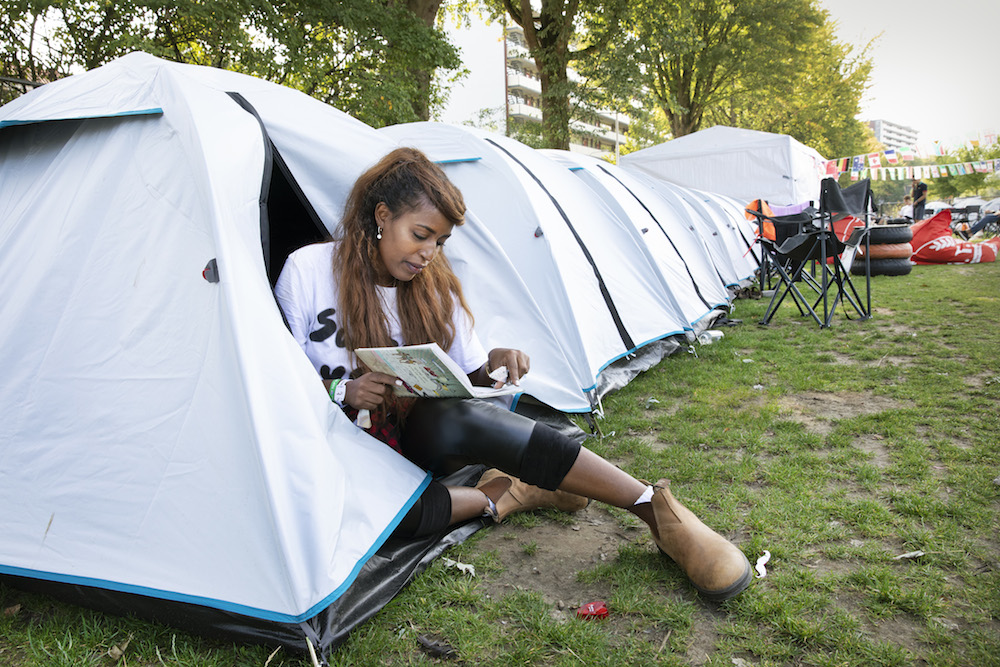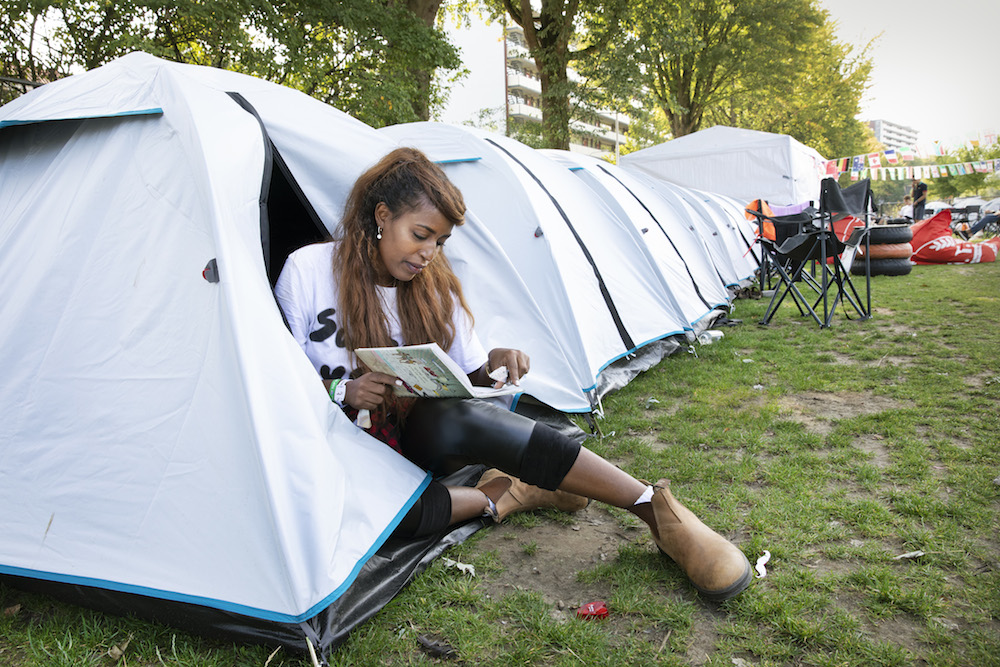 With an estimated shortfall in the Netherlands of 31,000 rooms, many students still don't know where they're sleeping this semester. Deborah Nicholls-Lee reports on why international students are among the worst affected by the student housing crisis.
In a living room on the Prins Hendrikkade, close to Amsterdam's Central Station, a makeshift bed has been fashioned out of crates and a mattress salvaged from someone's rubbish on the street. 19-year-old UvA student Katie Millar, from the UK, is crashing there, along with a Belgian student who is also homeless.
'I'm lucky to have very nice friends who are helping me out,' she tells me, 'but obviously I don't want to intrude too long.' She thinks she's staying with a friend of a friend's mum next week, but she's not certain.
Though term has already started, an estimated 4% of students in the Netherlands are still desperately seeking a place to live. This year, 11.5% of them will be foreigners like Katie – many aware far too late of the country's student housing deficit which has seen overseas students in Groningen bedding down in makeshift emergency centres and students in Tilburg sleeping in tents.
Alle bedden van de noodopvang voor buitenlandse studenten aan de Peizerweg in Groningen zijn bezet. Dat geldt ook voor de 216 kamers in de containers van The Village. Studenten stromen Groningen binnen voor een opleiding [PLUS] https://t.co/EtNjcqEBIm

— Dagblad v/h Noorden (@dvhn_nl) September 1, 2019
Katie decided to study in the Netherlands after university open days in the UK left her feeling uninspired. 'I kind of had FOMO [fear of missing out] for the rest of the world, especially with Brexit, and I wanted to go somewhere that was super international, where I would meet other people.'
Viewings
She shoulders her housing problems as best she can. 'I don't want to stress my parents out, so I only ring them when there's good news,' she says. Meanwhile, she's 'biking around like a crazy person', and attending two or three viewings a day. 'I think I might have sent 100 emails and I didn't get any replies. It was just everyone saying 'No students. No sharing.'
Katie has also had a taste of the gruelling hospiteren evenings: a sort of interview-cum-social, where prospective flatmates gather at the property. With everyone speaking Dutch, internationals, she says, 'get a very negative vibe straight away'. 'One place I went to two days ago,' she tells me, 'the landlord officially requested no international people.'
A campaign against this policy of excluding foreign students is one of many strategies outlined in the Student Housing Action Plan 2018-2021 (SHAP), devised by stakeholders such as universities, the education ministry, student housing organisation Kences, and Nuffic (the Dutch organisation for the internationalisation of education). The plan includes educating newcomers on how the student housing market works here and rebalancing supply and demand within ten years.
The SHAP states that neither the students, nor the knowledge economy that they feed, can function properly faced with the huge housing deficit. Consequently, within four years, 10,500 young people and student housing units are planned for Amsterdam, 2700 for Leiden, and around 2000 each for Delft, The Hague, Rotterdam and Utrecht. Nijmegen is planning 500 new units and Maastricht will build 1170 units, though around one quarter will only be temporary.
Dutch Student Union (LSVb) treasurer Ruben Kleijn, whose portfolio includes student housing, is used to hearing stories like Katie's via the union's Housing Hotline service, and hopes that the SHAP will honour its pledges.
Universities, he says, 'have a bigger responsibility than they seem to imagine'. We must take international students seriously, he told DutchNews.nl, and 'make sure they actually have an honest chance of finding a proper room and that there is access to relevant housing information'.
Shinyoung Kang (29) from Korea, who moved to The Hague to do a Master's at the Royal Academy of Art, told DutchNews she felt she was not taken seriously by the seven or eight agencies she contacted because she was not Dutch. She stayed in an Airbnb, a hotel, and with a friend until, desperate, she paid over the odds for a barely habitable attic room. When she couldn't bear it any longer and terminated the contract, the landlord withheld her deposit.
Venezuelan Eva Gonzalez (37) also had a bad experience with rental agencies in The Hague. 'As soon as they found out I was a student – plus a foreign one – they completely dismissed me,' she says.
When she moved to Amsterdam, she responded to at least 25 listings, talking on the phone to countless people, and even sending essays about herself. 'I finally found a roommate [just] one day before flying home for summer break,' she says. 'When he called me, I cried – I was so relieved!'
You waited 4 months ?? I am coming for an Erasmus, I don't have that much time 😭😭 I didn't know it was that hard getting a room in Utrecht…

— Lauren (@laurennctr) August 20, 2019
In Amsterdam, as in The Hague, the scarcity of housing has pushed the average rent for a student residential unit up to about €700 (€427 nationally). Since universities do not own student accommodation, they are unable to operate rent controls. Instead, students are often placed with third parties such as the Student Hotel (from €729 a month) or left to try their luck in the free market, where they, unfamiliar with the rules, make easy prey for unscrupulous landlords.
'Pretty much every international tenant gets taken advantage of. That's how it goes,' says Dafna Eccles, an advisor at !WOON, an organisation offering free legal advice to tenants and property owners in Amsterdam and Amstelveen. Internationals, of course, have fewer options. 'They're more desperate than Dutch students,' she says. 'If you're living with Mum and Dad, then you can put it off for a few months … [But] you can't commute from Madrid.'
Isabel* from Spain and Luca* from Italy, a couple in their 20s, are a case in point. Attracted by the high level of English and easier access to competitive study programmes, they decided to enrol at two Amsterdam universities. After a long, fruitless search for accommodation, the pair responded to an online advert for a room on the outskirts of the city.
The landlord lured them off the official rental website, they handed over a deposit without visiting the property, agreed on a monthly rent of €1000, and – to secure the BSN they needed to get a job, healthcare and benefits – reluctantly signed papers stating that they were the only tenants, when in fact the property was shared with two others.
'It seems stupid,' admits Isabel, 'but we had just one week to move … I know it's not legal and it's not correct, but no-one's checking the landlords and they do whatever they want … You have all the pressure of studying abroad in a different country, in a different language, and all this personal academic pressure, so you are easy to manipulate.'
On moving day, the couple were horrified to discover that they would in fact be sleeping in the living room – which had not yet been equipped with a bed, leaving a tiny kitchen as the only shared space. 'It was the worst time of my life,' says Isabel emphatically. 'I wanted to go back to my mother in Spain and forget about everything. It was horrible!'
Legal proceedings
Luca and Isabel sought advice from WOON, who calculated that they should be paying just €300 for the room. Isabel was terrified when they started proceedings against the landlord, who would often appear unannounced at the property, but WOON soon put them at ease. 'When we got the money – oh my god! – I was crying for hours!', says Isabel. 'I couldn't believe it! It was beautiful.'
Eccles lays some of the blame at the door of the universities. 'The government's cut their budget. They try to get international students in because they can charge them more money. These students are not really getting what they should. They know full well that there's no housing for them.'
A spokesperson from the UvA shared with DutchNews.nl the information pack on the housing shortage and how best to find a room (in English) which she says they send to students 'as soon as they apply at the university'. This year, she says, they have helped 3000 international students find a room.
Isabel is excited about the studio flat she and Luca have found in new development OurDomain. A five-year-contract offers them some security at last, and their €1,200 a month includes shared facilities such as sports courts, a theatre and a bar. But for thousands of students, the search goes on. 'We have many, many friends who are having problems,' she says.
*Names have been changed.
You can comment on this story below the video.

Thank you for donating to DutchNews.nl.
We could not provide the Dutch News service, and keep it free of charge, without the generous support of our readers. Your donations allow us to report on issues you tell us matter, and provide you with a summary of the most important Dutch news each day.
Make a donation