'I don't feel completely at home in either the US or the Netherlands'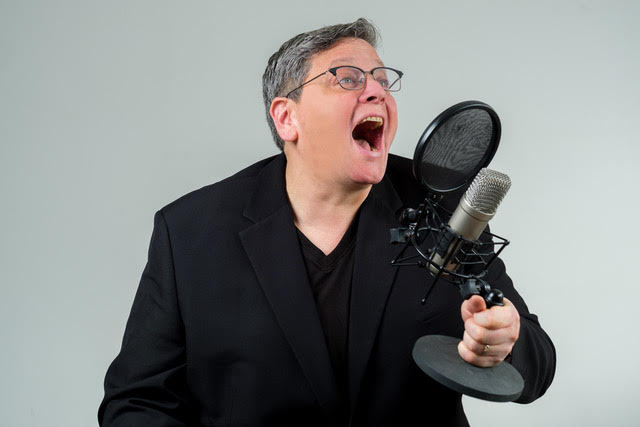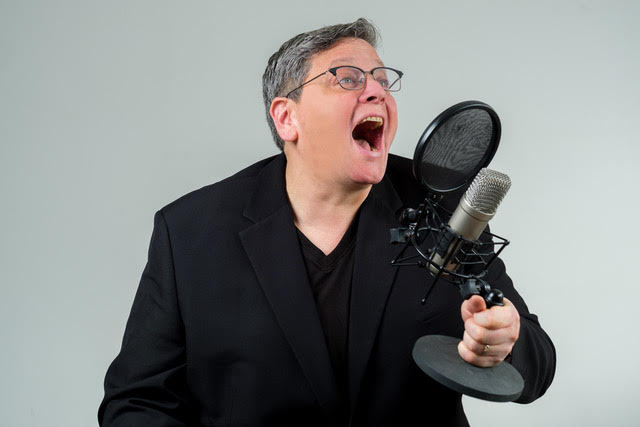 Currently based in Amsterdam, Brooklyn native Jonathan Groubert originally moved to the Netherlands in the 1990s. Since then, he's built a career as a journalist, a podcaster, and an educator, started learned Dutch using cassette tapes and is fascinated by the country's man-made landscape.
How did you end up in the Netherlands?
Way, way, back when dinosaurs were still walking along the canals of Amsterdam, I met a Dutch girl in America. I'd been studying at a university in New Paltz, New York and came down to Manhattan to take the state teaching exam. She was sitting on a stoop, and I just had to talk to her. I managed to ingratiate myself into her life for a day and I said goodbye to her.
Then she turned up on the Fourth of July in New Paltz. She was in a Camp America programme and was actually living ten kilometres away from me. We met again and wound up in a long distance relationship for a while. Then we lived in Raleigh, North Carolina while she finished her master's degree, and we later moved to Utrecht.
I'd studied to become a high school teacher, but I had to find my feet once I got to the Netherlands. I worked as a waiter at the Holiday Inn in Utrecht and then a factory in Nieuwegein. Eventually, through a friend of a friend, I found a job reading the news as a freelancer at Radio Netherlands Worldwide. That was my first foray into journalism, and I spent many, many years reading the news in the middle of the night to people in far flung places around the world. Unfortunately, my girlfriend and I broke up eight months after I got here.
My wife is from Bosnia and she came here a year after I did. To be honest, she feels more at home in the Netherlands than I do and is very grateful to the country for taking her in at a moment when she really needed it.
How do you describe yourself – an expat, lovepat, immigrant, international, etc.?
I definitely consider myself to be an international. I have an American passport and a Dutch one. There was a brief period during the late 1990s when that was allowed, so I have dual citizenship. However, I don't feel completely at home in either of those countries. I'd describe myself using the Dutch word ontheemd ('without a home').
I travel a lot for my work as well. Last year, I went to South Africa, Indonesia, and Colombia. I feel most at home when I'm travelling or when I'm with my kids. My home isn't a country, per se. My home is where I have family and where my stuff is. To make matters worse, my mother just died. So the place where I stay when I go back to New York is gone now because she was a renter. I'm really untethered in regard to a place where I could point and say 'that's where home is.'
How long do you plan to stay?
I'm a Dutch citizen so I'll be one until the end of my days. Whether or not I grow old here depends on where my children live. Once I start slowing down, I probably won't want to travel far to visit them or my grandchildren. I'll really want to be where they are. I don't want to do to them what I did to my poor mom by moving so far away.
Do you speak Dutch and how did you learn?
Yes, I speak Dutch fluently. I decided from the moment I arrived that I would do my damnedest to learn it. I'd already studied German, and Dutch was a walk in the park in comparison to that. I also wanted independence and didn't want to have to ask people all the time to explain what words mean or show them letters from the bank. I wanted to be able to argue in Dutch. The Dutch, as you may have noticed, tend to be argumentative, and I wanted to be able to argue back fluently.
Plus, you can't ever really know a society without speaking their language, at least not fully. I decided that if I was going to put down roots here, I had to learn Dutch. Language affects how people think and see the world. If you don't know the language, you won't ever really understand the people around you and how they're thinking.
So there I was in Utrecht in the early 1990s and Dutch people back then didn't speak English as well as they do now. They would still switch to English on me when they heard my accent, though. That made it hard, so I kept speaking to them in Dutch even if they kept speaking English. I also took courses in what was then called a talenpracticum, which consisted of a bunch of cassette tapes. They'd have questions in Dutch, and I'd have to come up with Dutch responses. I also took classes at the Volksuniversiteit and kept going until I got to what would now be called an IND examination.
But the way I really did it was when I made new Dutch friends, I would only speak to them in Dutch. That way, speaking English to them after that would just seem weird. I still have friends from back then who, if I started speaking English to them from out of nowhere, they'd be, like, 'what are you doing?!!' [laughs] Weirdly enough, I went a long time without anybody speaking English to me, but these younger generations speak it amazingly well. So now all these Generation X'ers, Y'ers, and Z'ers are switching to English on me when they hear my accent. It's very irritating.
What's your favourite Dutch thing?
This is going to be a weird answer, but it's the Netherlands itself. There is no natural nature in the Netherlands. Every square centimetre has been cultivated and made in some way. Therefore, the Netherlands itself is kind of a thing and an amazing thing. This land is not fit for humans to live on. People with a lesser constitution would have left long ago. They would have taken one look at what was here and said 'no way.'
Despite that, the Dutch have managed to turn this place into one of the most infrastructurally developed countries on the planet. They've also turned it into the garden of Europe. The agriculture industry here is one of the world's biggest. This country should barely be able to produce enough to sustain itself, let alone become a massive exporter of food. It also shouldn't be able to fit as many people into it as it does.
But the Dutch are so incredible at managing the land that there's plenty of space here. Everybody says it's crowded, but that's really just the Randstad. The rest of the country is more or less empty. Somehow, the Ranstad also isn't as packed as Tokyo or Mumbai where you have a lot of people per square kilometre. If the Dutch ever need more land, they'll just dry something up and make more. There's an old expression that says 'God made the Earth and the Dutch made Holland.' It's actually 100% correct. I don't believe in God, but that's beside the point.
How Dutch have you become and why?
Well, what is Dutch? Are we talking about Urban Dutch? Small Town Dutch? I find this incredibly hard to answer simply because the idea of what it means to be Dutch is currently in flux. You just need to look at the Zwarte Piet situation to understand that people are kind of fighting it out right now. There isn't one simple answer to that question anymore. There's so many immigrants in this country now that what you would call 'Dutch culture at large' is sort of feeling put upon. People who come from other parts of the world are changing the country whether people like it or not.
And I realise that I'm part of that as an international here in the Netherlands. People have to reckon with my attitudes, which are sometimes at odds with what some people would consider to be Dutch. It hasn't always been easy for me here in Holland. For example, I think anybody who's an expat or immigrant in this country knows that this whole 'Dutch honesty' thing is looked upon by almost any other country on the planet as rude. [laughs] That sort of thing was once considered very Dutch, but I've noticed that people are doing it less and less. It used to be much worse!
Which three Dutch people (dead or alive) would you most like to meet?
Baruch Spinoza. Even though I'm not one of these philosophy heads, he just seems like somebody you'd want to speak with to get your head screwed on straight. He was an interesting and fascinating person. He was Dutch, he was Jewish, and I'm Jewish. He was also an atheist, and I'm an atheist, but he was one during a time when being an atheist could be a serious problem. For him I believe it was. I could ask him why people are wired the way they're wired and behave the way they do even though it's going to bring them trouble.
Rutger Hauer. He turned out to be an amazing actor even though he came from a country which, at that point, wasn't known for great actors. He was a really talented person. When I found out that he came up with the famous line spoken by his character Roy Batty at the end of Blade Runner, I was amazed. 'All those moments will be lost in time, like tears in rain.' That wasn't in the script, but I thought it was one of the most poetic moments in the whole film. If it hadn't been in there, I don't think people would consider Blade Runner to be as good of a movie as it is. Hauer had a longer soliloquy, but he went through the script with a red pencil and said, 'I can come up with better stuff than this.' And he did. [laughs]
Christiaan Huygens. He was an astronomer. They recently named some European space probes after him. But there's also Anton van Leeuwenhoek, who invented the microscope. These guys were doing, essentially, the same thing but in different directions. Huygens was looking at the world of the very, very large, and Van Leeuwenhoek was looking at the world of the very, very small. I'd like to just have them sitting next to each other and hear their conversation. The way those guys were thinking was so far beyond the way mere mortals think.
What's your top tourist tip?
The answer is an obvious one, but either the Rijksmuseum or the Van Gogh Museum. It would have to be either of those if you have to pick something beyond just walking around the beautiful centre of Amsterdam. The city is fairly unique looking. In fact, if you can really only do one thing, explore the centre of Amsterdam. If the weather is nice, don't book anything, don't buy tickets to anything, just walk around. Better yet, get a bicycle, ride around, and just look at it.
For something more unusual, I'd pick the Kröller-Müller Museum. How many museums are there where you first arrive at a national park? You get a bicycle, and then you start looking at all of these gigantic sculptures that are just sitting out there. I've never seen anything like that before.
Tell us something surprising you've found out about the Netherlands.
There's a whole bunch of things, but one thing that was surprising is that the country is so unbelievably developed. From the point of view of an American who had just arrived here, as I was back in the day, I was shocked at how rich, powerful, and influential this country actually is, especially for a place so small. It punches way above its weight, and that's mostly because of its economic position. Some of the world's major corporations and organisations are Dutch and, as a result, Holland almost always gets a seat at every table.
But another thing is that the country has almost, at every turn, failed to live up to its reputation of being a tolerant place. That doesn't make it different than most other places, though. It just makes it not as special as it thought it was. So to rephrase that, Holland has failed to live up to its reputation for tolerance at almost every turn, therefore making it just like every other country on the planet. [laughs]
If you had just 24 hours left in the Netherlands, what would you do?
That's really tough. We'd definitely spend it in Amsterdam. We'd eat the things that we like that are hard to find elsewhere like poffertjes, a pannenkoek, or a fresh stroopwafel. We'd want to go out for coffee or dinner and sit on a terrace if it's a nice day. We'd also say goodbye to family and friends. I wish I had a more interesting answer for this one. More than anything else, I'd want to spend as much time outdoors as possible. Get on a bike, bike around, go to Vondelpark, have a picnic, and that's really it.
Jonathan's work has been broadcast by Radio Netherlands Worldwide, the BBC, and NPR among others. You can also learn more about Jonathan's other projects on the website for his company Grew Bear Media
Thank you for donating to DutchNews.nl.
We could not provide the Dutch News service, and keep it free of charge, without the generous support of our readers. Your donations allow us to report on issues you tell us matter, and provide you with a summary of the most important Dutch news each day.
Make a donation