Yet another Dutch lifestyle craze? Nix it, stop reaching and drop it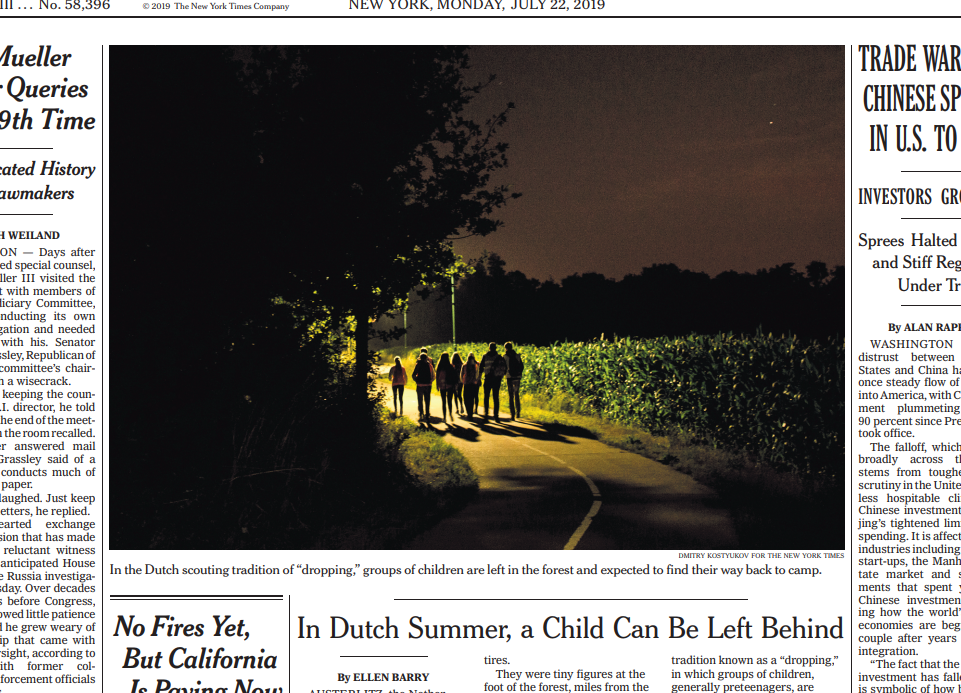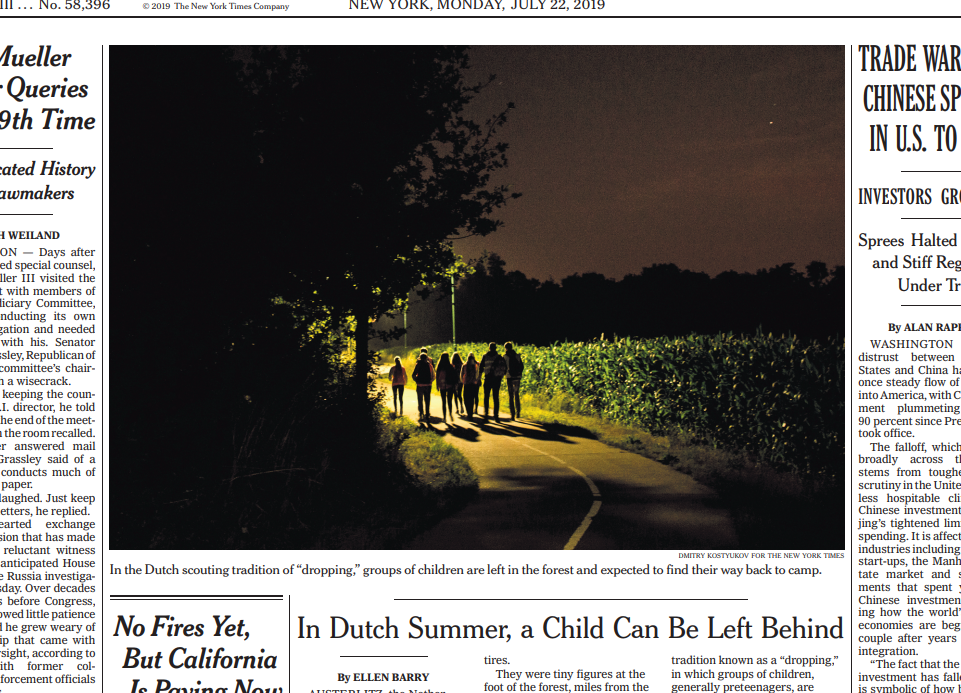 It's that time of year. The sun is shining. Dutch people are complaining it's too warm. Everyone in your office is on vacation so you're sitting around, cleaning up your inbox and watching videos about #VanLife.
What to do if you're a journalist and there's nothing to write about? Do some serious investigative work, digging through microfilm? Hit the streets with your notebook and talk to people? Convince your editor to let you make a trip to the Netherlands and write about some cultural phenomenon?
The latter seems to be the theory of the New York Times at least.
Late Sunday night, when A Peculiarly Dutch Summer Rite: Children Let Loose in the Night Woods hit the internet every what's app group I am in went berserk in mocking the American media's obsession with Dutch culture.
The subhead of the story is: 'Far from the land of helicopter parenting, getting 'dropped' in the forest is a beloved scouting tradition.' That at least acknowledges the fact that Dutch parents aren't randomly dumping their children in the woods and driving off, but it is instead part of an organised outing.
The Tweet that the NYT sent out to promote the article was less clear.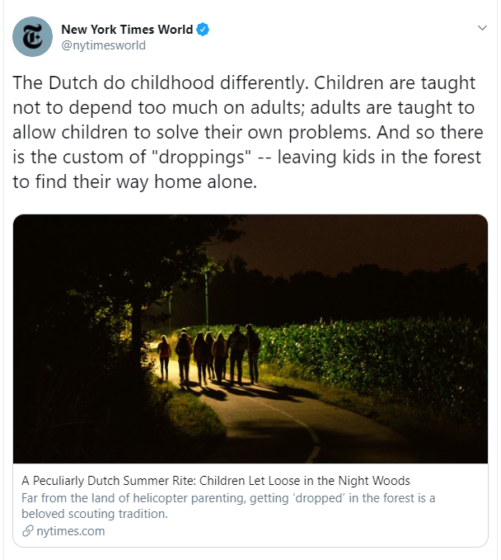 There are two reasons this story is ridiculous. First, American Scouts do this too. I asked my brother, an Eagle Scout, about it.

He also detailed two times that he did it completely alone.
He's not the only one. In fact, there's an entire Wikipedia entry on the subject which includes the line: As an American rite of passage, snipe hunting is often associated with summer camps and groups such as the Boy Scouts.
I did the highly scientific and long-standing journalistic tradition of just…asking some people from other countries if they had heard of this. Spain? Did it with scouts. UK? Kids did it with a school group. Israel? Wilderness summer camp.
It's not a uniquely Dutch tradition.
And secondly, It's not even that Dutch of a tradition. My Dutch partner never did it. Dutch colleagues hadn't. A friend of mine, who is a Dutch scout leader, is not a fan.
I asked people on Twitter and got a mixed response. Some people, especially people outside of the Randstad had. Nearly all were with a scout or school group. No one had heard of this idea that adults stand around and make animal noises, as the NYT article argued.
Does the fact that it exists in the Netherlands show just how enlightened Dutch parents are? Probably not. The Netherlands is densely populated. There are no bears. There's much less crime. There are no mountains to fall down. There's no place truly remote. You're hard-pressed to find a place without cell service.
So even if Dutch parents were just randomly dropping their kids off someplace, it's a much less dangerous activity than the poisonous spider and snake-infested woods of North America where people can and do wander into the woods, get lost and die.
A not insignificant part of the reason people were so irritated by the dropping article was that it had come on the heels of the niksen article.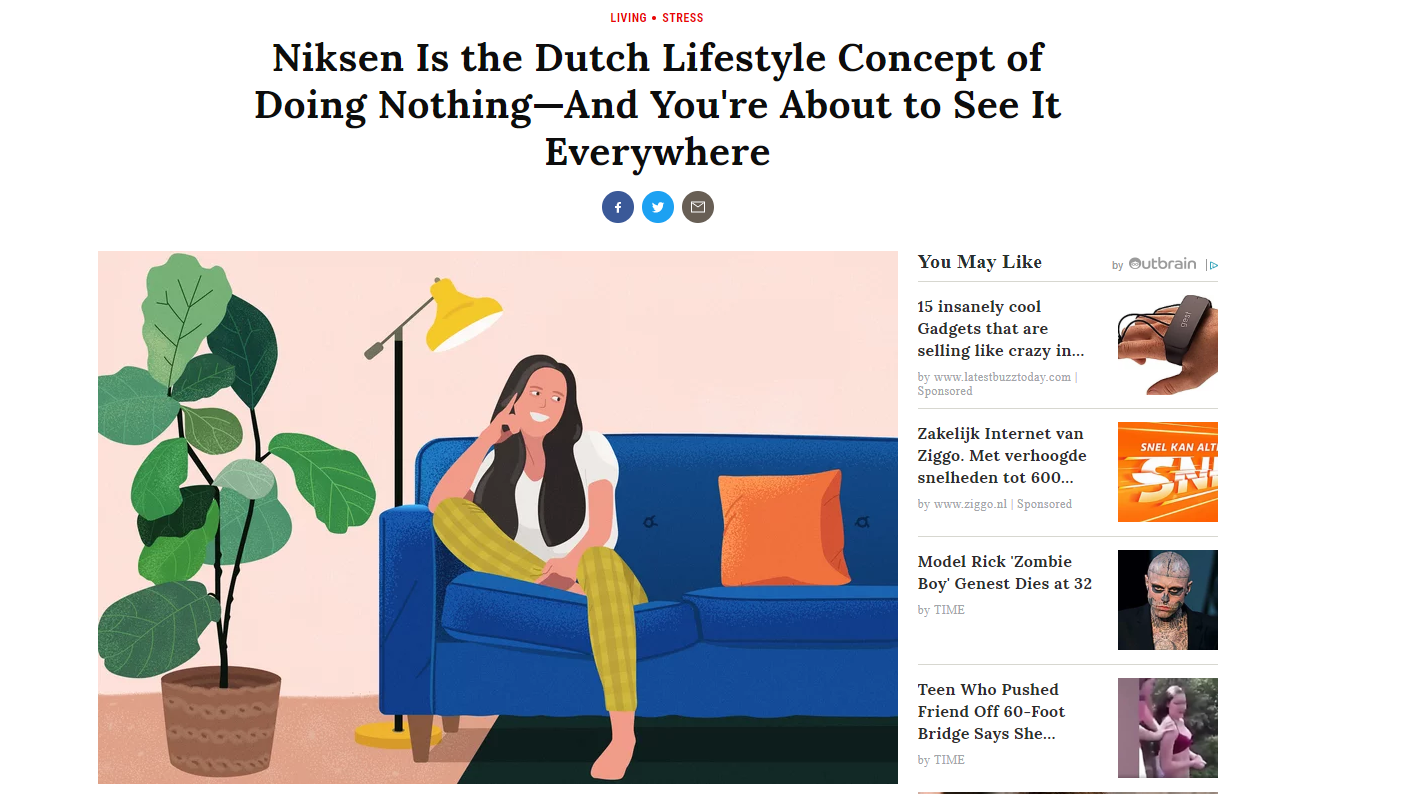 'Niksen Is the Dutch Lifestyle Concept of Doing Nothing—And You're About to See It Everywhere' wrote Time Magazine a couple of months ago. When that came up on my Twitter feed, I asked my Dutch partner what niksen was. 'I've never heard of it,' he answered.
Maybe he would have learned it if he'd been dropped off in the woods?
There are two experts quotes in the niksen story. One is a coach who probably wants you to pay her good money for her to tell you to do nothing. The other is a happiness researcher. Interestingly, a search on Google Scholar for 'niksen' results in…well…niksen. There doesn't seem to be anything published on this 'lifestyle concept'.
Makes you wonder how many Danes were actually hygge-ing.
Of course, this isn't the first time the American media has taken some small piece of Dutchness and turned it into A THING. Remember The Dutch Reach? When that news broke, I called eight driving schools across the country. Two had heard of the manoeuver in which a driver opens the door with their right hand, to force them to look behind themselves to check for cyclists. Six had not.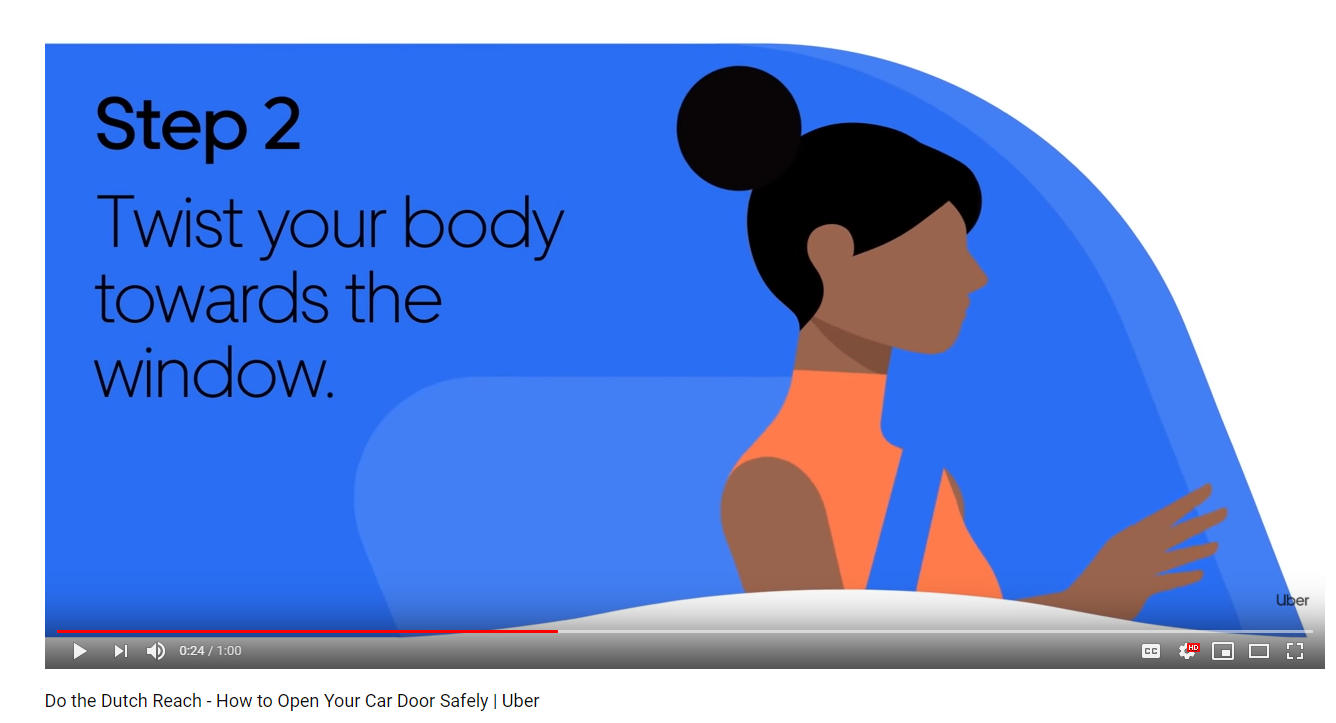 All taught you to check behind you before opening the door. I also learned this when studying for my driver's exam. Twenty years ago. In America.
It's funny, I think, to mock foreign media's weird assumptions about other cultures. It isn't just the US that does this. The Dutch media have their fair share of weird assumptions about the US. I assume it happens in all places.
But I think in these cases it showcases a much larger problem. Americans want to believe that if they just…dropped their kids in the woods it would solve helicopter parenting. Or if they sat with nothing to do, they would be less anxious. Of if they taught themselves to open doors in a special way, fewer cyclists would get injured.
Those things might also be true, but none of them acknowledge the larger context.
Cyclists in the Netherlands are safer because there is a serious investment in infrastructure to ensure they are safe and the laws benefit cyclists in the event of an accident.
Dutch people are happier but not because they sit around, staring out of the window a lot. They have a strong social safety net, low inequality, guaranteed health care, guaranteed paid vacation and more. Their kids can be dropped off in the woods and taught to be independent because their society has a lower crime rate (and also fewer deadly animals.)
But it's much easier to look at a Dutch lifestyle concept and say 'That will make things better' than to fix the fundamental problems in society.
Thank you for donating to DutchNews.nl.
We could not provide the Dutch News service, and keep it free of charge, without the generous support of our readers. Your donations allow us to report on issues you tell us matter, and provide you with a summary of the most important Dutch news each day.
Make a donation