The Night Watch recreated: photographer makes replica from modern day models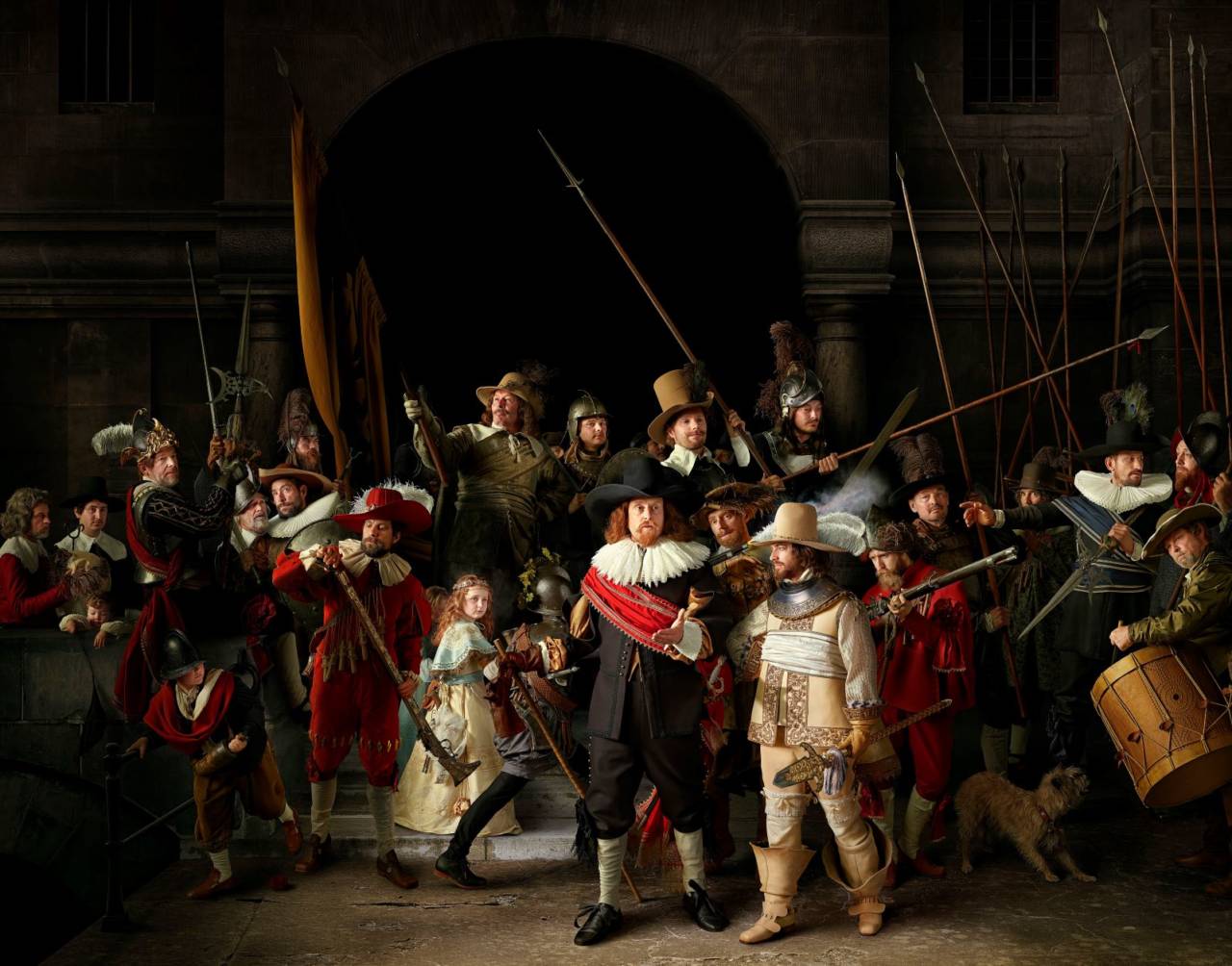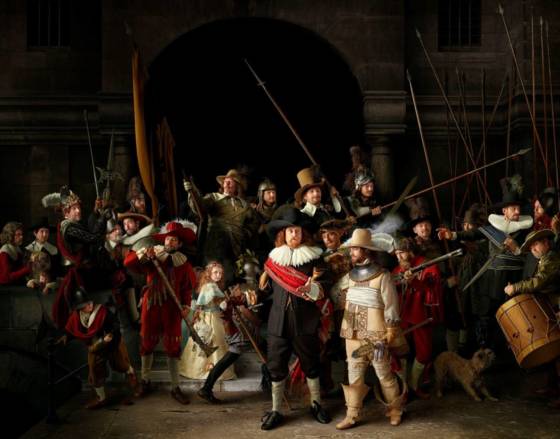 Finding people at weddings, in markets, and even scooting past them in the street, Dutch photographer Julius Rooymans has created a replica of Rembrandt's masterpiece The Night Watch.
In a project taking eight months, the photographer has sourced modern Dutch people with the perfect historic beards and faces, recreated helmets and artefacts with the help of a 3D printer and skilled costume makers, and created NachtWacht360.
One one side, his photograph replicates the famous Night Watch – considered Rembrandt's most ambitious artwork and a national treasure – and on the reverse he uses the same models to reveal uglier truths about Rembrandt's 17th century life.
'He translated reality into art, and we have translated art into reality,' says Rooymans, whose work was created with fashion designer Hans Ubbink and goes on display at the Rijksmuseum today. 'The back is like the background of Rembrandt, who had a hard life even though he was an artist: his wife died, he went bankrupt, life was precarious and the position of women was far from ideal'.
Rooymans has recreated a fuller image of the Night Watch, which lost a large strip on its left-hand side when it was moved into the town hall – now the Royal Palace on Dam square – and didn't fit through the doors. His version includes three new models, based on a small painting of the original Night Watch, and is also somewhat lighter because curators believe the painting has darkened after being varnished multiple times.
'It's such an iconic work, on coffee cups, bags…it isn't just a painting any more,' he told DutchNews.nl. 'We wanted to come at how he interpreted it with modern techniques: what he did was the Facebook of the era, the polished face. We wanted to tell a story of the time, a deeper story of poverty.''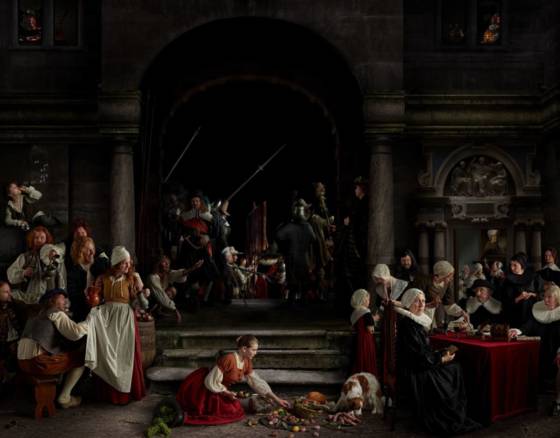 So his verso side includes rats, shattered glass, beer being drunk instead of foul water, and women in a madhouse.
The project is one of 575 artworks to be accepted into the exhibition Long Live Rembrandt – starting on Rembrandt's birthday on 15th July and running until September 15th – in the Rijksmuseum. There, meanwhile, Rembrandt's iconic representation of the defenders of Amsterdam is currently being restored, live, in a giant glass box.
Rooymans' and Ubbink's project is a gigantic effort which also sheds light on the mastery of the original, according to Pieter Roelofs, head of paintings and sculpture at the Rijksmuseum. 'This is a beautiful project on which Julius and Hans worked carefully and accurately,' he told DutchNews.nl. 'From the costumes to the metalwork, everything is as true to life as possible. Only by looking and by making can you see how amazingly well the Night Watch actually works. The Night Watch was originally larger, so it was even better that they reproduced this too.'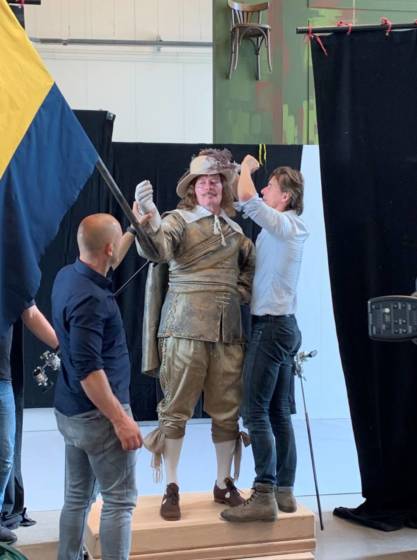 Taco Dibbits, general director of the Rijksmuseum, said the display, Long Live Rembrandt shows how much the work still resonates. 'We asked the public to be inspired by Rembrandt and thousands of people sent something,' he said. 'Some are football clubs or police squads that have re-enacted the Night Watch. It's great to see that it's a painting that's so alive amongst the public.'
Thank you for donating to DutchNews.nl.
We could not provide the Dutch News service, and keep it free of charge, without the generous support of our readers. Your donations allow us to report on issues you tell us matter, and provide you with a summary of the most important Dutch news each day.
Make a donation