Foodie picks: The 15 best budget restaurants in Amsterdam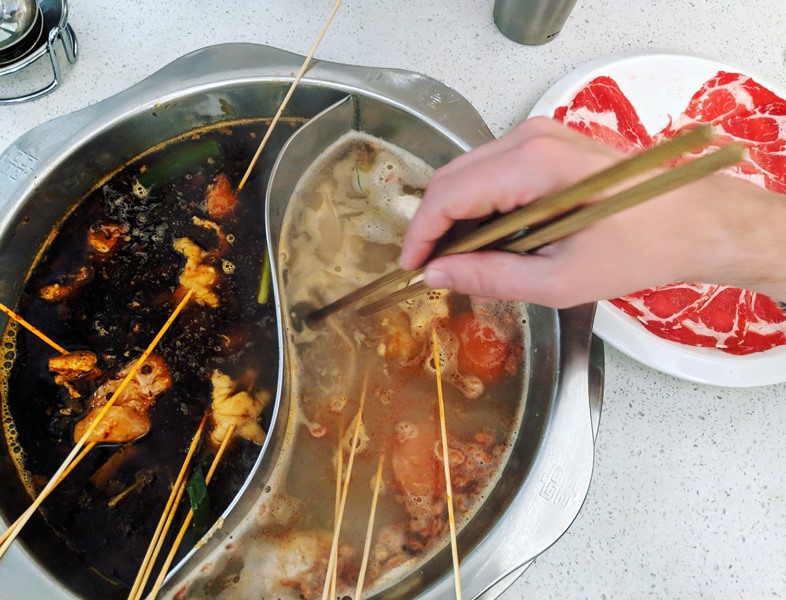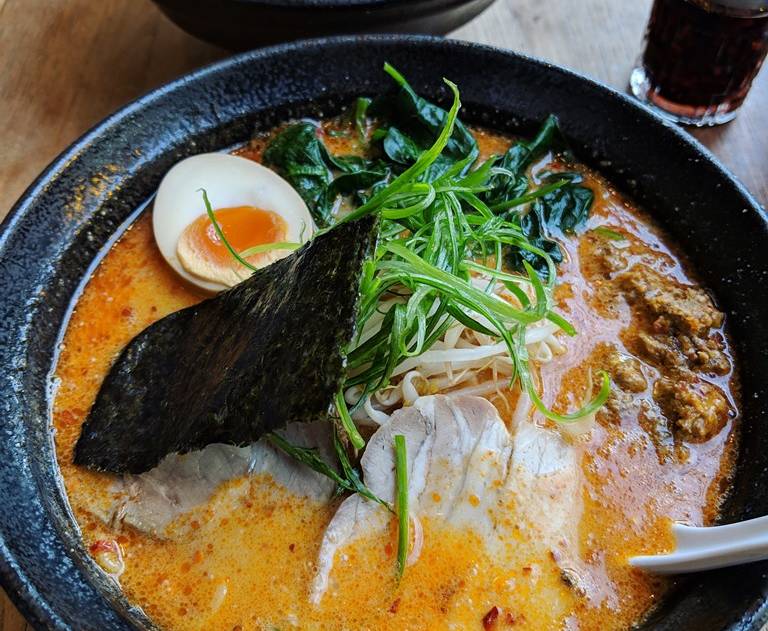 Recent research shows that the ratio between Amsterdam house prices and Amsterdammers' disposable incomes is the highest in Europe. So it's no surprise that many of us are feeling strapped for cash. Add in the city's steepening restaurant prices, and even going out for an evening meal is looking less and less affordable.
But it's not all doom and gloom. There are still several good eateries where you can have a simple meal for around €10, so you can stop in on the way home if you have to work late.
Plus, there are a handful of decent restaurants serving a multi-course feast for under €25, which means you can go out for that celebratory dinner without breaking the bank. If you can resist the booze, that helps the bill at the end too – but failing that, there's always the house wine…
1 European budget eats
Pancakes Amsterdam (Dutch, pancakes.amsterdam)
The original Dutch budget food, pancakes are still a good option for those eating on a shoestring. Hearty and filling, they'll keep hunger locked up till your next meal. A favourite among locals and visitors alike is Pancakes Amsterdam, with four locations across the city. They offer traditional sweet and savoury Dutch pancakes (think apple and cinnamon, or ham and cheese), as well as more creative combinations like camembert, ham, chicory and raspberry sauce. Almost all their pancakes are under €10.
Spaghetteria (Italian, spaghetteria-pastabar.nl)
Since Italian pasta-bar chain Spaghetteria first opened, it's exploded not just in Amsterdam (where it now has six locations) but also in Utrecht (with three locations) and Rotterdam (one so far).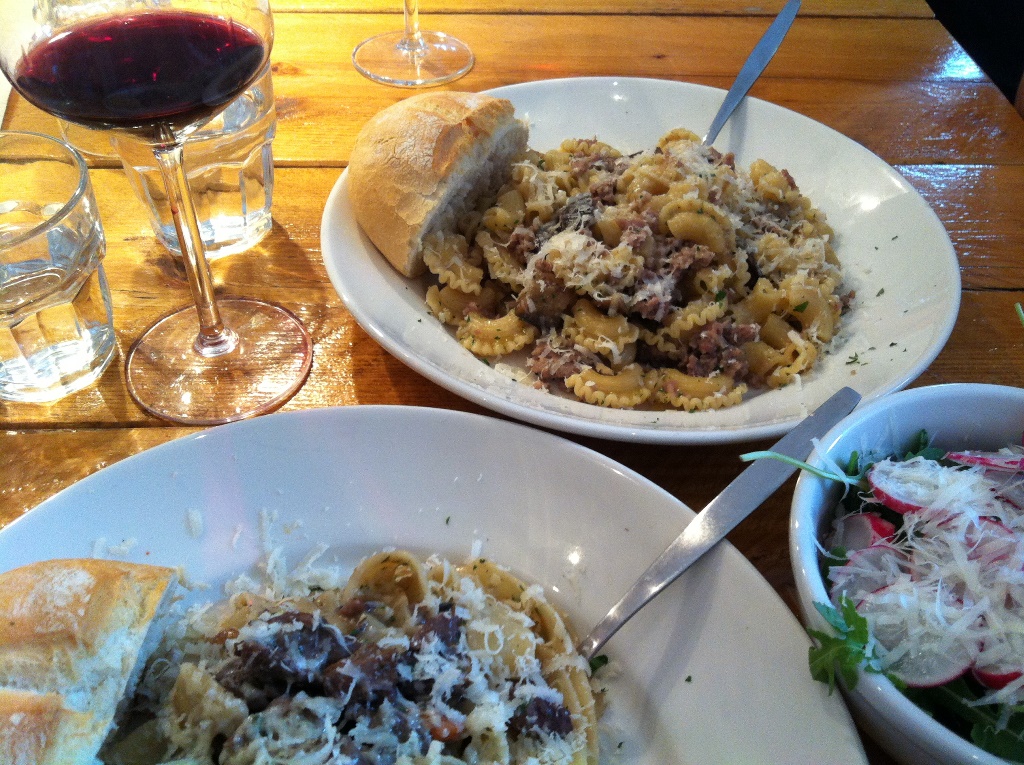 With its relaxed, communal seating and water to help yourself to, it feels more like you're at someone's house than in a restaurant. But the pasta is every bit as fresh and delicious as you'd expect from an Italian trattoria. Every day, Spaghetteria serves six changing pasta dishes for between €9 and €14. Craving something sweet? Order a tiramisu or sgroppino for afters.
Jacketz (British, jacketz.nl)
Jacket potatoes are the quintessential budget British lunch dish – the classic baked beans and cheese version being loved by many a student and hungry office worker at lunchtime. But there aren't a lot of places in the Netherlands offering these hearty stuffed potatoes, which is why Jacketz is such a blessing. Try the chili con carne for €10.90 with a full jacket (or €9.90 for a half), or the veggie option of beetroot salad for €7.90 (€6.90 for a half). Jacketz has two branches in Amsterdam and one in Utrecht.
Alex + Pinard (general European, alexpinard.nl)
Part wine bar, part local neighbourhood café, Alex + Pinard combines an intimate yet relaxed atmosphere with a creative, seasonal European menu and beautifully paired wines. And the best part? The four-course chef's menu comes in at just €25.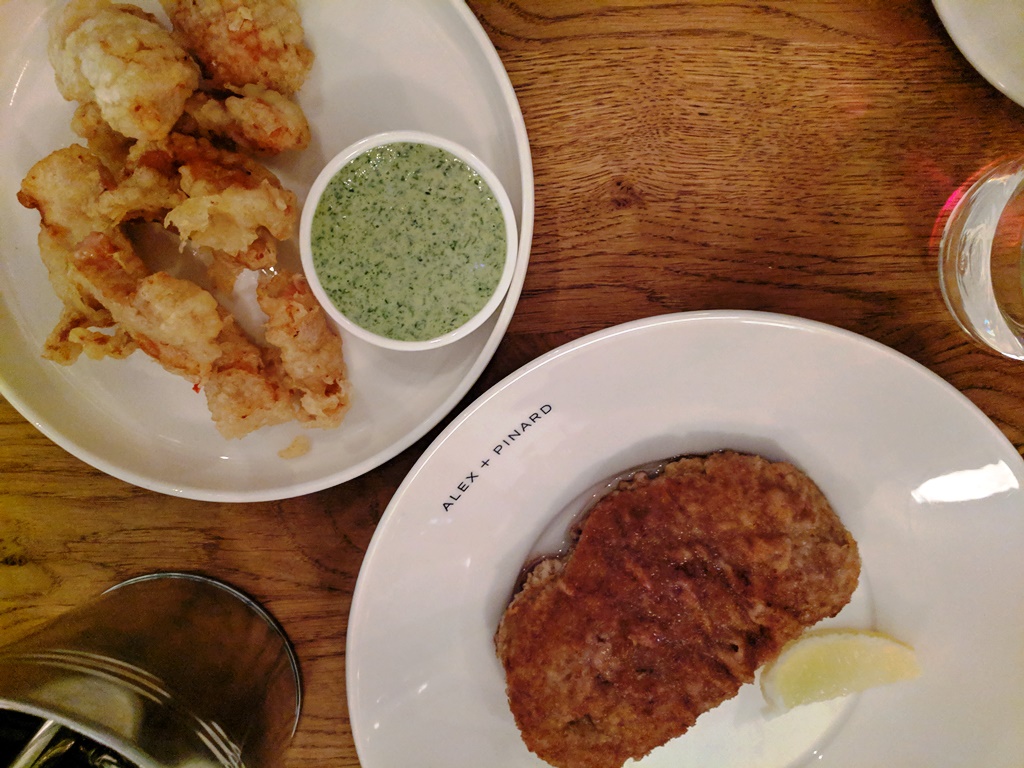 Admittedly, if you take the wine pairings as well, that's another €25, but if you just order a glass or two of the house wine (€4 per glass) instead then you can still go out for a celebratory dinner without breaking the bank.
2 Middle Eastern budget eats
De Aardige Pers (Iranian, aardigepers.nl)
For cheap but definitely cheerful food in West, look no further than Persian restaurant De Aardige Pers. Its no-frills interior and friendly service are backdrops to simple but delicious food: starters are all under €5, mains all under €15, and desserts are €4.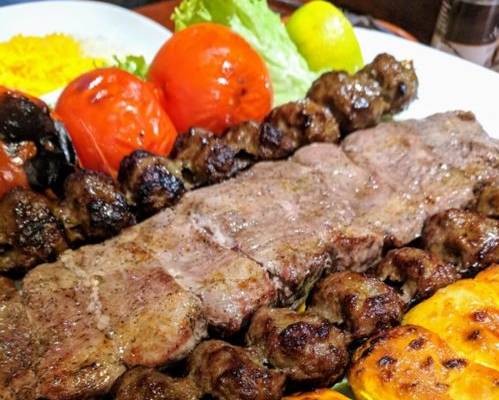 But I'd recommend getting the 'triple mix' and sharing between two people. That way, you'll get to taste three starters (with dippable bread) and three grilled meat dishes (with rice and tomatoes) for only €20 each.
The Lebanese Sajeria (Lebanese, thesajeria.com)
Tucked down the Negen Straatjes, The Lebanese Sajeria does pretty much only one thing but does it very well: manoushe. A thin flatbread baked very hot and very fast, manoushe is the perfect fast food for on-the-go. Try it with za'atar, halloumi cheese and salad (for a vegetarian lunch) or with spiced minced beef and hummus for a heartier, meatier option. The variously filled manoushe cost between €6.50 and €9.50 depending on which version you choose.
Batoni Khinkali (Georgian, facebook.com/batonikhinkali)
Georgian food has not yet taken off in Amsterdam, but that's perhaps surprising given how affordable and satisfying it is. At Batoni Khinkali, Amsterdam's only Georgian restaurant that we know of, you can eat a feast of khinkali (dumplings – €6 for three), vegan starters (€2 each) and acharuli khachapuri (€13.50) for the price of a few hipster craft beers.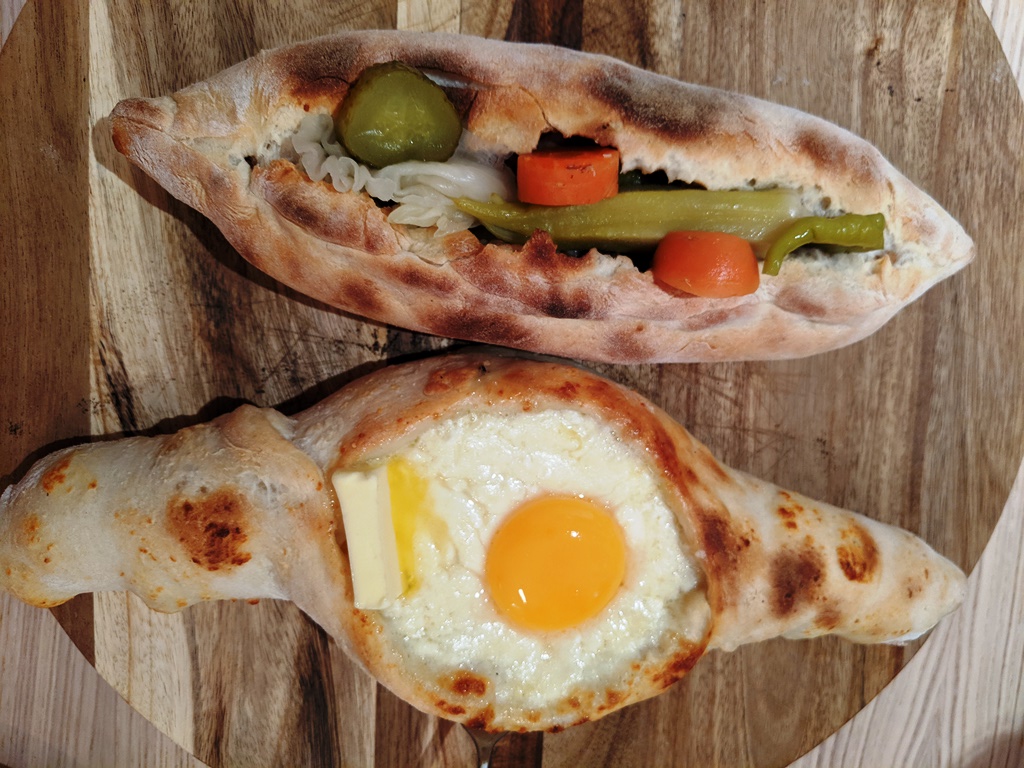 The unpronounceable acharuli khachapuri is the restaurant's signature dough dish, filled with oozing cheese, butter and egg yolk. It's not for those on a diet, but it's absolutely unmissable. Georgian wine isn't half bad, either.
3 Asian budget eats
Fou Fow (Japanese, foufow.nl)
It seems you can't turn a corner in Amsterdam without running into a new ramen restaurant – it's a trend that's taken the city by storm. The original – and still one of the best – is Fou Fow, now with two locations: one on Elandsgracht and their second branch on Van Woustraat. Fou Fow's basic ramen dishes, whether tonkotsu, shio or vegetarian shoyu, are all €11, while the classic versions of the same dishes (with extra toppings, including the signature marinated egg) come in at €13. While none of the ramen in Amsterdam is particularly expensive, Fou Fow's is definitely some of the best value.
Yuan's Hot Pot (Chinese, yuanhotpot.com)
If you've never tried a Chengdu-style hotpot, you've been missing out. Think steaming vat of broth (with either a spicy or a mild base) into which you can dip a huge variety of meat, fish, veggies and even noodles.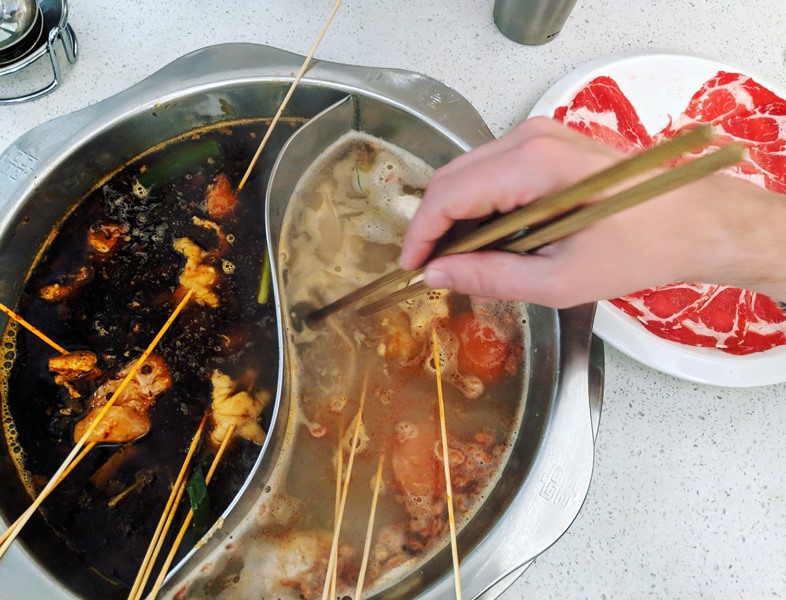 Yuan's Hot Pot is arguably the best in Amsterdam for the authentic Sichuan experience, and their prices are extremely reasonable: around €10 per person for the soup, plus whatever you want to dip in it. Ordering is done via iPad so you can see exactly how much you're racking up on your bill. Be sure to make a reservation – Yuan's is extremely popular!
Bar Mash (Thai, barmash.nl)
Located on the ever-buzzing Gerard Douplein, Bar Mash makes the budget-eats cut especially for its lunch deals. Everything from pad Thai to curries to stir fries is under €9, but tastes like it should cost more. In the evenings, portions are a little bigger and prices are a little higher, but Bar Mash is still a very affordable option – especially considering its location. It has a well-stocked bar, too.
The BAB (Korean, thebab.company)
Korean food has yet to really take off in Amsterdam, but you can get a taste of it – and at reasonable prices, too – at The BAB, close to Oosterpark.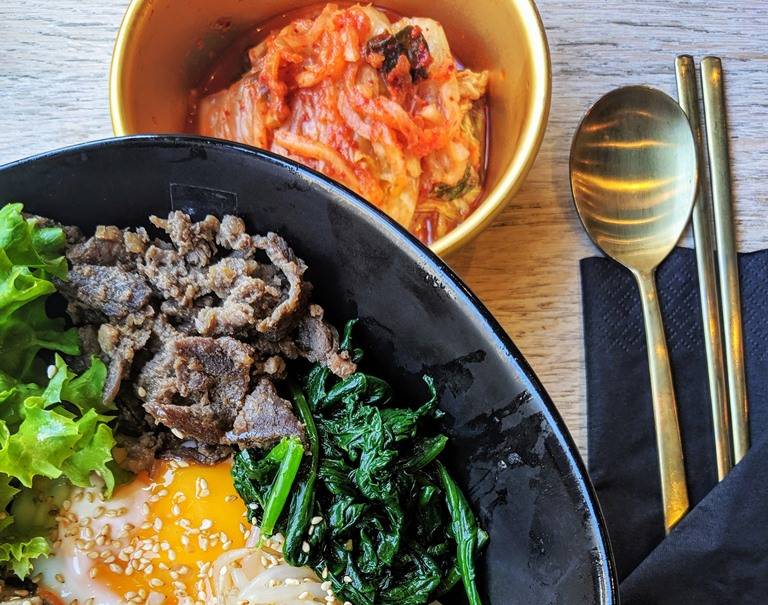 Their bibimbab – a comforting bowl of rice, veggies, Korean-style beef, a fried egg and plenty of spicy-sweet gochujang sauce – will set you back €12 (veggie version also available for €11) and makes for a filling lunch or dinner.
Saravana Bhavan (Indian, saravanabhavan.com)
Saravana Bhavan's Amsterdam branch is one of a global chain of vegetarian, South Indian restaurants. But don't let that put you off, because it is truly Amsterdam's best Indian restaurant. If you're on a tight budget, skip the curries and just order one of the fabulous dosas – all priced between €7 and €9.50. These crepe-like discs made from rice and lentils are so huge, you won't want or need to eat anything else. The cheese masala dosa, stuffed with spicy potatoes and cheese, is one of the most popular and extremely good value for money.
4 African and American budget eats
Spang Makandra (Surinamese spangmakandra.nl)
Surinamese food is always a good bet for those on a budget, and a firm favourite in Amsterdam is Spang Makandra. Try the roti – a curry dish with egg, potatoes and green beans, all mopped up with the eponymous roti flatbread – for between €7.50 and €10, depending on whether you go with chicken, beef, lamb or a mix. Spang Makandra now has three locations in the city (de Pijp, Oost and Nieuw-West), and offers takeaway as well as dining in their simple restaurants. No alcohol.
Rotisserie East (American, rotisserieamsterdam.nl)
Chicken, chicken and triple chicken – that's what you want to order at Rotisserie, whether you go to their West location on De Clercqstraat or their Oost location on Beukenplein.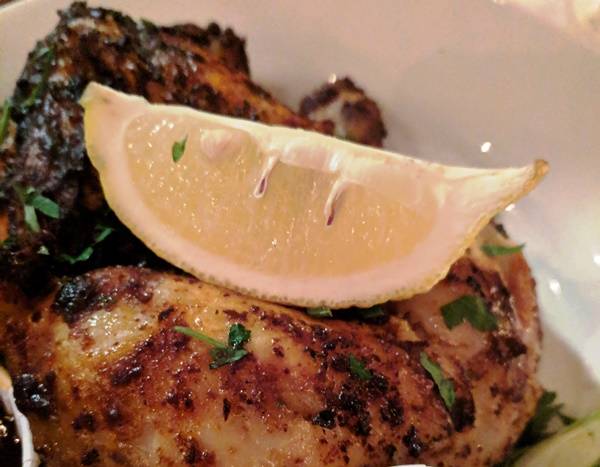 Half a chicken from their rotisserie grill will set you back €10.50, or try their fried chicken thighs with ranch dipping sauce for €11.75. The sides are all reasonably priced, and if you want to push the boat out try a cocktail for under €10.
Semhar (Ethiopian, semhar.nl)
There are a few Ethiopian and Eritrean restaurants in Amsterdam, all of which tend to be pretty good value. A firm favourite is Semhar on the Marnixstraat, which serves up all sorts of colourful, spicy, sauce-laden dishes on the traditional enjera pancakes (a large platter costs €16). Their sour tang and spongy texture isn't to everyone's taste, but if you're a fan of East African food you won't be disappointed.
For more Amsterdam restaurant reviews, check out the Amsterdam Foodie
Thank you for donating to DutchNews.nl.
We could not provide the Dutch News service, and keep it free of charge, without the generous support of our readers. Your donations allow us to report on issues you tell us matter, and provide you with a summary of the most important Dutch news each day.
Make a donation