'Keep your phone in your pocket or risk a €95 fine': cycling law comes into force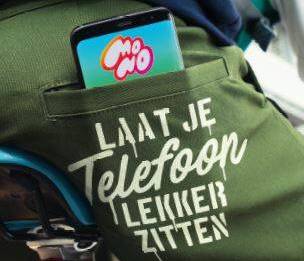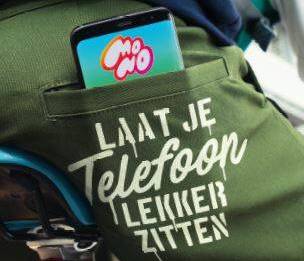 It's a daily sight: cyclists with one hand on the steering wheel and the other on a mobile telephone. But from Monday, using a handheld device while bicycling will risk a €95 fine as rules for cyclists are brought in line with other traffic users.
A government campaign started on Friday appealing to people's fiscal feelings, with a slogan: 'leave your phone alone and keep €95 in your pocket'. The law refers to all mobile devices that are not being used in a hands-free mode, which means tablets, music players and cameras are also included.
Cora van Nieuwenhuizen, transport minister, said in a government statement that the new law is based on common sense: 'In the traffic, an accident is just around the corner and this is why it's important for all road users – including cyclists – to keep their eyes and minds on the road and not on their telephone screen,' she said.
'We often think that we can multi-task in traffic, but we really can't, so please drive in "mono" mode. I have a clear message for all cyclists: keep your phone, and your €95 in your pocket.'
Red light
Police confirmed to the NOS broadcaster that from Monday 1st July they would be enforcing the law immediately, although it only applies if the bicycle in is motion: at a traffic light, for instance, it is permitted to hold a phone.
Vehicle drivers, too, will only be permitted to be using a mobile device if it is in a holder – bringing the country in line with many others – and tram drivers have the same rules but a €240 fine. Car and scooter drivers risk a €160 penalty.
Ivar Noordenbos, spokesman for the transport ministry, said there are no precise figures for how many accidents are caused by phone use while cycling, but this clearly leads to unpredictable behaviour. 'You can understand people are distracted,' he said. 'You can see the problem when you are on the street on your own bike, seeing people ride all over the way when they are on their phone.'
'There have been discussions for a number of years and the ministry managed to get a new rule through parliament: from Monday, the use of a cellphone on a bike is banned and the law has been broadened to ban all mobile devices in cars if you are holding them. The message is that the best thing to do is keep your eyes and focus on the road, and if you want to send a text or call, just stop.'
Drunk
Motoring and mobility trade body BOVAG said that while it wouldn't ask cyclists to have a driving licence, it campaigns against distractions while driving. Paul de Waal, spokesman, told DutchNews.nl: 'If you are busy with your smartphone, you are as distracted as if you were drunk. It sounds patronising, but we think it's important,and a ban is a first step. Cyclists are vulnerable and need to pay attention – but sometimes they don't.'
Some road users have protested that relatively vulnerable road users could be victimised under the new law. Prof Marco te Brömmelstoet, academic director of the Urban Cycling Institute, has tweeted that the so-called texting ban (#Appverbod) 'lays responsibility on the vulnerable road users'.
He has retweeted a series of comments he made late last year, where he added: 'Of course we all come across low lifes who should really pay more attention. But think about the signal we are giving to vulnerable groups.'
Tommy-Boy
However, for Michael Kulkens, the news is a relief. His 13-year-old son Tommy-Boy died while listening to music via his telephone on his bicycle in 2015 and Kulken's campaigning organisation TButterfly has since given road awareness lessons to 40,000 children.
'My son was cycling to athletics and wanted to find good music to play as the DJ that night,' he said. 'He was listening to a song called Butterflies – and that is the last song he heard. He looked at his phone, didn't see the car, and never got across the road.
'I can tell every child and parent, don't use it, but if the law says there's nothing wrong, it's very hard to give a good example only by educating people. If the kids know they might get a €95 bill, they will look out for the officers – and just looking out is good.'
Thank you for donating to DutchNews.nl.
We could not provide the Dutch News service, and keep it free of charge, without the generous support of our readers. Your donations allow us to report on issues you tell us matter, and provide you with a summary of the most important Dutch news each day.
Make a donation