To mark Holocaust Remembrance Day: Why I am proud to be stubborn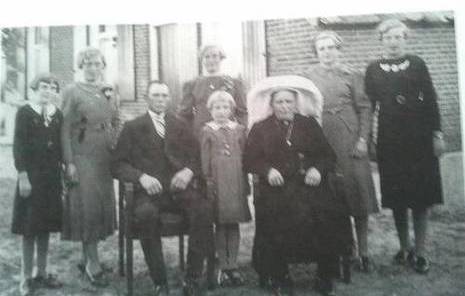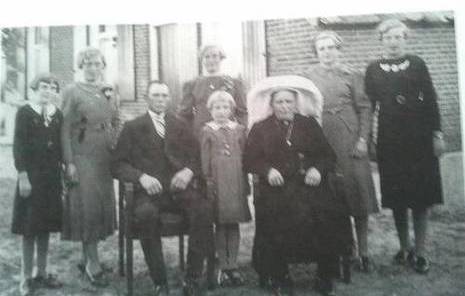 This grainy photography of a Dutch farming family is a testament to the stubbornness that led to a small boy being saved from the Nazi death camps.
Adrianus van de Berg knocked hard on the table. The village priest in front of him retreated in panic. Van de Berg was stubborn. He had stubbornness that was born out of countless Dutch raining mornings at the farm.
'The boy stayed here because I said so – and so it will be,' he said.  The priest tried to convince him that the dark skin Portuguese Jewish boy he was hiding in his farm might endanger his family, perhaps the entire village. But Van de Berg was stubborn.
My grandfather was stubborn too. A descendant of a Portuguese Jewish family that dealt with diamonds, he insisted on opening a record store in the centre of Amsterdam, risking ostracism from his family and the diamond industry.
When the Nazis took him and my grandmother, Sarah Viera, to the Westerbork labour camp, he stopped being stubborn and returned to his profession. He polished diamonds for the Nazis and it kept him alive for several months, until he was taken to Sobibor extermination camp in Poland.
But he made sure his son, my father, would survive. He handed him to a Christian family for safekeeping, and from the train that took him to Sobibor, he managed to throw a note to a Christian relative who was in the Dutch resistance, and asked him to take care of the child.
Members of the Dutch resistance during the Nazi occupation had to be stubborn. In those dark times, when a lot of Dutch preferred to cooperate with the Nazi regime, you had to be stubborn enough to transfer a three-year-old Jewish toddler from family to family, until they found the Van de Berg family and stubborn Adrianus.
Later they would call it heroism, but knowing the Dutch people as I do, I'm sure there was a lot of stubbornness there.
The van de Berg family: Adrianus, Maria and their six daughters hid my father in their farm at the village of Berlicum in southern Holland, until the end of the war. Adrianus, a Catholic Dutch farmer, insisted that my father would become part of the family, and so it was.
My father is also quite stubborn. For more than 30 years, he struggled with the bureaucratic mechanism of the Yad Vashem institute to make sure that Adrianus and Maria would receive the title of Righteous Among the Nations. In the end he succeeded, long after they passed away, and the title was given to their surviving daughters.
My grandfather, Uri Rodrigues-Garcia, was murdered in Sobibor on July 23, 1943. That day, 26 years later, I was born. I got his name, and apparently also his stubbornness. I insisted on following my path, even if it was different from my family. Even now I'm fighting the keyboard, struggling to suppress the thoughts about the Holocaust, about what it did to my father, to our family – but I'm stubborn.
Stubbornness is sometimes considered an annoying, negative feature. Perhaps this is why many people do not really like Jews – they are too stubborn for some tastes.
Holocaust Day is a day when I think about human nature, its conflicting and complementary aspects. I'm thinking about the Dutch who collaborated with the Nazis and turned over Anne Frank, and the Dutch who insisted on saving my father at risk to their lives.
Holocaust Day is a day when I am proud to be stubborn, a descendant of a stubborn family and a stubborn people who insists to remember and never forget. To remember what the Nazis tried to do and almost succeeded, and not to forget Adrianus van de Berg, a stubborn Dutchman to whom I owe my life.
Uri Rodrigues-Garcia is Home Page editor of the daily newspaper and news site 'Israel hayom' (Israel today). Married with two children, he lives in Jerusalem. His relatives (There is no blood connection, but he still considers them family) live to this day in Berlicum, Brabant.
Thank you for donating to DutchNews.nl.
We could not provide the Dutch News service, and keep it free of charge, without the generous support of our readers. Your donations allow us to report on issues you tell us matter, and provide you with a summary of the most important Dutch news each day.
Make a donation