Going Dutch in Amsterdam was a humbling experience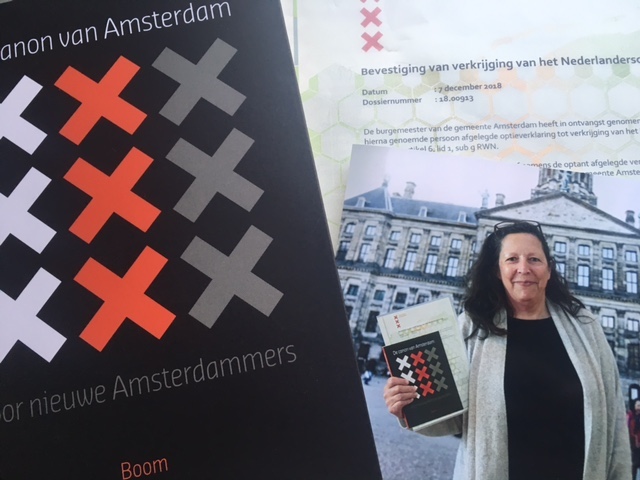 In February DutchNews.nl editor Robin Pascoe became Dutch. Not because she wanted to or because she felt that the time was right. She became Dutch because of Brexit.
I am, immigration department figures show, one of hundreds of British nationals who are taking Dutch nationality in response to Britain's crazed decision to leave the EU. For me it was a straightforward process. My husband is Dutch and we have been married for 30 years, so I can use the optieregeling – which means I get to keep my British passport as well.
I did not have to go through the process of inburgering – taking exams to show I speak the language and that I know how to apply for a job at Hema. All I would have to do, they said, was fill in a short form, provide a copy of my birth certificate, and pay €187.
I had, of course, lost my birth certificate, so I applied for a new one. Six weeks later it had not arrived and my appointment at the gemeente was coming ever closer. I phoned Britain. An official told me it had been sent by post and should have been with me weeks ago. She did not seem particularly bothered that it had been lost along the way and recommended I have a new one, this time delivered by DHL.
Seven minutes
DHL delivered my birth certificate super fast… in perfect time for my first appointment. I headed off convinced I would be there for hours. I was out again, I think, in seven minutes. My appointment was on time but I, alas, had not read the instructions properly and my birth certificate was missing that all important apostilate – a stamp to say the birth certificate that Britain had just send me was in fact the genuine article. Seems slightly over the top, but there you go.
Two weeks later I was back again… this time with that crucial stamp. Again unbelievable speed from the British authorities but I guess they are dealing with these things round the clock at the moment. And that, basically, was that. I paid the €187 and was told that I would get an invitation to attend a naturalization ceremony within three months.
Sure enough, a few days after I got a letter from the IND telling me that as a British national I should do nothing until they tell me what to do about Brexit, I got a letter inviting me to show up at the town hall and become Dutch.
National anthem
It was not something I was looking forward to. I had heard horror stories about everyone having to sing the national anthem. As an avowed Republican, I decided to cross my fingers so I would not have to swear any allegiance to a king. There was, of course, coffee and tea on offer in true Dutch style when we arrived. We sat, sandwiched between a young African couple with their baby and a group of Dutch youngsters with a friend I took to be French. Then it all began, and how I wished it was already over.
We listened to a brief homily about what being Dutch is all about (equality, freedom of speech) watched a short video about what being Dutch is all about (equality, freedom of speech and lots of canals, windmills and orange) and then it was time.
One by one the new Dutchies in the room walked to the stage, said 'dat zweer en beloof ik' and were given their official certificate of Dutchness and a book about key moments in Amsterdam history. They were then applauded by everyone in the room and had their photo taken in front of a photo of the palace on the Dam.
There was a big pile of books on the table in front of the civil servant in charge of it all. I had seen from the list when we came in that I was third from the bottom. It was going to be a long afternoon.
Names
One by one the names on the list were called to the stage. There were lots of names I took to be eastern European, bright young girls and men who raised their right hand and swore in crisp, accented Dutch. There were a couple of women, perhaps from Somalia, who came on stage with their husbands and children, dressed for the occasion in their best clothes, and who posed for the photo in a happy family group.
There were several young women in Islamic headscarves who were obviously born and raised in Amsterdam, judging by their accents. One young man in a suit and bright orange tie hugged and hugged his male partner after making his pledge.
The wife from the young African couple in front of us came back from the stage beaming with delight. An elderly Turkish woman – grandma perhaps – who could not get the words out straight and collapsed in giggles after her fifth attempt, posed happily with the rest of the family for the photo to great applause.
New Dutchies
It was a never-ending stream of new Dutchies from all over the world. As the pile of books on the stage diminished, I knew my time was getting closer. When my name was called I walked to the stage and made my pledge.
Then it was all over. At the back of the hall there was 'wijn en fris', plus the classic Dutch staples – herring, bitterballen and cheese. We joined the queue for a bitterbal and a glass of wine and watched as one of the catering workers tried to deal with question about whether the bitterballen were halal or not. He did not know the answer and muttered under his breath.
Group by group we filed out of the room and went our separate ways. I was left feeling enormously humbled. There was me, loud-mouthed Brit with my cynicism about the whole process, surrounded by people who had gone through so much to get here, who were refugees, or partners who had given up lives in another country and who were just so delighted to become Dutch.
I have not yet applied for a Dutch passport but my certificate of Dutchness sits in the in-tray in my office. The whole process was, all in all, a lesson in humility. Despite Brexit and all the nonsense that it brings, I realise that I am one of the lucky ones.
Thank you for donating to DutchNews.nl.
We could not provide the Dutch News service, and keep it free of charge, without the generous support of our readers. Your donations allow us to report on issues you tell us matter, and provide you with a summary of the most important Dutch news each day.
Make a donation