Blogwatching: Keukenhof, the Netherlands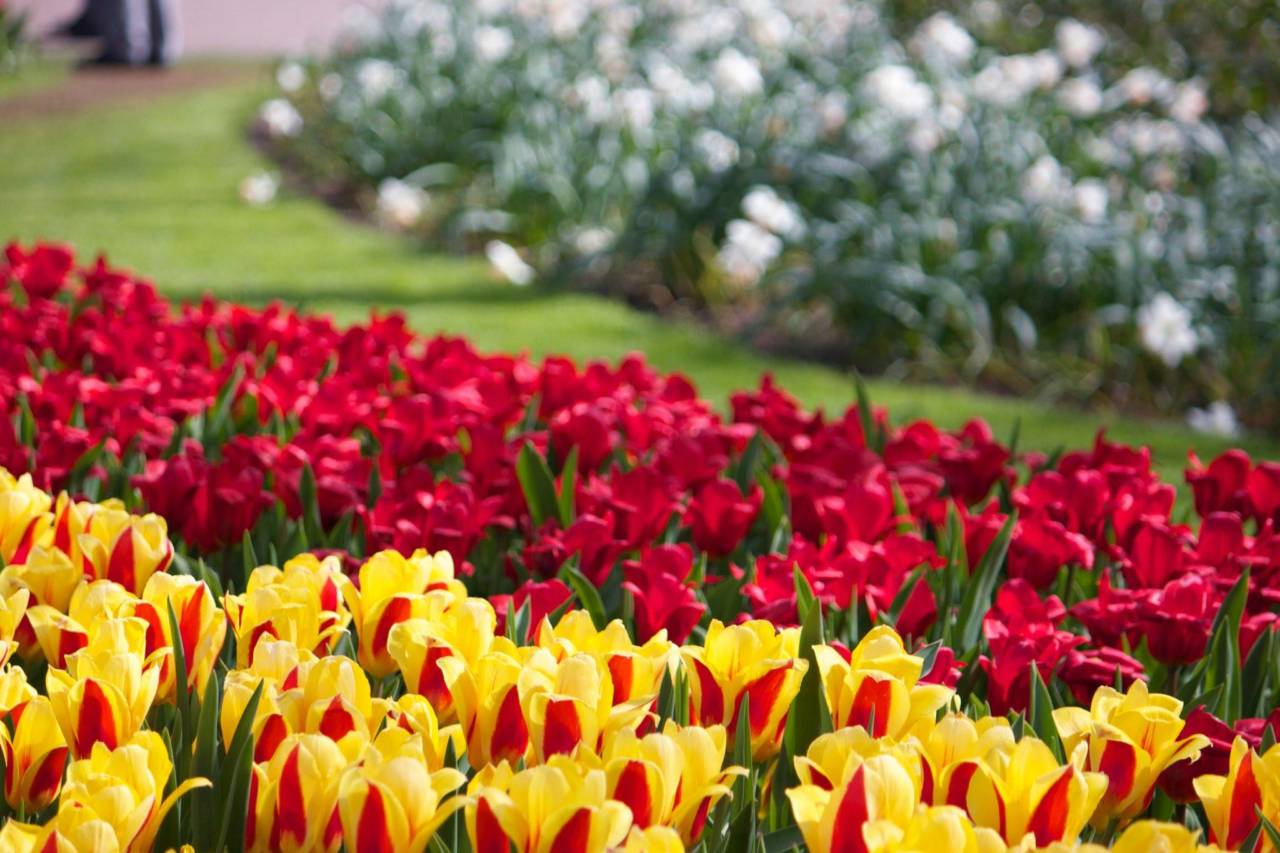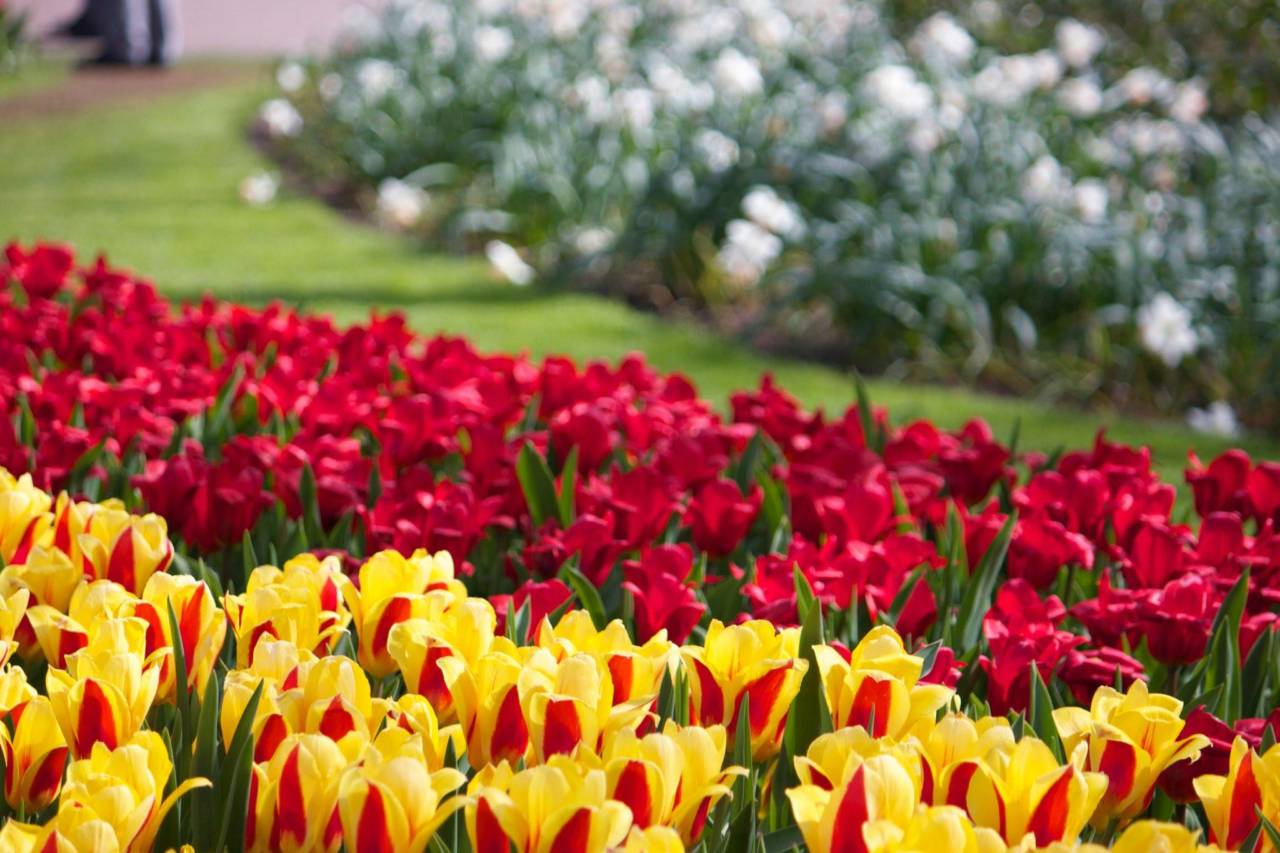 Melissa Birdwell is behind the blog Mommy on a Mission. She's a mother of two living in The Netherlands and moved here from Texas 10 years ago. 
I was asked yesterday (I think though maybe it was two days ago) why I have never written a blog about The Keukenhof. I have to admit I didn't have an answer. I have been many times while living in the Netherlands and generally enjoyed the experience. Every year I contemplate taking the kids.
Even better, every year I promise myself I will plan a grand adventure and rent bicycles and bike through the tulip fields taking magical pictures of my joyous kids. Then we would stop for a picnic on this perfect sunny day and I would feel pro-Dutch and all my friends on FB would be jealous of my perfect life amidst the tulips.
I have never planned that biking trip and I only took the kids to the Keukenhof once a few years ago. It was a less than a joyous experience. I mean, it was fine. I'm not sure what I was more annoyed with: my kids at the Keukenhof: the tourists at the Keukenhof, or myself at the Keukenhof.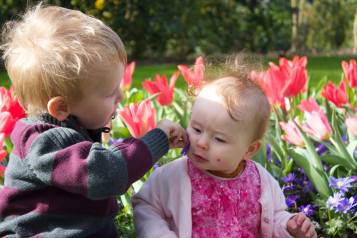 My kids
They can't touch or pick the flowers. There was a lot of grass they couldn't walk on. They were bored and moany and just wanted to run around and climb on things. I said the word "no" more on that day than I do in a month and it got really stressful. Looking back, I should have implemented a "stay on the path" policy from the beginning.
Or, maybe, just chilled the fuck out a little. I was still in my "perfect mom who doesn't raise her voice and never drinks" phase of parenting. I imagined people judging me for my boisterous children interrupting their serene tulip viewing experience. I am certainly not that person anymore. Thank goodness. It was so very stressful.
Tourists
Fucking hell I can't tell you how busy it was. There were people everywhere. All standing around, taking pictures, pointing at things, just overall being annoying. I completely understand that they thought the exact same thing about me, but whatever.
My personal bubble is sacred. Closer to closing time it started to empty out a little and I enjoyed that last hour or so very much. I felt free to move around and let the kids run (the website even says that the best time to be there is first thing in the morning or just before closing time.
Me
I was nuts. When someone asks me what I think of the Keukenhof my standard reaction is "driving 2 hours to spend a small fortune to hopefully get one pretty picture of your ungrateful kids in front of a pretty flower" (I'm such a delight, aren't I).
Logan, honey, sit next to your sister. No, not like that. Like this. Can you put your arm around her? NO? OK. I can work with this. Can you look at the camera, honey? Why are you making that face? Just smile normal. Riley, baby, look at mommy! Look at mommy! (she was still pretty little at the time) Logan, remember. NO!! STOP! PLEASE!!!!!
Repeat that for an entire day. I was a crazy lady on a mission. Again, I am a much softer, gentler, boozier (if that's even a word) person now so I think it would go differently now but that psycho mom still scares me a little.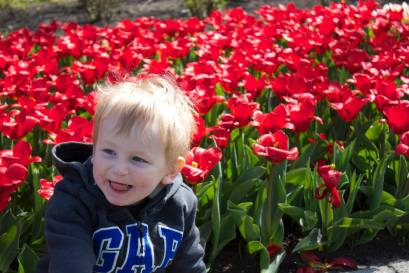 So what would I do if I were going to the Keukenhof with the kids tomorrow? First of all, layer. It is colder up north. I would resist the urge to put the kids in their prettiest clothes for the pictures and embrace the fact that they will most likely be wearing a coat or at least a sweater all day so that might as well be warm and comfortable. I would bring LOADS of snacks, an army runs on it's stomach, after all. It is so freaking expensive to get in that I can't afford eating out there all day as well.
But this brings me to another point… How are you going to transport all that food (and for the love of god forget the juice boxes)? We have a red wagon that I bring on all day outings like this. It's big and often difficult to navigate through crowds but I think it's worth the bits of frustration. The kids are still at a size where they can both sit in with the food bags but it is a super tight fit.
I would also save the playground for later in the day. After lunch or later in the afternoon if possible. I have known parents who started in the playground and found themselves stuck there for most of the day and when they left, the kids cried that they were bored and wanted to go back. Get the boring stuff out of the way first.
Transportation
You can take a car or public transport. There are plus and negatives to both, right? I mapped out the trip by car and door to door it will take just under two hours. It will take 2 hours 45 minutes bu public transport. If you drive you will have to pay €6 to park and pay for gas (in my car it takes about a half a tank of gas to get to Amsterdam so it would be about the same. So for me that's around €35).
If you go by public transport you will have to pay for 2 buses and at least one train. For more than one person it is, unfortunately, probably cheaper to go by car although I did see a special on the NS app for public transport and entrance for something like €35  and that's a good deal. But I have no idea if that's a limited offer so check it out and don't get mad at me if it's gone. Why is it so expensive to take the train here? I know they are nice and well cared for but jeesh. It shouldn't be cheaper for two people to drive than to take public transport, but whatever.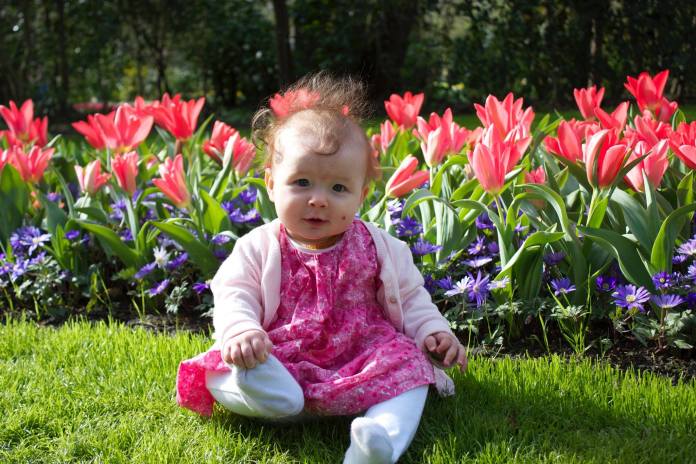 So why am I writing this now having not been to the Keukenhof in a few years? Perhaps it's because I was asked why I hadn't written about it. Perhaps my backlog of super awesome places is massive and I thought I could start catching up on it (this is totally true).
In reality, I think I am trying to convince myself to actually take the kids this year. I'm a calmer parent, my kids are a bit older, and I've developed this amazing "fuck you, I'm nearly a native" attitude that is essential in dealing with HORDES of tourists. After all, I can now handle Amsterdam like a champ.
But the ideal day would be on a study day that is coming up and I have a super busy day before that and I'll have limited time to prep. And it is super expensive. See that? I'm already trying to talk myself out of it.
I would like to take them this year. If I do I promise a post about it and I'll update anything that is needed. But I'm not going to promise anything.
This was first published on Mommy On A Mission.
Every month we feature a blog post from one of our favourite bloggers. Interested? See if your blog meets the criteria to be included on the site.
Thank you for donating to DutchNews.nl.
We could not provide the Dutch News service, and keep it free of charge, without the generous support of our readers. Your donations allow us to report on issues you tell us matter, and provide you with a summary of the most important Dutch news each day.
Make a donation