Dutch destinations: Go south and mooch around in Maastricht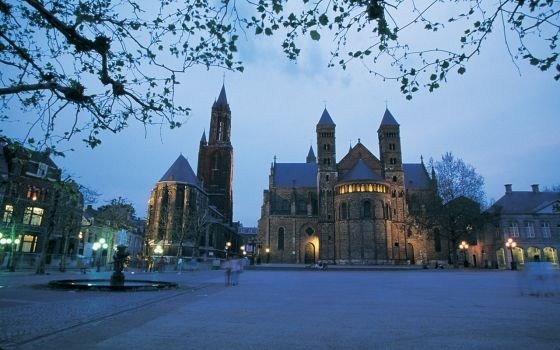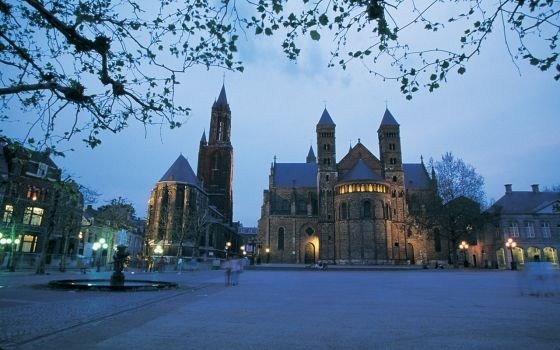 Maastricht is one of the oldest cities in the Netherlands, and it elegantly combines classic architecture with modern twists. Here you'll find a vibrant bookstore and coffee bar in a centuries-old cathedral, electrifying boutiques located along cobblestone lanes, and what some say is the best bar in the country. 
As one of the country's most gorgeous (and strategically located) cities, it should come as no surprise that various empires have tried to seize Maastricht over the years. No one can quite agree on its exact origins. Celts lived in the area at least as far back as the 5th century BC, and the Romans showed up about 600 years later to build a bridge over the Meuse River that now runs through the centre of the city.
Servatius, Maastricht's patron saint, is said to have died there in 384 AD, and a stone church was built over his grave in the 6th century. It was gradually expanded and redeveloped into the majestic Basilica of Saint Servatius that's still located in the Vrijthof, a square in the city centre.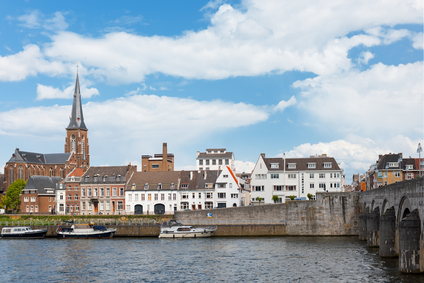 Maastricht played a vital role in the Carolingian Empire and the Holy Roman Empire, and its location made it quite coveted between the 16th and 18th centuries. Despite its fortifications, some of which are still standing, Maastricht was invaded by the Dutch, the Spanish, and by the French no less than three times during this era.
Maastricht was also the first Dutch city to be liberated by the Allies during World War II. It hosted a series of councils roughly a half-century later that led to the signing of the Maastricht Treaty, which paved the way toward the establishment of the European Union and the Euro. A series of development projects in recent years have rejuvenated several sections of the city, helping to make it one of the region's most important economic and cultural centres.
Five things to do
Find out what's just below Saint Peter's Mount
Saint Peter's Mount is home to an 18th century fortress, but what lies below it is also an important historical site in its own right. Local miners began collecting the limestone within the mount for building materials a millennium ago. Their toil resulted in over 80 km of caves that were used by the locals as a refuge during various conflicts. The caves served as the hiding place of Rembrandt's masterpiece The Night Watch during World War II as well.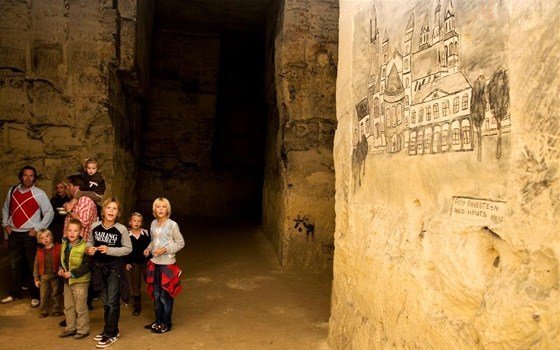 Daily tours now lead visitors under a huge dome and down a Gothic hallway while pausing at murals left on the walls by various inhabitants over the years. Don't forget to bring a coat, temperatures in the caves hover around 10 C. And be warned, only a very limited number of tickets are available at the Grotten Zonneberg entrance, so you should buy your ticket at the tourist office in town. There are also a couple of signposted walks you can follow which take you in to the heart of the Limburg countryside.
Visit the 'book church'
Located in what is now Maastricht's main shopping district, Dominicanenkerk is over 700 years old, and it boasts lovely interior arches and frescos. Unimpressed, Napoleon used it to store equipment and military personnel while invading the region in the 1790s.
Along with serving as a house of worship, the church has been used as a warehouse, an archive, a printing house, and even a place to store bikes. It was converted into one of Europe's most unique bookstores following a restoration project in the mid 2000s.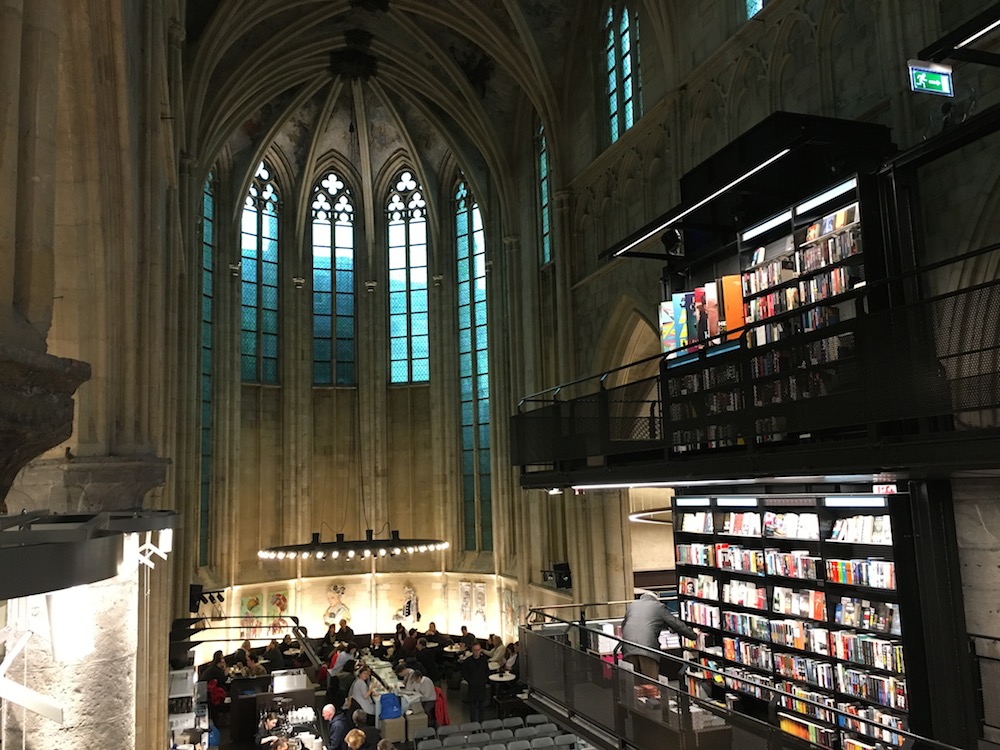 Go for a stroll
Overlooking Amsterdam, Maastricht is home to the most rijksmonumenten (national historical sites) in the country, around 1,660 at last count, which helps make it one of the nation's best cities to simply walk around in. There are several towers along with a portion of a city wall built in the 13th and 14th centuries that are worth a few snapshots, especially if you've got someone with you who's willing to pose in front of the cannons out front. There's also the still somewhat intimidating Helpoort ('Hell's Gate') that was built around 1230 and is the oldest city gate in the country.
If old military fortifications aren't your thing, there are plenty of churches, squares, canals, and neighbourhoods filled with other classic architecture. The Jekerkwartier is just one of the latter, and it's home to several of the city university's facilities as well.
Explore several centuries of art
Maastricht's Bonnefantenmuseum houses about eight centuries worth of art within one of the city's most recognisable buildings (just look for the spaceship-shaped cupola). Along with masterpieces by Van Dyck, Rubens, and Brueghel, there's an impressive collection of modern works.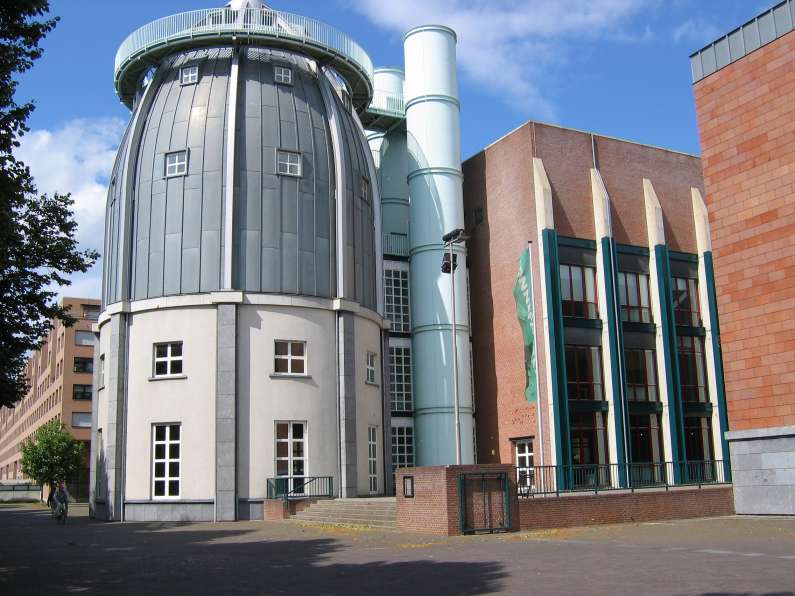 Reach great heights
At a little over 322 metres tall, the Vaalserberg is the highest point in the Netherlands. Many other countries might consider this merely an average hill, but it's also home to Drielandenpunt, a three country-point where the borders of Belgium, Germany, and the Netherlands meet. Its lookout towers offer great views of the surrounding region and, oddly enough, a nearby labyrinth which is the largest in the country.
The location itself is a bit of a tourist trap and can get very overloaded with visitors from all three countries, so avoid weekends if you can.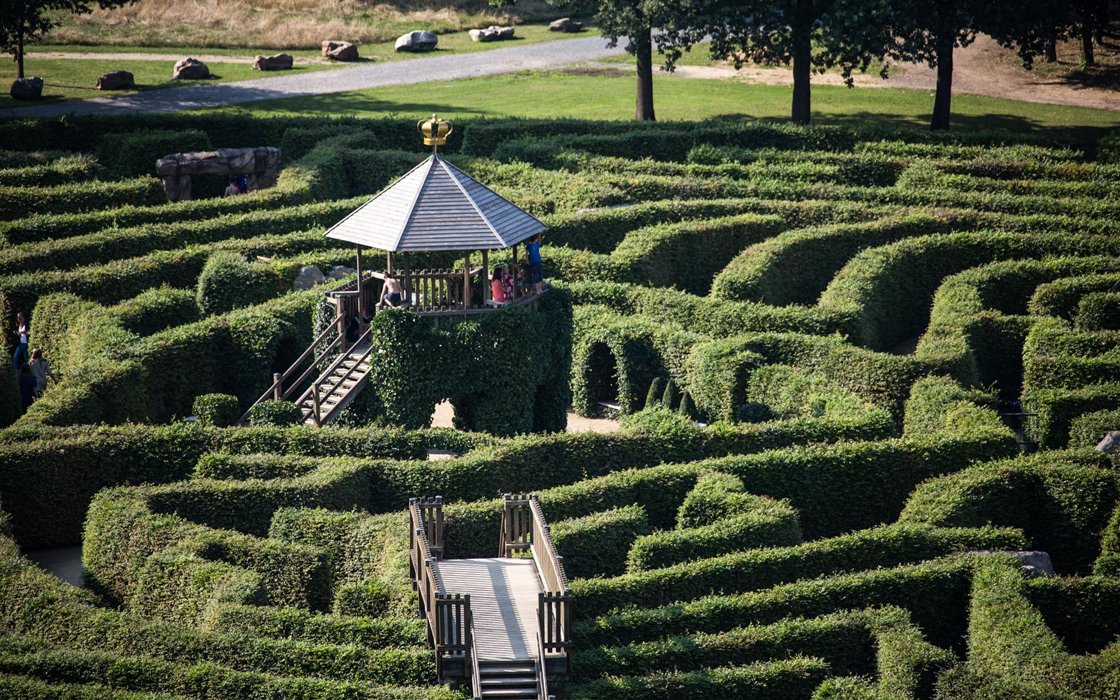 Eat & Drink
What exactly is a Limburgse vlaai? Well, it's not quite a pie and it's not quite a pastry, but it's definitely delicious. It's also pretty much the region's official dessert. You may have tried one already from the supermarket, but to experience the real deal, one must order it in a proper Limburg cafe or bakery.
Many places around Maastricht serve vlaai, and which one has the best is a topic that's probably been debated for decades among the locals. Further complicating things, there's at least 30 different varieties. De Bisschopsmolen currently has no less than nine on the menu at their bakery and cafe. If you'd like to try your hand at making your own, they also host vlaai workshops.
For lunch, try TiramiSu for a quick Italian sandwich on the go. They also have vegetarian and vegan items. Livin' Room is an adorable cafe specialising in organic food with hip furniture and decor that's great for breakfast or lunch. There's also Petit Cafe Moriaan, a cute lunch spot that claims to be the smallest in the Netherlands. KAFETHÉA is a trendy coffee joint and vegan bakery that's popular among university students and has a bar made out of old books that's destined to wind up on Instagram countless times.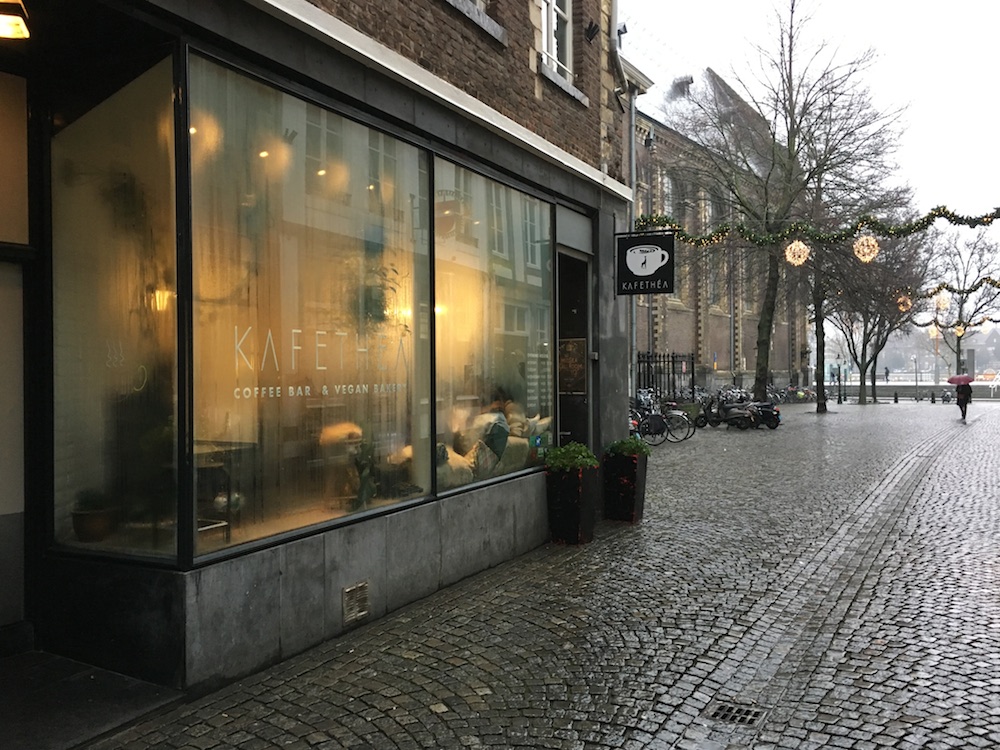 If you have a hankering for a total gut bomb, head to With Love Burrito. Their menu is a wonder to behold and their homemade hot sauces have names like Spark's Horse Killer and Devil's Perm. If you're feeling particularly brave, or are simply incredibly hungry, try the Jesus Burrito. It contains every type of meat they've got in the kitchen, as well as scrambled eggs.
Those searching for a much more refined experience will find it at Restaurant Chateau Neercanne. It offers an elegant menu of French dishes and seafood along with outstanding views of both its baroque gardens and the Jekerdal Valley.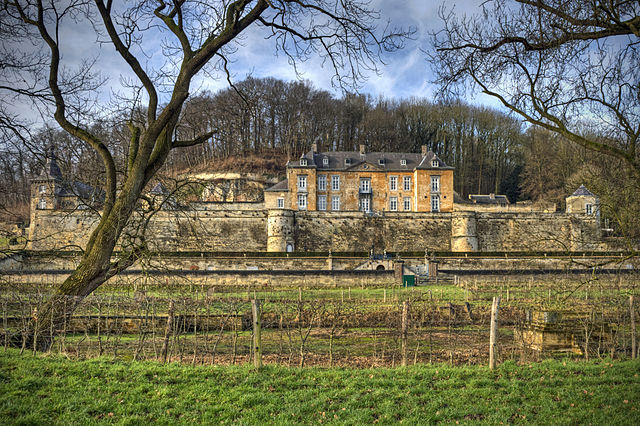 The chateau's stables have been converted into a more low-key cafe called Restaurant l'Auberge that's a nice spot for lunch or a coffee with a pastry. It also hosts much more fancy dinners that have earned it a Michelin Bib Gourmand award. If you head out there, be sure to check out the wine cellar.
For drinks, try Mr. Smith, a somewhat mysterious cocktail bar located in a former cellar.
Maastricht is also home to In de Karkol, voted the Netherlands' best bar in 2016. The wood-panelled bar has friendly staff, great atmosphere, and a large painting on one wall emblazoned with a slug that explains its name and overall mantra, which serve as a testament to the virtues of taking it easy and enjoying the good things in life.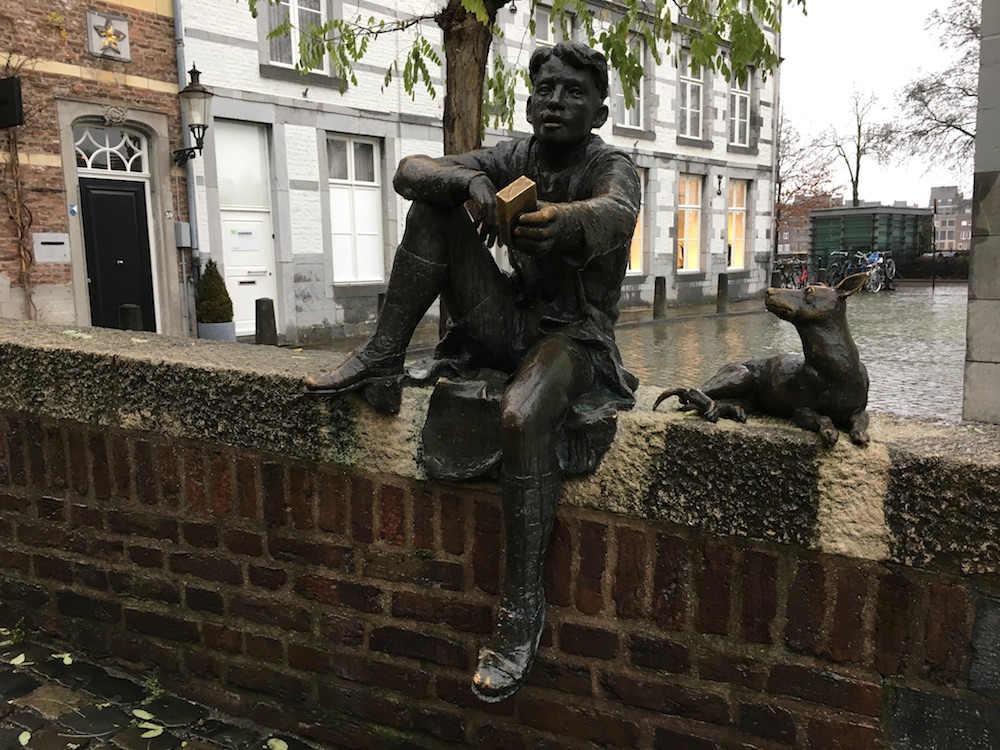 Where to stay 
Kruisherenhotel is the only five star hotel in the region. It's housed in a 15th century monastery along the Kommelplein and each one of its 60 guest rooms features unique art and decor. Teaching Hotel Château Bethlehem dates back to the 13th century and is operated by hospitality students. There's also Designhotel Maastricht that's located a short walk from the train station.
How to get there 
Driving down to Maastricht from Amsterdam usually takes a little over two hours. The train journey from Amsterdam Centraal can run between 2.5 and 3 hours.
When to visit
As with any other city, it all depends on what you're looking for. Even a stormy day in the dead of winter can be a great time to visit Maastricht if you're content with sticking to the cafes and museums. Spring and summer are obviously better times to stroll along the river or check out the city's classic architecture.
If Carnaval isn't your cup of lager, you might want to skip visiting Maastricht during its annual hootenanny, which attracts big crowds. The city and surrounding region also host music and cultural events throughout the year. You can learn more about them here.
Thank you for donating to DutchNews.nl.
We could not provide the Dutch News service, and keep it free of charge, without the generous support of our readers. Your donations allow us to report on issues you tell us matter, and provide you with a summary of the most important Dutch news each day.
Make a donation