Partner content
Why Dutch entrepreneurs need to know how to do SEO
Thousands of people in the Netherlands, including DutchNews.nl readers, are online entrepreneurs. But what do all of these people have in common? They develop and promote their business through a website. However, not everyone's website gets visitors from search engines. We're going to let you in on a secret, but to do that, we need to dive into the mysterious world of SEO.
As you may know, SEO stands for Search Engine Optimisation and is basically a method that ensures that your website gets on the radar of search engines like Google or Bing and is then displayed on their search results for relevant queries. Just imagine, according to the Internet Live Statistics, Google processes over 40 000 search queries every second on average, which translates to over 3.5 billion searches per day and 1.2 trillion searches per year worldwide.
Why your website appears in search results and what position it occupies

Let's assume, you have a website (or are planning to have one) and you've decided to add a new page to it. In time, search engines will find this page (most often via links) and save it on their servers.
When users Google something (enter a search query), the search engines compare the query to the information stored about your page and define how the page corresponds to the query. If the search engine believes that the page properly corresponds to the user's request, it will display it among the 10 SERP (search engine results page) links.
It's literally impossible to find out all the details about how search engines determine whether a page matches a query, as it's one of the best, if not the best, kept secrets of search engines.
Let me guess – now you're wondering which position your site occupies on the search engine results page, right? Well, to find it out, you can simply enter a relevant query into the search bar and see the results for yourself. However, the SERP will be affected by your search history, location, and language. If you visit a certain site often, the search engine is more likely to show it to you among other results.
In order to see more accurate results, it is better to use special tools, such as SE Ranking's Keyword rank checker. Usually, websites are optimised not for one keyword, but for many of them – ten, fifty, hundreds and even thousands. For this reason, it's impossible to check every query manually. When optimising a site, it is very important to know the real website rankings – the way users see it. This is the only way you can control your SEO success and make the right decisions.
How to choose effective SEO tools and how your business can benefit from them
To fully benefit from using special SEO tools, you need to make sure they have regional databases that specifically include your country – for example, the Netherlands. SE Ranking's Competitor SEO/PPC research tool has a database on Google Netherlands that contains 19,206,618 Dutch keywords, 38,561,810 domains and 50,319,465 search suggestions.
Using this database, you can discover your competitors' (or any website's, for that matter) keywords for paid and organic search, find out which pages bring in the most amount of traffic and discover the most popular and effective ads. With the power of this information, you can analyse your competitor's, customer's or your own site and use the data to adjust your SEO and marketing strategy.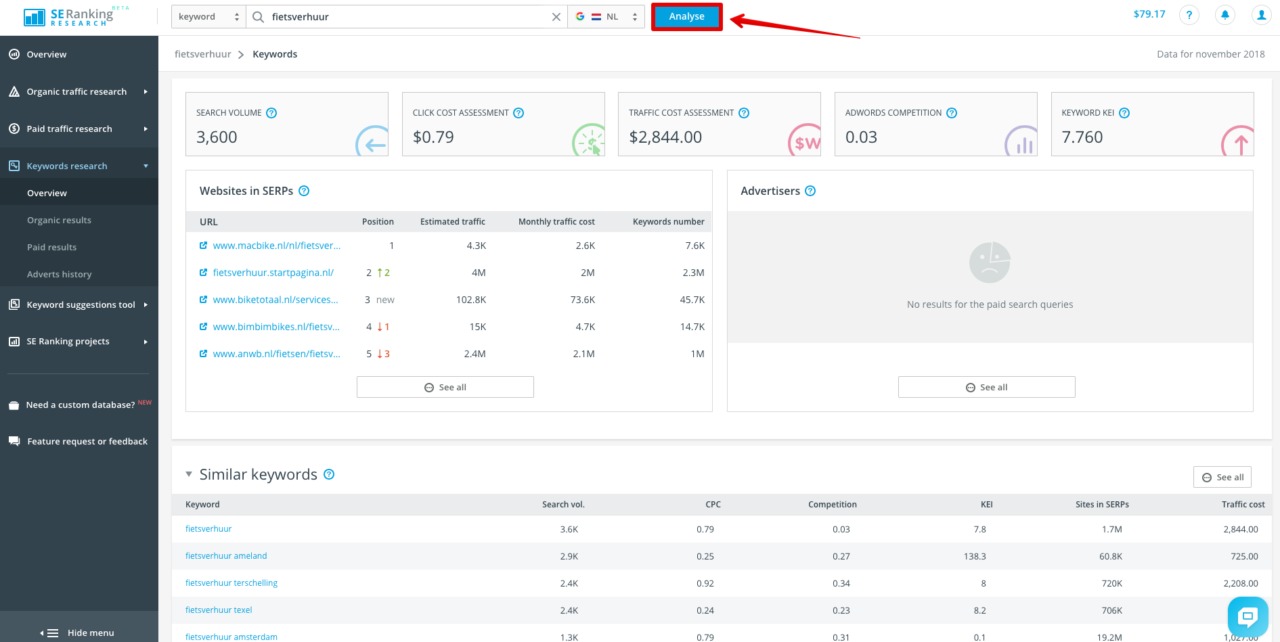 What are the most popular sites in the Netherlands and why
We've used SE Ranking's internal database to define the most popular domains in the Netherlands and analyze them according to the main SEO parameters. Now we can say a few words on how these websites managed to get the most amount of organic traffic from the Netherlands:
The simple truth is that domain authority is very important in SEO. The sites you see in the list are reputable, with a large number of visits and those that started marketing out a long time ago. That is to say that they are currently reaping benefits from their previous hard work. Plus, SEO was a whole different game back when they first started out.
Usually, the sites from the list have several sources of traffic: organic, PPC, social networks, referrals, and, therefore, it is difficult to say what exactly led them to their success.
In addition, a company's popularity in the offline world matters – it is clear that a well-known brand will have an easier time promoting itself than a new player.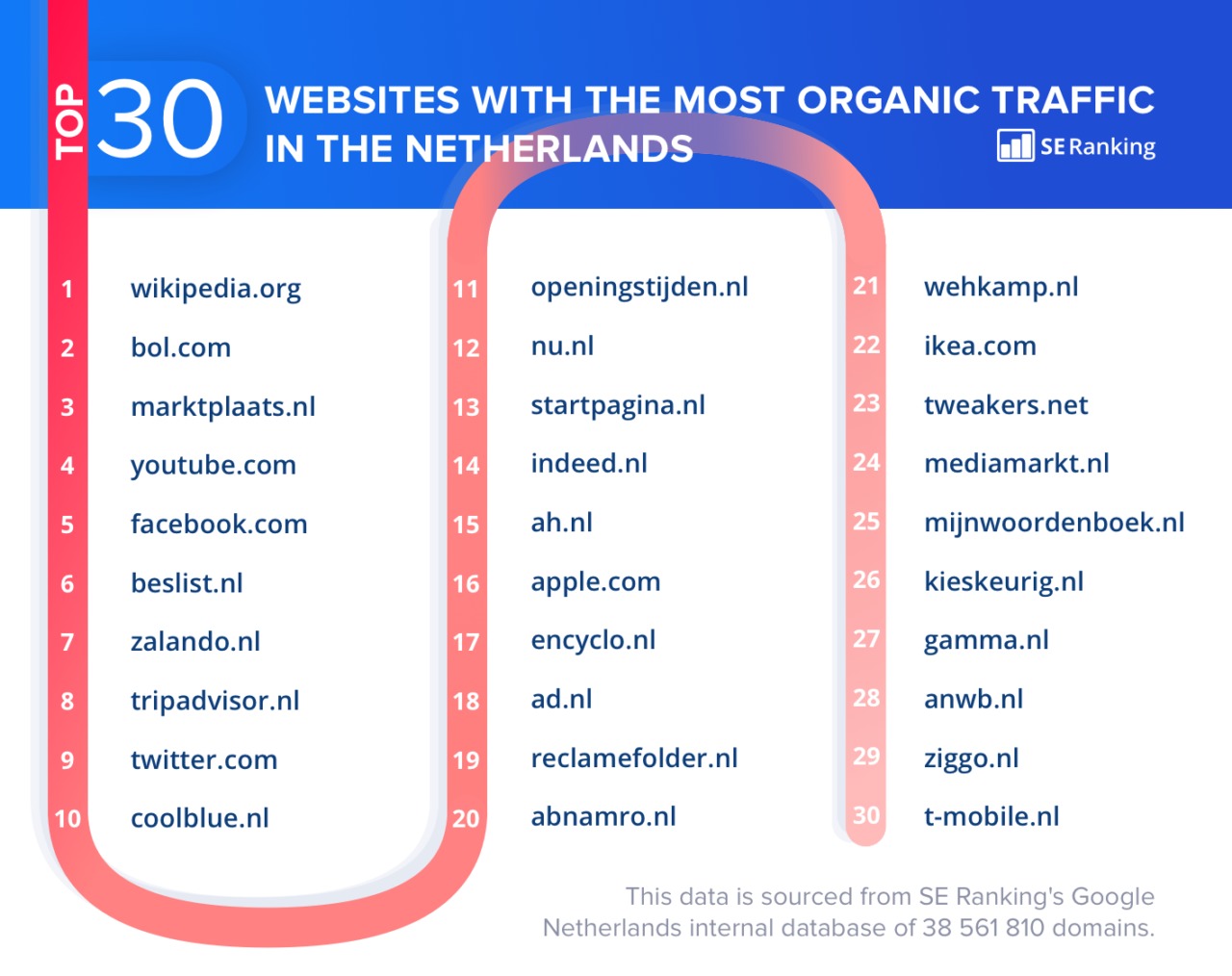 When it's better to start doing SEO and why it's worth trying
In order to get tangible SEO results as quickly as possible, it is important to start working on the site before it is launched. Here are few reasons why you should:
If all the technical SEO recommendations are taken into account during the site development stage, you can save a lot of time and resources. That way, your developers won't have to go back to already finished blocks to make changes according to the search engine optimization requirements.
The same goes for the website structure – it is necessary to plan the website structure before its development in a way that it is friendly for users and search engines alike.
Moreover, while developing the site, it will be very useful to analyze your competitors. You need to understand who you're fighting with, and develop your site and content based on this information. In order to get to the top of the search results, you need to be at least no worse and even better than your competitors.
So what does all this mean? In a nutshell, SEO is one of the best ways to attract your target audience from the internet. Unlike classic advertising, SEO allows you to solve the problems of people who are currently looking for a solution. It means that users are interested in seeing your offer.
On top of that, the search engine optimisation techniques can improve your brand awareness. When people see your site in the search results, they start associating it with the topic they're looking for (even if they don't click it).
A high-quality SEO process improves the technical condition of the site and its usability. Thus, you get a long-term result – high-quality content often gets to the top and remains there for long. That's how you can get a constant flow of traffic and new leads.
Thank you for donating to DutchNews.nl.
We could not provide the Dutch News service, and keep it free of charge, without the generous support of our readers. Your donations allow us to report on issues you tell us matter, and provide you with a summary of the most important Dutch news each day.
Make a donation