Indiana Janssen? Dutch teacher writes thrillers about a Leiden archaeologist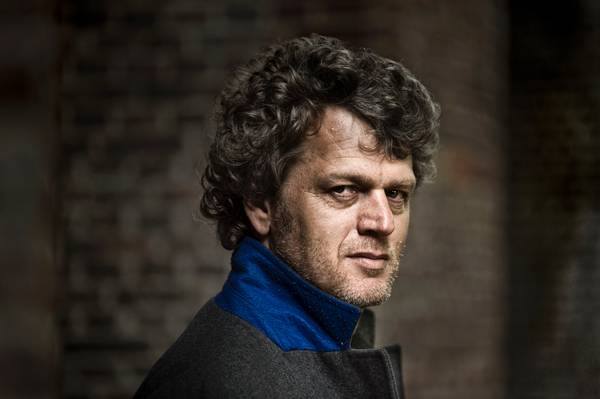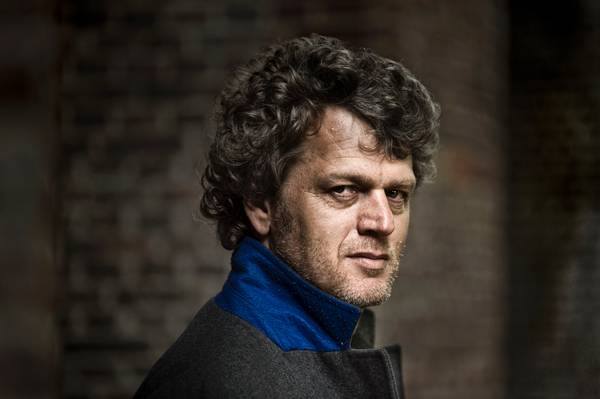 It all started when Jeroen Windmeijer's wife challenged him to work on a novel during his days off from teaching classes at a high school in Leiden. A few years later, he's now the author of a bestselling trilogy of thrillers that have spawned their own smartphone app and an upcoming film.
The series focuses on the adventures of Peter de Haan, an archaeologist at Leiden University, and a student-turned-historian named Judith Cherev. Together, they set out to solve mysteries that involve Biblical lore and real-life historical events. Their trials and tribulations have been compared to those of the scholarly globetrotters in the Indiana Jones films and American author Dan Brown's novels.
But while Windmeijer's books have been successful here in the Netherlands and among Dutch audiences all around the world, will they capture the imagination of English readers? On 31 August, HarperCollins published an English Kindle edition of St. Paul's Labyrinth, the series' second installment. It's currently available on Amazon.
Windmeijer recently met with DutchNews.nl for his first English language interview to discuss how the trilogy developed, his hopes for the future, and what he discovered under the streets of Leiden while he was conducting his research.
You currently work as a teacher but have you always wanted to be a novelist?
Not really. Since I was 14 or 15, I've been keeping a lot of diaries. I also used to travel a lot when I was a student. Every summer, I would go abroad for two or three months just with my backpack and barely any money; to places like Mexico for a few months or Turkey. I wrote a lot in both these diaries and letters back home. So I guess it all started with those but I also wrote short stories and two novels as a student but they never went anywhere. Then it all sort of went away and I became a teacher of religious education and social studies.
So what rekindled your desire to start writing again?
I didn't stop reading, especially books about early Christianity and religious thrillers by authors like Dan Brown. I always wondered why they take place in cities like London, Paris, Venice, and Rome, but never in the Netherlands. I started talking about this with my wife and I remembered that I had read a thriller by a Dutch writer that I thought was really bad and poorly written. Then I looked on the back and learned that it had sold 250,000 copies!
I said to my wife, 'I can do this' and she said, 'OK then, well, show me'. She challenged me and I decided I wanted to write a thriller with a religious theme. They always say 'write about what you know' and I know a lot about Leiden. I've been living here for 30 years now and I knew about St. Peter as well, the city's patron saint.
So how did you get started?
I did a lot of research over six months about St Peter and discovered that he never went to Rome.
He supposedly died there and that's why the Vatican was built in Rome, right?
Yes, but that's all myth and legend. It's still incredibly important though for the Catholic church to have a straight line all the way from Peter in Rome to the present pope. But there's not a shred of evidence that he ever left Palestine and that became the basis for my first book, De Bekentenissen van Petrus (The Confessions of St. Peter).
But you had a day job as a teacher and a busy life at home, so how did you find the time to write?
After the six months of research, I started actually writing. Six months after that, the novel was finished.
Here's how I did it: the weekends were always too busy but I was working four days a week. So I spent every Friday writing. I would take our young daughter to school first thing so I had from 8:30 in the morning to 15:30 in the afternoon to write. I completed, on average, about 8 to 10 pages and then I shared them with my wife on Friday evenings so she could read them. 
Did you rely on any sort of an outline? Some authors put plot points on index cards to keep everything organised.
No, nothing like that. I just knew where the story would end. Every Friday, I would just sit down and write. Sometimes, I was surprised about the course the story took. During the best moments, it was like I was listening to the story myself and just had to type it.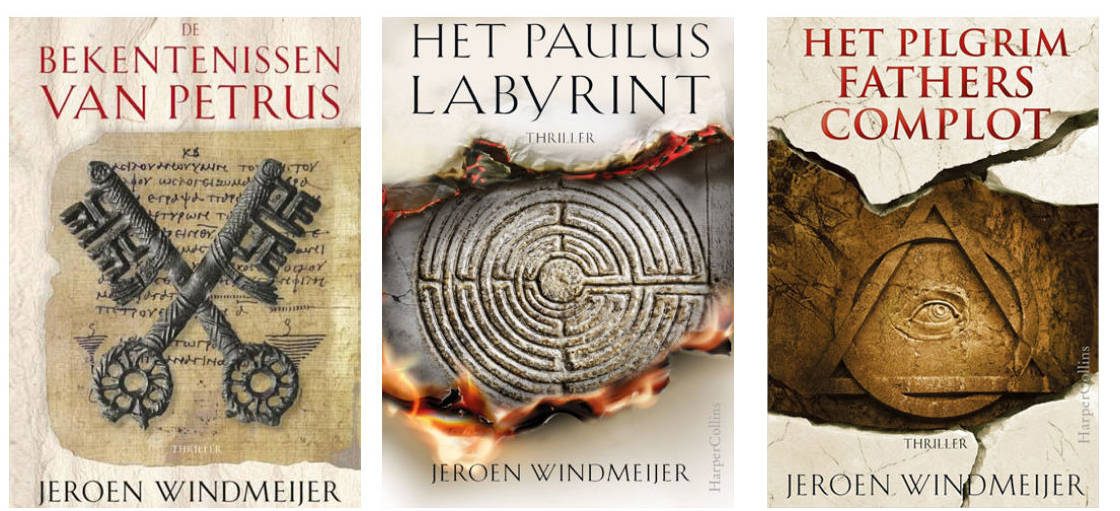 That's how I worked on the other books as well. I did six months of intensive research and six months of writing before I sent my pages off to my editor. Then I'd get them back for review and do another six months of rewriting. Some people might find that inefficient and I have a friend who is a writer who only does about one page a day, but he never has to alter or edit anything. I could never work the way he does and I don't think he could work the way I do.
When did you start looking for an agent or a publisher?
I waited until I was finished with the first book. I sent it to about 30 publishers and most of them never responded. That makes sense, since many of them get 50 or 100 manuscripts a week. I got a few standard rejection letters through email and only two of them explained why they didn't want to publish it.
So how did you finally get your first novel published?
After all those publishers turned it down, I figured it was never going to happen. Someone told me I should try a local publishing company. I found one here in Leiden owned and operated by one person and she only printed nonfiction books. I sent her a copy despite this. Sometime later, she was planning to write me an email to reject it but, fortunately, she had a coffee break and started reading the manuscript. Before she knew it, she was on chapter 4 and she really liked it. So, for the first time in her life, she decided to publish a work of fiction.
She printed a thousand copies and said she would be very happy if they were eventually all sold. They were all bought within two weeks so she did another run of 2,000 copies. Those were gone in another two or three months. This month, there will be a seventh printing with over 10,000 copies sold.
What would you say was the trick to selling those first thousand copies?
I promoted the book as hard as I could. I agreed to talk with every Dutch newspaper and magazine that would interview me. I sent out hundreds of emails and I went to bookshops around Leiden to see if they would let me do readings. I also did things like convince ten of my students to go to the magazine shop at Leiden Centraal station to ask if my book was available every few days. Then I went down there, spoke with them, and they said 'People keep coming in here and asking about your book.' They bought 50 copies and they sold them all within a few days.
So a big part of the success was me being so fanatical about it. Then HarperCollins Holland started looking for new Dutch novelists to publish about three years ago. They saw that my book had sold thousands of copies without any traditional promotion. They thought, 'if his first book can do this almost by itself, imagine what we could do if we give his next one a lot of publicity'.
But did you really plan to write an entire trilogy?
No, not at all. Needless to say, my first publisher was not amused when I got the offer from HarperCollins to write St. Paul's Labyrinth, the second book. I felt like a young player for the Ajax football club in Amsterdam. They often coach players as young as six to become really good at football. Then, when they're 18, a club from England or Spain will hire them. My publisher felt like she gave me a great opportunity and then I left when a bigger one arrived.
But if I had stayed with her, I would have likely remained a local author forever. There's only so much she could do with promotion and publishing, and her network is centred almost entirely around Leiden. The Dutch edition of St. Paul's Labyrinth sold many more copies, around 30,000 of them. There's different versions and an audio book now, too. The third book, Het Pilgrim Fathers-complot (The Pilgrim Fathers' Plot), was published in August and it's already being translated into English.
So the whole thing has become so much bigger and there's lots of publicity to keep up with. I no longer have to go to bookshops and newspapers to ask them to let me promote my books. Now they come to me and HarperCollins does all the scheduling so I can focus more on actually writing.
Why is St. Paul's Labyrinth the first instalment to be released in English?
It's a bit complicated, but it's because the first book is primarily owned by my first publisher in Leiden. Eventually it will be translated into English, but probably as the last of the three books.
Does that cause problems with the trilogy's timeline?
No, you can read any of the three books in any order. It doesn't matter since they're three separate adventures, much like with the character of Robert Langdon in the Dan Brown novels.
While you were doing research for St. Paul's Labyrinth, you explored some of the 'tunnels' beneath Leiden. What did you find down there? Was it like being in an Indiana Jones movie?
It felt like it. I went to houses around Leiden that I heard had cellars that may have been part of these tunnels. Many of their owners were very friendly when I told them I was a writer and doing research for a book. At one house near the Rapenburg, it was like being in a movie. They took me into a bedroom on the ground floor and rolled away a carpet. Then they opened a hidden door and there was a tunnel that led all the way to the Rapenburg. So that house plays an important role in the book.
So were there actually once hidden tunnels beneath Leiden?
No, I had to disappoint a lot of people. In the book, there is a tunnel network that goes all the way around Leiden. One reader emailed me to ask if they were open to the public but I had to tell her that I made them up. However, there were once a lot more canals around Leiden. Many of them were closed up but others just had streets and housing put on top of them. Those are still down there and it's possible to walk through them for a bit but they're nothing like the tunnels in the book. Most of them are just wine cellars that were once part of a canal.
As long as I've lived in Leiden though, I've heard legends and rumours that there were once tunnels all around the city. Some people who live here still believe that. They were supposedly dug while Leiden was under siege by the Spanish in the 16th century and were used to sneak food and water into the city.
Have city officials or anyone like that come to you with concerns about all the mysteries and intrigue featured in your books?
No, they've actually been pretty pleased with them. All three of the books now have walking guides that you can buy at the tourist office. While I'm going around the city, I sometimes see people with one of my books and one of those guides. They don't recognise me or anything like that. Now we're working on an app for smartphones. Next week, I'm going to a studio to record audio for it with information about locations in the books. People will also be able to listen to me read scenes from them in the areas where they take place.
What's the latest on the movie version of De Bekentenissen van Petrus?
The entire movie will be filmed here in Leiden, which will make it the first motion picture to take place entirely in the city. The script is being worked on now and the plan is to have it in cinemas in 2020. Shooting is scheduled to begin in the spring with more in September and October so they can include Drie Oktober, the annual festival that takes place in the autumn.
How are you doing all of this while still working as a teacher?
I think I'm just very disciplined but I did recently start teaching only three days a week. I like this very much, though. Going to my room to write in the morning makes me happier than just staying downstairs and watching Netflix. Some people love to dance or paint. My brother loves to play football, for example, and he plays or practices three nights a week. No one ever asks him how he does it. He loves football so much that he'd do it five nights a week if he had the time. For me, writing is like that. I often can't wait to get started.
Now that this trilogy is completed, what are your plans for the future?
I have a book deal to work on another trilogy and it will take place in some of these countries. The first one, which I'm writing now, is set in Bolivia with many of the religious themes of the first trilogy but with different characters. Then the second one will be in Guatemala and the third one in Mexico. I have a strong interest in UFOs and I want to feature them in the third book since there's a strange temple in Palenque in Mexico that, with some imagination, features a carving that looks like a spaceman. There's that modern myth that the gods in human religion were all actually aliens so it will focus on that.
My goal is to write one book a year. I've been saying I'm a teacher with a writing job on the side. In the future, I'd like to be a writer with a teaching job on the side. I think I want to keep teaching since it keeps you young. It helps you keep up with what's happening in society and it would be lonely just to sit home and write all day.
Thank you for donating to DutchNews.nl.
We could not provide the Dutch News service, and keep it free of charge, without the generous support of our readers. Your donations allow us to report on issues you tell us matter, and provide you with a summary of the most important Dutch news each day.
Make a donation