Coding for kids: digital literacy to become key in the curriculum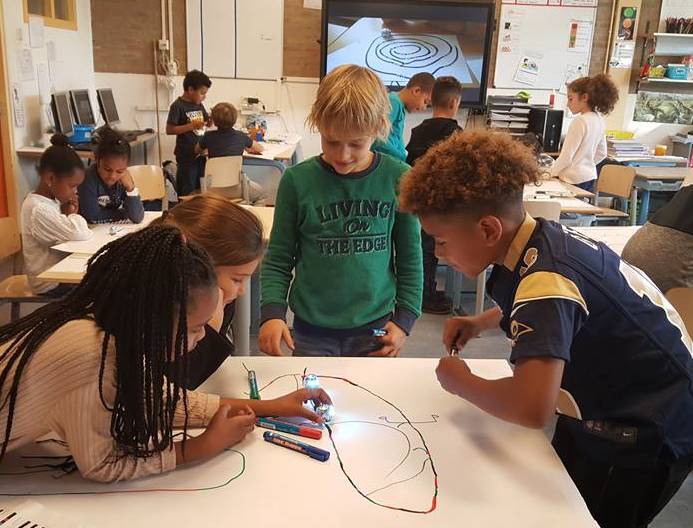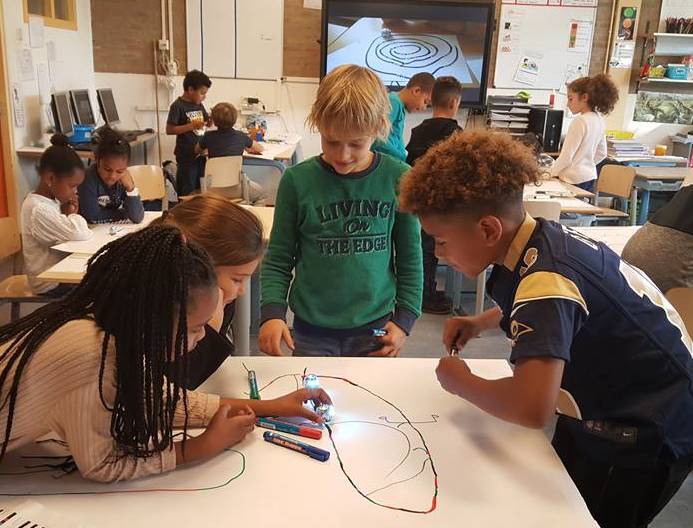 Digital literacy is increasingly recognised as a vital component of future education. As the Dutch government seeks to update both the primary and secondary curricula, teaching coding to children is set to become compulsory. Esther O´Toole took a closer look at the current state of coding for kids.
Bo Boekelman and Hilde Verschuren, two primary school pupils at De Harlekijn school in Cuijk, Noord Brabant are exploring coding at Expedition Robot, one of the extracurricular courses on offer as part of the Techlab scheme at their local library.
'What I like best is when you have finished the coding part and can see your creation come to life,' says Bo, who is in her final year of primary school. 'I really liked it and would have liked more time. I'd definitely do something like that again, especially if it was at school!' says friend and classmate Hilde.
Their school's director, Rob Lamers, is working with nine other local schools on  integrating 21st century skills throughout the curriculum, including critical and computational thinking.
'I think  for teachers who didn't grow up with this kind of technology, the idea that they have to teach using lots of complicated apparatus can hold them back,' he says. 'That's not true of course. In some ways it's a whole new knowledge area and kids get incredibly enthusiastic, which is great.'
21st century skills
'We plan to look at the situation now and compare that with the core goals of the new curriculum to see where there's overlap. A lot of these 21st century skills we may already be providing in other areas, but not as separate subjects, and that's good. As with citizenship, you can integrate them across the curriculum. It's teaching the mindset that's important.´'
Plenty of schools are attempting to get a headstart on the compulsory coding part of the anticipated new curriculum by incorporating lesson plans and accompanying coding software, such as that from Amsterdam startup Bomberbot, into the school day.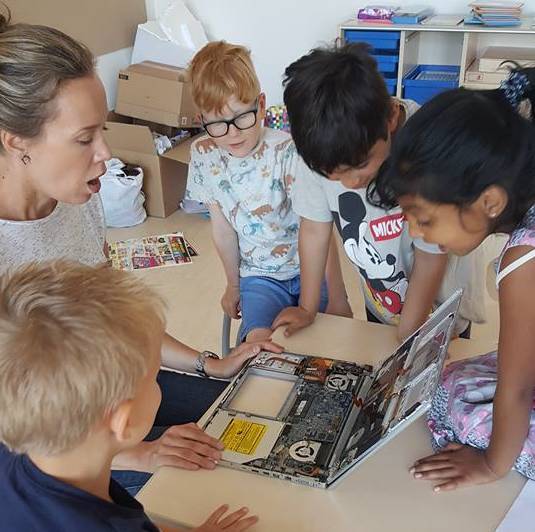 Jolanda Rietel, a teacher at Amsterdam school Vier Windstreken who has been using Bomberbot's game-based learning with her Year 7 pupils told Dutchnews.nl: 'At the moment it is proving very beneficial, as the pupils need to work in a solutions focused way and this helps with other subjects too'.
Digital literacy
Some tech educators like Deborah Carter, the founder and business director of NewTechKids in Amsterdam are concerned some schools might well place too much emphasis on technical skills such as coding as they begin making their digital literacy plans.
'Onscreen coding and software packages are useful, but what is essential going forward is to teach computational thinking and critical thinking about technology: young people need to be able to access, manage, communicate with tech, and apply critical thinking to create tech themselves,' she says.
'Many schools are going the technical skills route because it's easy to pick up. But coding is only the last 5% of the technology development process. It's execution. There's a lot of thinking, problem-solving, designing and testing before coding can take place.'
Upon moving to Amsterdam from Canada, Carter found a lack of tech-oriented education and after-school activities for her primary age son. So, together with her business partner Marja Ilona Koski (a Finnish computer science teacher), she began providing these sort of extracurricular activities for children ages 4-12.
Unplugged sessions
NewTechKids teaches programmes focused on technological innovation, computer science and digital literacy during school, after school and during school holidays. Alongside computer and tech-building tools they also also have 'unplugged' computer science sessions based on arts and crafts activities, pen and paper exercises, games and DIY sessions.
'It's not about learning to code in specific programming languages because that's going to be out of date so quickly and programming itself is rapidly moving towards radical automatisation. Nor is it about iPads in schools,' Carter says.
'It's about giving kids a solid foundation to understand technology and and start creating with it, rather than just being passive users. It's also about teaching kids to think critically about technology, its pros, cons, implications and ethics.'
The group has run courses in all areas of Amsterdam. Parents' views about what boys and girls are capable of doing is just one of the obstacles they have come up against. But some children in less well off areas find using the modular tech kits difficult because they haven't played enough with basic building toys as youngsters.
Carter believes having well-rounded tech education in schools is the only way to guarantee equal access. She is now moving on to helping schools develop their own digital literacy schemes.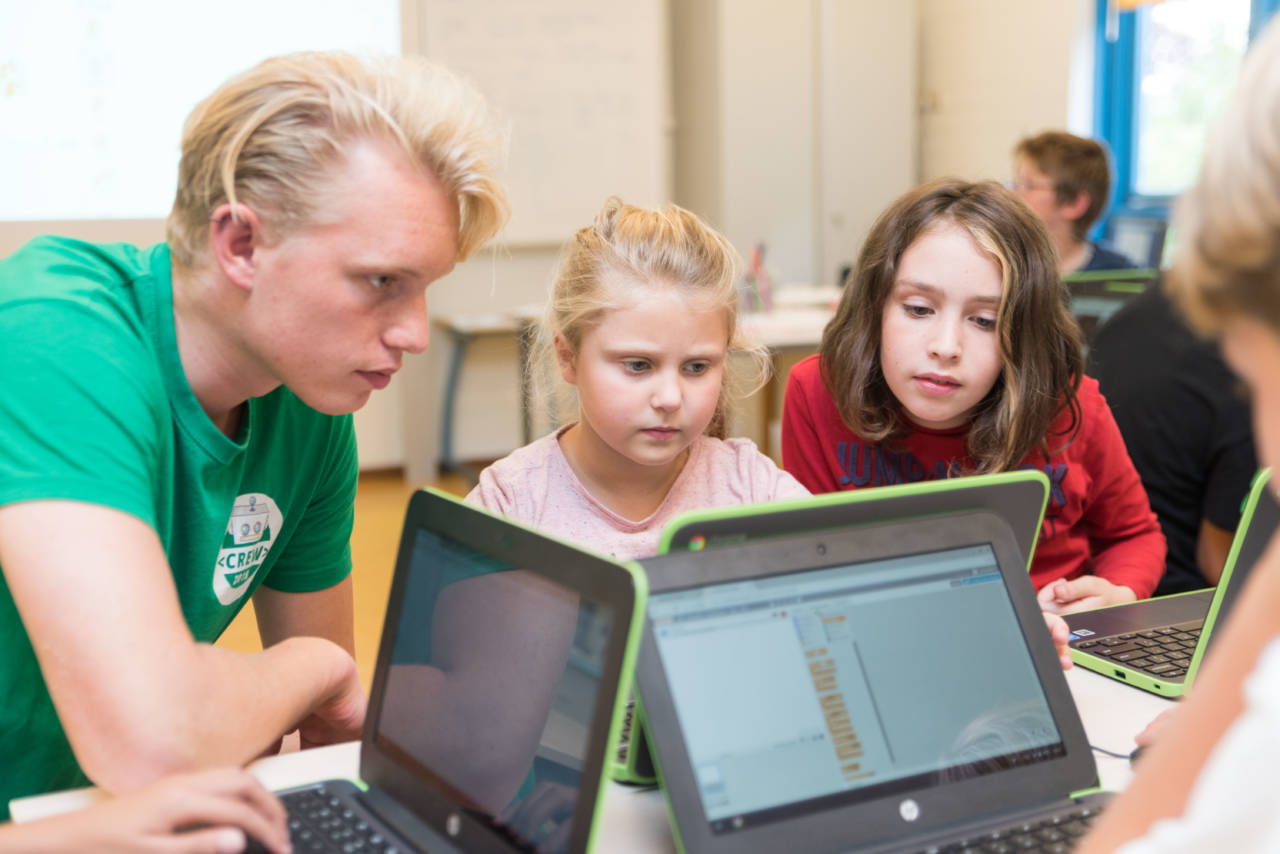 The Dutch government aims to have its plans for the new school curriculum ready to roll out in 2020 although some experts say it may take several more years to implement. A think tank of education professionals, Curriculum.nu, are currently working on a framework, covering nine different areas of learning including digital literacy. The plans, should be ready for presentation to the government by the end of this year.
In the meantime Bomberbot's recent Digimissie offer, which offered 1,000 schools one year's free access, received over 30,000 requests from teachers within three days of its launch.
Founder and chief executive Cristian Bello suspects that the surge in subscription requests is linked to the pace of the new curriculum rollout; as schools struggle to find a cost and time efficient way to bridge the gap between now and the new curriculum arriving.
Bomberbot has now managed to extend the offer to 10,000 primary schools and are keeping a waiting list while they seek further sponsorship.
'I think the key action should be to accelerate it all,' says Bello. 'I understand that the government wants to avoid mistakes but there are 200,000 students per year in the Netherlands, and a lot of children could miss out on this essential education while the plans are still in development.' 
If you are interested in introducing your child to programming you could check out some of the national coding events such as Coderdojo, for primary age and up, or Code Week, every year in October. For older students and adults the new coding school, Codam, set up by TomTom founder Corinne Vigreux, offers student led learning at the former marine base in central Amsterdam.
Thank you for donating to DutchNews.nl.
We could not provide the Dutch News service, and keep it free of charge, without the generous support of our readers. Your donations allow us to report on issues you tell us matter, and provide you with a summary of the most important Dutch news each day.
Make a donation