Blogwatching: Where to eat… Dutch food in Amsterdam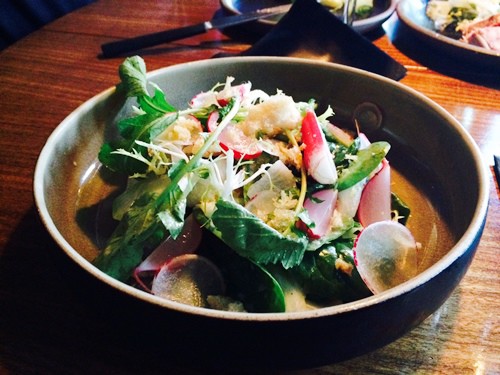 British by birth and Dutch by choice, Vicky Hampton is a writer, cook and avid foodie who has lived and worked in Amsterdam since 2006. Vicky launched her blog Amsterdam Foodie in 2007 and it is now an indispensable guide to the city's eateries and beyond.
In all honesty, I don't eat a huge amount of Dutch food. Yes, I live in the Netherlands – but it seems that even the average Dutch person doesn't eat that much of their national cuisine – especially those who live in Amsterdam. And yet, when I'm approached to write articles, it's the topic I'm most likely to be asked to write on.
A while ago, I wrote this post on Dutch food and drinks for Eating Amsterdam; they've commissioned a set of 'foodie maps' – illustrations of the national cuisines of the Netherlands, Czech Republic, United Kingdom and (soon) Italy, and where each dish comes from in the country.
I thought the Dutch one was cute (it's so orange!) and I was interested to teach myself about the origins of the various Dutch foods I take for granted. So I did a little research and this was the result.
But then I wondered where I go in Amsterdam when I want to eat Dutch food? And I came up with this (albeit short) list… These restaurants range from traditional to modern, and from places you might eat just a lunchtime snack to those you'd visit to pick up ingredients for dinner. I say this all the time, but on this occasion the words are especially appropriate: Eet Smakelijk!
Fine dining: Floreyn
There's very little Dutch food in Amsterdam that's both sophisticated and true to its traditions. But Floreyn walks that line perfectly. Think bitterbal, but then filled with Messeklever cheese and served with smoked beetroot, radish, apple and fennel. Or mustard soup that's been deconstructed into a clear broth with a cheese foam and three types of mustard.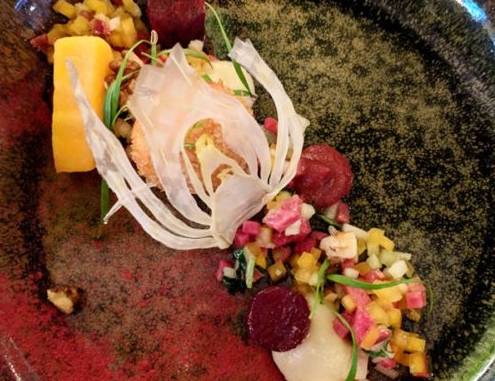 Even dessert uses local, seasonal vegetables: carrot and parsnip ice cream with a sweet hutspot and citrusy crème brulee. This is very accomplished cooking that stays true to its Dutch roots. It may not be cheap, but the quality of Floreyn's food and wines, as well as its great location in de Pijp, is more than worth the price tag.
Read my full review of Floreyn
Traditional: Greetje
The perfect place to take your parents to, Greetje serves charmingly translated dishes (pigeon's hangover, anyone? Or perhaps the yoghurt marbles?) that are as tasty as they are endearing. Think pot roasts, mustard soup, and deer pâté, as well as some fish and vegetarian dishes. It's not cheap, but the service is excellent – which is not to be underestimated in Amsterdam.
Read my full review of Greetje
Modern: Wilde Zwijnen
Whether you choose to go to the original Wilde Zwijnen or the newer Eetbar Wilde Zwijnen, you won't be disappointed with the modern Dutch cuisine on offer. I prefer the Eetbar personally – they serve small, shareable plates of creative, seasonal food prepared with care.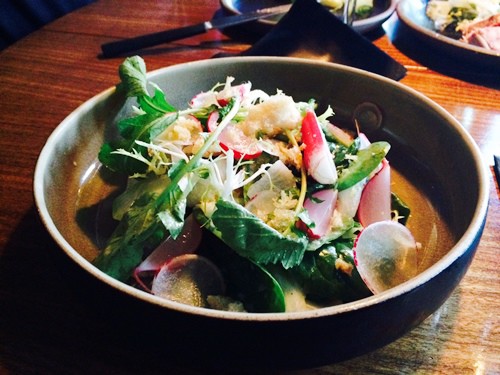 Slightly disappointingly, neither restaurant generally seems to have wild boar on the menu, but perhaps I've just been unlucky. The quality of the other meats, however, is excellent.
Read my full reviews of Wilde Zwijnen and Eetbar Wilde Zwijnen
Local: de Kas
You can't get much more local than plucking your fruit, veges and herbs from your own garden or greenhouse. And that's exactly what de Kas (meaning: greenhouse) does at their Amsterdam restaurant adjacent to the Frankendael Park.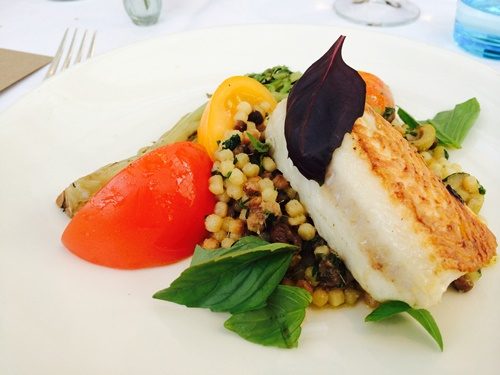 What they can't source from their own grounds, they procure from nearby farms. The menu is heavy on vegetables (unsurprisingly) so dinner at de Kas leaves you feeling light and a little virtuous, too.
Read my full review of de Kas
Lunch: Gartine
While Gartine also has its own moestuin (allotment), it's not quite as close to the restaurant as de Kas's – which is hardly surprising given that Gartine is sandwiched between the Kalverstraat and the Rokin in the centre of town. I should more properly call it a tearoom, as it's open for breakfast, lunch and afternoon tea, but not dinner.
The location is delicate and classy, but in an old-fashioned way – as if your grandma had taken a degree in interior design. The food is likewise: eggs benedict with salmon for breakfast, crayfish rillettes for lunch, and a plethora of tarts and cupcakes at tea time. While the menu doesn't exactly scream Dutch, everything is made with such local products that I think it classifies for inclusion.
Read my full review of Gartine
Pancakes: Pancakes!
You can't visit Amsterdam without trying the legendary Dutch pancakes (although the Honey Badger had been living here nearly four years before I finally remembered to pop his pancake cherry); and where better to try them than the place of the same name?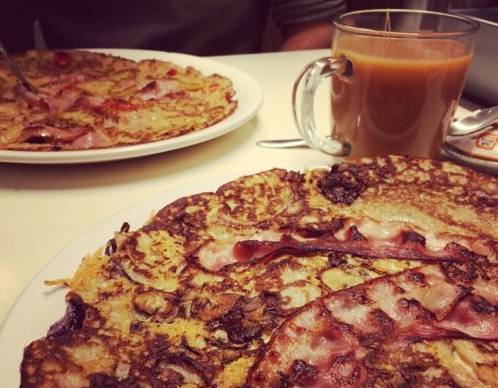 Pancakes! (complete with exclamation mark) serves some of the best versions in the city, and while you will see plenty of tourists, locals do treat themselves to the occasional pancake there too. Of course, you can order the regular toppings (ham and cheese, apple and stroop, and so on), but you'll also find some more adventurous combinations.
I tried one of the house specials: camembert, ham, chicory and raspberry sauce – it sounds odd, but it was strangely addictive. The Honey Badger went for a sweet-n-savoury combo of bacon, bananas and chilli – it was equally tasty so I demanded we share.
Shop: Landmarkt
If you're looking to buy Dutch (organic) produce and have a bit of time on your hands, hop on your bike and head over to Schellingwoude. As the name would suggest, Landmarkt sort of resembles a covered market (or perhaps just a very nice supermarket) filled with the best quality produce – including meat, fish, fruit, vegetables, cheeses, charcuterie and the rest.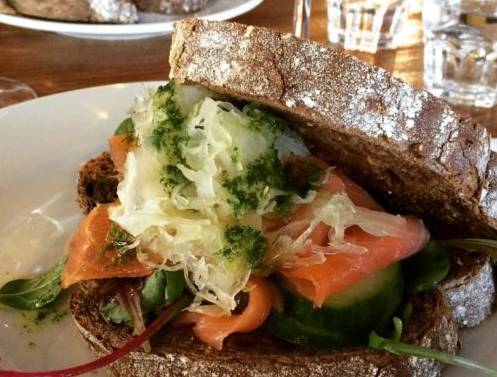 It's not always Dutch (they do sell bananas that clearly don't grow here, as well as some other produce that isn't in season in Holland), but it's still a good bet for finding truly local, top-quality food all in one place. Try some of the cheeses from the farms north of Amsterdam – heerlijk!
They also have a café inside the Landmarkt store, so if you decide to make a day of it you can stop for lunch before buying your ingredients to make dinner. Their bread is excellent, and so are their sandwiches.
This blog was first published on Amsterdam Foodie.
Every month we feature a blog post from one of our favourite bloggers. Interested? See if your blog meets the criteria to be included on the site.
Thank you for donating to DutchNews.nl.
We could not provide the Dutch News service, and keep it free of charge, without the generous support of our readers. Your donations allow us to report on issues you tell us matter, and provide you with a summary of the most important Dutch news each day.
Make a donation