'I wish, I really wish, my Dutch friends would be more proud of their food'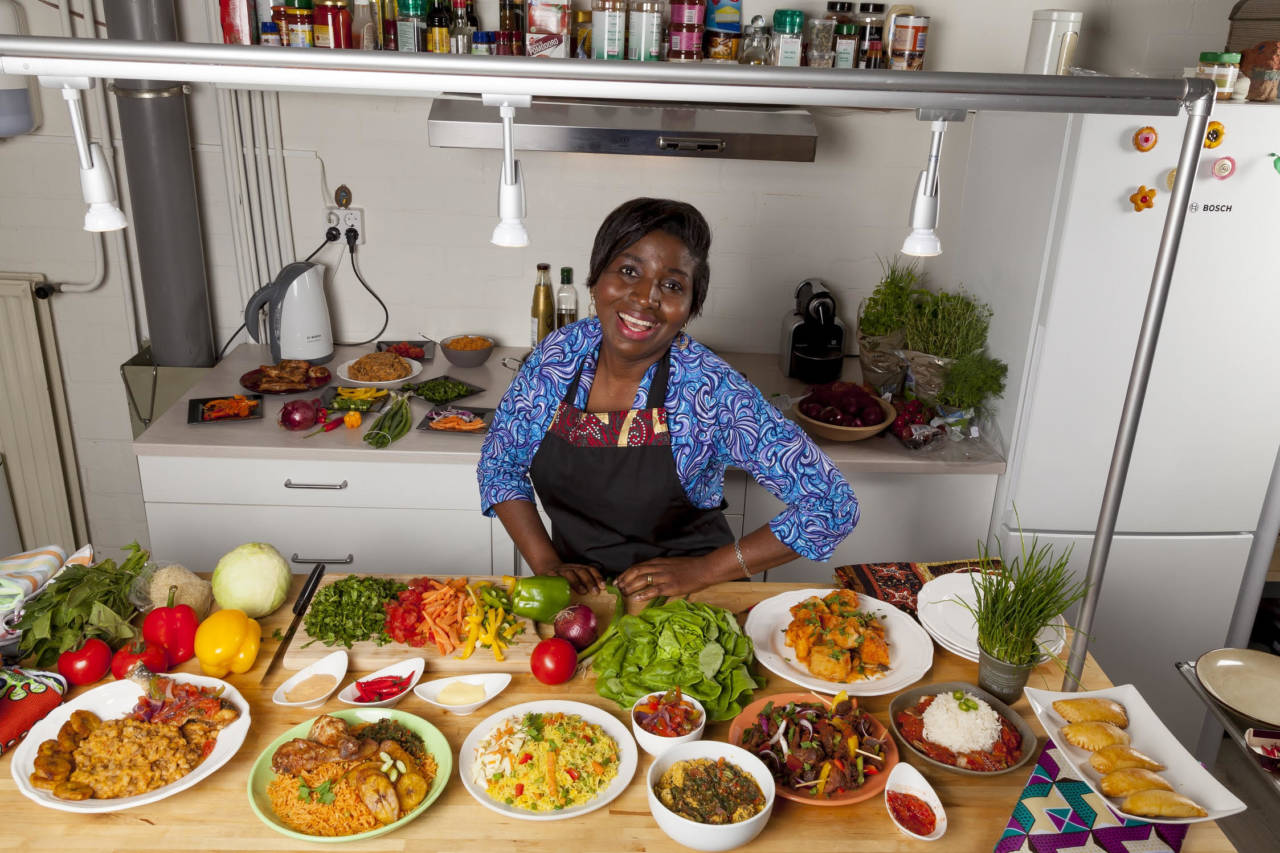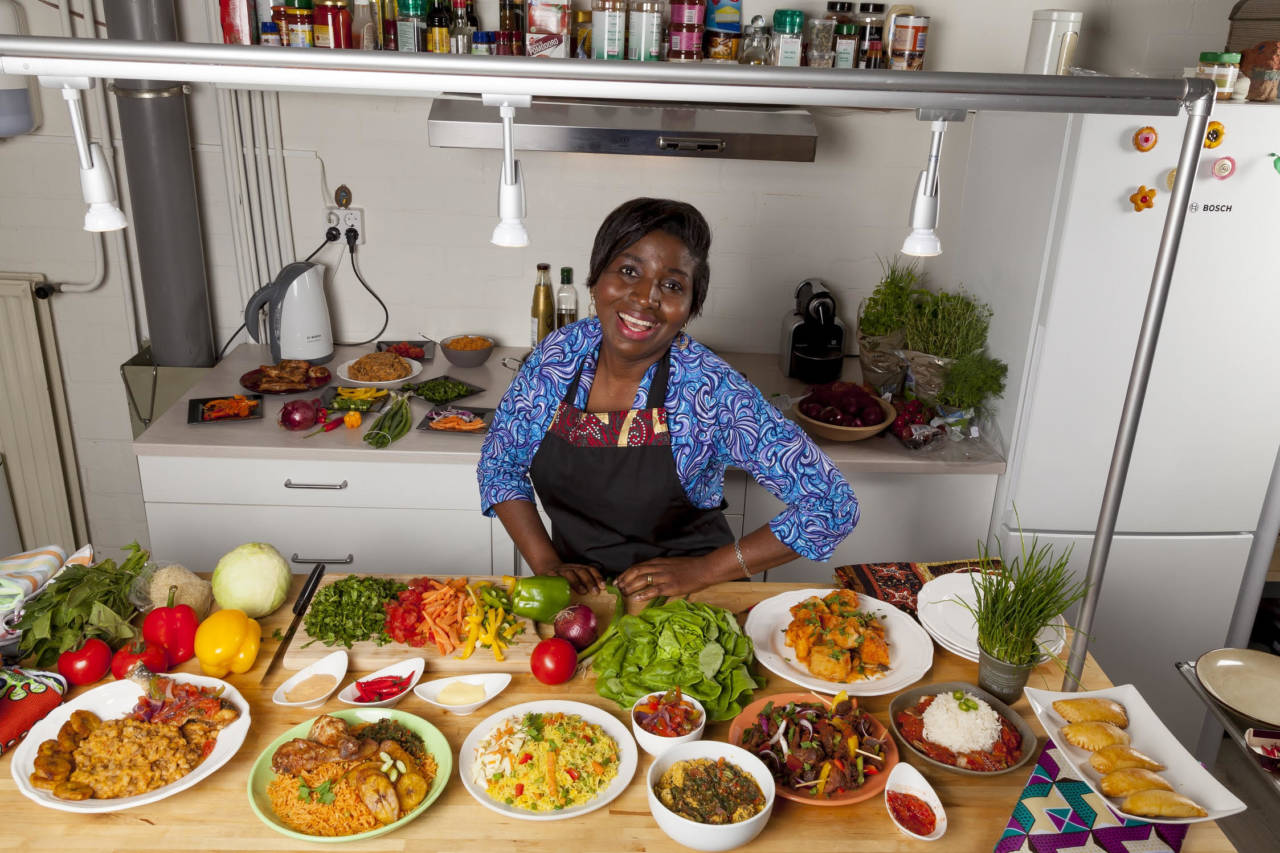 Ebere Akadiri rebels against the stereotypes of being a 'trailing spouse'. Before she moved to the Netherlands from Nigeria, with five children in tow, she was running a successful catering business. The boredom she felt after selling her company spurred her on to open up Ataro Food and Spices in The Hague and release a cookbook to raise money for her charity. Oh, and she's about to complete a Masters degree. 
How did you end up in the Netherlands?
I followed my husband. He works for Shell… at the time he was working in Port Harcourt, and then they transferred him to The Hague. That was in 2013. So I had to follow him with the children—all five of them. We had to literally pack the whole household and come to the Netherlands.
Initially my restaurant business continued for another two years, but when it wasn't going the way it should I had to let it go. We had two restaurants, and we did catering on the side. We cooked a lot of different foods – did curries and French snacks, as well as key Nigerian foods: jollof rice, egusi soup, pounded yam fufu—they're all in the book!
How do you describe yourself – an expat, lovepat, immigrant, international etc ?
I always describe myself as a 'local expat'. When I came to the Netherlands I was told that I am an 'expat' on 'expat status', but I chose to be a 'local expat'. The only way I knew to learn a new culture was to stay close to the people, and so I told the makelaar that I didn't want to live in areas with just other expats. You can't ever understand people fully until you are close to them. This has also helped me to position my business…
When I first came to the Netherlands I became terribly bored after one year. All my life I have worked. Ever since I graduated from university—even when I was at university—I have always worked. And not just in kitchens. I worked at oild companies before staring my first business. I started in retail, selling women's clothing in Nigeria, and I used to travel a lot to London and the USA.
So, when I came here and had nothing to do I became a bit depressed. I felt I was losing my identity. I couldn't find comfort. That's when I had a conversation with my husband and he said: 'Maybe you should start up your restaurants again?' I did a market survey, and since I knew Dutch people, I knew that Dutch people didn't understand anything about Nigerian food. So I changed my model, and began teaching people about Nigerian food.
I wanted to teach people more than the food though; I wanted to teach about the culture. I could sense there was a bias about West African food, and West African people, so I decided to let the public into that world. That's how the cooking workshops started: first with children from the British School in the Netherlands, then their parents, then I launched it outside the school by renting a friend's kitchen in Rijswijk, and then I moved up to Ataro's Place on Prinsestraat in The Hague.
How long do you plan to stay and why?
For now, I'm not sure. When you talk about 'trailing spouses', one issue you always hear is uncertainty—not knowing where you will move to next. But for me, because I chose to start up a business here, I've already decided that I have to consolidate. We need to stay here for a longer time.
I started school again in 2016, a Masters in Management and Leadership at Webster University in Leiden, and I let go of my shop. I graduate next month. So, when I graduate I'm going to kick off with the Ataro's Place again. I will make sure more people in different cities get to taste West African food. The idea is also to develop a franchise kind of thing, so that people who want to run a West African restaurant learn our system. We have also begun selling Nigerian spices online.
I love visions. I believe that when you have a vision, a dream to do good, it might look very big but before you know it you can accomplish something. I have already had a shop on Prinsestraat, so who know's what is next? 
Do you speak Dutch and how did you learn?
I will say that I can speak een beetje Dutch! When I came to this country, the first thing I did was to learn Dutch. I was so interested in learning that culture that I registered myself at the British School in the Netherlands to learn Dutch for three months. That wasn't enough. So I registered with the Leiden University for six months. I was going to school four days a week.
My Dutch, however, is still not perfect. I plan to go back to a Dutch-language school for a refresher course after I graduate in May.
What's your favourite Dutch food and why?
Oh dear, coming from a West African cuisine ambassador… You know, I wish, I really wish, my Dutch friends would be more proud of their food. I wish they could promote it. I have a lot of Dutch friends, but when I ask them what they like to cook they say Indonesian food, or Mediterranean food—so I was asking myself, what is Dutch food apart from bread and cheese?
Okay, I know about stamppot but, again, people need to cook you those things. Where can you even buy stamppot? Somebody wrote a piece about my book launch, a Dutch guy, and he wrote that Dutch food also consists of potatoes, meat and vegetables. For me, those ingredients are good enough, so why not use them? Like boerenkool—I use it to make Nigerian vegetable stew. I call it boerenkool stew. I use it at my workshops, and I eat it at home all the time with my rice. It's a Dutch-Nigerian fusion. I also use Dutch potatoes to make Nigerian yam pottage.
How Dutch have you become and why?
I remember travelling back to Nigeria after two years, and then my friend held a party there. The party was meant to start at 2pm, so I made sure I was there at five minutes early. Nobody was there—the party started at around 5pm. Then another friend had a party. I got there on time, and when people came two hours later I started screaming: 'Why are people coming late?!' My friend said to me: 'Excuse me, are you no longer Nigerian? This is African time.'
I thought, Oh my God, I'm turning Dutch. Because, when I first came to this country, I used to attend meetings very late. I couldn't do it. So I had to work on myself, like personal development, to change. Now it's just part of me—and I do actually love it, I'm much more disciplined.
Which three Dutch people (dead or alive) would you most like to meet and why?Number one would be André Rieu. He's a popular violinist and composer. Why? When I was learning Dutch at the university, I was asked to choose a Dutch celebrity, to research them, and then to present something about their life. I chose up André Rieu, and since that time I've fallen in love with his music!
I also would love to meet queen Maxima. She's someone that I admire, because of the work she's doing to empower women financially –  financial inclusiveness. It's close to what I'm also doing back home in Nigeria through my Beauty in Every Life foundation. We are trying to close the gender gap through financial planning and entrepreneurship, so that people can live in dignity and gain financial independence. I know she, the queen, also has projects in Africa—I would love to do a project with her.
And the third? There are a lot of famous Dutch cooks, but I've already got to meet them!
What's your top tourist tip?
I love to be alone. I love to be in a quiet place. I live in a beautiful place in The Hague where we have trees around us. There is a wood, and the beautiful thing is that there are some chairs in the middle of the wood. I love to just sit down there and think, and reflect.
Anywhere I go on holiday, when my children go to the museum with their daddy, I love to go out to nature to reflect. I also like to be by the beach. The wind helps my brain to be calm. So, in the Netherlands, they have a lot of Centerparcs. I've been to three of them, but I most enjoyed the one in Zeeland because of the calmness by the sea.
Tell us something surprising you've found out about the Netherlands
The surprise for me was how the majority of the Dutch always eat at 6pm. For me, it's not a question of being early or late, but I believe that food has an emotional connection. You have to eat when you feel like it. When it comes to food, you can't be robotic. It has to be about your emotional connection—how do I feel? What am I thinking about? What colours have I seen today? What do I want to eat?
That was the first shock I had.  Yes, with the children we often eat at 7pm or 7.30, but for us, we eat at any time. Maybe before I go to bed I might feel like snacking. Okay, that might be wrong, but who says it's wrong? My body tells me that I want to eat. Food for me is more about emotions, about sitting round the table with other people and having a good chat and a laugh. Maybe it's my culture, because in Nigeria food is not just for filling your stomach: it's a time for community.
I always make this joke in my cooking class about how in Africa we have big pots because, when you cook, you never know if someone is going to visit you. Everything here in the Netherlands is measured: the child gets two pieces of bread on their plate—I'm joking. But everybody in the family has a different appetite, and what if that child gets hungry again? My kids take as much as they feel like from the big pot.
It's good to measure food, to avoid waste, but to me I don't see it as waste because I put the leftovers in the fridge and we eat it again tomorrow. I think if I had to measure food I would hate food. Food is not mechanical; it's an experience.
If you had just 24 hours left in the Netherlands, what would you do?
First of all, I'd go to the Bijenkorf department store. I'd just visit quickly, and buy my makeup, my skincare, my tops, and my clothes.
If I had more time left, I'd go to the beach. I'd take some nice photos, and listen to the wind. I get 24 hours right? Either way, I'd go to the Bijenkorf first.
Ebere Akadiri was talking to Joshua Parfitt. You can buy Ebere's book here.
Thank you for donating to DutchNews.nl.
We could not provide the Dutch News service, and keep it free of charge, without the generous support of our readers. Your donations allow us to report on issues you tell us matter, and provide you with a summary of the most important Dutch news each day.
Make a donation