Could a custom-made Tiny House be your affordable new home?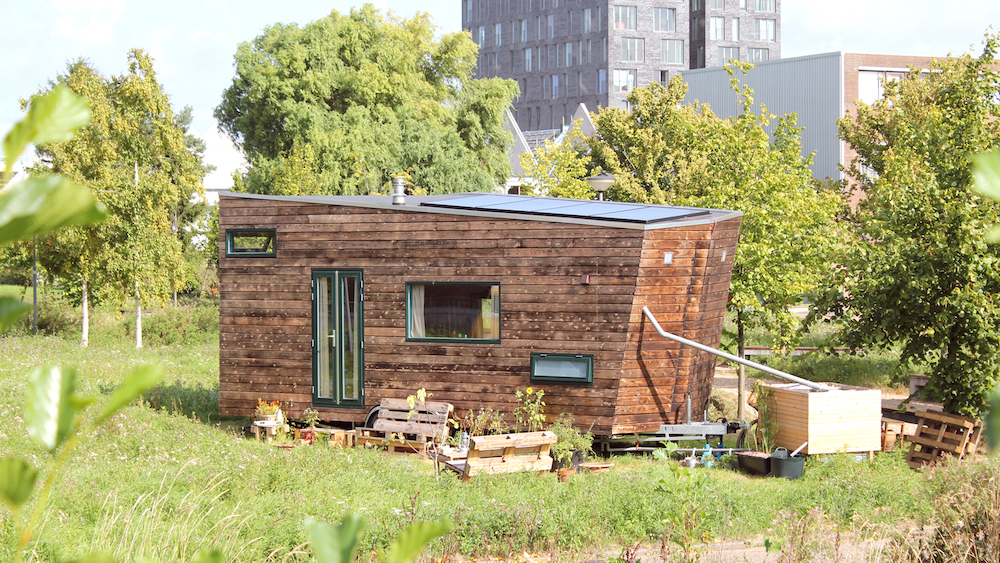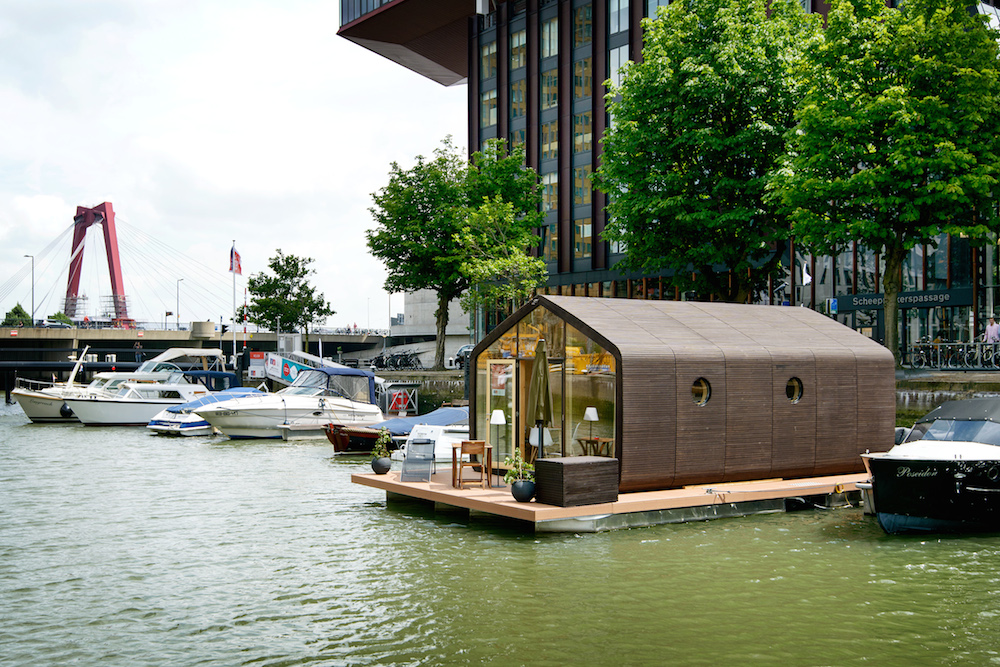 Who would want to live in a space the size of a shed at the mercy of the elements? Deborah Nicholls-Lee finds out why the Tiny House movement is gaining ground in the Netherlands.
Sometimes a queue forms outside Marjolein Jonker's Alkmaar home. She enjoys showing people around her house, but at just 20m², only a few visitors at a time can fit inside.
Co-designed with students from the TU Delft and parked since 2016 on grassy wasteland where a gas factory once stood, Marjolein's Tiny House was one of the first of its kind in the Netherlands.
Marjolein (42) co-founded Stichting Tiny House Nederland in 2015 and is one of the most active voices in the Tiny House movement here which, in times of sky-high property prices and massive personal debt, is gathering momentum (see map).
Tiny Houses are cleverly-designed homes, no more than 50m², which make efficient use of a small space. Most, like Marjolein's, have self-sufficient features such as a composting toilet, a rain water collection and filtering system, and solar panels; so that they are moveable, environmentally-friendly, and can function off-grid.
Aesthetics are also important and designs include the triangular tiny-A, the triplex Slim fit with a footprint of just 16.4m², and the glass-fronted Wikkelhouse made by combining three or more cardboard-insulated segments. 'Diversity is key,' explains Marjolein. 'People can design for themselves how they want to live and not buy a house because the contractor decided this is what we should live in.'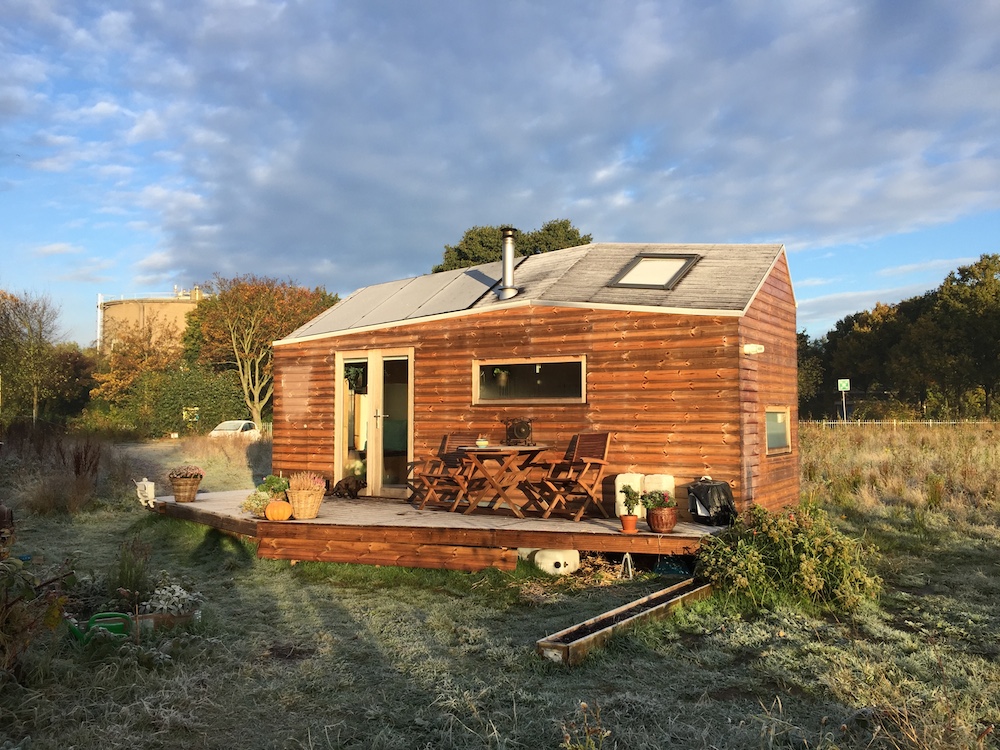 Less is More
Despite the attention it attracts, Marjolein's house conforms to many norms. There is a kitchen area; a sofa, where her cat Hella likes to sleep; a desk; a bathroom; and a bedroom on a mezzanine 'upstairs' – although the stairs double as cupboards.
What's extraordinary is that a structure with all these elements can still fit on a trailer and yet offer bright and playful accommodation that feels unlike the prefabricated mobile homes of the past.
'It just fits me like a glove,' says Marjolein. 'I spent a whole lot of time thinking about what is important to me in my house, and I stripped out everything that was not necessary. I'm so much more happy with this tiny wooden house than I was in this concrete block with three bedrooms that I didn't use.'
Costs
Her new smaller house also requires less energy to heat and, because of its size, building costs are relatively low. A ready-made Tiny House costs around €45,000 but if you build it yourself with salvaged materials you can do it for around half that.
Minimalism is a key part of the movement: 'A lot of people are waking up to the fact that … we have to work so very hard to acquire all this 'stuff' with a big house – it's not working for them and not working for the planet, and they want to change that and the way to do that is to live in a small or tiny house … You get more time to spend doing things you like, and spend time with each other and on experiences instead of chasing stuff.'
In the City
Even in cities, Tiny Houses are beginning to pop up. Noortje Veerman (32) and Jan Willem van der Male (33) have lived in their 19m² Tiny House in Rotterdam's Heijplaat since 2017.
'A lot of cities are offering testing locations for experimental houses – Tiny Houses included,' explains Noortje. 'Since the cities are growing and the house shortage increases, we need to find new ways to build houses. They need to be affordable and sustainable, but most of all, flexible and low impact.'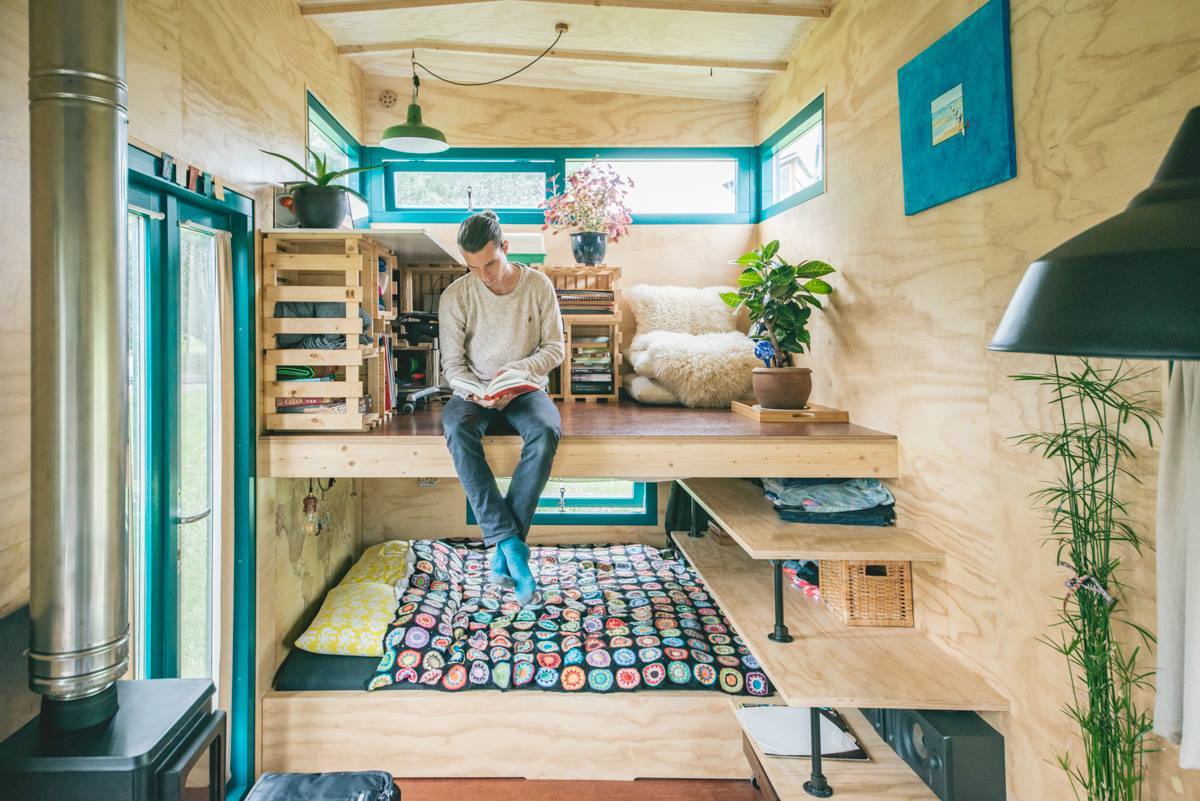 Choosing a Tiny lifestyle seemed the perfect fit for the couple. Noortje wanted the freedom of a life without mortgage payments and her partner Jan Willem was an architect who dreamed of designing his own house. They feel that their new tailor-made home works for them, rather than them working for it.
Though Noortje and Jan Willem enjoy getting back to nature, it is not isolation they are seeking. They have linked up with six other properties seeking a location for an experimental, pocket-sized community (postzegelbuurtje) of Tiny Houses at the end of 2018. Tiny villages are also emerging in Almere with the Ecodorp Bolderburen development and in The Hague with the Proeftuin Erasmusveld project.
Challenges
Back in Alkmaar, Marjolein is also building a community and has already welcomed her first neighbour, who arrived at the end of March. The municipality originally gave permission for three further properties, but challenges by the district council mean the future of the community is uncertain.
'The main difficulty at this point is finding a legal place to live in your Tiny House,' says Marjolein. 'It's a new way of living and the municipalities, they're warming up to the idea, but they still have some issues with it.'
Financing the build is also a challenge. You cannot get a mortgage for a house on wheels so people are forced to turn to their network for loans.
Weather
And then there's the weather. A frozen water supply, droughts and freezing cold nights require a certain resilience. 'I have to live with the seasons and with the weather because my energy and water are dependent on nature,' says Marjolein. 'I don't take those things for granted anymore.'
Marjolein's monthly open house is also subject to the weather. She won't have guests getting soaked while they queue so cancels on wet days.
When the visiting hours have come to an end and the shoes lined up on her door mat are reunited with their owners, Marjolein can have the small space to herself – and her cat – again. But sharing with others a taste of Tiny living is important to her: 'It breaks open our way of thinking – not only for people who want to live in a Tiny House, but for other people who see, 'Oh wait, there are other choices, other options in life'.'
You can follow Marjolein's progress at https://www.marjoleininhetklein.com/ and Noortje and Jan Willem's at http://www.tinyhouserotterdam.nl/
Thank you for donating to DutchNews.nl.
We could not provide the Dutch News service, and keep it free of charge, without the generous support of our readers. Your donations allow us to report on issues you tell us matter, and provide you with a summary of the most important Dutch news each day.
Make a donation