Local political parties gear up for expat vote, but not in Rotterdam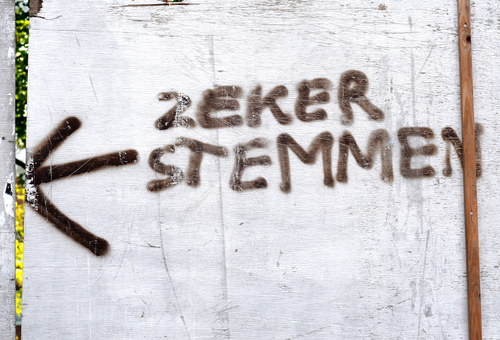 With three weeks to go before the local council elections, political parties are gearing up to target the tens of thousands of expat voters who are eligible to vote on March 21.
In Maastricht, Eindhoven, The Hague and Delft, events are being organised where expat voters can question potential councilors, and dozens of local parties are publishing election information in English.
DutchNews.nl contacted the campaign and local party leaders representing the main parties in the 10 cities with the biggest potential pool of foreign voters.
In Amsterdam, for example, nearly 89,000 EU nationals and other foreigners can vote in the March 21 election. That is the equivalent of six seats on the city council. In The Hague, 57,000 foreign nationals can vote, which would translate into seven out of 45 seats.
'We've had a pretty good response from most places but nothing at all from Rotterdam,' says DutchNews.nl researcher George van der Raaij. 'That is very odd considering 46,000 foreigners have the right to vote on March 21 – that's equivalent to around four seats on the city council.'
D66 is the most active party so far in trying to attract expat votes, followed by GroenLinks, the PvdA and SP . No-one from Denk, which is campaigning on an inclusivity ticket, has responded for information. Nor has the anti-Islam PVV.
Flyers
In Maastricht, where foreign voters account for over 12% of the electorate, the city council has drafted its own letter in English which is being sent to foreign voters along with their ballot paper.
The local branch of the PvdA has also printed a poster warning expat voters not to throw their ballot paper away.
In Amsterdam, new party BIJ1, founded by television presenter Sylvana Simons, plans to take part in several panel discussions in other languages. 'Equality and economic justice are a message that translates well into other languages,' campaign manager Chihiro Geuzebroek said.
GroenLinks in the capital is also actively pursuing the expat vote. 'We've an English language page on our website, we've got badges with the tekst "I will vote" and we are organising a meeting,' a spokesman said.
Podcast
In The Hague, local lobby group The Hague International Network, is organising a debate at city hall on March 15 featuring local politicians. Local radio station DutchBuzz has a podcast featuring representatives from several parties in debate.
'It is very important that the international community participate in our local democracy and make a step towards the real inclusion of all citizens in The Hague,' says Andrew van Esch, a candidate in the city for D66.
Foreign candidates
In Delft, D66, GroenLinks and the PVDA are all publishing information in English, and seven of the top 15 GroenLinks candidates have foreign roots.
'Many of our candidates have strong links to the international community,' said David Rijks, who is coordinating the VVD's campaign activities for internationals in The Hague. 'They may have foreign roots or have worked or studied abroad.'
In Utrecht, where the vote is expected to be a close fight between D66 and GroenLinks, both parties have an eye on the foreign vote.
'There is a large group of internationals in Utrecht and they have the right to vote, like everyone in Utrecht,' said Caspar Lombaers, a D66 candidate. 'But more importantly, they are residents of Utrecht and we hope to get them talking about the future of the city, by voting.'
Website
DutchNews.nl is launching a special website section featuring news and information for the local elections on Thursday.
In particular, the website includes a special focus on the 10 Dutch cities with the biggest international communities where local elections are taking place.
Readers can also take part in a poll to show their voting intentions.
Political parties which wish to contribute should email georgedutchnews@gmail.com
Thank you for donating to DutchNews.nl.
We could not provide the Dutch News service, and keep it free of charge, without the generous support of our readers. Your donations allow us to report on issues you tell us matter, and provide you with a summary of the most important Dutch news each day.
Make a donation